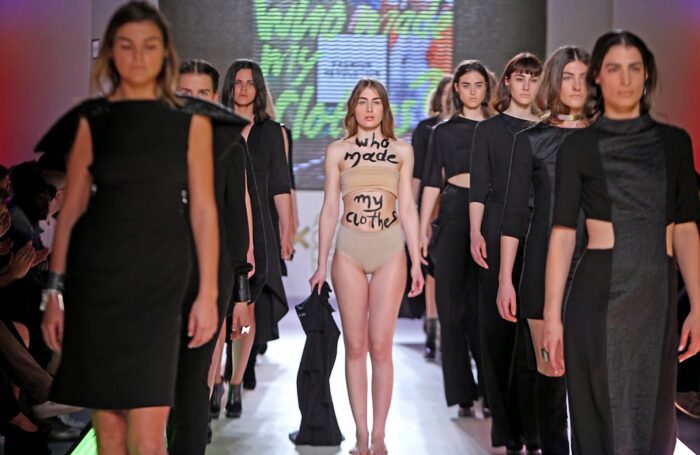 HOW WE ARE FUNDED
Fashion Revolution Foundation is a registered charity in the UK, and we rely on support from citizens around the world to help us create free and accessible resources and impactful campaigns to demand a clean, safe, fair, transparent and accountable fashion industry. We do this through research, education, collaboration, mobilisation and advocacy.
As stated in our Ethical Funding Policy, we follow strict and transparent guidelines about the funds we receive.
We are grateful to the following organisations for their support in the past year:
AEG/Electrolux
British Council
Durham University Charity Fashion Show
Ecover UK
European Confederation of Flax and Hemp (CELC)
European Union
Farfetch
Freedom Fund
ISKO
JJ Foundation
Mercedes Benz
Laudes Foundation
St Andrews University Fashion Show
Fashion Revolution's Country Offices and Country Teams raise funds independent of Fashion Revolution CIC for activities in each of their own countries but are required to abide by the Ethical Funding Policy.
Please note: We are currently funded by the Laudes Foundation for core activities as well as special projects such as the Fashion Transparency Index. The same parent group, COFRA GROUP, owns both C&A and Laudes Foundation. C&A, the global fashion retailer, is run and managed separately from Laudes Foundation, but the two entities share a vision for the apparel industry. Find more about how Laudes Foundation operates.
We would like to highlight our fair treatment of fact and our non-biased approach to assessing C&A in the Fashion Transparency Index. We have mitigated any risk of a conflict of interest by the following three methods: viewing and treating C&A and the Laudes Foundation as separate entities; treating C&A like any other of the 249 brands we analysed; and not giving C&A any preferential treatment.
OUR FINANCIAL STATEMENTS 
To view our latest Financial Statements, please click on the following links:
Fashion Revolution Community Interest Corporation is a non-profit social enterprise (No. 8988812)
Year ending 30 April 2019:
Year ending 30 April 2018:
Year ending 30 April 2017:
Year ending 30 April 2016:
Year ending 30 April 2015:
Fashion Revolution Foundation is a UK registered charity (Number 1173421) and a company limited by guarantee (Number 10494997).
The Foundation was established in June 2017, accounts to April 2019 can be found here. Accounts to April 2019 can be found here.