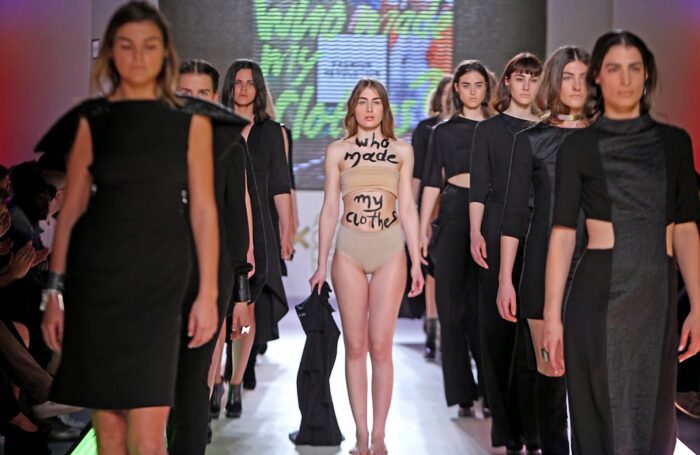 HOW WE ARE FUNDED
We rely on support from citizens around the world to help us create free and accessible resources and impactful campaigns to demand a clean, safe, fair, transparent and accountable fashion industry. We do this through research, education, collaboration, mobilisation and advocacy.
As stated in our Ethical Funding Policy, we follow strict and transparent guidelines about the funds we receive.
We are grateful to the following organisations for their support for Fashion Revolution in the past year:
British Council
European Union
Laudes Foundation
Our Fashion Open Studio programme is sponsored by:
Berlin Senate Department for Economics, Energy and Businesses
British Council
Mayor of London
Mercedes-Benz
We are grateful for pro bono support from:
McGrory Communications led by Geraldine McGrory
Fashion Revolution's Country Offices and Country Teams raise funds independent of Fashion Revolution CIC for activities in each of their own countries but are required to abide by the Ethical Funding Policy.
Please note: We are currently funded by Laudes Foundation for core activities as well as special projects such as the Fashion Transparency Index. Laudes Foundation is an independent foundation and part of the Brenninkmeijer family enterprise, alongside COFRA Group businesses and the family's other private philanthropic activities, including Porticus, Good Energies Foundation and Argidius Foundation. The Foundation is independent from the Group and works to influence all of the garment industry, including the COFRA group businesses which includes C&A. The Laudes Foundation engages with the companies within the Group as thought partners, sharing ideas and approaches that can inspire change and challenge the daily norms, as well as  learning from their insights and expertise.
Laudes Foundation is responding to the dual crises of inequality and climate change by supporting brave, innovative efforts that inspire and challenge industry to harness its power for good, providing philanthropic capital, expertise and connections to help catalyse systems change and influencing the financial sector to move towards a new economy that values all people and nature. These two strategies are designed to help accelerate the existing movement towards a just and regenerative economy. Find more about how Laudes Foundation operates.
We would like to highlight our fair treatment of fact and our non-biased approach to assessing C&A in the Fashion Transparency Index. We have mitigated any risk of a conflict of interest by the following three methods: viewing and treating C&A and the Laudes Foundation as separate entities; treating C&A like any other of the 249 brands we analysed and not giving C&A any preferential treatment; additional assessments of C&A by our research partners, Mexican NGO Arlenica and external assessment by our technical partner in Brazil ABC Associados.
C&A, along with many other major multinational brands, suspended and cancelled orders during the Covid-19 pandemic. Alongside other organisations, we are calling on brands to immediately reinstate all suspended and cancelled orders and to be more responsible business partners to their suppliers moving forwards. We encourage our supporters to use the 'email a brand' template on our homepage and support the #PayUp campaign.
OUR FINANCIAL STATEMENTS 
To view our latest Financial Statements, please click on the following links:
Fashion Revolution Community Interest Corporation is a non-profit social enterprise (No. 8988812)
Year ending 30 April 2022
Year ending 30 April 2021
Year ending 30 April 2020
Year ending 30 April 2019
Year ending 30 April 2018
Year ending 30 April 2017
Year ending 30 April 2016
Year ending 30 April 2015