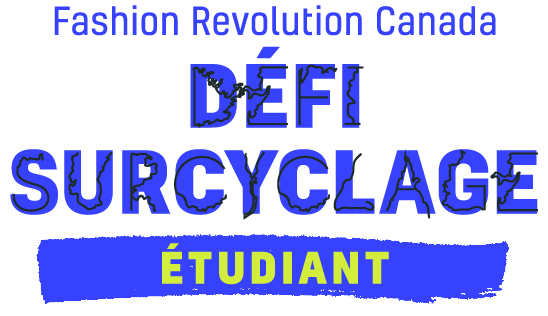 LE DÉFI :
Transformer un vêtement
existant en un nouveau vêtement.
Instructions
Trouvez des vêtements et des fournitures.

Assurez-vous de prendre des photos avant!

Transformez-le en un nouveau vêtement surcyclé.

Partagez vos progrès sur les réseaux sociaux et

taguez @Fash_RevCan et #FRCUpcyclingChallenge

 

!

Soumettez vos photos avant et après ainsi qu'une

courte rédaction en utilisant ce

formulaire

.
Les projets seront jugés sur :
créativité et design (nous sommes à la recherche

d'idées innovantes et de style fort!)

niveau de transformation (quelle est la

différence entre le vêtement recyclé et le

vêtement d'origine

 

?)

compétences techniques (dessin de patrons,

couture)

utilisation de matériaux recyclés (quelle

proportion de votre vêtement recyclé est

constituée de matériaux recyclés par rapport au

neuf

 

? Avez-vous recyclé les fermetures éclair

et les boutons ainsi que le tissu

 

?)
Date limite de soumission : 7 avril 2023
Premier prix de 500 $ ! Plus de prix pour la deuxième et la troisième place !
Juges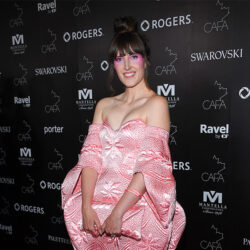 Sarah Jay est une styliste, consultante en développement durable et cinéaste connue pour son soutien aux avancées durables dans les industries de la mode et de la beauté. Depuis vingt ans, elle travaille dans tous les domaines des médias de la mode. Son travail de développement durable et de plaidoyer a été présenté dans VOGUE, Harper's Bazaar, The Globe and Mail et ELLE. Son travail de styliste a été présenté dans Harper's Bazaar, VOGUE, FASHION Magazine, ELLE Canada et InStyle.
Sarah est l'ancienne directrice de la création de Fashion Takes Action. Son long métrage documentaire, TOXIC BEAUTY, a été nominé pour un Emmy international en 2021. Sarah est une passionnée d'économie et de recyclage.
Wendy Liu (@withwendy) inspire plus d'un million d'abonnés à créer leurs propres vêtements et à découvrir leur style à travers ses vidéos de couture DIY. Ses créations de mode, ses friperies et sa passion pour la durabilité ont été vues dans Vogue, Harper's Bazaar, le magazine Nylon et plus encore. Elle vit à Toronto avec son partenaire, son chaton et son bébé.
Retrouvez-la sur withwendy.com ou youtube.com/withwendy.
OUVERT À tout étudiant au Canada qui suit un programme d'études secondaires, postsecondaires ou de formation continue. Concours ouvert du 21 janvier 2023 au 7 avril 2023 à 23h59 PM EST. Les soumissions seront jugées sur les critères ci-dessus et le projet gagnant sera annoncé sur Instagram le 25 avril 2023 et contacté par e-mail. Le gagnant recevra un prix en espèces qui lui sera remis par virement électronique après contact.
POUR PARTICIPER soumettez votre candidature et vos photos sur https://forms.gle/gXmDr4sYEH4e4wfk8
Soumettez votre candidature