FASHION REVOLUTION
United Arab Emirates
Fashion Revolution Week UAE 2023: Championing Sustainability and Ethical Practices in the Fashion Industry
🎥 Check out the video of our Student Competition Grande Finale
& replays of our online panels and masterclasses
✨ HERE ✨
Fashion Revolution UAE is set to host its annual Fashion Revolution Week from April 24th to 29th, 2023. In commemoration of the 10th anniversary of the Rana Plaza disaster in Bangladesh, Fashion Revolution, the world's largest fashion activism movement unites to promote transparency, sustainability, and ethical practices in the global fashion industry.
Fashion Revolution Week 2023 will focus on these three key manifesto points:
Fashion respects culture and heritage, fostering skills and craftsmanship, and never appropriates without giving due credit or permission.
Fashion stands for solidarity, inclusiveness, and democracy, championing diversity as crucial for success.
Fashion is mindful of waste, repairing, reusing, recycling, and upcycling to prevent overflowing wardrobes and landfills.
Throughout the week, Fashion Revolution UAE will host various events, panel discussions, workshops, and even a catwalk.
FASHION REVOLUTION WEEK UAE 2023 AGENDA
April 24: Online Panel (5:30 PM) – "Fashion for all by all. Can fashion become a force for good?" Araceli Gallego, Fashion Revolution UAE Country Coordinator and founder of Goshopia will moderate a panel with Ameni Esseibi- a plus-size model, Jen Sault from Thrift for Good and Theresa Tsui from Skills3.
April 25: Online Panel Discussion (5:30 PM) – "What goes around comes around: Circularity in fashion" where Armelle Montmayeur will open the floor to discover the many possibilities with Sylvia Calvo, Angana Maheshwari from Veganologie, Albane Anderson from MyJoliBump, and Salima Alaoui from Upsclusive.
April 26: Online Panel Discussion (5:30 PM) – "Cultural Appreciation vs Cultural Appropriation" with Araceli Gallego, Dr Reem El Mutwalli from The Zay Initiative, Inocenta Sanchez- Ewart -Anthropologist & Cultural Awareness Consultant,  Reiting Lee, and Yasmin Barakat from The Oriental Hybrid.
April 27: Online Masterclass (5:30 PM) – "Caring for your clothes". Learn how to care for your clothes and make them last longer with Armelle Montmayeur, Marie Sulebi from Tidynest, Olivia Bou Antoun from Because we care, and Asmaa Lahlou from Authentik Spoon.
April 28: Online Brainstorming (5:30 PM) – "Building the agenda on the road to COP28". Let's have a collective brainstorm to express what the community and civil society expect and want for the coming COP28, what problems concern us, and what solutions we need to be implemented. Do you want to share something? Join us. It is open to everyone. Let's drive change together!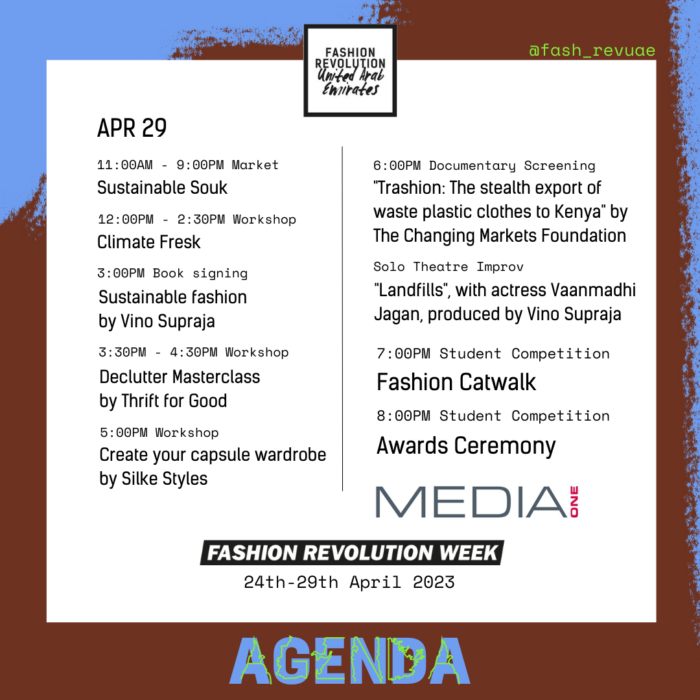 April 29- In person event- Grande Finale of Fashion Revolution Week. A day full of events at the Media One Hotel. Come and enjoy from 11:00 AM – 9:00 PM the pop-up market with the Sustainable Souk, a "Climate Fresk" Workshop in partnership with Goumbook, a "Create your capsule wardrobe" workshop with Silke Styles (Register HERE), a "Declutter Masterclass" workshop with TidyNest and Thrift for Good (Register HERE), a documentary screening, a book signing by Vino Supraja, a solo theatre improv with actress Vaanmadhi Jagan and produced by Vino Supraja, and finally, the catwalk of the Grand Finale of the Student Competition followed by the Awards Ceremony (Register HERE to attend the event / Register HERE to watch the Zoom streaming). Come, join the judges and vote for your favorite designs! Awards will be pieces of art by the renowned upcycling artist Pierre Abboud.
Fashion Revolution aims to raise awareness about the impact of the global fashion industry on the environment and people while inspiring a shift towards more sustainable consumer behavior. The events will engage industry leaders, educators, designers, academics, writers, marketers, producers, makers, workers, and fashion lovers in a collective effort to create a better future for fashion.
As a community-driven initiative, we want to thank our sponsors and supporters. Hotel Media One, Goshopia, FandF Dubai, Ziina, L'Amour Institute of Beauty School, Thrift for Good, Veghana, Pierre Abboud, and all the Universities that are participating in the Student competition.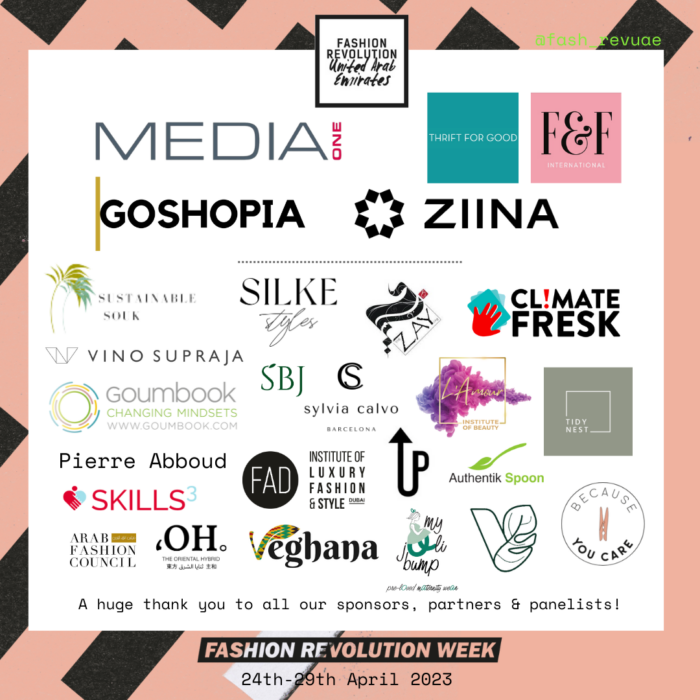 The fashion industry is one of the largest and most powerful industries in the world, with a significant impact on the environment, workers, and communities. However, it is also an industry that has the potential to be a force for good. By joining the Fashion Revolution UAE community, you can help us create a more sustainable and equitable future for fashion.
For further information and interview requests, please contact: Araceli Gallego, Country Coordinator, Fashion Revolution UAE: uae@fashionrevolution.org +971 55 5752608 and follow the event on social media @fash_revuae using the hashtags #WhoMadeMyClothes, #WhatsInMyClothes, and #LovedClotheslast.
Images and Logo available in this link: https://www.dropbox.com/sh/nxj53xqgu7t0eon/AAAz2S21yb_mDWawu0AOEpgaa?dl=0
---
Fashion Revolution is more than a movement; it is the future, and it begins with us.
Find out more on www.fashionrevolution.org
Follow us on…
FACEBOOK
INSTAGRAM
#FashionRevolution #FashionRevolutionUAE #FashionRevolutionWeek 
#WhoMadeMyClothes #WhatsInMyClothes #LovedClothesLast
Meet the Team
Araceli Gallego – Fashion Revolution UAE Country Coordinator
Armelle Montmayeur- Fashion Revolution UAE Marketing Manager
Habiba Bien- Fashion Revolution UAE Social Media Manager
Quintin Catabui- Fashion Revolution UAE
Pauline Doctolero- Fashion Revolution UAE
Say Hello
More details of each event can be found on the Fashion Revolution UAE Facebook & Instagram pages.
Follow the hashtags #FashionRevolutionUAE @fash_rev @Fash_RevUAE and #WhoMadeMyClothes to follow our story on social media
For more information or to arrange an interview please contact: Araceli Gallego, Country Coordinator, FRD-UAE, uae@fashionrevolution.org