An imbalance of wealth and power
Garment workers were already extremely vulnerable, working on precarious contracts and paid wages so low that they struggled to afford life's basic necessities let alone save for unexpected events such as a global pandemic. Worker Rights Consortium (WRC) estimates that across just 31 facilities they investigated, 37,367 workers were denied USD $39.8 million in wages to which they were entitled – meaning that each garment worker was denied about five months' worth of wages. And these figures are merely the tip of the iceberg; WRC has identified an additional 210 garment facilities across 18 countries where 160,000 workers are owed an estimated USD $171.5 million since the outbreak of Covid-19.
Asia Floor Wage Alliance (AFWA) published their report Money Heist in July 2021, which also acknowledged the unresponsiveness of governments to address the humanitarian crises unfolding globally as garment workers bore the largest burden of the pandemic brands transferred risk onto them and suppliers. 
The consequences of Covid-19 have unveiled a fashion system reliant on widespread exploitation and an imbalance of power between major brands and developing economies. In this moment of crisis, brands should have been showing solidarity and partnership to suppliers and workers at the outset. Yet, brands capitalised on the exploitative nature of purchasing practices (whereby suppliers shoulder all financial risk and brands have the most autonomy and protection) to withhold payments from suppliers and therefore negatively impact workers. 
This imbalance of power is perhaps most clear when considering that major brands and retailers only reinstated orders after considerable activist pressure and media exposure. The Fashion Revolution community sent more than 13,000 emails to major brands, and other campaigns such as Clean Clothes Campaign's #PayUp, have further galvanised public pressure on major brands and retailers to reinstate and pay in full for all cancelled orders. #PayUp has helped to recoup at least USD $15 billion. In response, some brands proposed that their suppliers accept heavy discounts on previously agreed prices, while others were threatened with cancellation if discounts were not accepted. Others refused to pay entirely, despite public pressure. Suppliers simply do not have the profit margins to survive this kind of financial insecurity. Garment workers have suffered and continue to suffer the most. Keep an eye on the Worker Rights Consortium brand tracker to see what your favourite brand is doing.
Industry consequences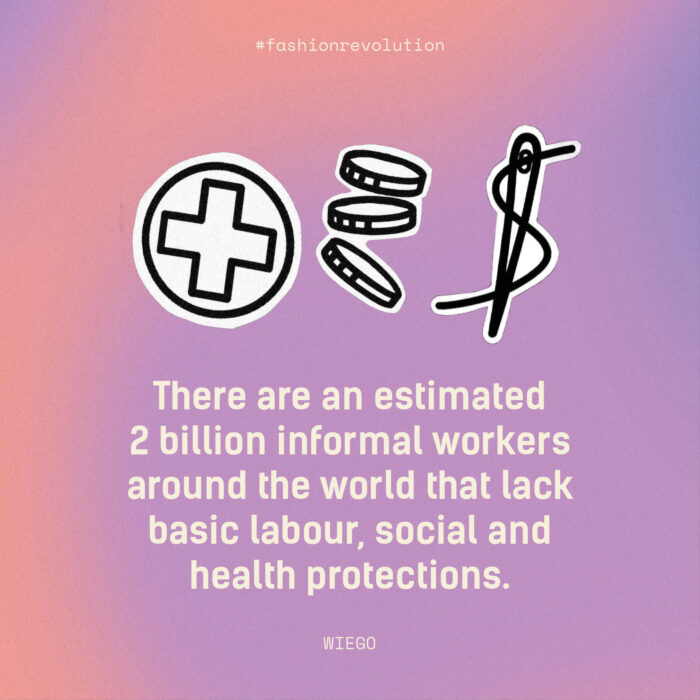 In the global fashion industry, brands typically pay their suppliers weeks or even months after delivery, rather than upon order. This means that suppliers usually pay upfront for the materials or fibres used to make the products which brands buy from them.

In response to the pandemic, major fashion brands and retailers cancelled orders and stopped payments for orders already placed, even when the work was already completed,  taking no responsibility for the impact this has on the people working in their supply chains. Factories were left with little choice but to destroy or keep hold of unwanted goods already made, and lay off their workers in droves. 
IndustriALL reported that while many fashion brands offered compensation packages for retail and office workers who face layoffs due to this crisis, they failed to protect the workers in their supply chains who are also suffering from the loss of income. Furthermore, the Solidarity Center believes that the inability to meet together in-person will inhibit workers' abilities to unionise and collectively bargain for their rights. Of course, fashion isn't just created in factories. Fashion is craft, artisanship and things that are often made by hand in informal environments. According to the Artisan Alliance, artisanal craft is the second largest source of employment across the so-called developing world. WIEGO estimates there are around two billion informal workers around the world that lack basic labour, social and health protections. As a result of Covid-19 threatening global trade flows, workers cooperatives, artisan groups, local crafts-based communities, home-based workers, agricultural workers and farmers face desperate economic circumstances.
Bloomberg reported in March 2020 that about 1,089 garment factories in Bangladesh were impacted by order cancellations, where roughly $1.44 billion worth of orders were cancelled due to the coronavirus outbreak. During this time, the AWAJ Foundation reported that many factories in Bangladesh shut down indefinitely. Some workers were given less than a month's salary as severance and many others have received nothing at all. Nazma Akter, the executive director of AWAJ explains, "These workers now don't know how they will take care of their families in the coming days – how they will manage costs for food, rent and other necessities. They can't even imagine what they'll do if they or a family member needs medical treatment for Covid-19. The meagre income these workers earned was barely enough to cover their living costs, and as a result, they have little to no savings set aside to deal with a crisis such as this."
On the other side of the world, in California, USA, The Garment Worker Center, a worker rights organisation whose mission is to organize low-wage garment workers in Los Angeles in the fight for social and economic justice. They have long been contesting the fact that garment markers in Los Angeles are often not eligible for unemployment benefits. This is partly because of the underground nature of the industry, such as "off the books" work, which makes applying for paid family leave or disability insurance uniquely challenging in the face of the pandemic. However, there is some good news to report.
In September 2021,  governor Gavin Newsom signed the Garment Worker Protection Act (SB62) into California law. This means that the more than 45,000 Californian garment workers will receive at least a minimum wage for their labour, currently 14 US dollars per hour. In comparison, garment workers have been struggling for decades under a piece pay rate system with some reporting earning as little as 2.68 US dollars per hour. The passing of this worker-led piece of legislation is a game-changer for the industry, as the bill's joint liability clause will now hold brands liable for the fair and legal payment of their workers. This is an enormous victory for garment workers.
Another huge step forward in brand accountability during the pandemic has been the Bangladesh Accord, which was set to expire in 2021 but due to successful campaigning has been renewed. The new International Accord for Health and Safety in the Textile and Garment Industry will ensure legal enforceability of brands' commitments, independent oversight of brand compliance, the obligation to pay prices to suppliers sufficient to support safe workplaces, and the obligation to cease doing business with any factory that refuses to operate safely. Best of all, the agreement will be expanded to other garment-producing countries, presenting the huge potential for improving factory safety for the people the make our clothes across the world.
A way out of crisis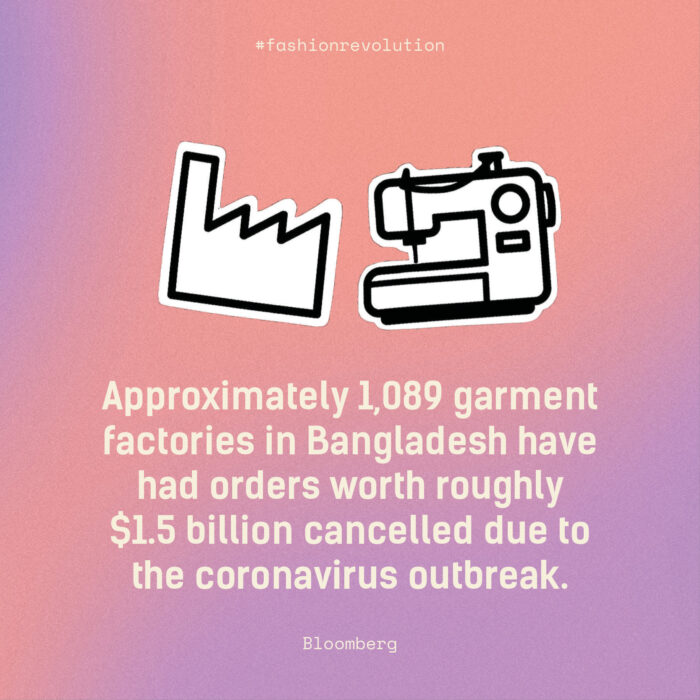 As many countries begin to navigate the reopening of their economies, questions remain of how garment workers will be protected from infection. In a podcast from May 2020, Bangladesh labour campaigner, Kalpona Akter cited transportation to work, close working quarters and lack of protective equipment as major barriers to worker safety as factories reopen. While governments in producing countries may request that factories operate at lower capacity, space workers further apart, and supply them with masks and gloves, the burden of these requirements cannot be financially undertaken by factories while the big brands place new orders and demand discounts. Brands, the most powerful players in the value chain, urgently need to support the workers whose livelihoods have been compromised by the crisis. 
Vaccine distribution is uneven and unfair, with priority recipients located in the Global North, which has worsened economic and social problems for garment workers globally. Garment workers' lives are put at risk by exempting workers from lockdown measures and making them work at full capacity in garment factories to meet orders of brands headquartered in countries with high vaccination rates. Importantly, however, UK garment workers were four times more likely to die from Covid-19 than the average female worker in the UK, highlighting the "stark conditions of working conditions in Britain's garment industry" that existed even before the pandemic. 
Access to vaccines is hindered for many by a lack of global manufacturing capacities and raw materials for vaccines. Further, weak healthcare systems and infrastructure at the local level has impeded rollout, in tandem with complex political and economic mechanisms such as ongoing disagreements over funding of garment workers' vaccinations. 
The South Asian Network on Economic Modeling (SANEM), a non-profit research organisation, together with Microfinance Opportunities (MFO), a global non-profit committed to understanding the economic realities of low-income and marginalised people, have been collecting monthly data since April 2020 on the employment, income, food security, wage digitisation and health of garment workers employed in factories across the 5 main industrial areas of Bangladesh. In June 2021, they published results of their survey of a pool of 1,285 garment workers in June 2021 which revealed that:
Only 2% of workers had received the vaccine prior to the survey. 

Only 22% of garment workers who wished to be vaccinated had access to information on how to gain access to vaccines 

When asked whether they think they are eligible to receive the vaccine, 36% said they were eligible; 28% said they were not eligible and 34% did not know if they were eligible.

Among the 36% who said they were eligible for vaccination, 76% said they would get vaccinated.

Among the 34% of respondents who are

not

eligible, 63% said they would get a vaccine if they became eligible. 

Overall, 69% said they would get the vaccine if they became eligible whereas 31% said they did not want to be vaccinated at all. 
The International Labour Organisation's (ILO) Better Work programme is platforming workers' experience of vaccination campaigns across some of their country programmes in Cambodia, Jordan, Vietnam and Indonesia. Vaccination roll-out campaigns are an important turnkey to return to "normal" life and access decent livelihoods in safe conditions. Some brands have donated money to enable the purchase of thousands of Covid-19 vaccines for garment workers in Bangladesh.
Data is limited so it is hard to understand the full picture. Research shared in September 2021 reveals that of 60 workers across 6 working sectors (readymade garments, leather, ship breaking, construction, waste recycling and home-based work) in districts of Dhaka, Ghazipur and Chittagong found that:
Only 27% of workers received the Covid-19 vaccine

73% of workers have not yet received any vaccine from the government.
Outcomes are even worse for garment workers:
Only 3% of workers in the RMG sector received the vaccine

Only 3% in the leather sector received the vaccine
Failure to prioritise worker health and safety forces workers to choose between going into a factory without access to necessary personal protective equipment (i.e. face coverings) with inadequate social distancing, and with minimal testing and vaccination or to face financial ruin without income or social benefits. It is untenable that garment workers must choose between death and destitution.