FASHION REVOLUTION
Bangladesh
WELCOME TO FASHION REVOLUTION BANGLADESH!
Fashion Revolution Bangladesh is a voluntary group that works closely with the next generation of fashion students, professionals, academicians, researchers, and industry leaders on skill development, research, and education to impact the fashion industry positively. You can reach out to us by sending an email to bangladesh@fashionrevolution.org
VIRTUAL EXCHANGE PROGRAM 2023
We are super excited to announce our new initiative, a virtual exchange program linking Bangladesh and Nigeria – the fashion capital of Africa. Witness the first-ever cross-national collaboration of its kind, uniting the creative forces of Bangladesh and the African fashion community. Get ready for a wave of cross-national projects – this is just the beginning!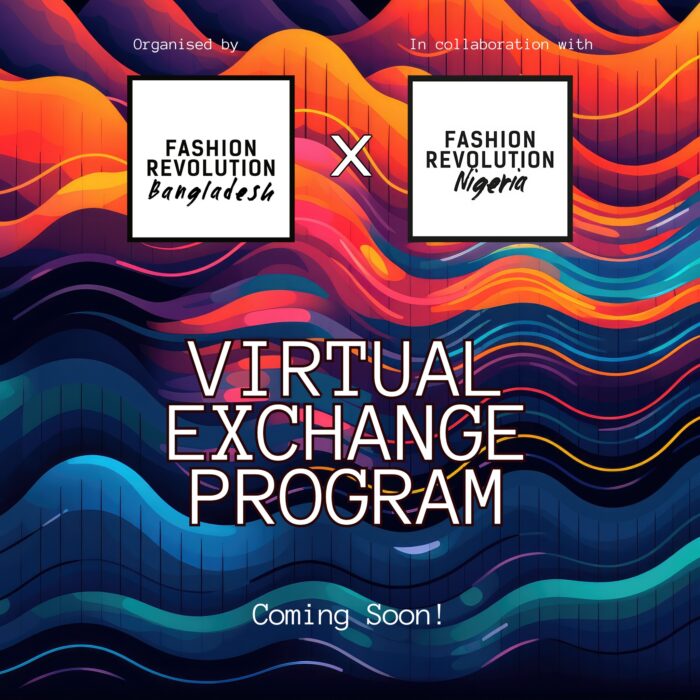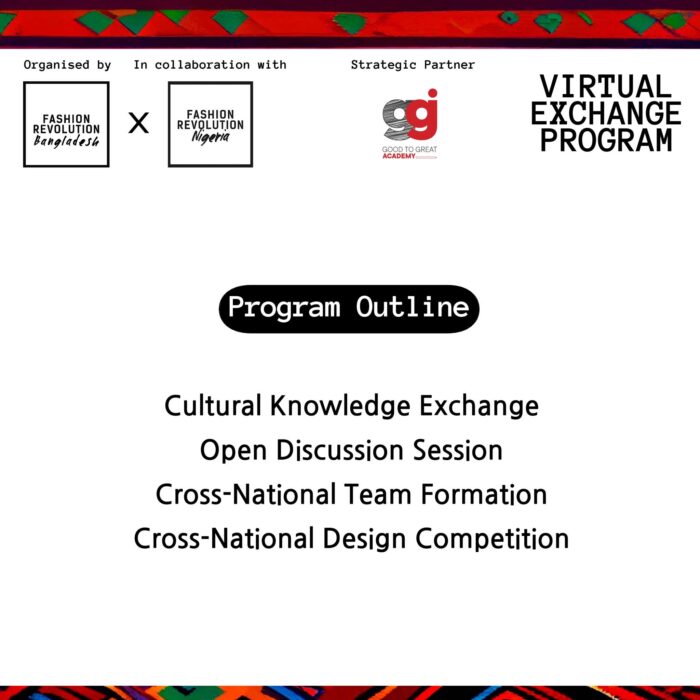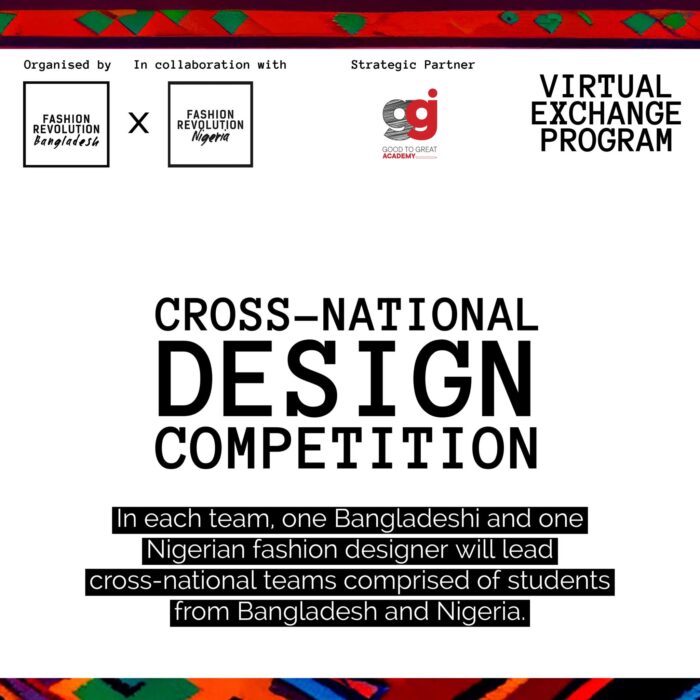 UPCYCLE UNIVERSE 2023
Join the Upcycle Universe Fashion Design Contest and showcase your creativity while promoting sustainability! Fashion Revolution Bangladesh proudly presents "Upcycle Universe," an exciting competition exclusively for undergraduate students in Bangladesh. This is your chance to delve into a world where waste becomes a source of inspiration, creativity, and fun. We invite you to design and create fashion products using reusable waste materials, while exploring their potential marketability.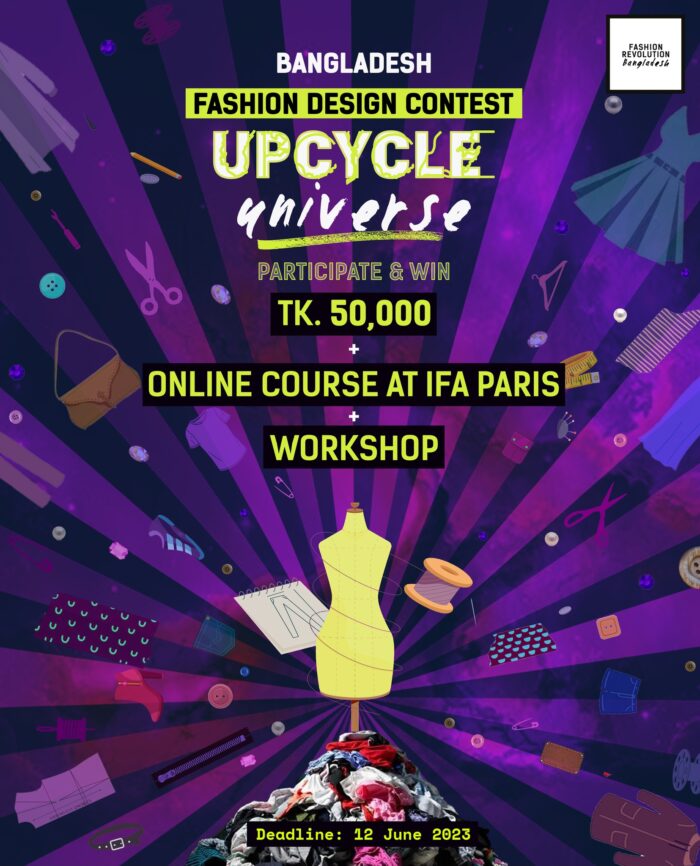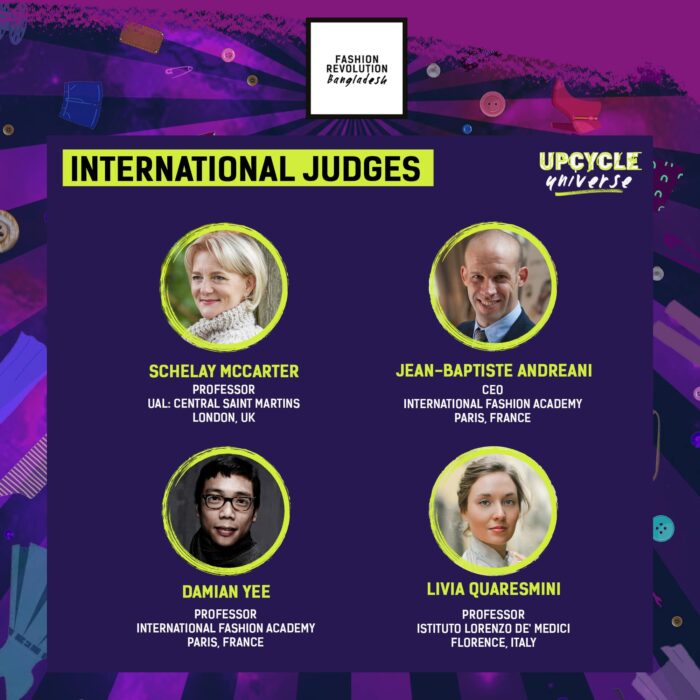 UPCYCLE UNIVERSE: GET TOGETHER 2023
Fashion Revolution Bangladesh organized a get-together session with participants at the Upcycle Universe/23 Design Contest. The Top-10 finalists joined the session and received certificates for their achievements. The "Upcycle Universe" Fashion Design Contest was a huge success! Undergraduate students in Bangladesh showcased their creativity, turning waste into stunning sustainable fashion pieces. This contest was organized by Fashion Revolution Bangladesh along with IFA Paris as an international academic partner and Aranya Craft Bangladesh as the knowledge partner. The event was powered by ICE Today.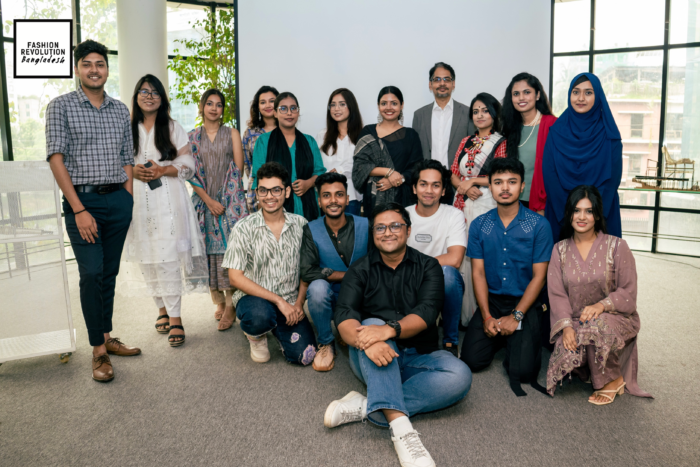 FASHION REVOLUTION WEEK 2023: VIRTUAL TALKS
Mark your calendars and stay tuned for one of the most insightful virtual talks on how to shift consumer behaviour to encourage sustainable consumption. The video will launch on the first day of #FashionRevolutionWeek on 22 April 2023 | 11:00 AM CET
Organized by Fashion Revolution Bangladesh in collaboration with Fashion Revolution Sweden
06 speakers from Finland, Germany, Sweden, UK, Italy, and Thailand
Discussing everything from sustainable consumption, consumer engagement and green consumer behavior to sustainable brand strategy, fashion innovation and more!