INVESTIGATING TEXTILE HISTORY
The textile industry dominated industry across the English North and Midlands during the 19th century. Textile fibres, dyes, and mordants polluted water bodies as a result. By taking sediment cores from lakes and reservoirs downstream of mills and factories, we can reconstruct the environmental impact which will have shaped the local communities and post-industrial recovery. At the same time, we will learn about the arrival, work, and eventual fate of the textile industry workforce and how they would have experienced the pollution and ecological change attached to their industry.
The Churnet has been shaped by the rise and fall of the textile industry which degraded the river and then shaped its eventual recovery. At one time, the river was said to be the most polluted river in Europe. This is a story of community resilience and integration, underpinned by cultural, linguistic and religious diversity, with Huguenot refugees adding to the large number of local textile workers in Leek's dyeworks and mills. Our community team will visit archives and historic sites, interview residents, and sample mud on riverbanks and lake bottoms for traces of this history.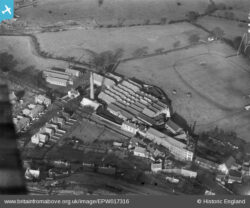 Our project addresses the lived experience of community building in a hands-on way, involving people in innovative activities that explore local history, migration histories and the impacts of industrial heritage on their environment, developing a more detailed and inclusive account of environmental history, one which includes refugee and migration stories as well as potential ongoing environmental impacts. We will draw parallels between the resilience and recovery of the rivers and lakes and the resilience of the local community in the face of deindustrialisation. 
Together, we will reinterpret historic Leek in parallel with the experiences of other textile-boom regions, such as Bangladesh, where migrants have settled and helped shape the culture and where rivers are filled with wastewater carrying dyes, fibres and mordants that accumulate in their sediments.