What's In Our Clothes and How Does it Affect the Oceans?
Plastic is designed to last forever, but we are using it to design products, including clothing and its related packaging, that are only used once. Around two thirds of our clothes are made from synthetic fibres, such as polyester, acrylic and nylon, which are all plastics. The process of turning fossil fuels into textiles for our clothes releases significant amounts of Greenhouse Gases.
Fashion's impact on the environment doesn't stop once our clothes are made. Textiles are the largest source of both primary and secondary microplastics, accounting for 34.8% of global microplastic pollution1, with around 700,000 microfibres being released in every wash cycle2. These microfibres enter our sewage system and many are too small to be collected by the wastewater treatment plants. Even those microfibres which are captured can end up in our oceans as treatment plant sludge is frequently used as a fertiliser on fields, from which it enters waterways and, in the end, the sea.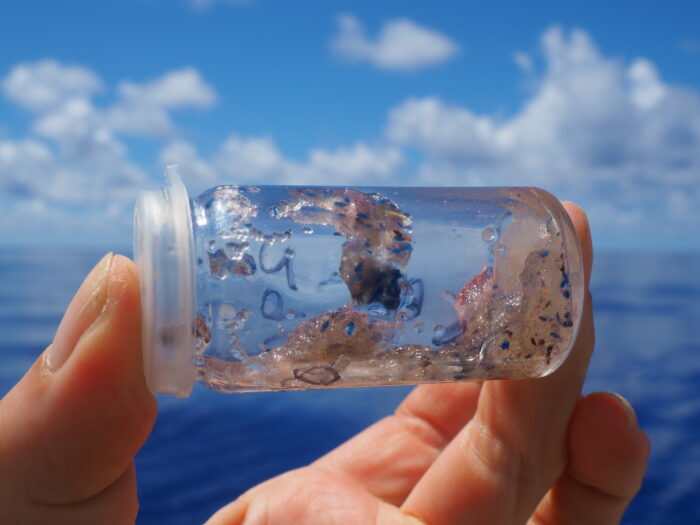 It has been estimated that 1.4 million trillion microfibres are currently in the oceans3 and if the fashion industry continues in a business-as-usual scenario, between 2015 and 2050, 22 million tonnes of microfibres will enter our oceans4. Recent research shows that plastics emit powerful greenhouse gases as they degrade and, over time, give off more and more gas, so the plastics accumulating in our oceans represent a vast, uncontrollable source of future emissions, as well as posing a danger to our marine ecosystems and to human health.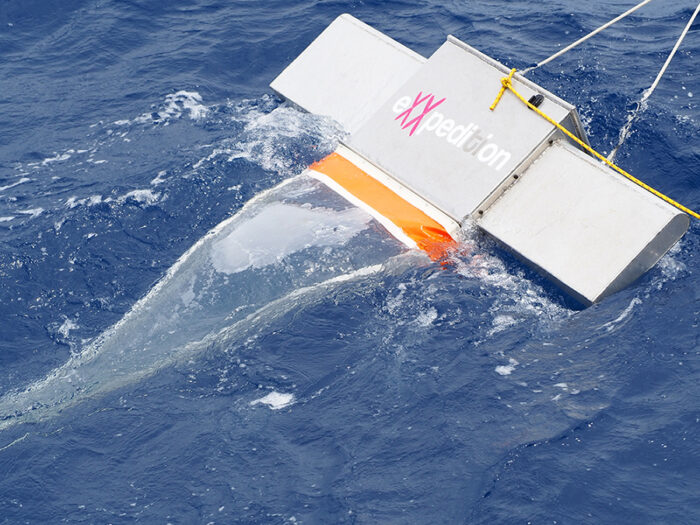 The fourth edition of Fashion Revolution's Fashion Transparency Index, launched in April 2019, ranks 200 of the world's largest fashion brands and retailers according to their level of transparency.  It measures how much information brands disclose about their suppliers, supply chain policies and practices, and social and environmental impacts.  In April 2020, the fifth edition will be published, covering 250 brands and retailers.  Five key areas are assessed: Policy & Commitments, Governance, Traceability, Know, Show & Fix which looks at how brands assess their suppliers and how they work to fix any problems and Spotlight Issues, which in 2019 focused on the the SDGs, the Sustainable Development Goals.
In terms of SDG12 Responsible Production and Consumption, whilst 43% of brands are publishing a sustainable materials strategy or roadmap, only 29% are disclosing the percentage of their products that are made from sustainable materials and just 15% publish measurable, timebound targets for the reduction of virgin plastics. Only 26% of brands explain how they are investing in circular solutions to reduce textile waste. In our 2020 Index, one of our Spotlight Issues will be Composition, looking at how brands and retailers are reducing salient environmental risks through material selection, the elimination of hazardous chemicals and moving towards circularity.  As part of this section, we will be looking for disclosure on what the brands are doing to minimise the impact of microfibres.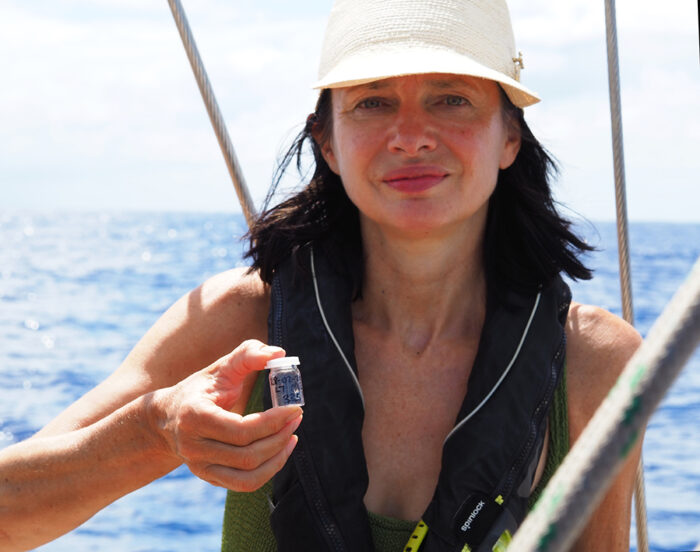 As we sail from Galápagos to Easter Island with eXXpedition, the analysis of polymer types from the plastics we collect will be invaluable for those brands who are committed to acting to reduce microfibre shedding and microplastics in our environment as they will be able to better understand the density and distribution in the oceans of the different plastic fibres found in our clothing so they can prioritise actions to reduce the areas of greatest impact.
However, there are no simple solutions when it comes to materials. A polyester shirt can have more than double the carbon footprint of a cotton shirt, but synthetic fibres generally have less impact on water and land than cotton5. Synthetic fibres made from recycled materials such as crushed plastic bottles or reclaimed fishing nets have around 50% lower emissions than using virgin fossil fuels6 but the microfibre release is likely to be the same.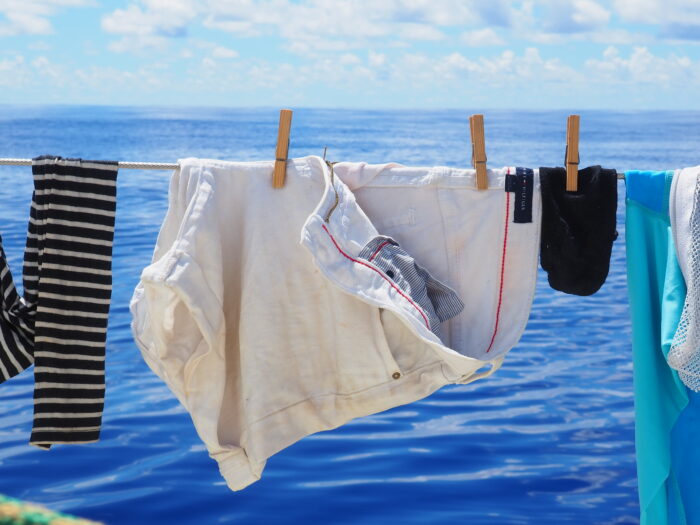 Building a more sustainable fashion industry and curbing its destructive impact on our oceans will entail governments, brands, retailers and citizens all taking action together to help bring about the systemic change needed to end the exploitation of our planet.
Governments must act urgently to deal with fashion's escalating environmental problem and as these solutions will, in turn, help tackle climate change, this should be a win-win. We are currently allowing companies to evade responsibility for their environmental impacts, so we also need to see mandatory due diligence and reporting for all major brands and retailers. Legislation should also be passed requiring all new washing machines to be fitted with effective filters to ensure maximum capture of microfibres.
Brands and retailers must change their business models and create products with longevity and quality. They must understand the true value of materials, which should be mindfully designed, redesigned and recuperated as a valuable resource. Brands must set Science-Based Targets and report annually on their progress.  And they must use sustainability to drive all aspects of their business.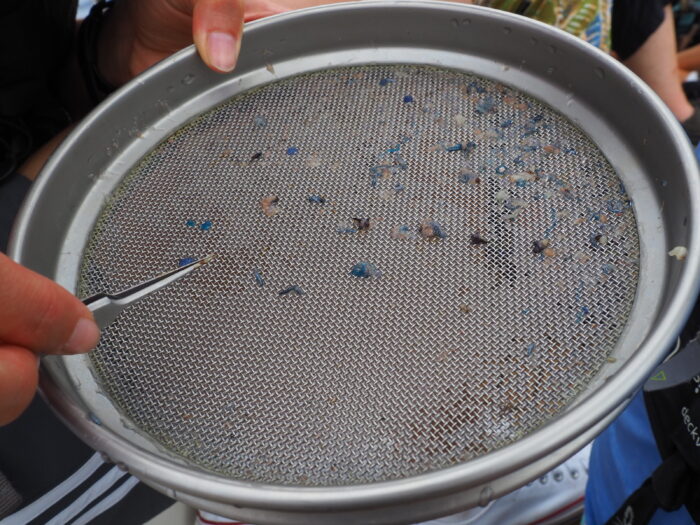 It can be hard to know how best to care for our clothes as research on reducing microfibre shedding is limited and, at times, contradictory. Recent advice suggests short cycles, using liquid detergent and fabric softener and washing at a low temperature.  What is certain is that the best way to reduce microfibre shedding is to wash our clothes less frequently. We can also rethink the fibres in our wardrobe and choose wisely when buying new clothes.
Finally, we can all use our voice and our power to demand that brands and legislators work to reduce the trillions of microfibres flooding into our waterways. That's why Fashion Revolution has just launched a new hashtag #WhatsInMyClothes.
Fashion Revolution's Manifesto states, "Fashion conserves and restores the environment. It does not deplete precious resources, degrade our soil, pollute our air and water, or harm our health. Fashion protects the welfare of all living things and safeguards our diverse ecosystems". If we all work together, we can, and must, create a global fashion industry that conserves and restores the environment and values the wellbeing of everyone and everything living on this earth and in our oceans over growth and profit.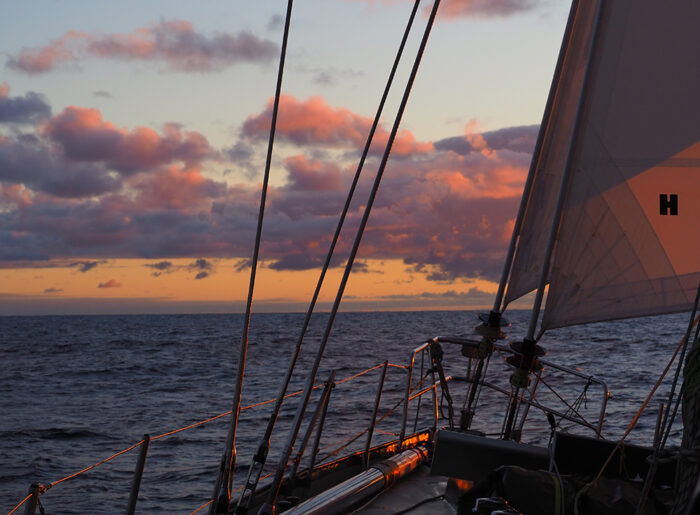 [1] Boucher and Friot, 2017
[2] Napper and Thompson, 2016
[3] Leonard, 2016
[4] Ellen MacArthur Foundation, 2017
[5] Olivetti et al., 2015
[6] Textile Exchange, 2017