An Ancient Fibre Transforming Communities
The Maya Youth Artisanship Initiative has been set up by textile artist Angela Damman to teach a new generation of artisans how to work with the fibre extracted from a species of agave indigenous to Yucatán, México: henequen.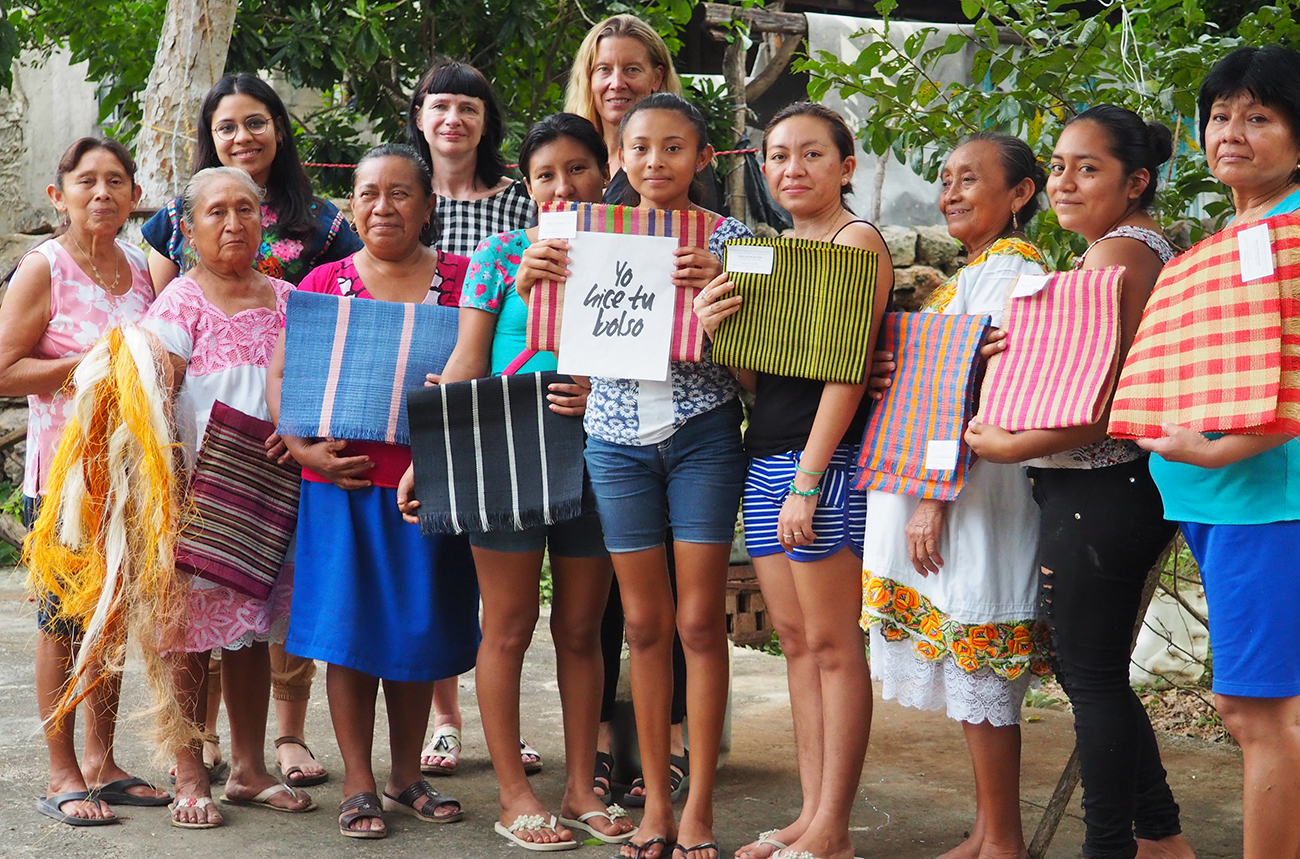 One hundred years ago, 70% of all cultivated land in the Yucatán was used to grow henequen and it once accounted for 90% of all ropes in the world, but the advent of synthetic fibres led to a steep decline in cultivation and in the skills used to create this strong, versatile fibre.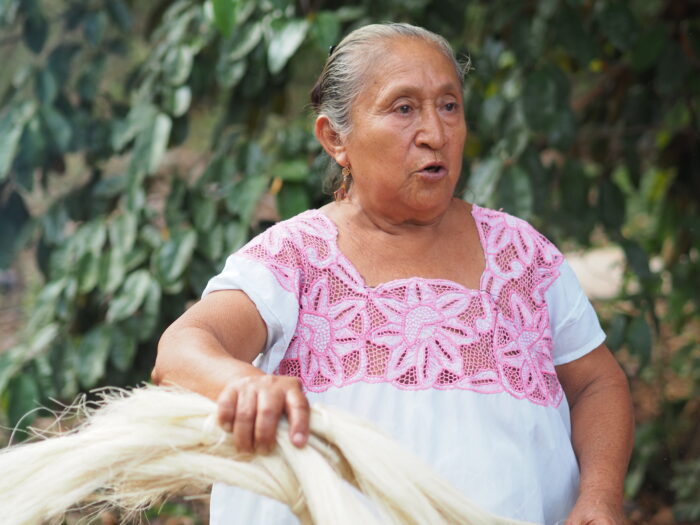 As a result, the craft of spinning and weaving with this endemic plant fibre almost became a lost textile art as the artisans who possessed the skill grew old and young people were reluctant to learn this traditional skill.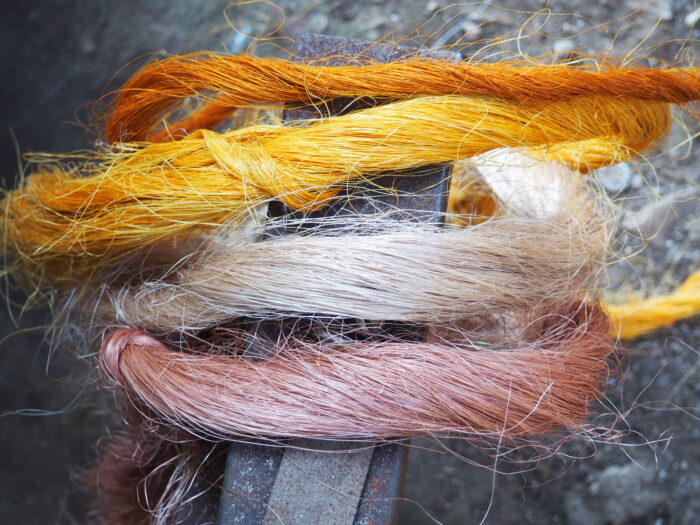 The young women of this region have been brought up in communities where they are marginalised in every aspect of their lives: they are indigenous women, poor, living in rural communities and speaking Maya. The initiative aims to reverse this sentiment by transforming these into positive attributes, showing them that being Maya, a weaver and living in a rural area with a rich cultural heritage is a pathway to opportunity.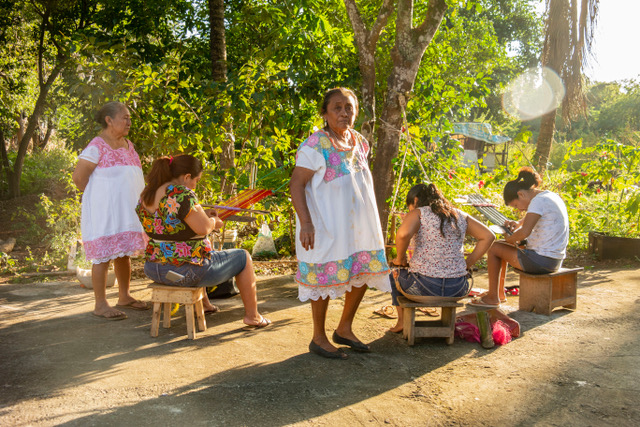 The pilot, in collaboration with Ashley Kubley, assistant professor, University of Cincinnati, aims to preserve the technique of working with henequen and elevate it from the utilitarian to create fine artisanal products such as bags which use new patterns, woven on backstrap looms and using natural dyes. Collaborating with the local community, the practice of weaving is now being transmitted from the teachers to the students, women 29 and under.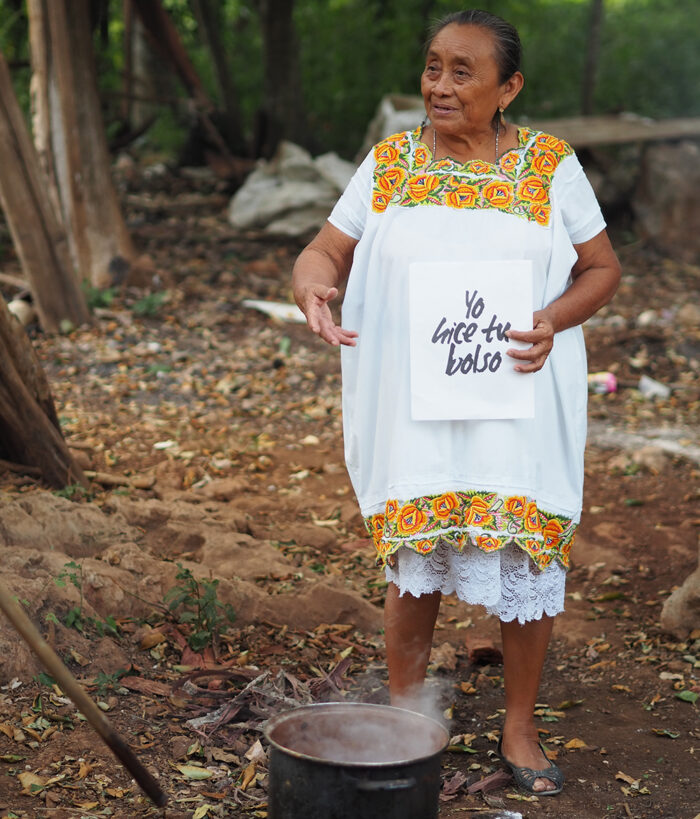 By bridging the generational gap through the transmission of skills, the craft is being demystified and destigmatised for the young women. The hope is that this will allow a new generation to develop the industry and see the art of weaving plant fibres as a design vocation. Participation in the luxury artisan handicraft market will enable them to keep alive the ancient knowledge of their ancestors, leading to a new appreciation for their Mayan identity and the regeneration of rural economies. This truly is sustainable development.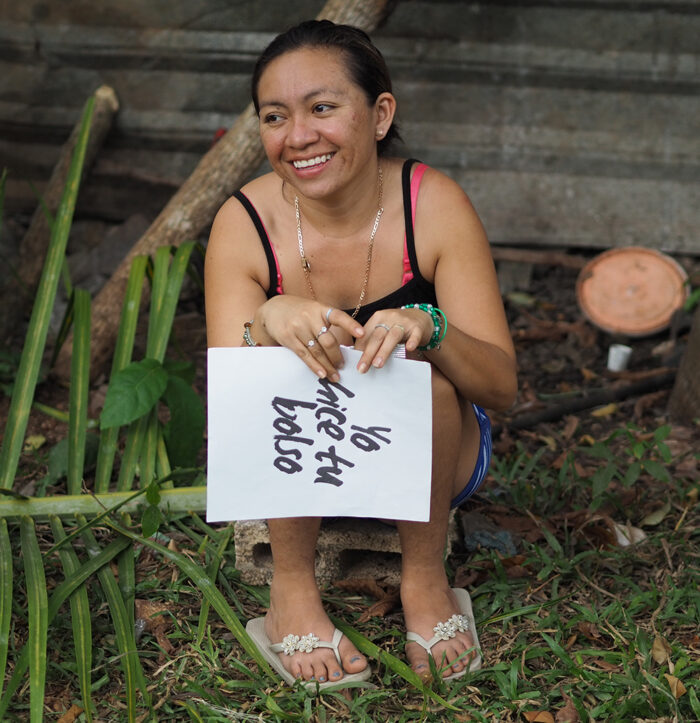 Text and Images: Carry Somers.
Weaving image: Angela Damman
Does Your Feminist T-Shirt Empower The Women Who Made It?
Photo: Shilpi Rani Das started working in a garment factory when she was 12 years old and moved to work at Rana Plaza at 13. She was working on the 8th floor at the time of the factory collapse. She lost an arm and spent the next 2 1/2 years in hospital. She is now at school, plays badminton and supports her family by sending money home. She is starting Open University.
The theme of International Women's Day 2019 is #BalanceforBetter and asks how we can help forge a more gender-balanced world. Brands and retailers are, predictably, all doing their bit to show support, from Pretty Little Thing's promotion of their #EveryBodyInPLT movement with T-shirts from £10, with profits going to the charity WAGGGS to Net-a-Porter's limited edition collection in collaboration with six female designers, with profits going to Women for Women International.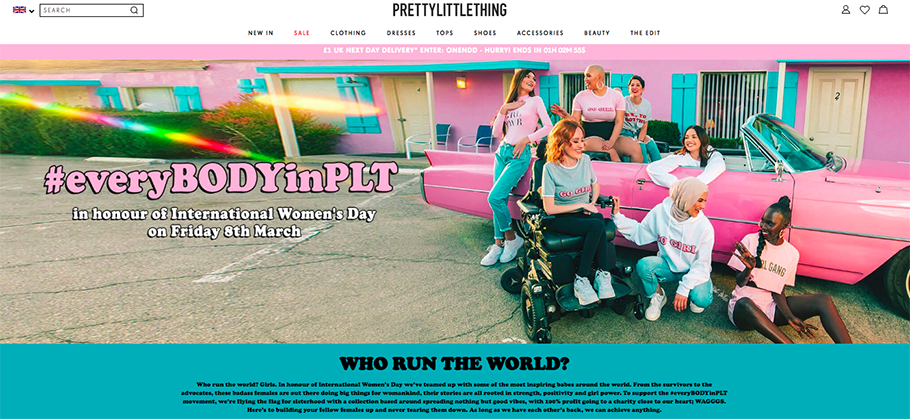 None of the webpages about the T-shirts feature any information about how or where they are made or who made them. About 75 million people work directly in the fashion and textiles industry and about 80% of them are women. Many are subject to exploitation and verbal and physical abuse. They are often working in unsafe conditions, with very little pay.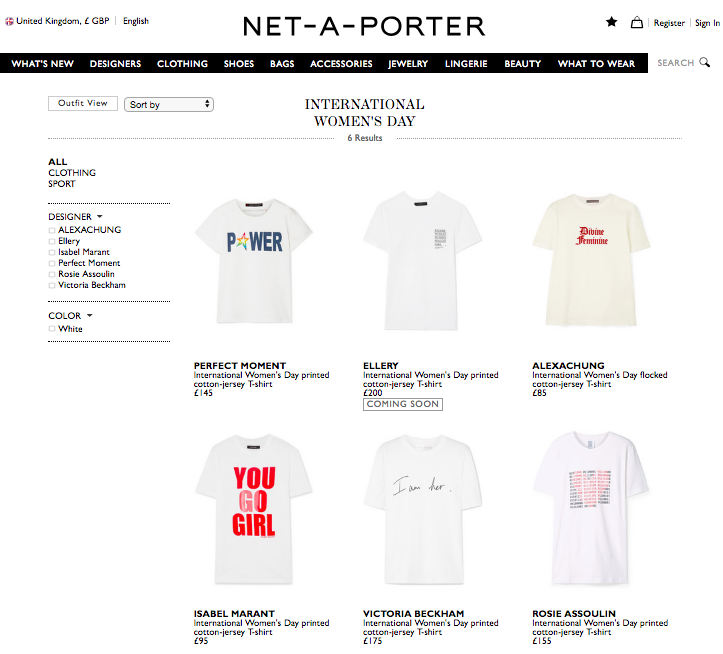 Actress Aisling Bea tweeted during Fashion Revolution Week last year: "My particular bugbear is feminist tees which were not made by women who were paid fairly for their labour. Check your tags and brands."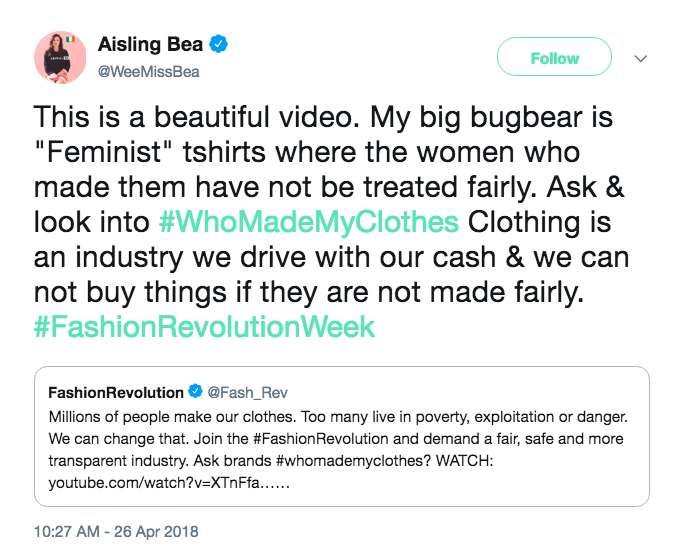 Slogan T-shirts with female empowerment messages will be everywhere this week to coincide with International Women's Day, but the reality is that the fashion industry doesn't empower the majority of women who work in it. Gender-based inequality remains a problem throughout the industry, from the highest levels of management to the shop floor and the factory floor. We still have a very long way to go until everyone who makes our clothes can live and work with dignity, in healthy conditions and without fear of losing their life.
One of the main projects Fashion Revolution worked on in 2017/18 was the Garment Worker Diaries. On-the-ground research partners met with 540 garment workers in India, Cambodia and Bangladesh on a weekly basis for twelve months to learn the intimate details of their lives. 60% reported gender-based discrimination, over 15% reported being threatened and 5% had been hit. When I met with the President of the Bangladesh Garment Manufacturers and Exporters Association in November 2017, he told me categorically that sexual harassment doesn't exist in garment factories in Bangladesh. One statistic I found particularly shocking was that 40% of the workers surveyed had seen a fire in their place of work. The women making our clothes are still risking their lives every day for our fashion fix.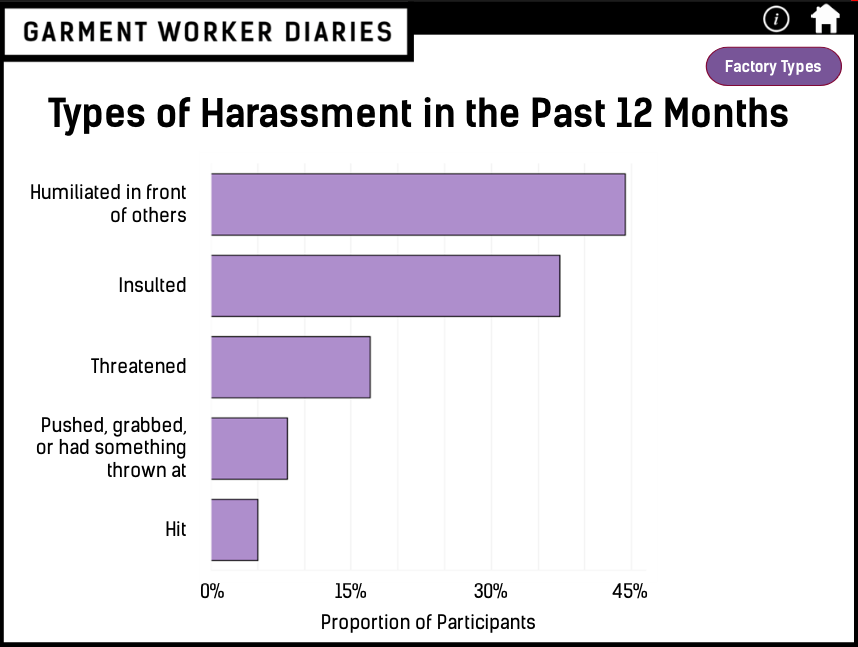 In January, The Guardian revealed that Spice Girls T-shirts raising money for Comic Relief's Gender Justice campaign were being made at a factory in Bangladesh where women earned 35p an hour and claimed to be verbally abused and harassed. Garment production in Bangladesh is still carried out in a very opaque manner and the lack of information about where our clothes and shoes are made and who made them is a huge barrier to changing the fashion industry. This means that gender inequality and human rights abuses and remain rife. If you can't see it, you can't fix it, which is why Fashion Revolution urges all brands and retailers to have full supply chain transparency, and we track this through our annual Fashion Transparency Index.
Fashion Revolution's Fashion Transparency Index 2018 which reviews and ranks 150 major global brands and retailers according to their social and environmental policies, practices and impacts, throws a spotlight on how brands and retailers are tackling gender-based discrimination and violence in supply chains. The report specifically looks at how they are supporting gender equality and promoting female empowerment, both in their own company and in the supply chain.
Whilst, most brands publish policies on discrimination, harassment and abuse, the research show that only 37% of brands are publishing human rights goals. Without reporting on goals and, importantly, annual progress towards these goals, consumers have no way of knowing whether their clothing purchases are really helping to drive improvements for the women who are making their clothes.

Only 40% of brands and retailers reported on capacity building projects in the supply chain that are focused on gender equality or female empowerment, while just 13% publish detailed supplier guidance on issues facing female workers in their Supplier Codes of Conduct. Only 37 out of the 150 brands surveyed report signing up to the Women's Empowerment Principles, an initiative by the United Nations Entity for Gender Equality, or publishing the company's overall strategy and quantitative goals to advance women's empowerment. Meanwhile, just 5% of brands are disclosing any data on the prevalence of gender-based labour violations in supplier facilities, such as sexual harassment and other forms of gender-based violence, or the treatment and firing of pregnant workers.
In the 2019 Fashion Transparency Index, to be published in April, we will be surveying 200 brands and asking the same questions around women's empowerment. Women's economic empowerment and closing gender gaps at work is key to realising women's rights and central to achieving the 2030 Agenda for Sustainable Development, in particular SDG 8 on promote sustained, inclusive and sustainable economic growth, full and productive employment and decent work for all.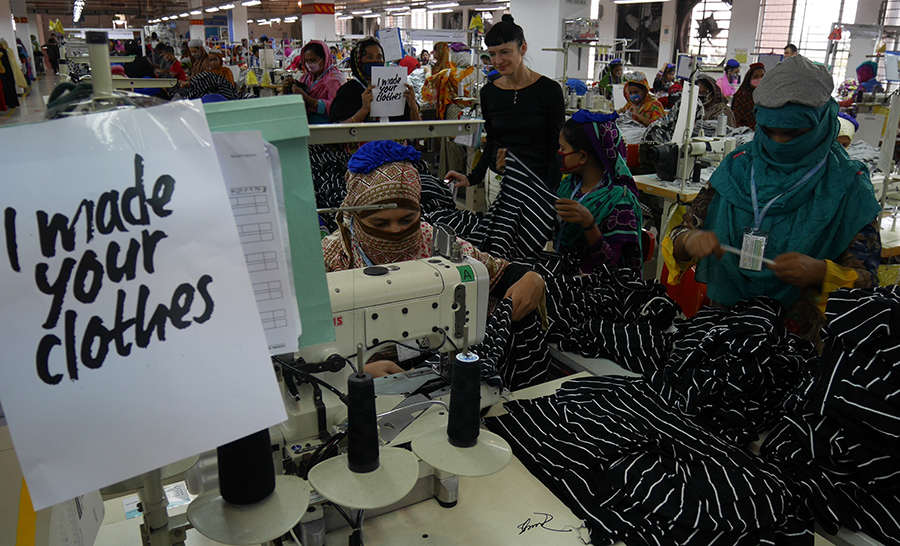 According to the BoF McKinsey & Company report The State of Fashion 2019 "Younger generations' passion for social and environmental causes has reached critical mass, causing brands to become more fundamentally purpose driven to attract both consumers and talent". As a result, the appearance of the word "feminist" on retailer homepages and newsletters is forecast to increase in frequency sixfold compared to two years ago. Brands are adopting feel-good feminist slogans, yet the rise of real feminism and female empowerment within the industry is a long way off for most women who work in it, from the highest levels of management to the shop floor and the factory floor.
If we really want to see a more gender balanced world, brands and retailers need to do more than sell empowering T-shirts; they need to make sure their policies are put into practice. And not just in the visible places, on fashion shoots or within their company, but at every level of their supply chains. The people making our clothes may not be visible, but every garment they make has a silent #MeToo woven into its seams. At Fashion Revolution, we believe positive change in the fashion industry is possible, and it starts with transparency.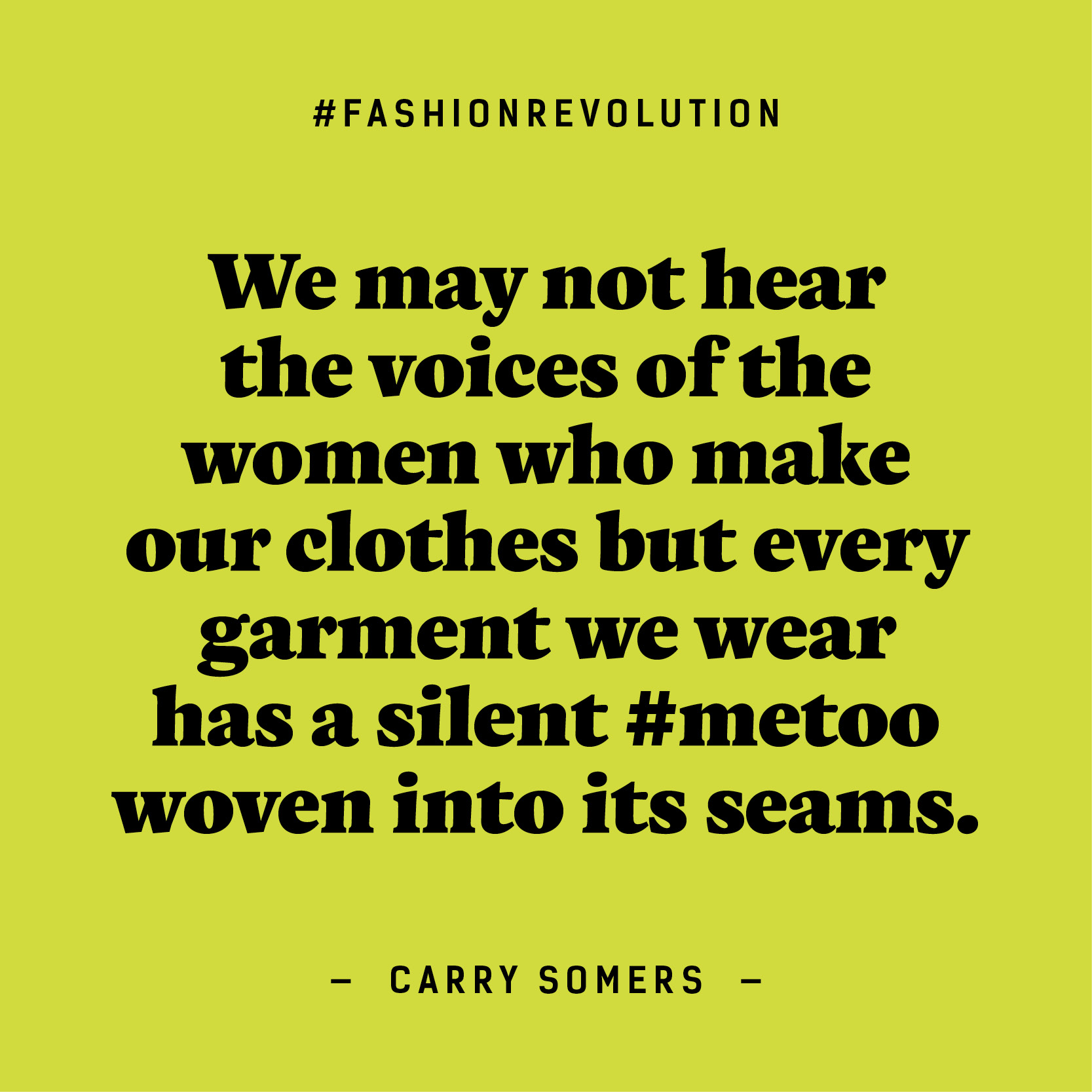 The Five Years of Fashion Revolution
by Carry Somers and Orsola de Castro
On 8 May 2013, the two of us wrote an email which began 'like many, we have seen the terrible tragedy in Bangladesh as a call to arms and feel that we should build on the momentum which has been generated. An annual Fashion Revolution Day would be a way to ensure that these deaths are not in vain, show the world that change is possible, and celebrate those involved in creating a more sustainable future for fashion'.
The responses to our request for involvement fell into two quite clear camps. Many responded with no hesitation; one email we received back just said yes, yes, yes! Some expressed a degree of hesitancy. Do we really want to call for a revolution in the fashion industry? How about calling it Fashion Evolution? Although the two of us are very different in very many ways, we are remarkably similar in others: we are both entrepreneurs, both pioneers in our respective fashion spheres, both risk-takers and both have a fundamental belief in the power of people to effect change given the right motivation. We had no doubt that a revolution was needed – a radical and pervasive transformation of the way in which the fashion industry operates.
We were right to push for revolutionary change. People were ready to listen.

Looking back at the minutes from our very first meeting, we had real clarity around how we would communicate our message in order to accelerate change: we need one big aim; make it as visible as possible; keep it strong; make it positive without ignoring the negatives; make it inclusive; talk about how the relationship with the people who make our clothes has broken down and connections need to be reestablished. Finally, we needed to give people a question they can all ask: who made my clothes?
This clarity of vision, coupled with the right channels of communication, has made Fashion Revolution the biggest fashion activism movement in the world. We have teams in over 100 countries and there are well over 1000 events happening all around the world this week.
Fashion Revolution is first and foremost about people; it is about making visible the connections between everyone in the fashion supply chain as a first step towards change. We've made citizens realise that their own wardrobe is in the fashion supply chain, about three-quarters of the way between the cotton seed and recycling the fibres. Everything we do has an impact on that supply chain. We reshape the fashion industry, the lives of its workers and its resources, every time we buy or dispose of an item of clothing.
Fashion Revolution was set up for the love of people, in memory of those who died at Rana Plaza, those who have died in countless other fires and building collapses in garment factories around the world, and those who are still losing their lives every week so we can wear beautiful clothes. That love of people continues to shine through. We are not about celebrities. We are not about power and success. We are about humanity. Fashion is about instant gratification. We are about the long term gratification that comes from knowing entire workshops, factories and communities are slowly becoming visible. We see empowerment not as a celebrity wearing a feminist slogan T-shirt on instagram, but as the workers who made that T-shirt being given a voice through the garment worker diaries project. When we inaugurated a new hashtag #Imadeyourclothes in 2016, someone commented on social media that it represented 'the most joy I've ever had from a hashtag!'
We've given everyone tools to take part – there are online packs for brands and retailers, producers, makers and factories and educators. For fashion-lovers, as well as a Get Involved pack, there is our How to be a Fashion Revolutionary booklet, our fanzines Money Fashion Power and Loved Clothes Last, our guides to the #Haulternative and Love Story challenges. There are endless ways in which everyone can take part from changing your attitude, to changing your wardrobe, to changing your world. We've encouraged millions of people to Be Curious, Find Out, and Do Something. We don't have all the answers. We want to encourage everyone to ask questions of their favourite brands, to do their own research, to use their power as consumers to hold the industry to account for its actions and impacts.
We called for a revolution at the right time as the infrastructure of the industry, and the industry itself, have shifted in the past five years.   We were right to call for a revolution because both ideas and practices had to be refashioned, a new paradigm was needed, and we can see this starting to happen. A revolution means change and change represents freedom. There is excitement around this change; it no longer feels dull nor scary, but represents a creative space in which to operate. Everyone within this space at this time can be considered a pioneer, and pioneers don't have references – they make their own.
Five years on, a Fashion Revolution is taking place. Not fast enough, not enough engagement throughout the industry, but make no mistake it is happening. It's bubbling up through the cracks and crevices, it can no longer be submerged. In another five years it will be a raging torrent, reshaping everything in its path. If you aren't part of this movement, you will be swept along by it (or perhaps even swept away by it) as the structure of the fashion industry is revealed and revolutionised.
We are Fashion Revolution. Join us.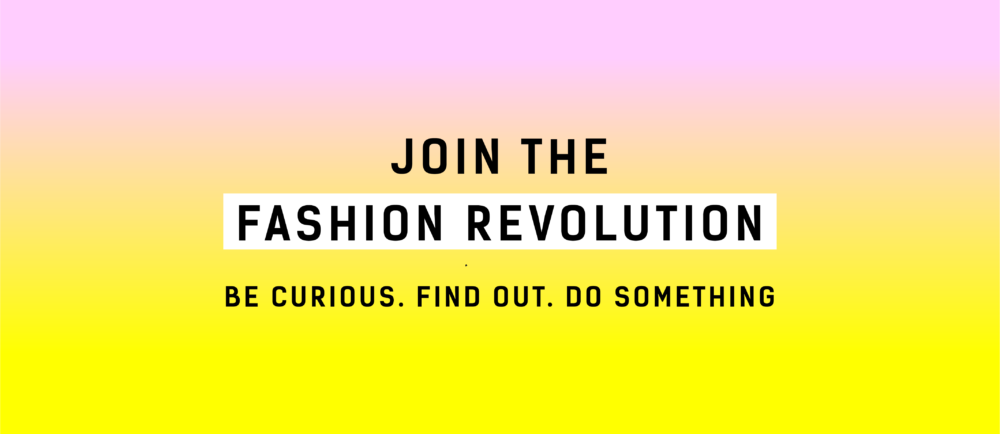 #MeetYourMaker – This is Nisha Begum
In her own words Nisha is honest, hard working and devoted. Nisha is a 28 year old mother of one. She is also a sewing machine operator at the Echotex manufacturing facility in Dhaka, Bangladesh. 6 months in into her role, the biggest challenge she's faced is picking up the necessary skills to meet the quality standards required to produce the first NINETY PERCENT collection of premium basics. Every working morning, she says goodbye to her 5 year old son and leaves her home in Shafipur, Gazipur district to catch the rikshaw to Dhaka and make your clothes.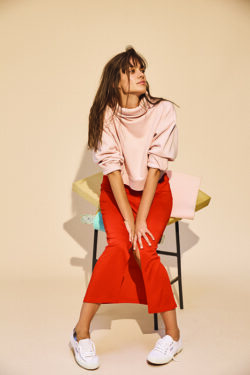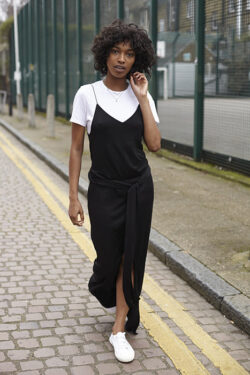 Greatest Achievement:
Being a kind mother to my five year old son is my greatest achievement. It's hard to find the words to express my love for my boy but I feel heaven's peace when he runs into my arms for a hug. It makes me so proud to see my tiny boy keep himself neat and tidy and behave well around friends and neighbours.
Work highlight so far:
Completing NINETY PERCENT collection 1 is my greatest career achievement. It was a big challenge for me to make sure the finish was first class. NINETY PERCENT is exclusive product so I had to work hard to assure the quality. I learned a lot making collection 1 and I hope these skills will serve me well in future.
Best memory:
Catching fish as a child. I fished a pond near home in my native village of Bishnupur in the Gaibandha District. The best time to fish was late autumn when the water level was down and it was easier. All the boys and girls fished together then our mothers' cooked the fresh fish for us.
Favorite place:
Cox's Bazar – it's the world's largest natural sea beach. It's an amazing feeling by the sea with the breeze and the sand. I've never seen any other beaches but I'm sure Cox's Bazar is the best. Last winter the whole family went there, all the hotels and motels there are world class for all types of foreign and local tourists.
Best life advice?
My parents advised me to always be truthful. I've followed this advice at every stage of my life. Wherever I have been or done I have always been truthful. Actually, I think that's my greatest achievement. It's advice I passed on to my child – I think that's why he is so well behaved.
The one thing you can't live without?
My husband is my life partner – our marriage was arranged by our families. His name is Ashraful Alam and we've been living for 10 years. He feels my happiness and pain and tries to help me solve problems. We have a deep understanding of each other – our eyes can read each other's hearts. My man is wonderful. He always takes care of me and shares what he thinks.
Where do you see yourself in 5 years?
In five years time I wish to be a team-leader. First of all I want to be the best most efficient employee I can – this will see me rise. My supervisor Mr. Azizul's motivates me and boosts my self confidence. My first day in the job was a mixture of sadness, fear and happiness. I was sad because I thought I would be busy with no more free time to do what I wish. I felt fear because I didn't know the job or the environment. I felt happy thinking about the money I would earn. Now I wake up in the early morning to complete my family tasks then say bye to my boy and leave for work. When I'm there, I complete my tasks, then return home at 5.30 pm to focus on my family again.
When are you happiest?
I become happiest outside of work when I'm with my family. We spend our time laughing, gossiping and doing lots of things. I love to play chess with my husband and cook – especially mutton curry. Before we go to sleep we always have cup of tea together at the end of the day. Making the tea for everyone is a special moment for me.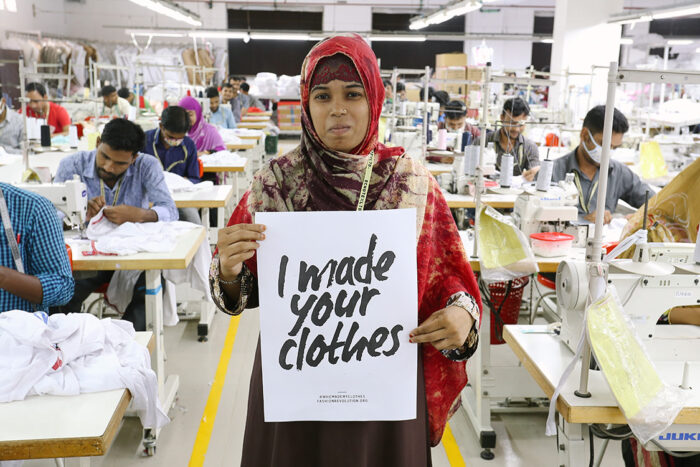 Fashion Open Studio: BE CURIOUS, FIND OUT, DO SOMETHING
Fashion Open Studio 2018 – "the only fashion week worth caring about" – expands as a powerful platform for designers and brands to discuss who made your clothes during Fashion Revolution Week. Building on the initiative which started last year, designers from London to LA will be taking part, sharing their processes, ideas and best practice. This is a platform that celebrates transparency in the industry.
The aim of the week-long series of events is to engage the consumer further in the conversation about who makes our clothes – and to involve them in some of the processes along the way.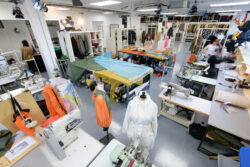 A diverse range of designers including Stella McCartney, Phoebe English, Christopher Raeburn, Community Clothing, John Alexander Skelton, Roberts|Wood, OneByMe, Katie Jones, Kepler London, Elvis & Kresse x Burberry Foundation, and Vivienne Westwood will each be adding their own voice to a Fashion Open Studio 2018, a week of talks, workshops, picnics and radical quilting.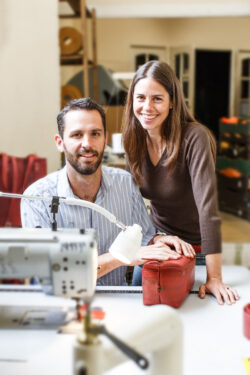 A highlight of the week will be the Burberry Foundation will be talking about their five-year partnership with Elvis & Kresse to re-engineer waste material through innovative craftsmanship in an open conversation at sustainable luxury visionaries Elvis & Kresse's Kent HQ.
To kick off Fashion Open Studio 2018, Patrick Grant, founder of Community Clothing and CEO Lucy Clayton will be talking about why – and how – they are trying to revive the British manufacturing and textile industry. Their state of the art Cookson & Clegg factory in Blackburn now has the facility to produce 2,000 garments a month.
They will be joined by fellow industry veteran (ex Topshop, Asos and Finery London) Caren Downie, who recently launched her own Made in Britain glasses brand ByOcular. The opening event is supported by CELC – Master Of Linen, who will launch the I Love Linen campaign collaboration with Chelsea College.
MEET AND MAKE
Fashion Open Studio is a rare chance to meet and make with some of London's most exciting young designers and their teams including Kepler London who will be opening up their Ridley Road studio to talk about how thy work and show some of their innovative knit pieces in production.
The designer cooperative Congregation who will be hosting a 3-day workshop to engage the public and create new work. They will be creating new pieces from the previously discarded. The pieces will be passed from designer to designer, each adding their own thoughts and expertise along the way and allowing them to develop into an unpredictable outcome.
All are finding new ways of producing their collections so they can take greater environmental and social responsibility for their fabric choices, supply chains and production processes.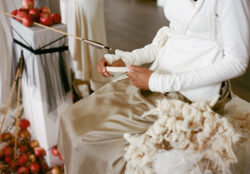 Fashion Open Studio is a great way to learn new skills from some of the industry's most exciting talent. There will be a rare opportunity to join Phoebe English at her Deptford Creek studio in her Quilting From Waste workshop, using her waste fabric from the past year. She is looking forward to having time to join the stitching, to discuss waste, recycling, and how to combat mass consumption. The activist artist and poet Wilson Oryema will be on hand to read from his recently published book, Wait.
The acclaimed accessories designer Michelle Lowe-Holder will be hosting a ribbon reclaim jewellery making workshop.
And to end the week, one of the most innovative design duos, OneByMe will be hosting the launch of their ONELAB, a social enterprise which will encourage people to create their own garments like the OneByMe One Piece T-shirt. HOW WILL YOU MAKEIT will be an opportunity to try our hand at making your own piece of ONEBYME. This radical new brand is finding a new way of making fashion based around circularity. Any waste fabric is fed to their wormery. Cocktails using herbs grown from the resulting compost will be served.
In partnership with Sarabande: The Lee Alexander McQueen Foundation, there will be two talks. Fashion Open Studio curator Tamsin Blanchard will be discussing the merits of slow fashion with Sarabande designers John Alexander Skelton and Roberts|Wood.
DISRUPTING THE RETAIL INDUSTRY
Fashion Open Studio is excited to announce a partnership with the social online clothing marketplace Depop, to promote the Nothing New open studio event, focusing on why vintage classics are all you need. 40 % of 18-24 year-olds bought second hand clothing last year. Second hand clothing sites like Depop and The RealREal are changing the retail landscape, giving clothes a longer life and slowing the sale of new clothes. The Depop event at Protein Studios will be a chance to meet some of Depop's own community of sellers and will feature an exhibition of iconic items and their story throughout the years. There will also be a workshop by the extraordinary footwear artist Helen Kirkum.
Remade Reduced Recycled is the Christopher Raeburn mantra. For Fashion Open Studio, Raeburn will be hosting Raeburn Repairs, an open day of free repairs. Guests will be welcome to bring along their favourite items that are in need of a little TLC to be repaired and remade as good as new (if not better). "In a world of overconsumption and fast fashion, one of the most radical thing we can do as consumers is to keep our clothes in use for as long as possible," says Raeburn. We couldn't agree more.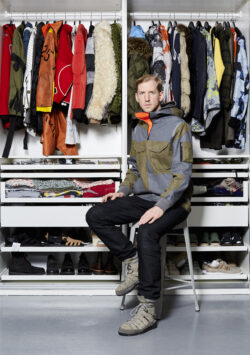 DO SOMETHING
Fashion Open Studio is a global event and will include workshops, talks and studio tours around the world. Highlights include:
Melbourne, A.BCH will be sharing the transparency story behind their basics brand, with Cutpiece, a series of up-cycling workshops. Participants are invited into the studio to make a new item from old clothing, off-cuts or salvaged materials. Participants will be able to choose their own adventure and skill level by choosing one of three workshops to be held throughout Fashion Revolution Week.
And in Shanghai, LVMH-shortlisted designer Xu Zhi will be opening up his Chinese studio with a rare opportunity to see some of his production techniques and craft.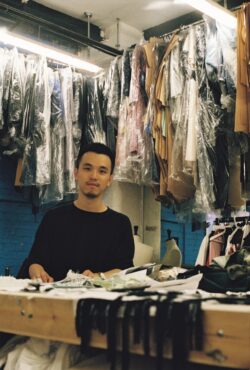 In Buenos Aires, Manto Abrigos will be hosting daily events at their showroom to talk about the stories behind their brand, the sociology of fashion, and the close connections with the artisans who make the clothes.
In Jakarta, Manual Jakarta presents Fashion Revolution Open Studio: Wilsen Willim, supported by  British Council Indonesia and also Fashion Revolution Indonesia.
In New York and LA, Stella McCartney is celebrating her recent partnership with the consignment website The RealReal with in store events designed to inspire customers to care for, repair and prolong the life of their clothes so that they can have a second life as part of a circular economy.
Check out Fashion Revolution Open Studio events page for details of an event near you.
'We want to celebrate the invisible process behind designers finished collections, the intimacy of a studio, the reality of the team, and see the people that make out clothes' Orsola de Castro
'This year's Fashion Open Studio is such an exciting mix of creativity and new ideas. It is all about collaboration and making a different kind of fashion community. Open Studios is an opportunity to shine a light on a group of emerging designers – and some established trailblazers – who are finding alternative ways of producing fashion that is mindful of the makers, the planet, and its resources. They all work in very different ways and are at different stages in their journey but are united in their mission to make fashion better.' Tamsin Blanchard, curator, Fashion Open Studio
Fashion Revolution Week, April 23-29  is a global campaign sparking a wider public conversation about the impacts of our clothes on the people who make them.
Bangladesh Garment Workers Stand up for Rights at Work
Five years after the deadly Rana Plaza building collapse in Bangladesh, workers and union activists say despite the massive demand from workers for union representation to achieve safe workplaces, worker-organizers must face down threats, harassment and violence to educate workers about their rights on the job.
Since the April 24, 2013, tragedy in which more than 1,130 garment workers died and thousands were injured, the government has approved a little more than half of the garment unions that have applied for official registration, according to Solidarity Center data. Confronted with employers and a government hostile to worker organizations, worker-organizers have sometimes risked their lives to help workers improve wages and working conditions.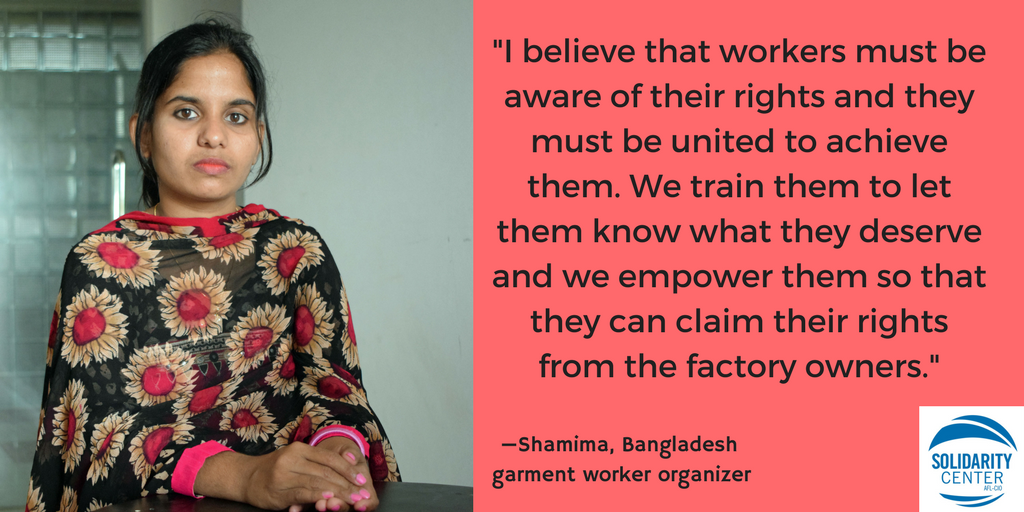 Shamima Aktar, a garment factory worker and organizer with Bangladesh Garment and Industrial Workers' Federation (BGIWF), is one of them. During a meeting with management at a newly unionized factory, managers refused to grant a demand made by the factory union that salaries be paid on a timely basis. Instead, Shamima and the other union representatives were locked in the building and beaten, she says.
"But what moved me was that hearing about our abuse, 17 trade unions around the community immediately came to our aid and barricaded the whole factory which we were in. The workers needed us on their side to be able to live in peace and I wish to [keep organizing] no matter how difficult it is for me," she says.
Through persistence and courage in the face of daunting odds, worker-organizers have helped garment workers form unions despite the severe obstacles. In Bangladesh, more than 200,000 garment workers at 445 factories are represented by unions that protect their rights on the job.
"I have worked day and night, went to gates of factories to talk to the workers, walked with them to their homes to earn their trust and to make them aware of how they are being exploited and deprived of their rights," says Monira Akter, an organizer with the Bangladesh Independent Garment Workers Union Federation (BIGUF). "So far, we have united 2,250 workers into trade unions, and they say that we give them courage and hope. For me, these words are enough to encourage me to work on for them."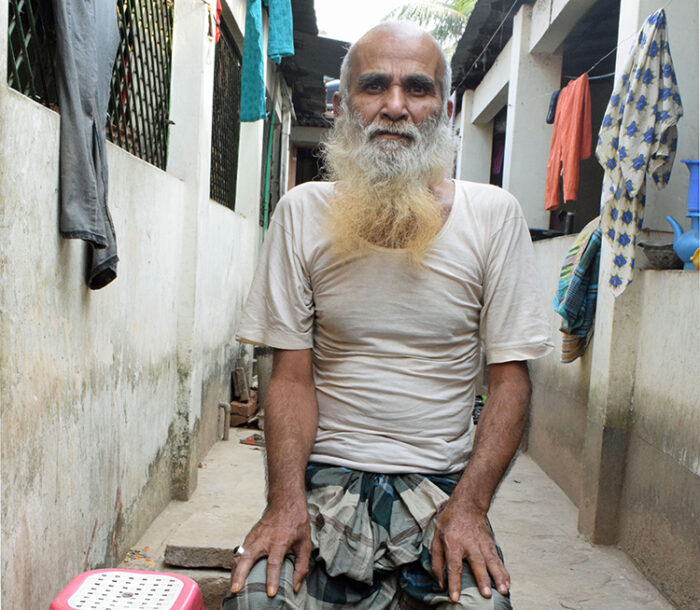 Abdul Hashem – father of worker killed at Rana Plaza
Poverty Wages, Safety Improvements
Wages in Bangladesh are the lowest among major garment-manufacturing nations, even though the cost of living in Dhaka is equivalent to that of Luxembourg and Montreal. The country's labor law falls far short of international standards, and the Bangladesh government has failed to enact meaningful legal reforms, including addressing the arbitrary union registration process that is vulnerable to employer manipulation. Without a union, garment workers often are harassed or fired when they ask their employer to fix workplace safety and health conditions.
But due to international action after the Rana Plaza disaster, which occurred months after a deadly fire at Tazreen Fashions Ltd. factory killed 112 mostly female garment workers, a variety of efforts to prevent unnecessary deaths and injuries due to fire or structural failures—including the Bangladesh Accord on Building and Fire Safety—have remedied dangers at more than 1,600 factories.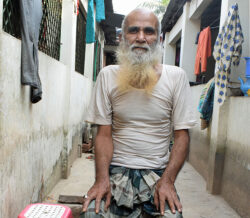 Abul Hashem – father of worker killed at Rana Plaza
The Solidarity Center has trained more than 6,000 union leaders and workers in fire safety, helping to empower factory-floor–level workers to monitor for hazardous working conditions and demand safety violations be corrected.
Such international attention has opened up space for workers to collectively demand—and win—improvements on the job, says Monira.
"I am proud that we have been able to create leaders among the workers by organizing them into trade unions. In the past this would have been close to impossible."
Iztiak, an intern in the Solidarity Center Bangladesh office, interviewed the worker-organizers in Dh
The Birlinn Yarn Company and Seafaring Sheep
Sheepskins and Knitting Yarn in the Outer Hebrides, Scotland.
The shipping forecast issued by the Met office at 11:30 UTC on Friday 27 January 2017. Northwest Hebrides, Bailey – Southeasterly 6 to gale 8, becoming cyclonic gale 8 to storm 10 then southwesterly 5 to 7 later. Very rough or high, becoming rough or very rough later. Rain then showers. Moderate or poor, becoming good.
January and February are always the toughest months in the Hebridean islands off the north-west of Scotland. For both humans and animals our resources and resilience are at their lowest point, the days are short and dark, the weather extreme and wild.
However, amongst all this there is still beauty and special moments of fiery sunrises, otter tracks to the shore and soaring golden eagles.
In 2015, I tentatively started The Birlinn Yarn Company from our family croft (small holding) at Sunhill on the small Hedridean island of Berneray in the Sound of Harris. We have lived here for the past twenty years, worked, renovated two properties and brought up two sons. We now produce deep luxurious sheepskins and a range of knitting yarn from our own fleeces and those we buy from neighbouring crofters.
Hebridean sheep, dark fleeced and horned, were originally brought here by the Vikings in their long boats around 800 A.D. Overtime the long boats, built for long distance sea voyages were adapted for inter-island travel and became the Hebridean galley or Birlinn. Hence the brand name Birlinn Yarn, what's more they are still 'seafaring sheep' as we take them to and fro from the islands by boat.
Supporting and maintaining traditional crofting (small scale agricultural) practice, which has maintained equilibrium and respect for the ecology for hundreds of years, is very import to our business ethos. We use seaweed to fertilise our crops, keep stock to low intensive levels and every activity or action is measured against the impact to the environment.
Our agricultural activities are set mainly by the rhythms of the weather and seasons. Our sheep lamb on the croft, then once the lambs are strong enough we take them all to the islands for summer grazing. Here they graze on a wide variety of plants, including seaweed, a bit like trying to attain our 5/day fruit and veg – resulting in a good healthy diet.
In July, we return to shear all the sheep on the islands. We choose a good forecast, wait for a crowd of cousins to come up on holiday to help out and it always turns out to be a long, hard but very enjoyable day.
In the autumn the ewes are brought back to the croft to meet their boyfriend (the tup) and then they spend the winter months grazing on the machair (raised beach) to the West of the island. And so the cycle continues …
Amongst many other activities, I am also a practicing visual artist http://www.megrodger.com with an exhibition currently showing at Taigh Chearsbhagh Museum & Art Gallery in Lochmaddy, North Uist. While my current fascination is working with the wind to generate drawings, I am always taking note of the wonderful range of colours we have in the Hebrides.
Thus, just this week, I have launched a new organically dyed knitting yarn range reflecting the subtle tones and shades of the Hebrides. Our ecosystems here are as much Highland as Island given that our habitats range from moor, to machair, shore and sea. In relatively short distances, you can encounter gliding golden eagles, wild orchids, playful otters and roaring Atlantic breakers on the shore.
This range of organic dyed yarns have been produced as a unique and small batch to complement out natural yarns. By over-dying a blended yarn this has given the colours both texture and depth. The yarns come in four colours: Sgeir – Reef, Còinneach – Moss, Monadh – Moor and Duileasg.
What next? Well, I hope this year to work with a knitwear designer who understands our ethos and brand to develop knitting patterns incorporating both the Norse and Hebridean heritage of our sheep and islands.
In the meantime, why not take a look at our website, be tempted and knit yourself a wee bit of the Scottish Hebrides.
http://www.birlinnyarn.co.uk
https://twitter.com/BirlinnYarn
https://www.facebook.com/BirlinnYarn/
The 12 Revolutionary Days of Christmas
On the 12th Day of Christmas
12 months of press coverage.
1619 press articles generating Circulation (Potential Viewership) of 29.7 billion, according to Meltwater press figures.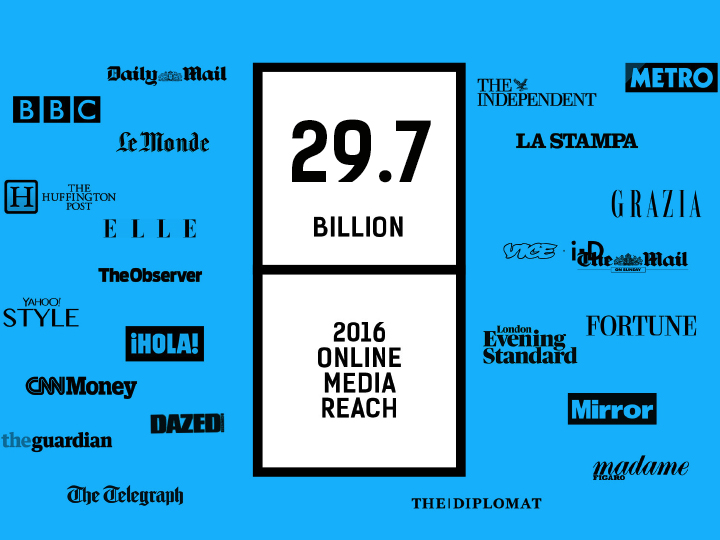 On the 11th Day of Christmas
11 steps to creating a revolution.
Blueprint for Revolution by Srdja Popovic is one of the books and reports reviewed in Fashion Revolution fanzine #001 Money Fashion Power. Through 72-pages of poetry, illustration, photography, graphic design and editorial, this collectible zine explores the hidden stories behind your clothing, what the price you pay for fashion means, and how your purchasing power can make a positive difference. Published in January and available for pre-order now.

On the 10th Day of Christmas
Business of Fashion published the 10 Commandments of New Consumerism
BoF outlined the 10 factors that define new consumerism and what this change in shopping habits could mean for fashion brands and retailers. BoF said "For decades, a brand's only priority was to create the best possible product at the most competitive price to ensure sales. But as consumers develop a more comprehensive understanding of issues like sustainability, authenticity and transparency, brands and retailers are being forced to change the way they sell in order to survive". Coming in at no. 1 in the 10 Commandments for New Consumerism is: Provide Transparency Into Your Business Practices.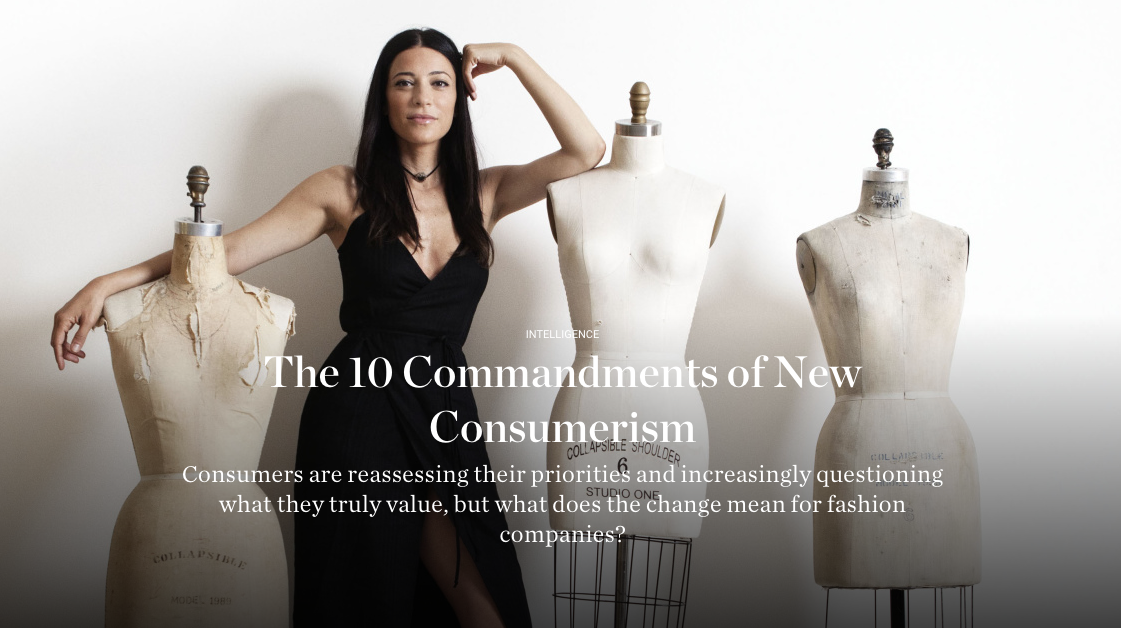 On the 9th Day of Christmas
92 countries around the world were involved in Fashion Revolution Week in April 2016. 
And even more countries have joined the movement since April.  Find out what's happening in your country.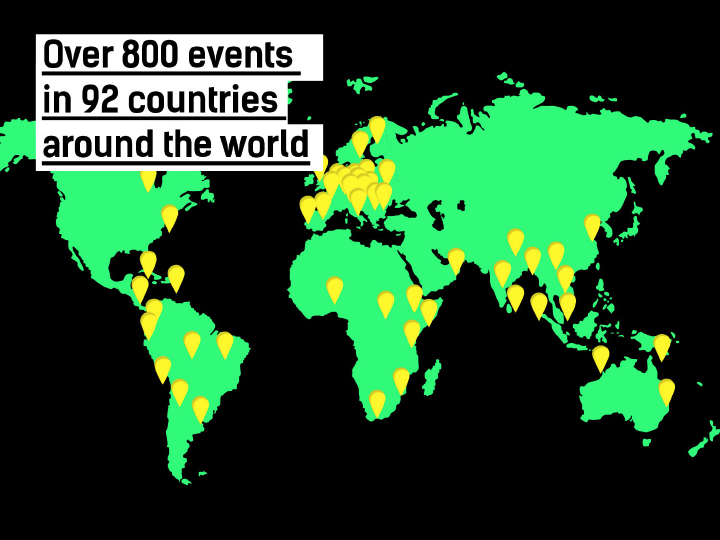 On the 8th Day of Christmas
Over 800 Fashion Revolution events around the world.
Clothes swaps, film screenings, exhibitions, fashion shows, panel discussions, selfie walls, Fashion Question Time in the UK Houses of Parliament and more. Find out what's happening in your country on our Events page.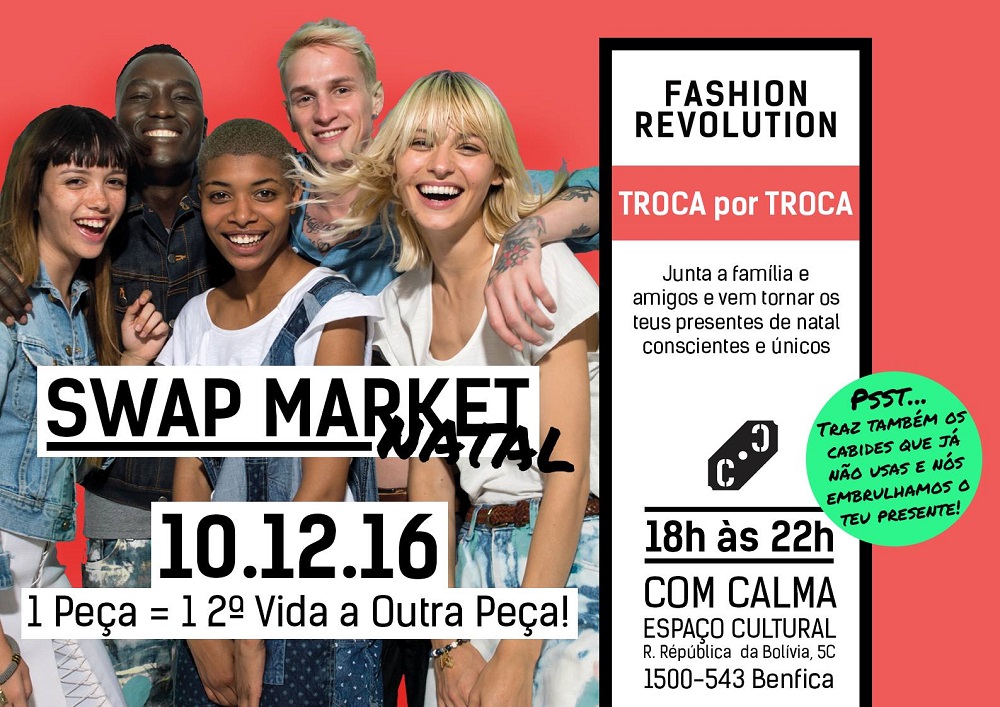 On the 7th Day of Christmas
7th most successful global PR campaign in The Global SABRE awards.
The Global SABRE awards honour the world's 40 top public relations programs of the past year. Ketchum came 7th for the Fashion Revolution Germany video, €2 T-Shirt – a Social Experiment which has received over 7.6 million views to date.

On the 6th Day of Christmas
6.30am Wake Up, 1.30am Sleep.
Garment Worker Diaries, lead by Microfinance Opportunities and funded by C&A Foundation, is gathering firsthand accounts of 540 garment workers in Bangladesh, Cambodia and India. Researchers are collecting information on what these women earn, spend, put in and take out of their savings, borrow from others, and lend to others. We are also learning about their daily schedules and what kind of conditions they're working in at the factory. Over the course of 12 months we will have a better understanding how these garment workers survive on low pay and deal with problems such as chronic pain, harassment or illness. Find out more the daily routine of a garment worker, how much she earns and how much she spends in a week in our Money, Fashion, Power fanzine.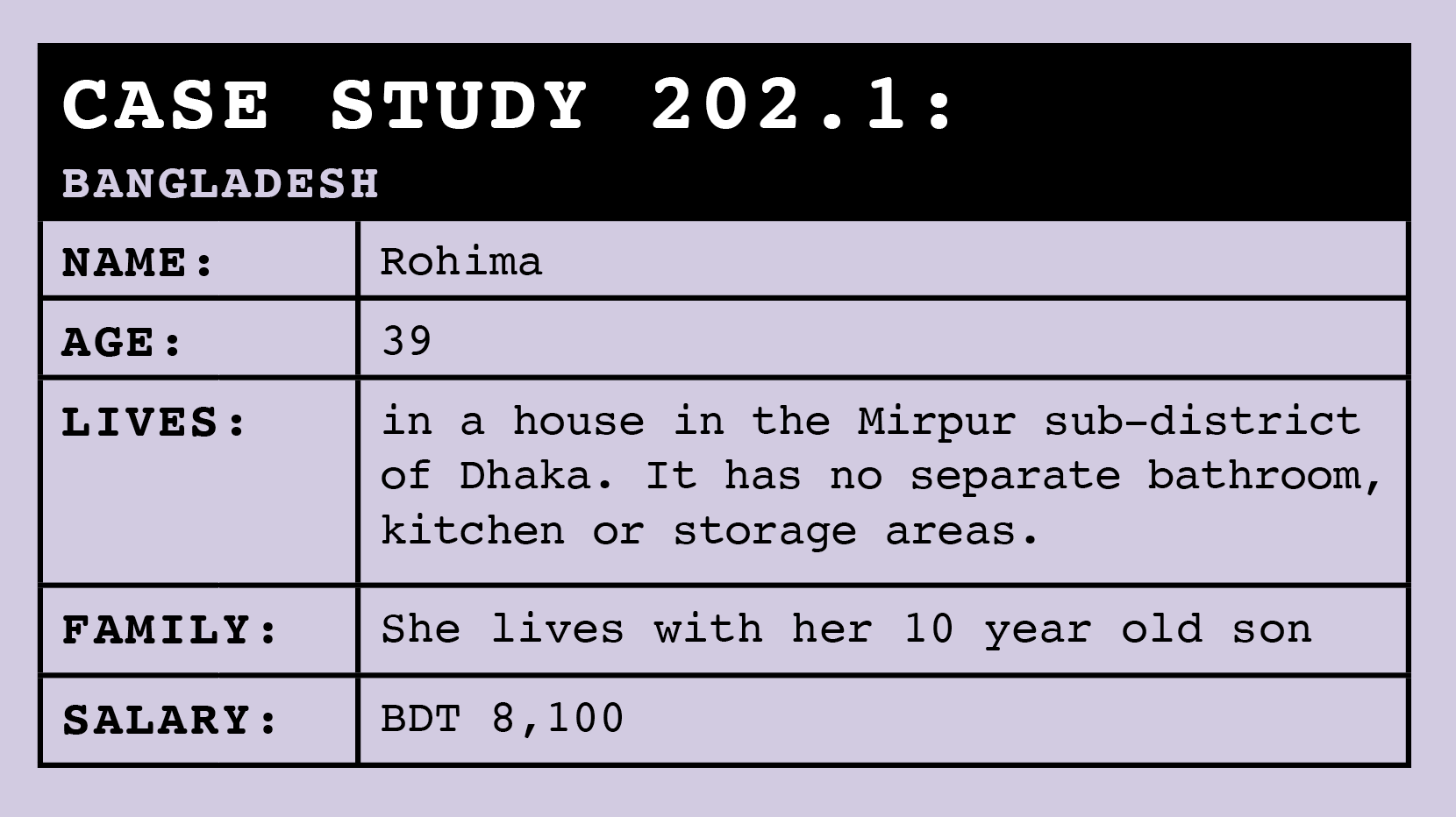 On the 5th Day of Christmas
5 out of the 40 brands on our inaugural Fashion Transparency Index were publishing their factory lists.
However, since April we have seen Gap, Marks and Spencer, VF Corporation (who owns The North Face, Vans, Wrangler and others) and Jeanswest publish a list of the factories where their clothes are stitched and Inditex, who own Zara, Massimo Dutti and Pull and Bear among other brands, has published a list of the facilities where its clothing is dyed, washed, printed and where leather is tanned.
The 2017 Fashion Transparency Index will cover 100 of the world's largest fashion brands.
4 campaign hashtags used during 2016
#FashRev (general), #whomademyclothes (ask to brands) #imadeyourclothes (producer photos and stories) and #haulternative (alternative 'hauls') generating 156 million impressions during Fashion Revolution Week.
For 2017 our hashtags will be #FashionRevolution, #whomademyclothes, #imadeyourclothes and #haulternative.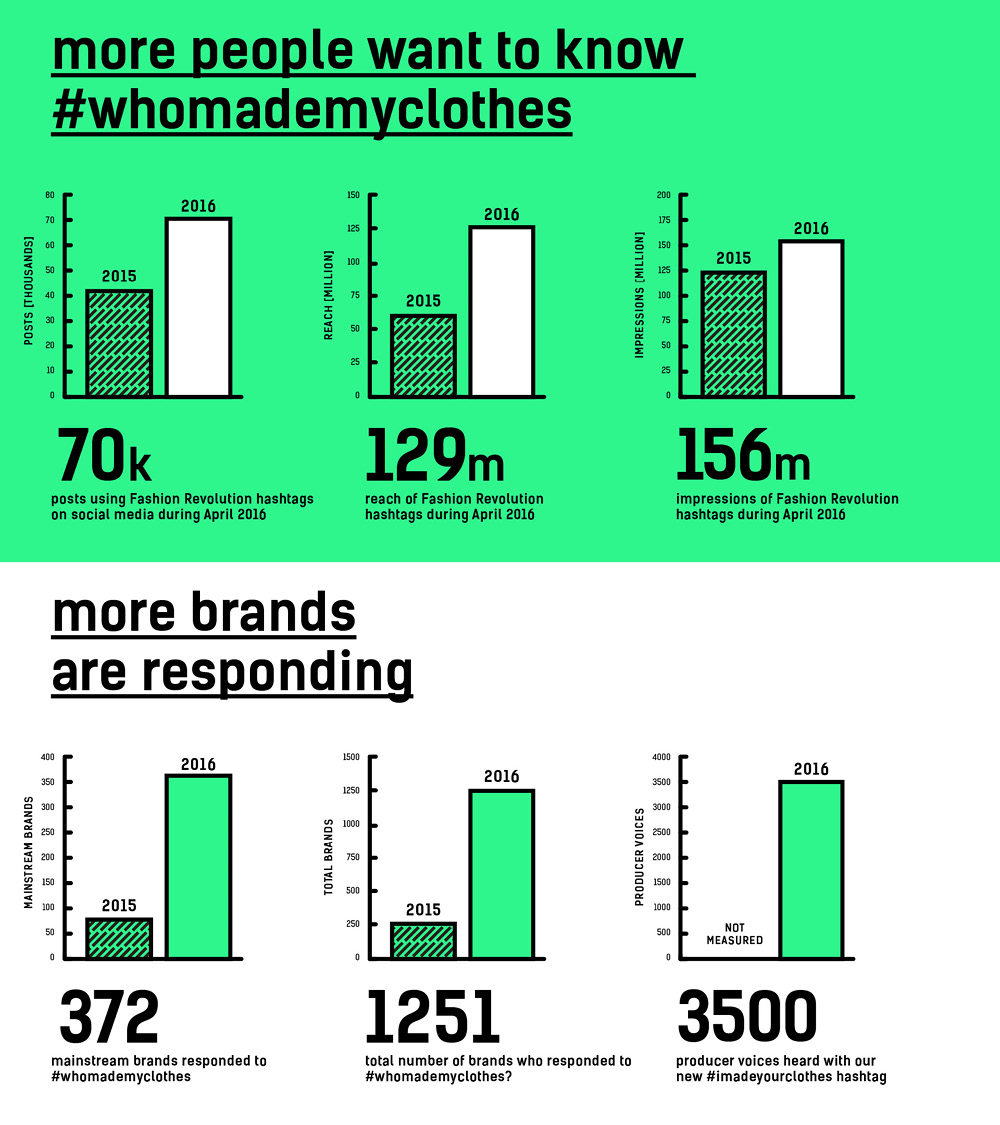 On the 3rd Day of Christmas
3.11 million views of Fashion Revolution videos in 2016.
Fashion Revolution Brasil's Fashion Experience: o outro lado da moda, Fashion Revolution Germany's The Child Labour Experiment, #Haulternatives by  Cutie Pie Marzia and Maddu, plus over 60 more #Haulternative and Love Story videos posted by people around the world.
Find out how to make your own #Haulternative and Love Story videos on our website.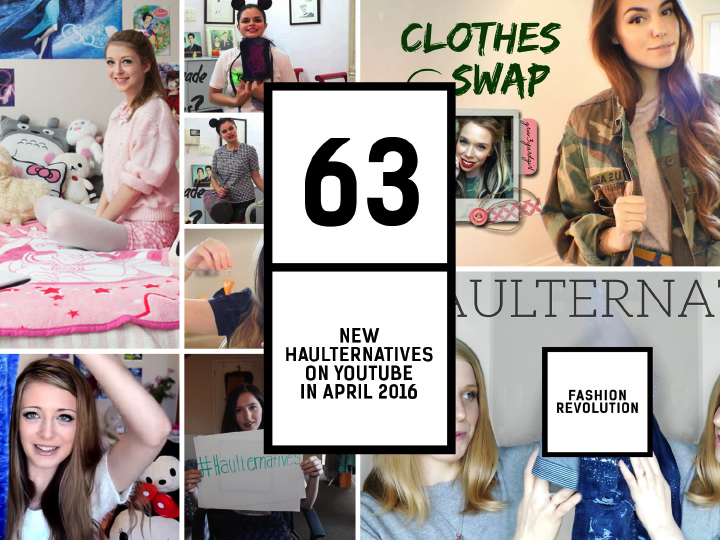 On the 2nd Day of Christmas
2 founders of Fashion Revolution, Carry Somers and Orsola de Castro were named amongst the most influential people in London 2016.
Carry Somers and Orsola de Castro were listed in the Evening Standard's Progress 1000 Awards in the Equality Champions category which included the Duke and Duchess of Cambridge, the Duchess of Cornwall, David Beckham, Richard Gere and Stephen Fry,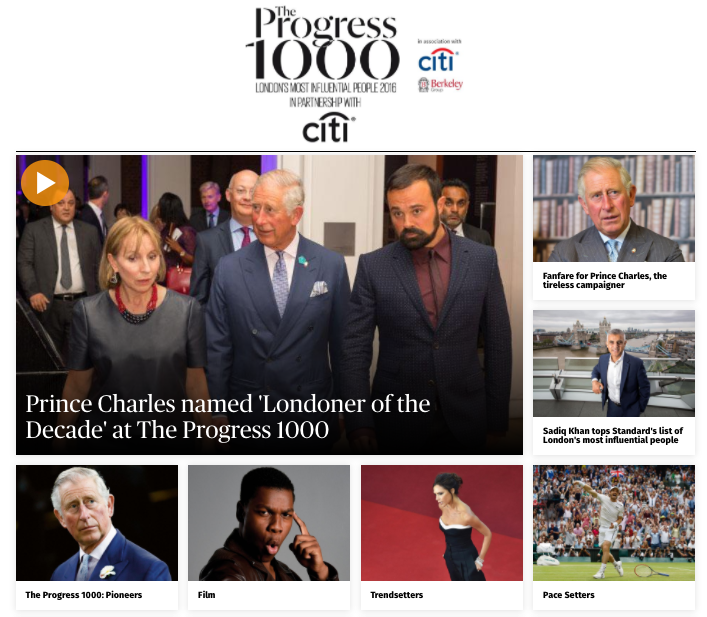 On the 1st Day of Christmas
One global campaign changing the fashion industry.
Please be a part of the Fashion Revolution and help to make our voice even louder in 2017.  Be Curious. Find Out. Do Something About It.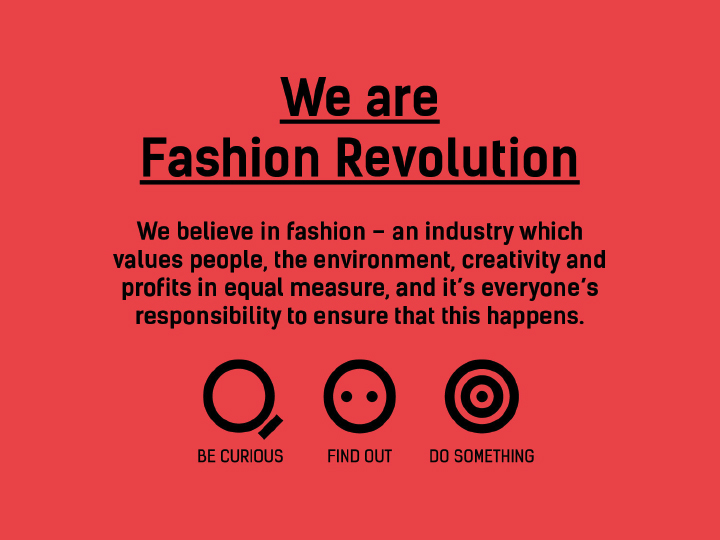 Help us launch our 2017 theme MONEY, FASHION, POWER.
Please donate to keep strengthening the movement.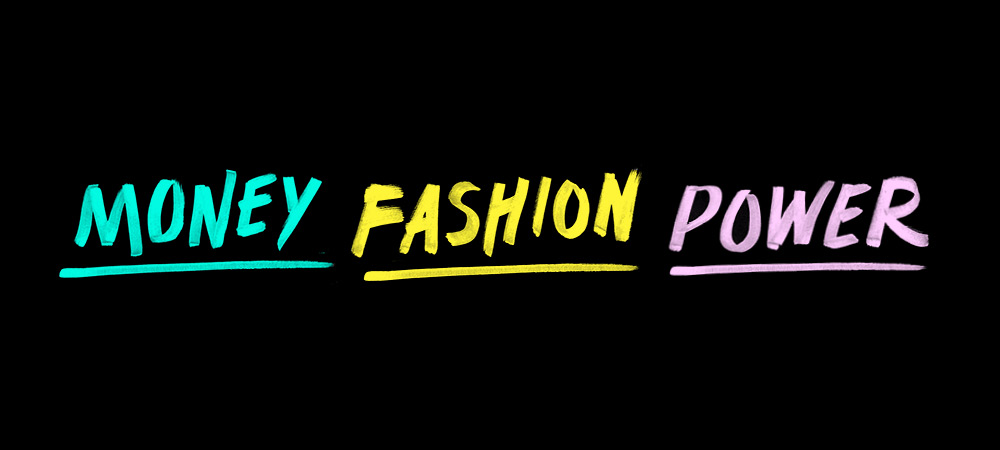 Meet the Maker: I am Char Wong
By Allison Griffin for Remake
Few things are more powerful than a room full of women who have something to say.
As part of our Remake Journey we traveled 2 hours outside of Phnom Penh along dirt roads to a small school in the middle of rice fields, one of the few safe places makers are able to unite to talk about their rights without the police breaking up the meeting.
This gathering was hosted by Solidarity Center, to help makers fight for their rights. We learned that when big factories agree to cheap prices and tight deadlines, they often can't meet these demands. So they ship orders off to fly by night operations–dark, dingy subcontracted factories where the conditions are the worst.
The women we met had sneaked out labels from the brands they illegally sew for including Zara, H&M and Tommy Hilfiger. It was dangerous for them to sneak these photos and labels out but they did it anyway, in the hope that we and you as readers would help them, to ask these brands pressing questions about why they worked such long hours for so little.
I had the honor of sitting down with one such maker, Char Wong. This is her story: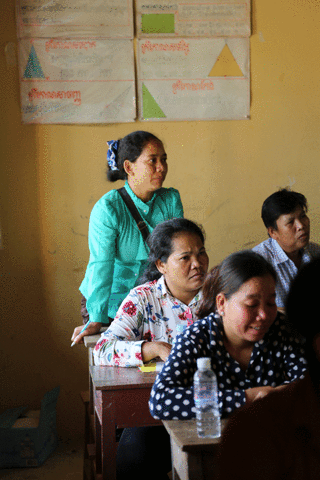 I grew up in a family of eight children raised by a single mother. I was a farmer before working in a subcontracted garment factory. I found work in a subcontracting factory to earn more money and provide a better life for my own family, but the pressure from the daily quotas is stressful and the money is not enough.
I support my 16-year-old son, 10-year-old daughter, my elderly mother, along with my husband who is a farmer. I struggle to feed everyone with the minimum wage and extra $2.50 a day that I earn. My mother has diabetes and her medicine costs $30 a month, over 20 percent of my monthly income. I also want to save money for my children's education.
wanted a better life for myself and my family which is why I took this work. But life has become harder. I get paid per 12 pieces, but if there's even one single error in the batch, I don't get paid at all.
A few years ago, the factory would receive an order for a new design every two or three months, but with the new fast fashion cycles, it now gets more and more new designs in a shorter amount of time. Learning complex designs is very difficult and we get no training. Sometimes it takes two or three hours just to learn and the factory supervisor scolds us for any mistakes. The more time it takes to learn a design, the less time I have to meet the quota and the less money I make. I typically make $5 a day, but with the more complex designs, I only make $2 a day.
Sometimes I cry because I fear I won't meet the quota and get paid.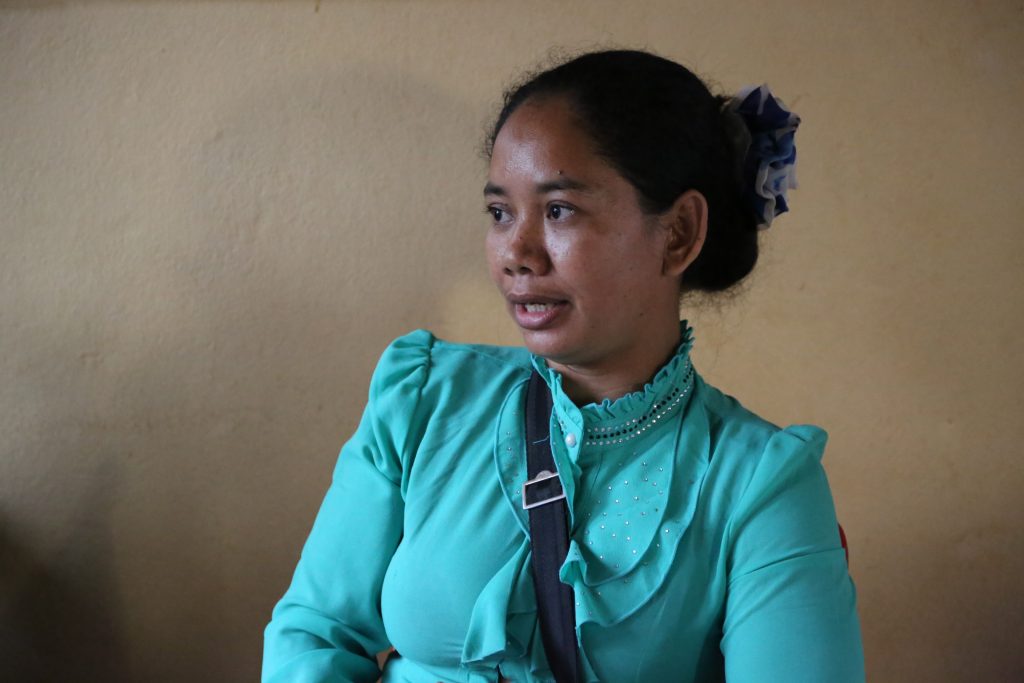 Like most parents from all corners of the world, I want a better future for my two children. I hope to pay for their college education so that they can work in Cambodia's government. Government jobs pay well and do not require hard physical labor. I hope that my children can be government leaders and help improve the conditions and rights of future garment factory makers, just like myself.
I am grateful for organizations like the Solidarity Center, who teach us about our rights. I am learning to speak up more. I want my story and my colleagues' stories to spread to people throughout the world.
You being here, listening, makes me hopeful.
I definitely felt a lot of girl power throughout the day, both from our own all female crew and the makers we met. These women are not playing victims, but fighting for their rights and educating themselves on their rights. Speaking with Char Wong, I realized that the hopes she has are fundamentally no different from mine–for a fulfilling life. I hope as a designer, I can be a part of the change and that this story moves you to buy better. Together we can #remakeourworld.
#Whomademyclothes at Blackhorse Lane Ateliers?
We are the first factory brand to be making authentic premium quality jeans in London for at least the last fifty years. Perhaps the first ever to be making selvedge denim garments in London.
As a community focused enterprise, all factory employees and machinists are shareholders in the company. A place to observe and learn how jeans are created and to visit our allotment growing Japanese indigo to dye the garments.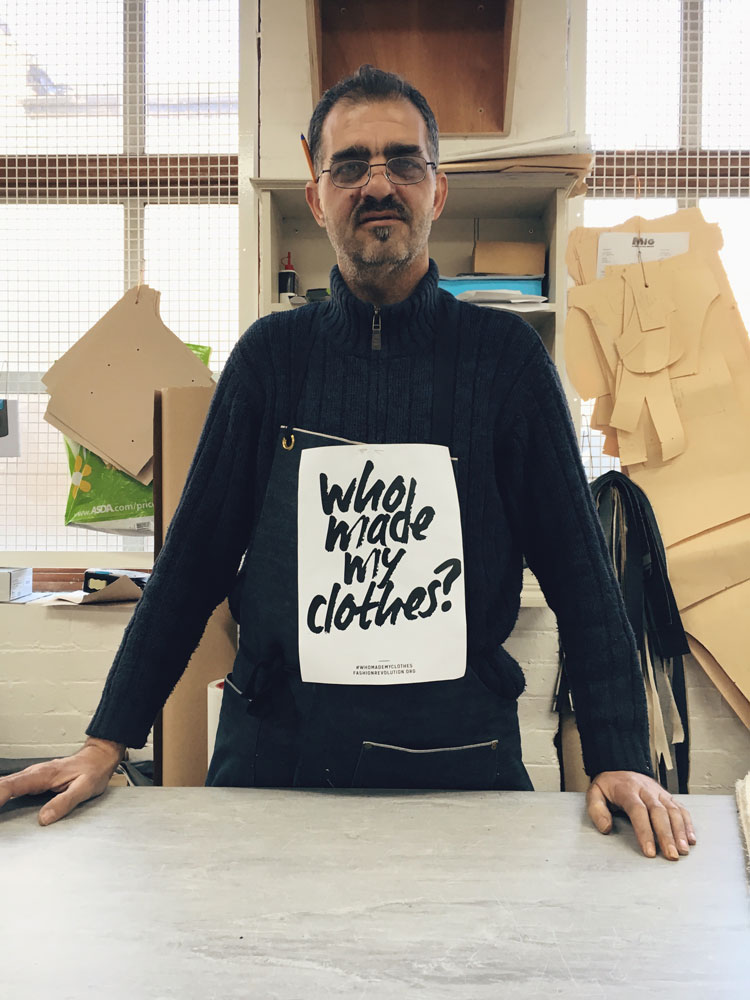 Name : Mr Husseyin
How long have you been in manufacturing? 40 years
How did you get into manufacturing ? Both my father and grandfather were tailors in Turkey for their whole lives and it influence me to do the same.
How does working here compare to other jobs in manufacturing? It is better than anywhere I have worked before.
What does working here mean to you? I have more opportunities and better life prospects.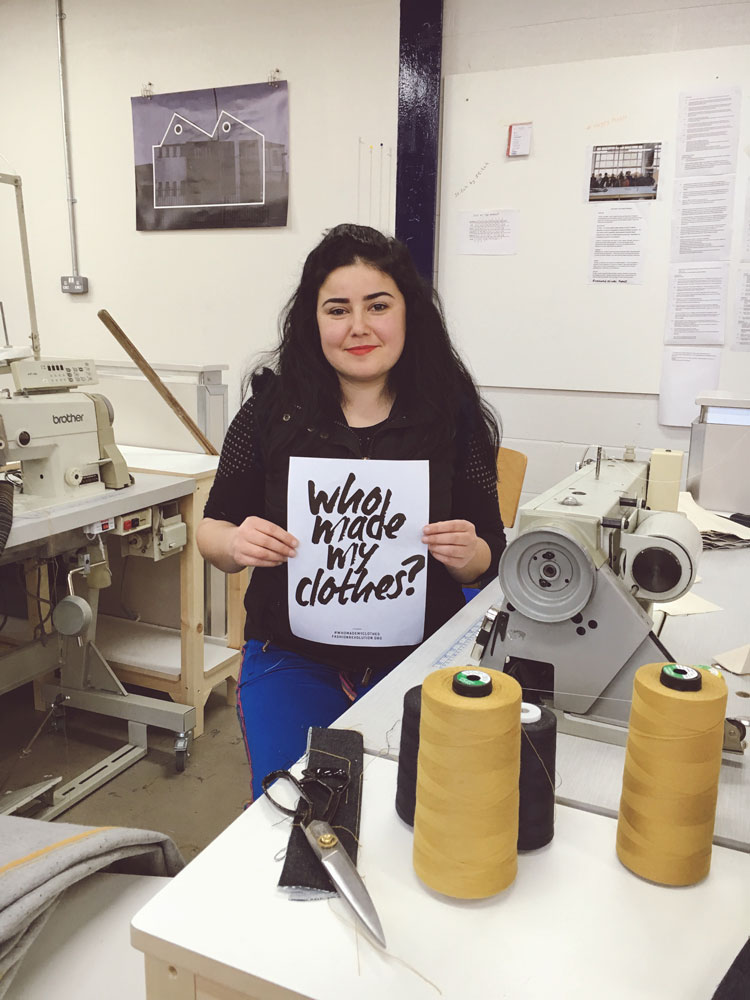 Name : Ms Emine
How long have you been in manufacturing? 10 years
How did you get into manufacturing ?  I learned to sew In Bulgaria and have been sewing for 10 years now. I've lived in London for 4 or 5 years and I am very happy to use the skills I have here.
How does working here compare to other jobs in manufacturing? It is better than any other factory I have worked in. The space is much cleaner and bigger and a much nicer place to work.
What does working here mean to you? It means I can carry on using my skills to earn a good living to make a better life for myself.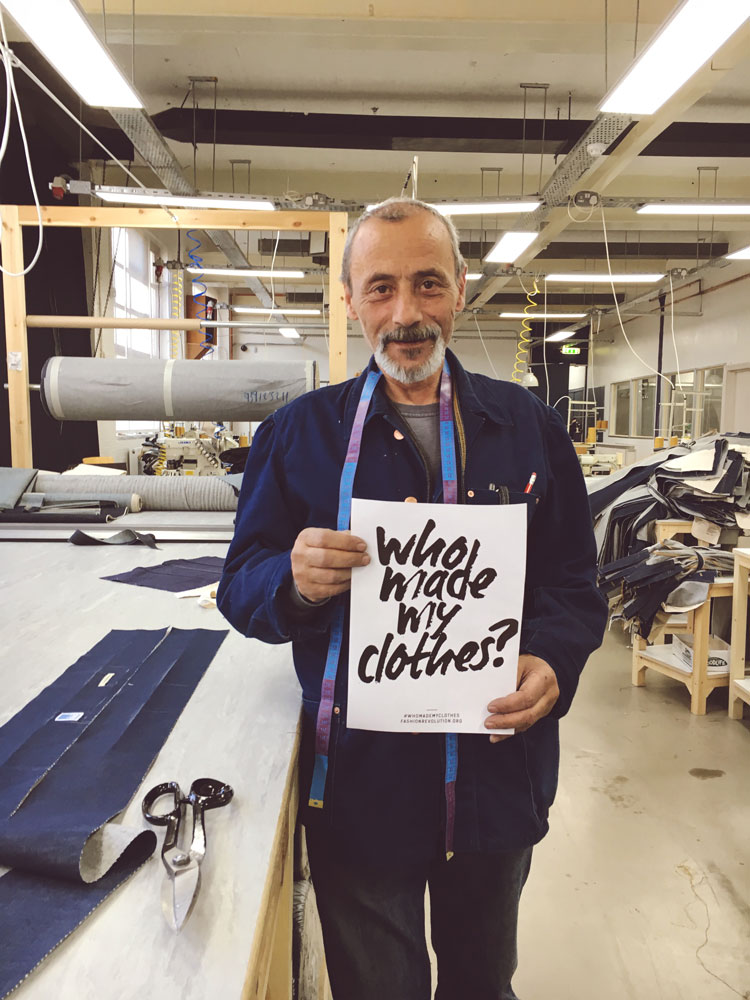 Name : Mr Kenan Habali
How long have you been in manufacturing? 40 years +
How did you get into manufacturing?  It is the only thing I know and the thing I know best.
How does working here compare to other jobs in manufacturing? It is better than anywhere I have worked before.
What does working here mean to you? Bread Money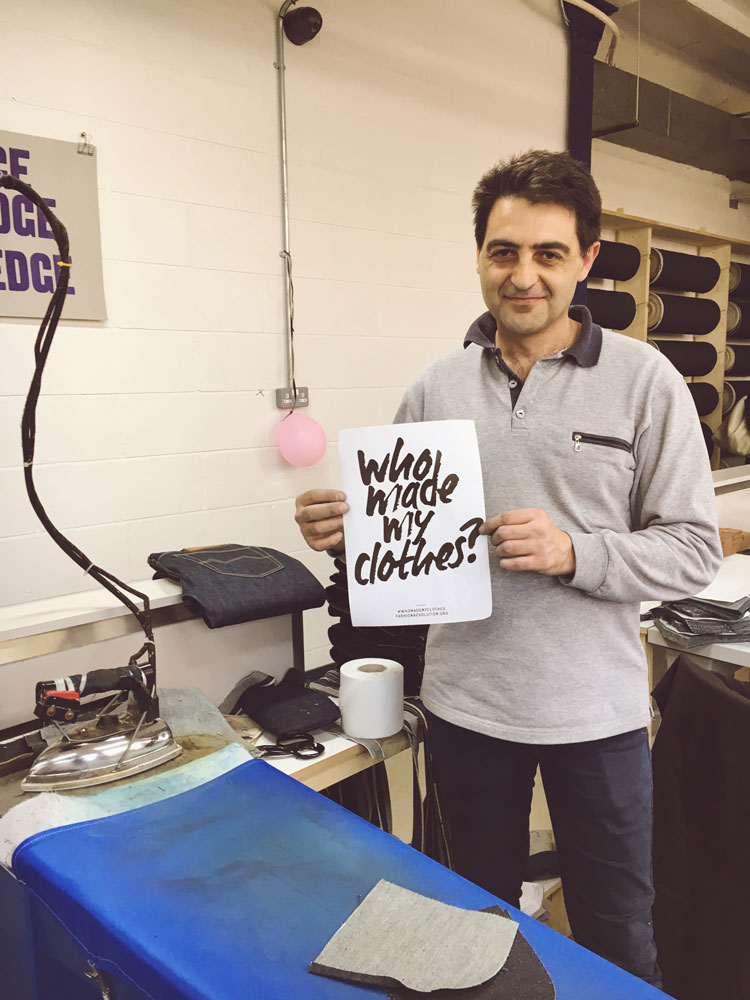 Name : Mr Iliev
How long have you been in manufacturing? 22 years
How did you get into manufacturing?  I enjoy the job, I used to work in manufacturing in Bulgaria where I am from.
How does working here compare to other jobs in manufacturing? The conditions are much better and we are treated equally.
What does working here mean to you? It means I can come to work everyday and work hard to earn a good living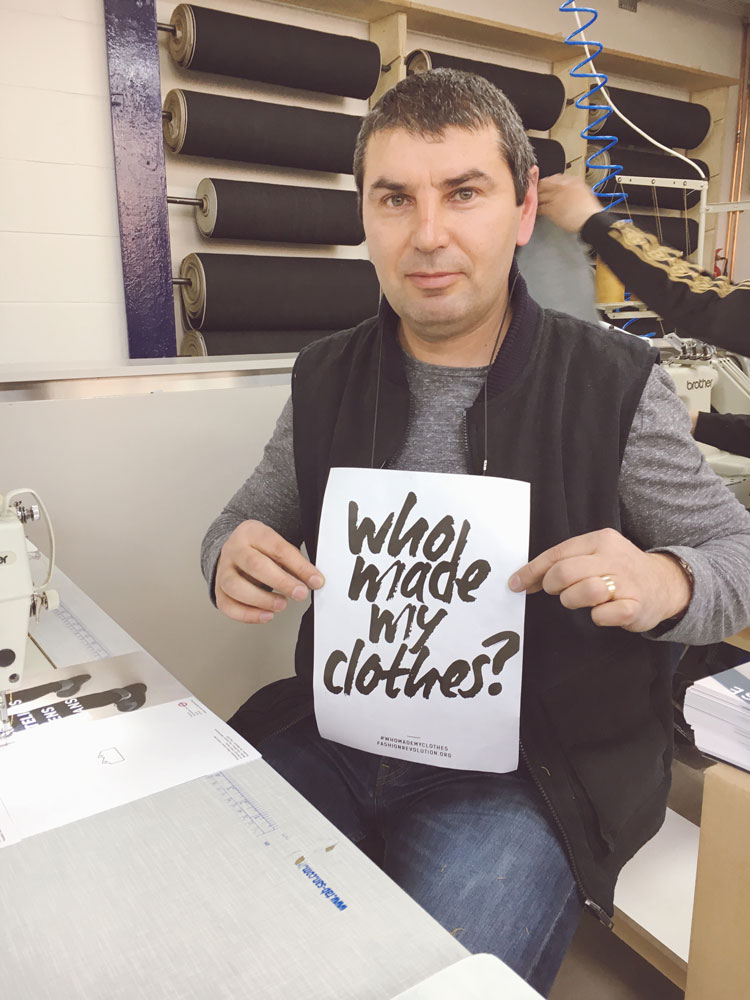 Name : Mr Dimitar Conev
How long have you been in manufacturing? 27 years
How did you get into manufacturing?  I like the job, sewing and manufacturing is something I enjoy doing.
How does working here compare to other jobs in manufacturing? We are paid a lot better and the working space and conditions are a lot better.
What does working here mean to you? It means I can earn a living and afford a better standard of life.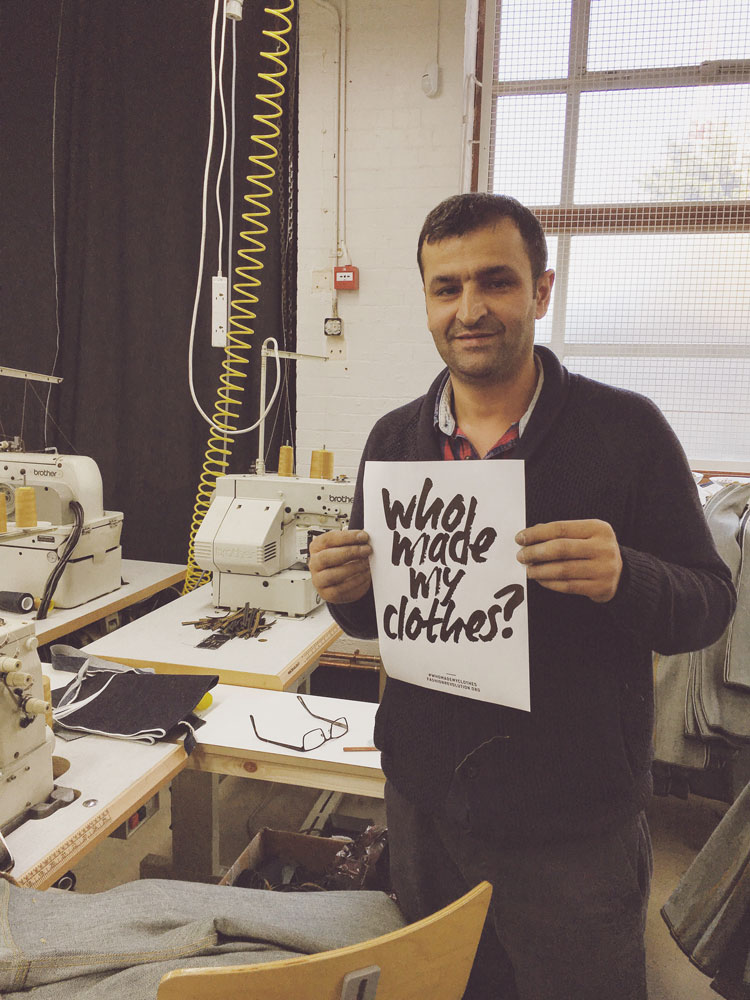 Name : Ali
How long have you been in manufacturing? 30 years
How did you get into manufacturing ?  It is my favourite job. I enjoy sewing and manufacturing more than any other job.
How does working here compare to other jobs in manufacturing ? This is the nicest factory I have worked in.
What does working here mean to you? It means I can earn a proper living.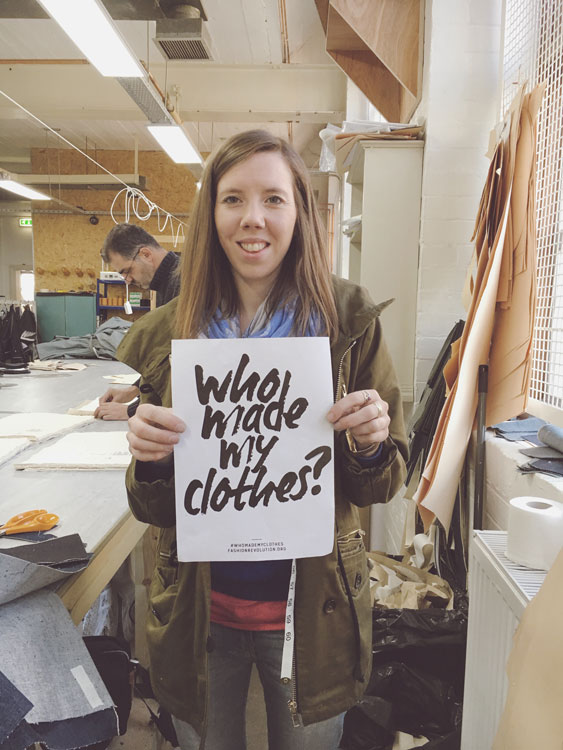 Name : Megan Fisher
How long have you been in manufacturing for ? I have been sewing for 15 years, since I was a little girl.
How did you get into manufacturing ?   My mum was always really good at sewing which really inspired me, and I enjoyed textiles classes as school, the passion just grew from there.
How does working here compare to other jobs in manufacturing ? It's really different because everyone is really honest and open. its a very transparent company, which means we have lots of visitors to see what we do.
What does working here mean to you ? It mean that i get to live an exciting life of living and working in London.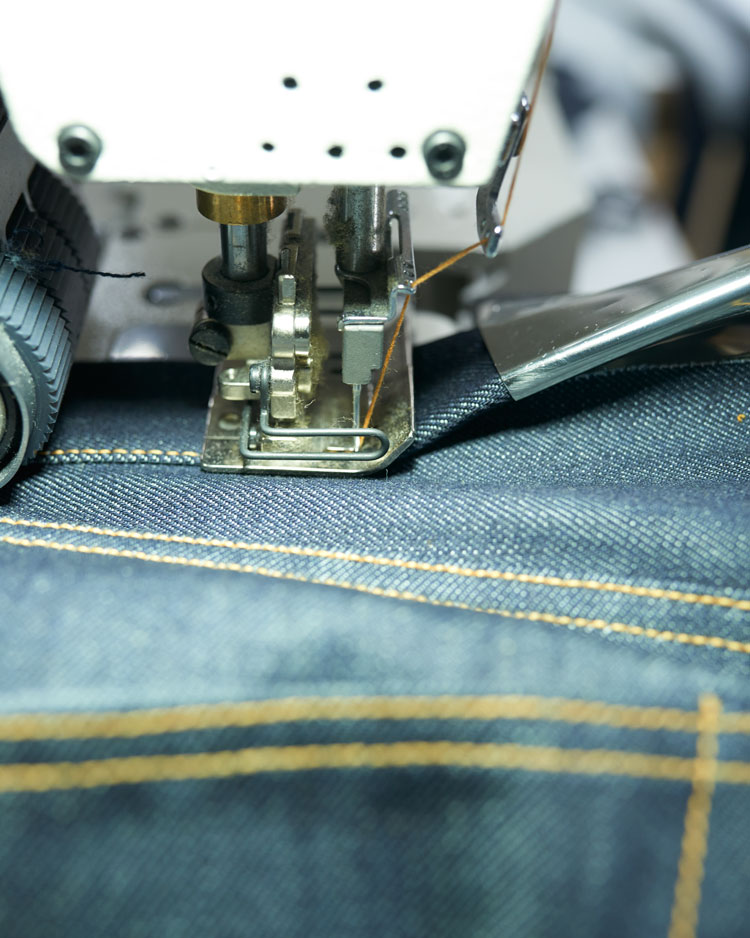 The antithesis of fast fashion, denim jeans are known universally as the quintessential egalitarian garment, with a slow heritage dating back 150 years. Launching in April 2016, the Blackhorse Lane Ateliers is an entirely unique factory brand and manufacturer of superior quality denim goods. Based within a tastefully renovated 1920s factory building in Walthamstow, the brand combines the production of artisan jeans with the establishment of a modern methodology for community living – Think Global, Act Local.
The key element of the Blackhorse Lane Ateliers manifesto has been to challenge the commonly held, modern day attitude of short-term gains, instant gratification and disposability, by implementing a more sustainable, ethical and transparent business model, to the advantage of the consumer. In order to keep the carbon footprint low, each pair of jeans will be produced within their London Atelier and crafted by local Londoners, using only the finest quality selvedge and organic denim, expertly sourced from Europe and Japan.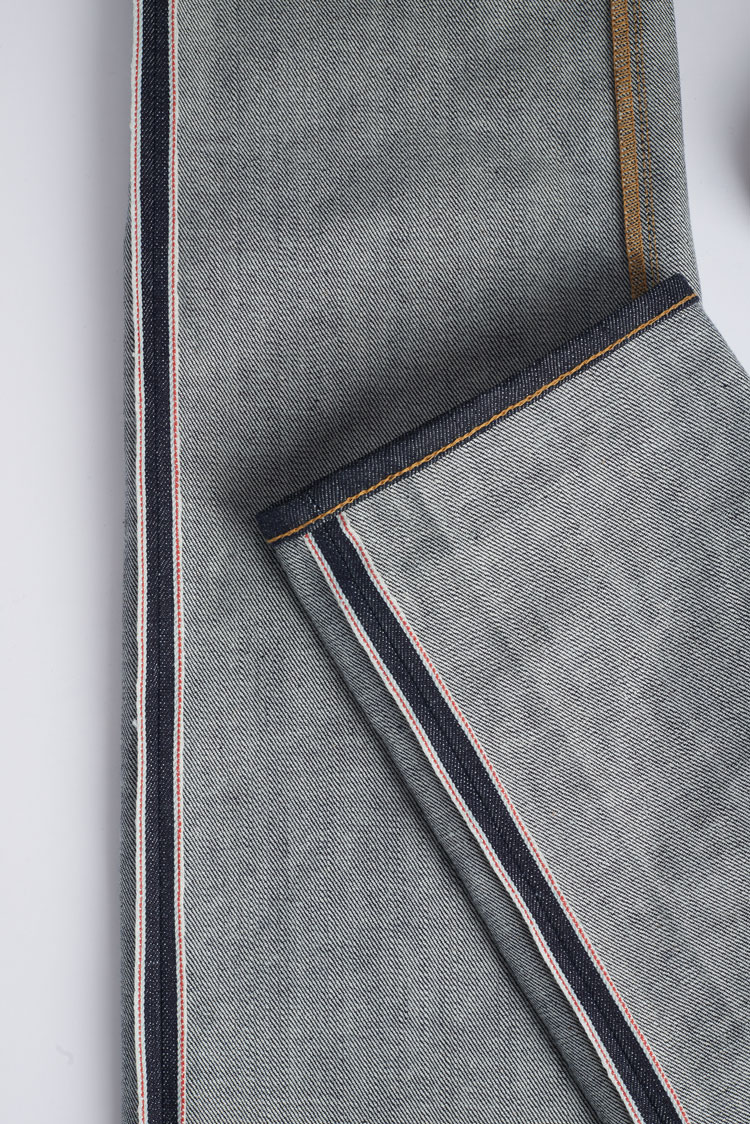 Massimo Dutti answers #whomademyclothes
This year, Fashion Revolution Week took place in 89 countries around the world.  One of these countries was Turkey.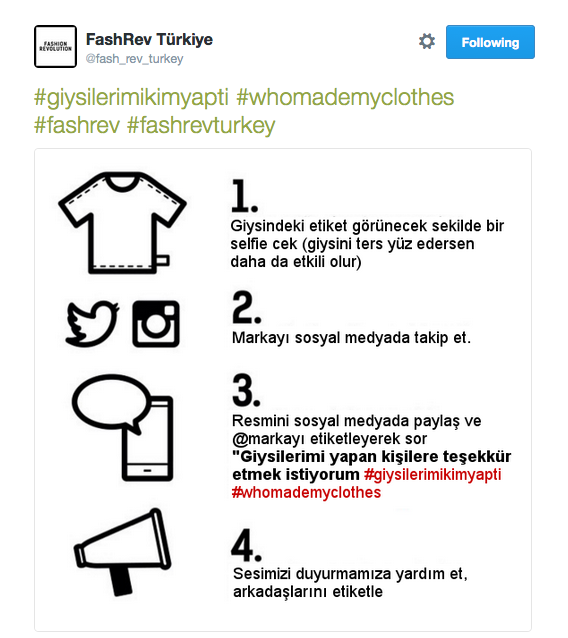 Deniz Ucok saw this post and decided to ask Massimo Dutti who made her T-Shirt #whomademyclothes?
Massimo Dutti is a Spanish clothes manufacturing company, founded in 1985, which is part of the Inditex group. Massimo Dutti is not a real person, but a trademark. Despite the Italian name, it is a Spanish company employing over 4000 people worldwide.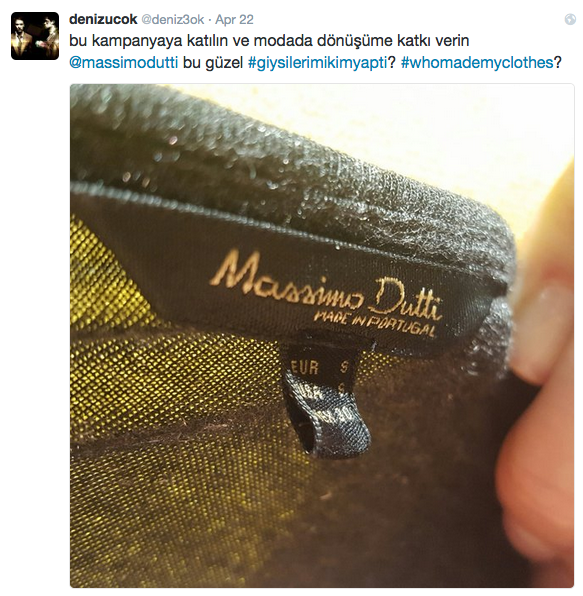 Massimo Dutti responded by asking Deniz to send them a photograph of the labels in her T-Shirt.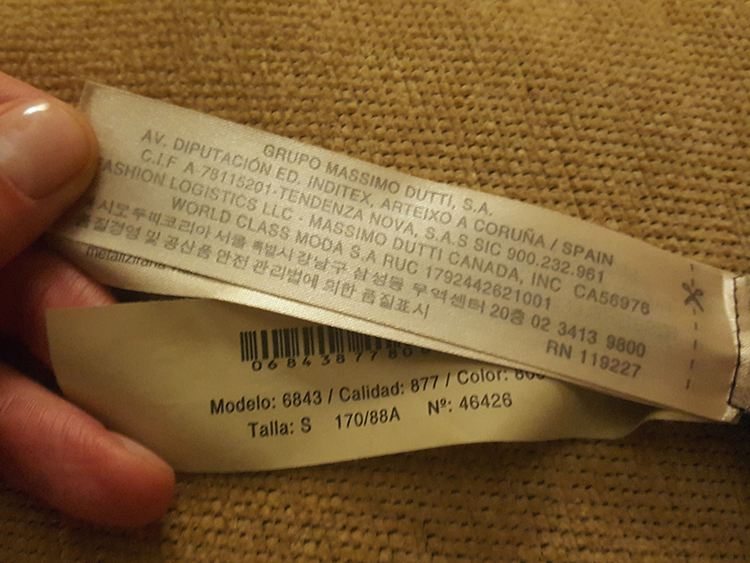 And Massimo Dutti certainly can answer the question #whomademyclothes, as shown by their comprehensive answer below.
Dear customer,
The item you requested information about was purchased from a Portuguese Company for the Summer collection 2016. The name of our supplier is Vieira & Marques, Lda. and their facilities are located at San Martinho Campo. It has 180 employees and it received the highest score during our latest social audit which will be revised again throughout this year (2016.)
During the manufacturing process other Portuguese companies have intervened:
For fabric manufacturing: Vilartex Emp de Malahas V Lda based in Guimaraes and with 106 employees.
For tinting processes: Carvitin Tintura e Acabamentos Lda, based in Coimbra with 56 employees.
For confection: M Look Confeccoes based in Fomelos with 40 employees.
For ironing: Jose Amorim Mota Unipessoal Lda, based in Guimaraes with 67 employees.
All these factories have been examined by our social audits as well as production audits that assure the clothing traceability.
We hope you find this information useful.
Kind regards,
Massimo Dutti
Deniz replied to Massimo Dutti on Twitter.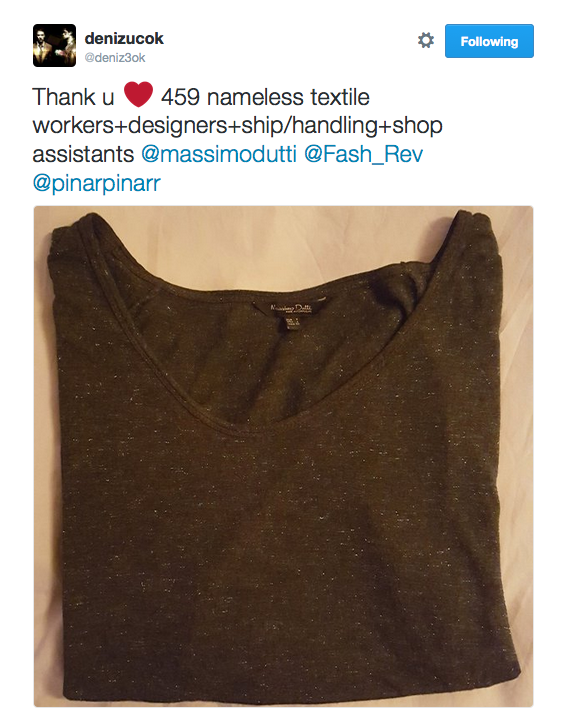 Inditex scored 76% overall in Fashion Revolution's Fashion Transparency Index, published on 18 April, just one percentage point behind the leader, Levi Strauss & Co.  To find out more about the scoring and methodology of the index, please read our Top 10 FAQs
Sienna Somers Asks Who Made My Swimsuit? Econyl Answers
I was working with the Fashion Revolution team yesterday at London College of Fashion. I needed a swimsuit for my upcoming Zoology research trip to the Bahamas and heard that AURIA swimsuits were for sale at the EMG Progressive Fashion Concept Store in Beak Street, Soho, just a few blocks away.  I found the perfect swimsuit!  As it's Fashion Revolution Week, I of course had to ask the question #whomademyclothes?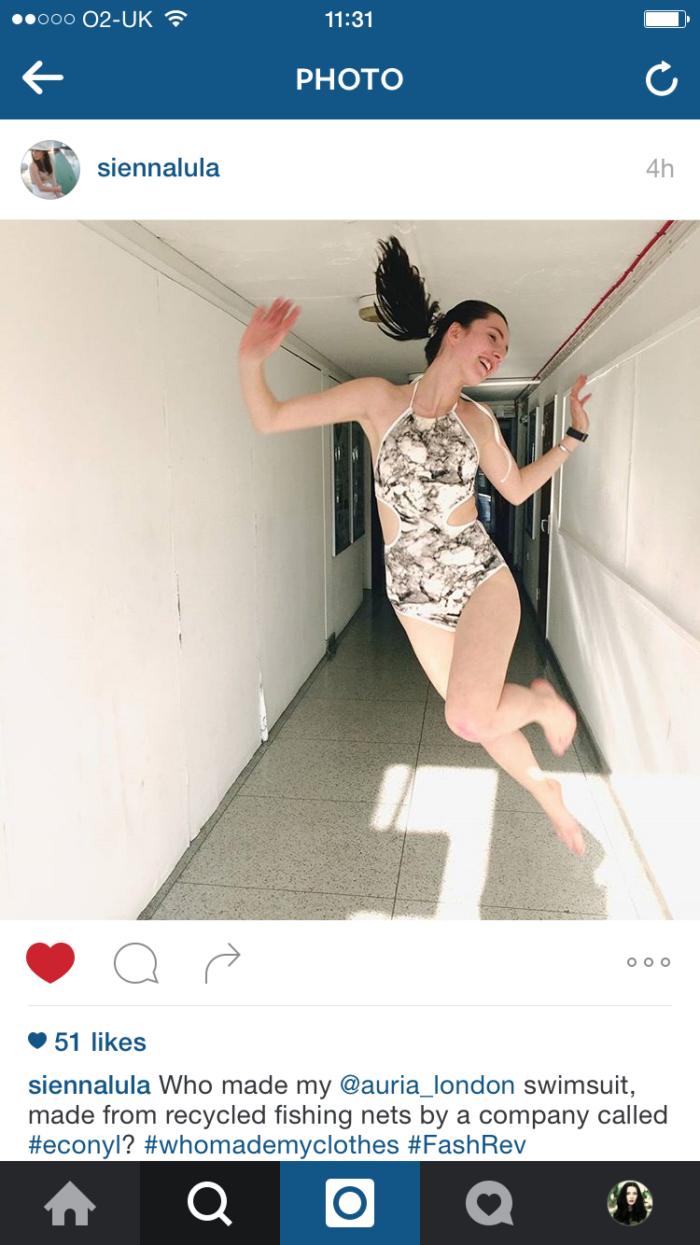 AURIA's swimsuits are made from Econyl.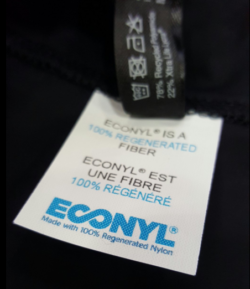 According to their website 'the innovative ECONYL® Regeneration System is based on sustainable chemistry. With this process, the nylon contained in waste, such as carpets, clothing and fishing nets, is transformed back into raw material without any loss of quality.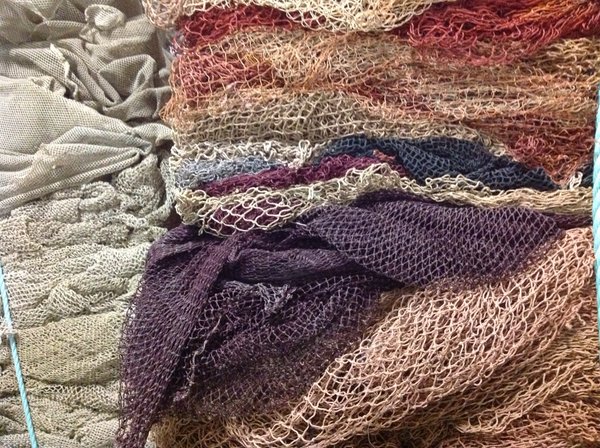 And here are the people who made my swimsuit …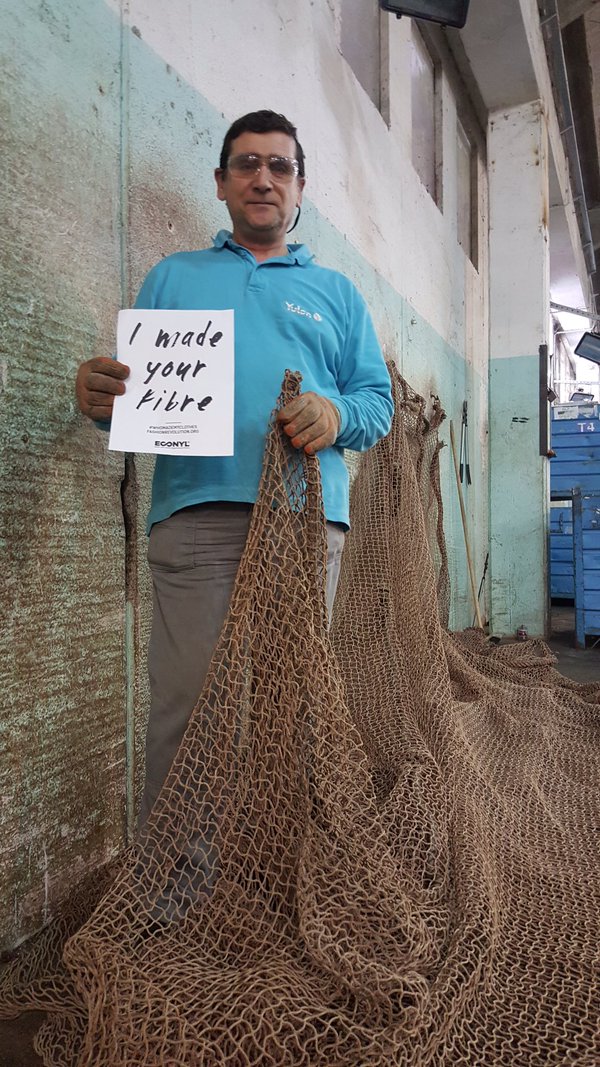 This is Paolo in the ECONYL plant He prepares nets for  regeneration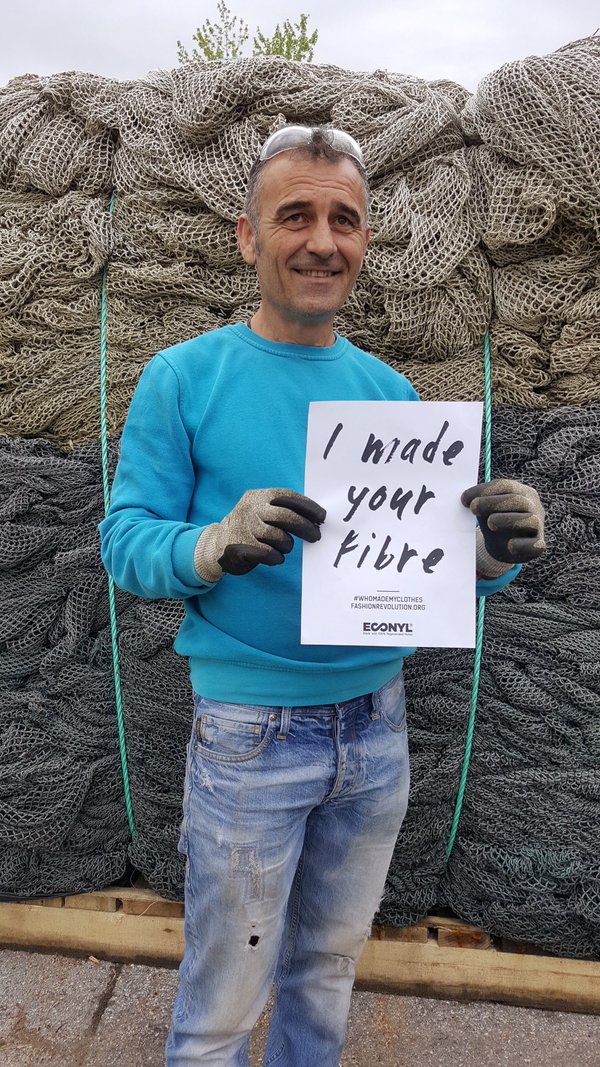 This is Ivo with some nets to be turned into ECONYL yarn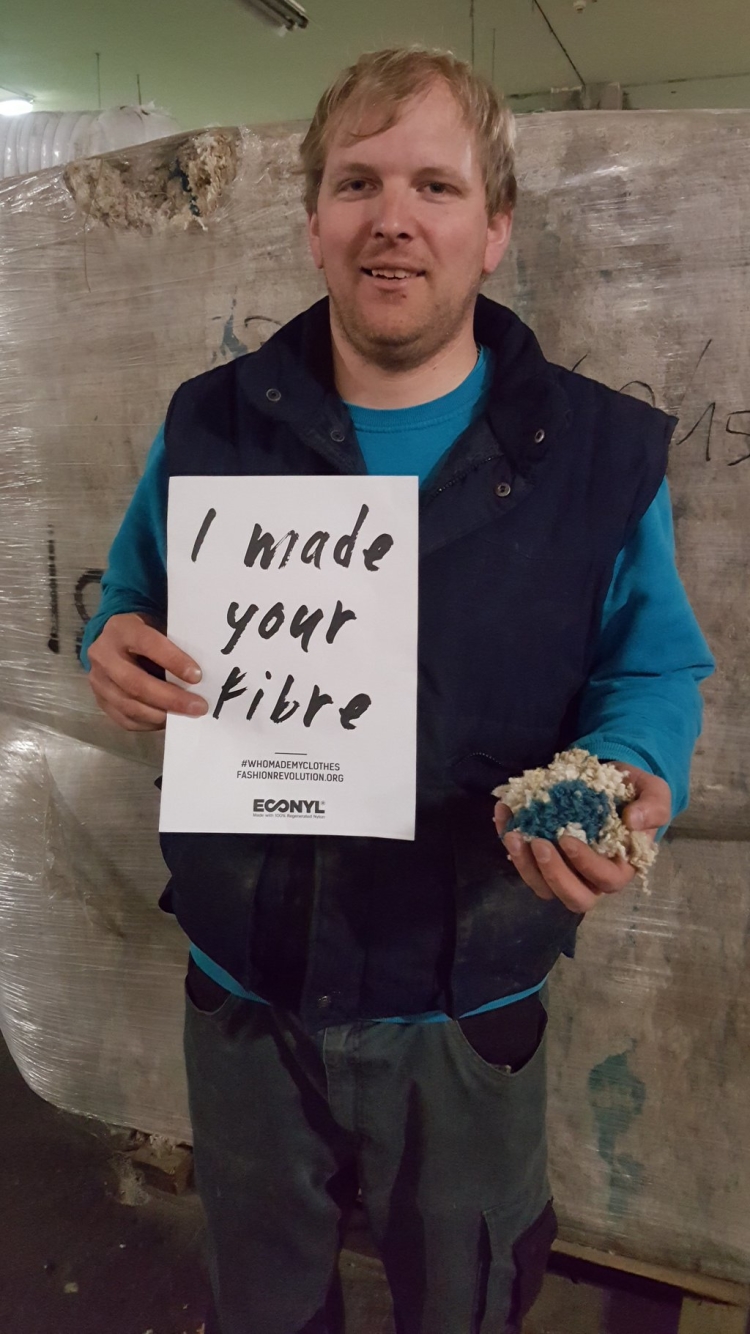 Jan with some carpet fluff, the upper part of old carpets that is regenerated into ECONYL yarn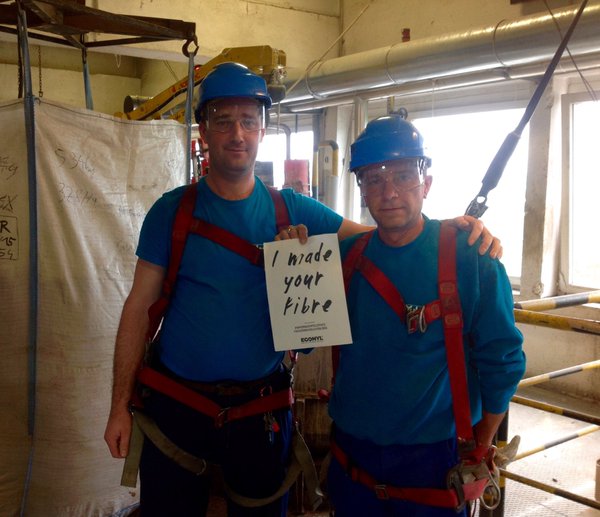 Denis & Mladen they are at the very beginning of the ECONYL regeneration process
Jozica works in the chemical lab. She checks the waste material that will become ECONYL yarn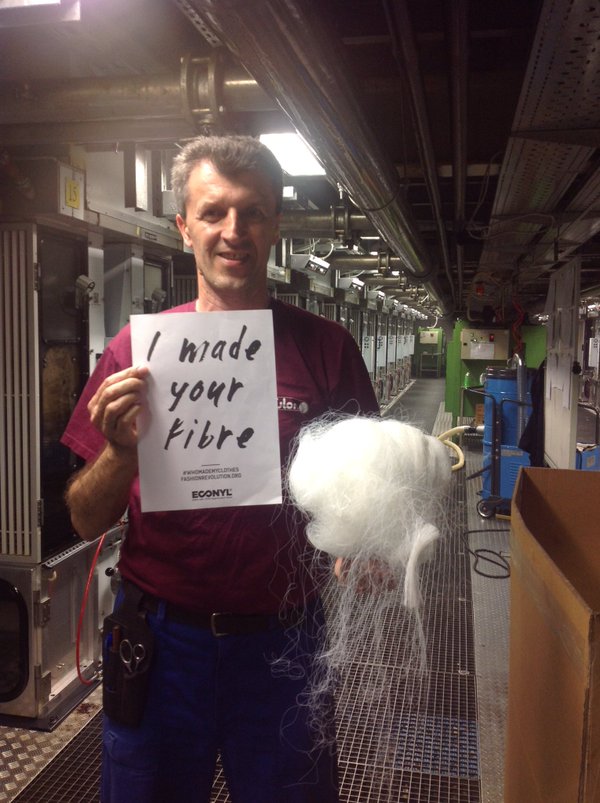 Mirko keeps an eye on the spinning to get the best quality ECONYL regenerated yarn in Slovenia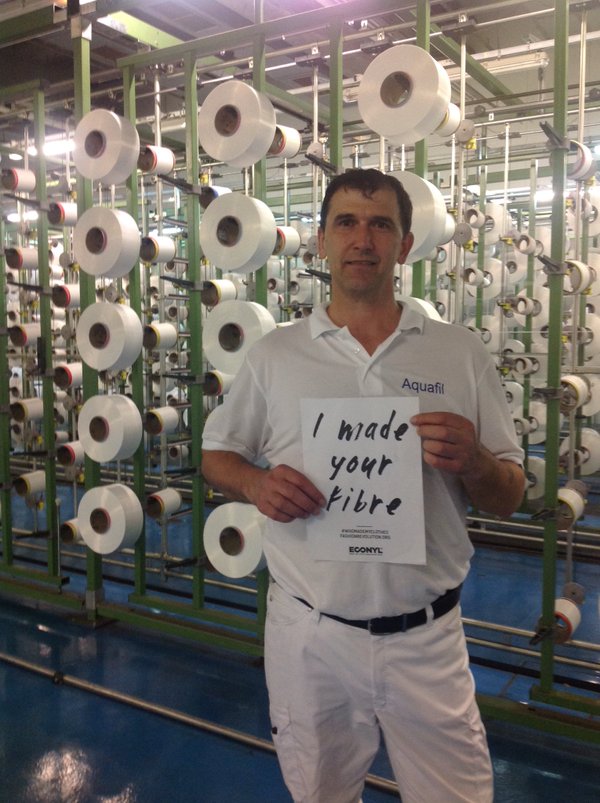 You can always find Boro around the bobbins of ECONYL regenerated yarn to check quality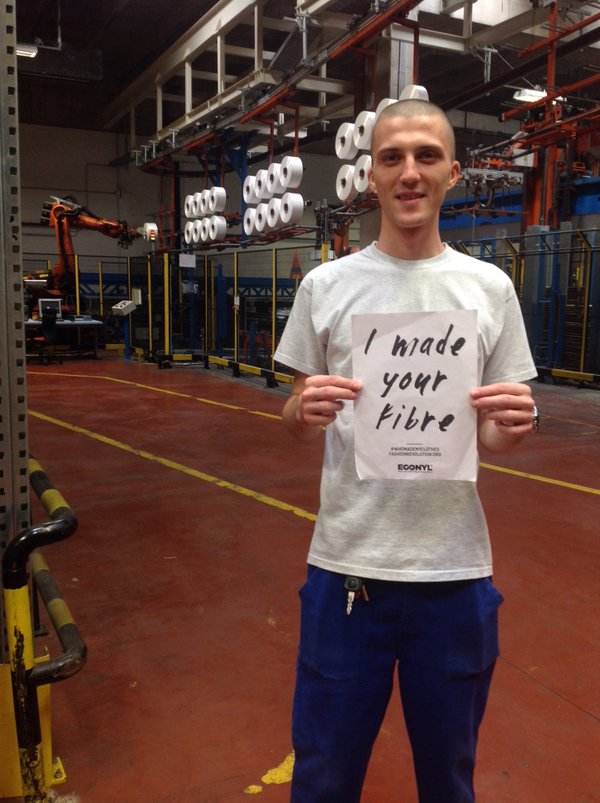 Bobbins of ECONYL regenerated yarn wouldn't get to clients if it wasn't for Muamer
And all of this recycled fibre then gets made into gorgeous AURIA swimsuits
I'm really happy to see that ECONYL is able to answer the question #whomademyclothes and show me the faces of everyone who has helped to make the fibre for my new swimsuit #imadeyourclothes.