Healing Mother Earth, Healing Ourselves
This is a guest post by Denica Riadini-Flesch, the founder and CEO of SukkhaCitta, an award-winning social enterprise that changes lives in rural Indonesia: Working directly with craftswomen and smallholder farmers, through natural dyes and regenerative farming, she is changing the way clothes are grown, made, and worn – empowering the makers while respecting planetary boundaries, and providing direct access to education and living wages to the most marginalised women in villages, not factories.
We've lost touch. With where things come from. With the journey our clothes take before we wear them. And the true cost our choices have on the planet.
As a development economist, my work took me through rural Indonesia. There, for the first time I saw how our clothes are made: by women working from home. Mothers who are continuing the heritage traditions of their ancestors. Hands who are slowly disappearing as it is estimated that 98% of women who make our clothes don't earn a living wage. 
 But perhaps what was shocking to me was how dirty the industry is. Every day, tons of toxic chemicals are used to dye our clothes. Entering our water sources without any treatment, into the same rivers the communities use to irrigate our food and sustain life. A reality that is hidden to us, even as it creates 20% of the world's water pollution.
This was the moment I realised I needed to build a bridge. Between you and the women who make your clothes. Providing access to education and fair work, so they can lift themselves out of poverty while protecting our environment through plant dyes.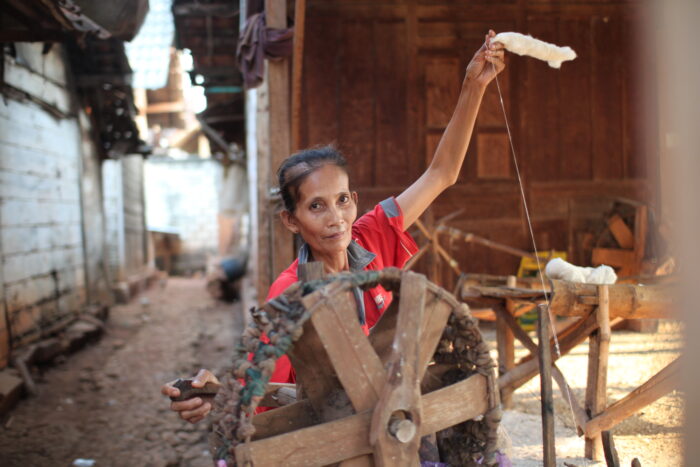 What if our clothes can heal the planet?
 Two years ago, our world changed. In the midst of all the crisis, one thing became painstakingly clear: Sustainability is no longer enough. There was no point in sustaining a broken system. Now more than ever, we need to find ways to go beyond protecting, investing in regeneration to heal our relationship with nature.
That was when we learnt that 99% of cotton in Indonesia is imported. Which is an irony considering our history as a cotton producer. And it's grown in ways that work against Nature. In massive, chemical-laden monocultures that deplete our soil and cause climate change. Not to mention the rampant stories of exploitation woven into our clothes.
But when we met some of Indonesia's last cotton farmers, we learned that there is a better way. Together, we rediscovered principles like Tumpang Sari: Our ancestral agricultural regenerative farming wisdom. Using herbal pesticides made of cloth and salt and natural fertilizer. A reciprocal relationship designed to give back to the soil.
Tumpang Sari: Working With Nature
Nature is full of cycles. Regenerative farming is an indigenous system of agriculture that restores the soil's health and resilience. Building a reciprocity that allows the ecosystem to draw down more carbon from the atmosphere to reduce global warming.
It is a way of growing things that is all about soil health. Because healthy soil is not only key to happy smallholder farmers. It's essential to life as we know it (think: food on the table). This process restores the balance between soil and the atmosphere. What's wrong with that balance, you may wonder? One word: Carbon.
Because of the way we humans do things right now, carbon levels in the soil have depleted and increased dramatically in the atmosphere – creating all kinds of problems. The soil actually needs more of it (because carbon helps soil store water and actually grow the food we eat), while the atmosphere has roughly 109 billion tons too much, causing global warming, rising sea levels, extreme weather events, flooding and more.
Through regenerative agriculture we take that excess carbon out of the atmosphere and put it back into the soil – regenerating it and allowing it to sustain life again! It's a process called carbon sequestration, is 100% natural and has been nature's way for managing carbon for eons.
Farm-to-Closet: Investing in Regeneration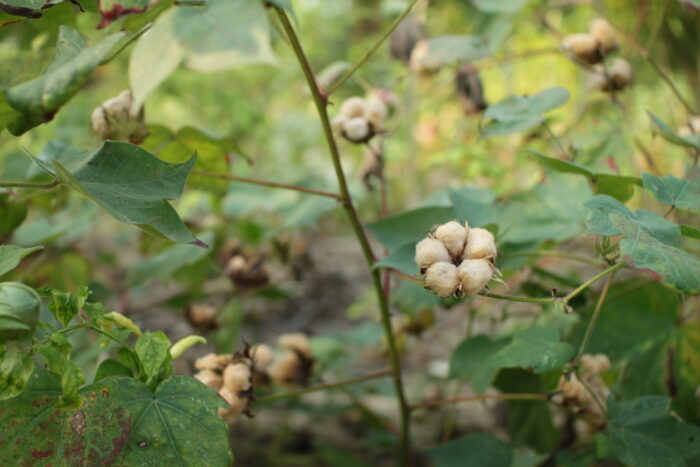 Since 2020, we've been working to help women farmers transition from conventional farming to Tumpang Sari. When we started, the land was dry and chemically-damaged. But now, a new hope is growing throughout the whole community.
Our cotton is grown together with 23 different plants to create a diverse agroforest ecosystem. From Marigold flowers as pollinator crop, cassava and corn as cover crops, to cloves and chillies as trap crops to protect the cotton from pests.
To nourish the soil, our Ibus create an organic compost from organic waste from the farm. While treating infected crops using her grandmother's potent recipe of clove, salt and water. A holistic system where each plant, insect, and microorganism have their unique role in this journey of regeneration.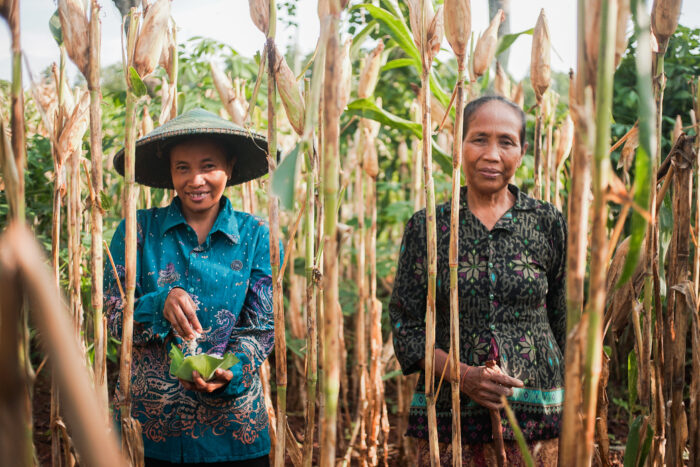 Ibu Kasmini's story: Smallholder farmers against climate change
"Kene ngerawat Bumi, podo karo ngerawat awe'e dewe"
When we take care of Mother Earth, we take care of ourselves.
– Ibu Kasmini
For smallholder farmers like Ibu Kasmini, returning to the way of her ancestors has been a blessing. She no longer has to buy expensive chemicals – and her cotton yield has increased six times. Sustaining indigenous wisdom while creating long lasting benefits for our planet.
Why this matters
Traceability is where change starts. The long journey it took us to change how your clothes are grown showed us how knowing exactly where something came from – and especially in what conditions – is the first step towards creating real change.
It's shown us the potential that fashion can have. That when done right, it can be a solution to some of the world's most pressing issues. That together, we can weave economic empowerment to those who need it most while respecting our planetary boundaries.
And it all starts with a choice. What will yours be today?
Further Reading:
Challenges facing the farmers who grow our cotton
Lessons from the Cotton Diaries