Looking back: The best of Fashion Revolution Week in the Midwest
Fashion Revolution+Variously event at WeWork Detroit
People care only if people know, sums up the intention in participating in the Fashion Revolution Week for Variously as a sustainable design label based out of Metro Detroit area.
Variously is a young independent accessory label focusing on sustainable textiles and partners with global artisans to develop capsule collections in home & fashion that are concept driven rather than influenced by short lived trends. The whole purpose is to restore & revive heritage artisan clusters, also by involving sources local to the artisans like dyers, small farms to support inclusiveness in the supply chain. Variously only chooses to use highest qualities of natural yarns and dyes to accomplish a more environment friendly collection with minimal modern aesthetics for the socially conscious consumer.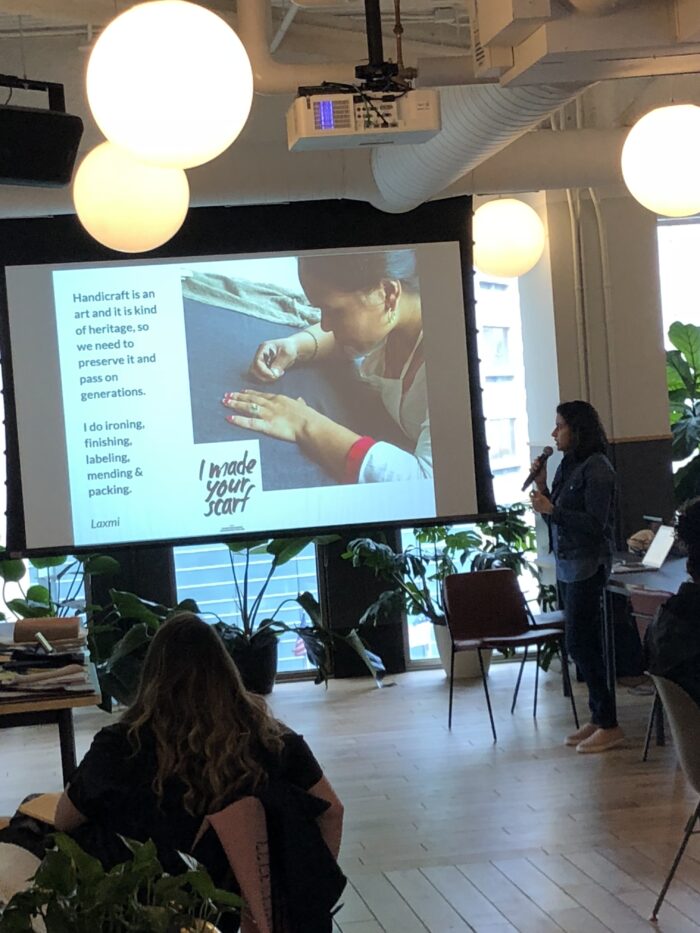 Being a part of Fashion Revolution week for Variously was mainly to kick off effective awareness for what Fashion Revolution does as an international organization and what Variously as a young ethical design label is working towards in Metro Detroit area. Variously founder, Anjali Purohit shared data organized & collected responsibly by Fashion Revolution over past few years to narrate the importance of what Fashion Revolution is doing globally and the impact of the outreach. It involved combining both the ethical working conditions for people who make our clothes and the processes adopted in production and its impact on environment on a day-to-day basis.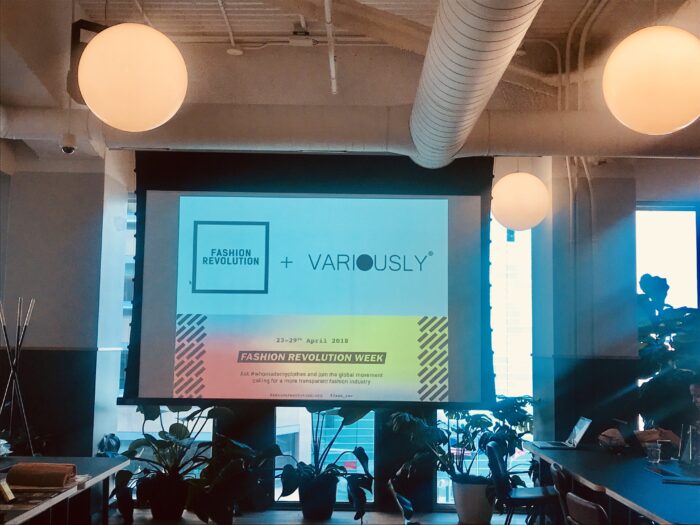 Anjali also effectively shared behind the scenes of the making of Variously textile piece by showing the short documentary Resa Thread which was shot at artisan workshop in Nepal. This also involved sharing about the ethical production practices that Variously as a brand executes on a day-to-day basis with its artisans involved. Narrating short stories about the artisans involved from hand spinning the yarn to preparing the dyes & looms to the master artisans involved in weaving the textiles, was an important segment of the talk at Wework Detroit.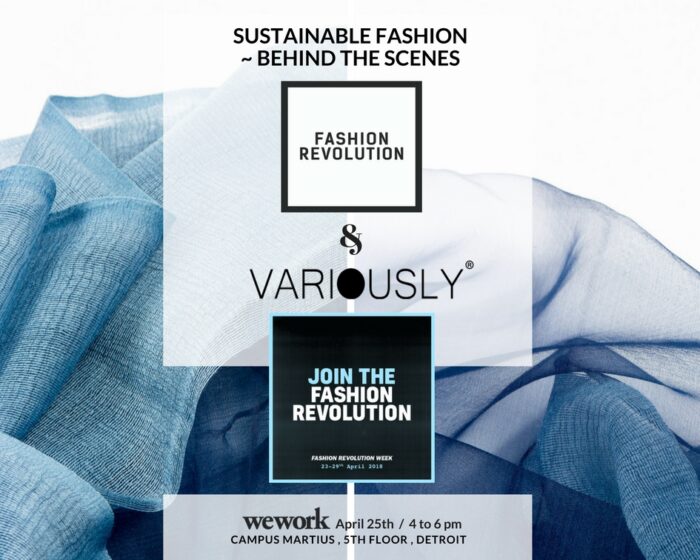 Sustainability and ethical working condition in fashion supply chain at a global level has not been yet recognized important enough by most of the consumers even if we feel we are living in an ecosystem that is very connected due to social media presence. Events like these are very much required at small grass roots level to reach out to the consumer and people in general and Variously founder Anjali Purohit hopes to continue collaborating with more diverse platforms like Wework and others in the creative community local to Detroit area to promote the reach out of Fashion Revolution's ethos.
Fashion as an industry is consumed by all in different price points and also happens to the biggest employer of women in its supply chain. As an industry it is part of the global culture scenario where diversity is celebrated both functionally and aesthetically. Due to its direct impact to our environment it is imperative we educate ourselves about why transparency is key to ensuring more responsible products. Showcasing Behind The Scenes of Variously in Fashion Revolution Week was a small but conscious step to join hands in a more transparent supply chain at a global level.
Fair Trade event in Chicago
This April, Chicago Fair Trade and DePaul University joined forces to organize Chicago Fashion Revolution. The diverse crowd of 200 students, community members, and activists came together to commemorate the 1,134 lives lost in the Rana Plaza building tragedy and to learn about ethical alternatives and how to take action.
The event  kicked off with a Fair Trade Fair featuring a clothing swap, educational resources, a fair trade pop-up market, and free clothing mending and repair services compliments of  Fix It Friday, an award winning project of Illinois State University.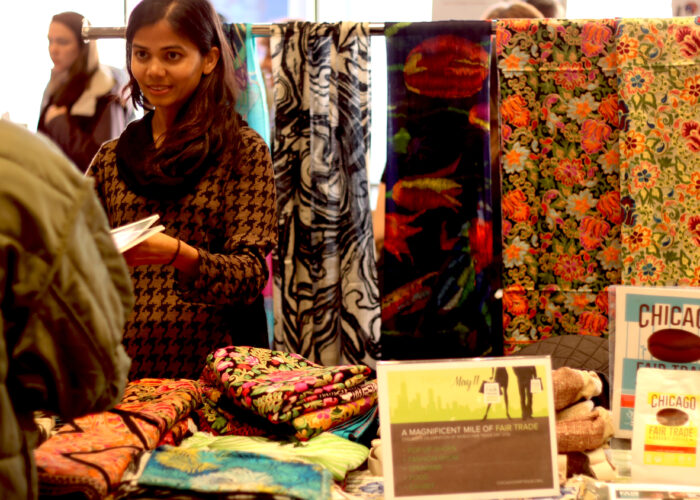 Next up was a speaker Panel. Nasreen Sheikh shared her powerful and inspiring story. Story. Nasreen was a child laborer in a sweatshop in Nepal at age 9, broke free and became a trailblazing social entrepreneur — founding a fair trade women's cooperative by age 16. Father Andrew O'Connor spoke next. A fashion designer priest, Father O'Connor founded an apparel company, Goods of Conscience whose mission is to humanize globalization. Goods of Conscience works directly with Mayan weavers in Guatemala and produces garments in New York's ' garment district.  Donnie Hodge, President and CEO of Alta Gracias rounded out the panel. After decades of working in the garment industry, he decided to open the ground-breaking company, Alta Gracia, a collegiate apparel company that pays its workers in the Dominican Republic a living wage and provides  health insurance.
Last but certainly not least the program ended with an ethical fashion show. The show  featured looks from over a dozen brands-from locally-owned brands including Mata Traders and Production Mode, to EILEEN FISHER, to a gown from the North Shore Exchange, a non-profit luxury consignment boutique. The response to the event was overwhelming positive and plans are already underway to plan Chicago Fashion Revolution 2019.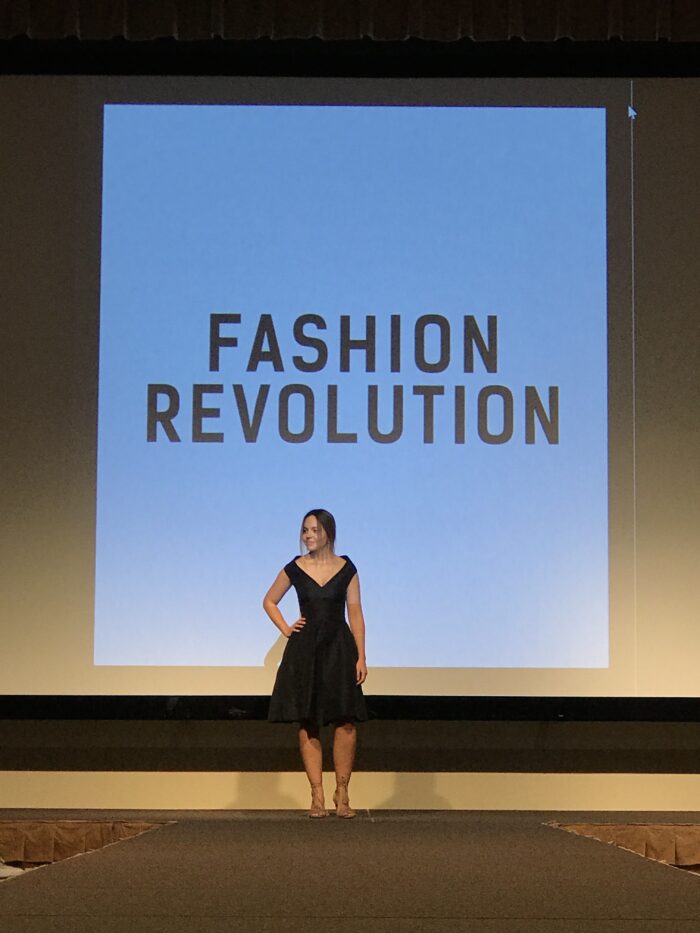 Speaker+ Marketplace event in Austin
This year's Fashion Revolution Austin's main event at Atmosphere Coworking kicked off with speaker Cory Skuldt, sustainability consultant at FWD Impact, Outerknown and Wearable Collections. She talked through why sustainability and ethics have become hot button issues as fashion has become increasingly globalized and dispersed. Cory also discussed ways that consumers can change the current status quo. Her talk was followed by a Q&A panel with the Fashion Revolution ATX organizers, Jen Lewis, of Purse & Clutch, Kasi Martin of The Peahen and Meghan Williams of The Fair City Project discussing what Fashion Revolution means on a local level.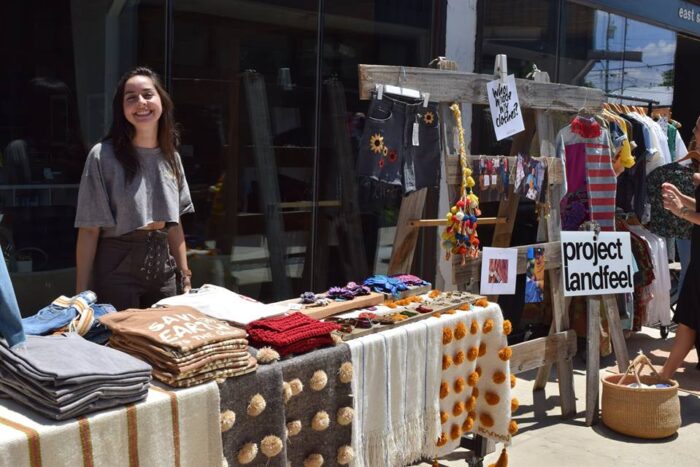 After the keynote, we had an interactive marketplace where attendees shopped from local, ethical brands while learning about their production and how they're changing fashion for good. Marketplace included: Miranda Bennett, Trove, Global Mamas, Mary Claret, milo + nicki, Purse & Clutch, SixChel, Remnant Ceramics, The Distillery Market, Piecology Vintage, Sister Petra Vintage, Unravel Co, and Project Landfeel.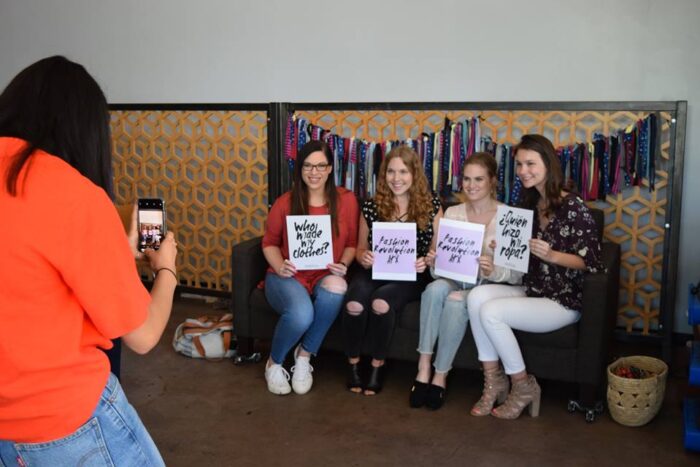 Able event in Nashville
ABLE was honored to participate in Fashion Revolution Week 2018 by hosting an Open Studio at our headquarters in Nashville, TN.  Attendees heard from multiple members of the ABLE team as they toured the Flagship store, offices, and production space, learning about the different facets of the business.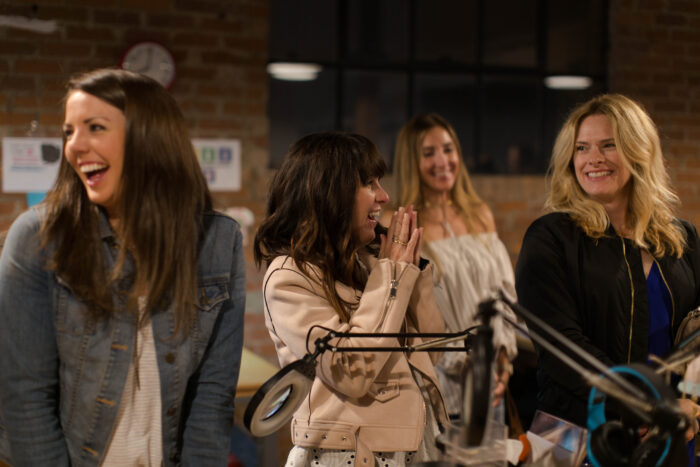 ABLE's Fashion Director, Jordan, started the evening by sharing about the history of ABLE and where it all began 8 years ago – producing scarves to help provide a safe workplace for women coming out of the commercial sex industry in Ethiopia.  She went on to show how the brand has grown from one scarf to an entire lifestyle brand, creating hundreds of jobs for women around the world. Jordan also walked attendees through the design process and gave an exclusive first look at the Fall 2018 line. She touched on the idea that we at ABLE look to trends and adapt in our own way, making it approachable and practical for our everyday woman. Each piece serves as an investment and allows you to consume less and use more efficiently.
The night proceeded with attendees splitting into two groups to learn about ABLE's separate impact fronts – Local + Global.
Jen, one of the Merchandise Planners who also heads up ABLE's impact work, shared about the partners ABLE works with globally. She included 2 Ethiopian partners via video, who each shared about their experience producing ABLE products and their journey to becoming female-run manufacturers within their communities.
Barbara and Chelsie, two of ABLE's local jewelry makers, each shared their own personal stories of how they came to ABLE and what impact it has had on their lives. Attendees were delighted to watch a behind-the-scenes of the jewelry process as well – the making of a piece of jewelry from beginning to end — and then walking away with a handmade ring as a reminder of their evening!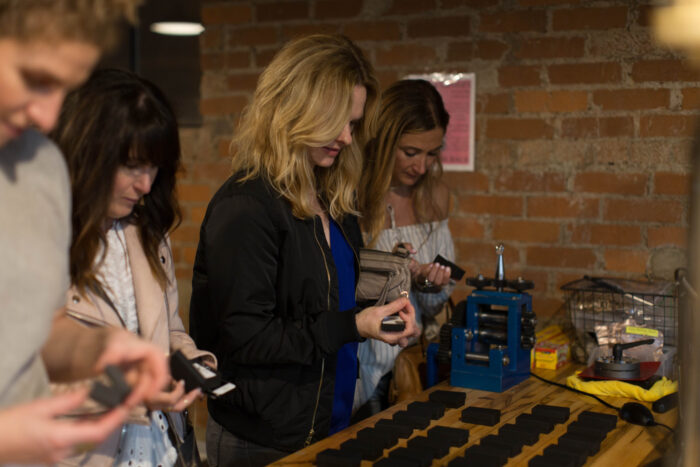 To wrap up the night, ABLE founder and CEO, Barrett, gave a preview of the upcoming social impact measurement platform, accountABLE.  accountABLE is designed to give the customer a transparent look at all the good and bad at factories, so you can make informed decisions on the brands you support. accountABLE has a focus on worker rights and safety, with a particular emphasis on women in the workplace.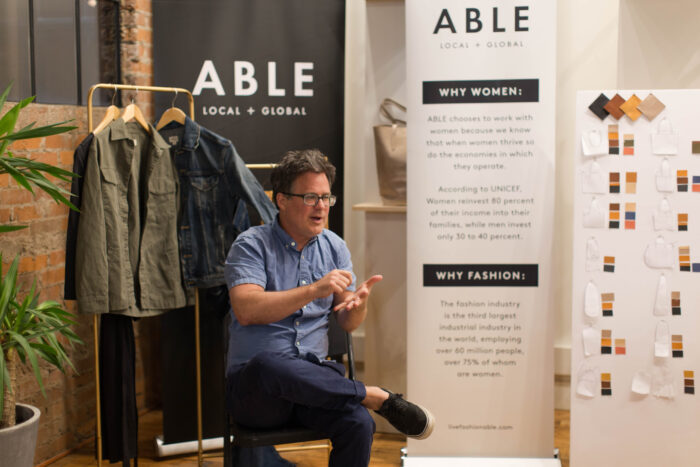 Barrett said, "The dirty secret of the fashion world is that the people who make our products probably can't even make their basic necessities. That is insane. We can do better than that. We should be able to figure out how to protect women around the world making our products."
We were thrilled to see the interest of those who want to help us make a change in the fashion industry by demanding greater transparency from brands. We hope this is just the beginning, and soon there will be a day when anyone, anywhere, can find out how, where, by whom, and under what conditions their clothing is made.
Best of Fashion Revolution in Minneapolis
"The Price of Our Clothes," Art Exhibit Perlman Teaching Museums Braucher Gallery, Northfield
Created by artist Rachel Breen and poet Alison Morse, The Price of Our Clothes is a material meditation on garment factory disasters. Responding to the Triangle Shirtwaist Factory fire in New York City, March 25th, 1911, and the collapse of garment factories at Rana Plaza in Bangladesh, April 24th, 2013, the exhibition presented evocative mixed-media artwork that is sewn, painted, stitched on and/or punctured with a sewing machine, powerful sound pieces, poems, and performances. The Price of Our Clothes encouraged contemplation about our historic and present-day relationship with the people who make the clothes we wear.
Sustainable Fashion Panel and Garment Factory Tour. Clothier Design Source. Saint Paul.

What is sustainable fashion and why does it matter? Clothier Design Source hosted a panel discussion with local women thought-leaders making waves in ethical fashion. From design to production, this discussion was helmed by women leading the way to a more sustainable future for the fashion industry. Treats and drinks were served, and Clothier Design Source introduced the people behind the clothes we wear by opening their doors and giving guests a personal tour of their local garment factory.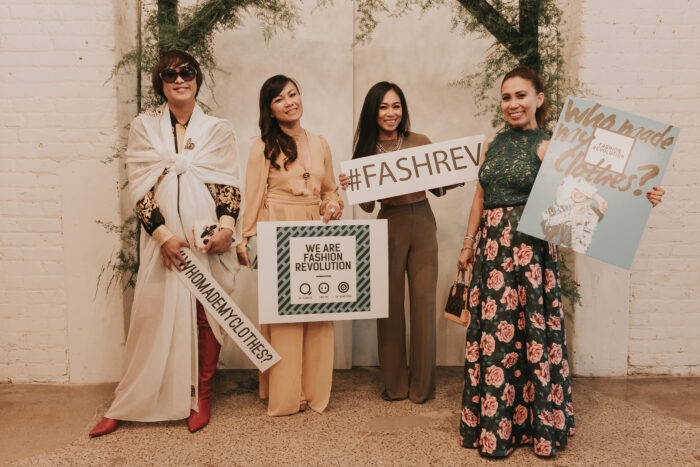 Hosted by Clothier Design Source and THREADED.
Zero Waste Indigo Dyeing Workshop. Casket Arts Building.

Attendees learned how to make a natural indigo vat + a handful of traditional and contemporary shibori techniques in this workshop. This event provided the opportunity to bring in white or neutral colored clothing that is stained (and as a result no longer worn). Rather than have these items be destined for the landfill, individuals got to dye them with indigo, so they became back in action and better than ever! Reduce, re-use and re-imagine all in one workshop!
INNOVATIONS Sustainable Fashion Show and Ethical Marketplace. Vandalia Tower and Art Gallery in Saint Paul.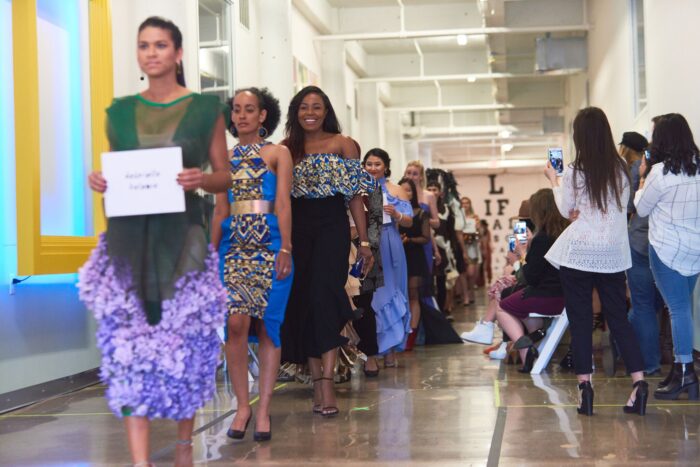 Emerging designers and stylists took the runway for INNOVATIONS, a project runway style fashion show, and ethical fashion pop-up marketplace. This sustainable fashion show featured a series of eco-fashion design challenges from emerging student fashion designers, including a non-conventional materials challenge, a secondhand stylist challenge, as well as spotlighted clothing and accessories by seasoned slow-fashion designers, fair-trade labels, and sustainable brands.