A sleeping giant is awakening, and NYFW 2017 just got a taste
Last week, Wear Your Values, an Oslo Freedom Forum and Remake project, gathered a crowd, during New York Fashion Week, to switch the focus from fashion trends, to some of the industry's not-so-glamorous realities. The interactive exhibit walked guests through the lifecycle of a garment and pinpointed where abuses can take place in the process.
"Over the last decade our clothes have been coming to us sooner, faster and at a cheaper price. The only way for our clothes to cost less than our favorite cup of coffee is to cut corners. Too often the biggest variable cost in this equation is human. Be it unsafe factories as we've seen with Rana Plaza and Ali Enterprises, modern day slavery and child labor within subcontracted facilities, or the rise of our clothes being made in oppressive, authoritarian regimes where workers cannot unionize or raise their voice in dissent," said Ayesha Barenblat, founder of Remake and co-producer of Wear Your Values. "Our event sold out fast, and the packed room is proof that people do care and have unwittingly put on their bodies clothing that does not align with our value system."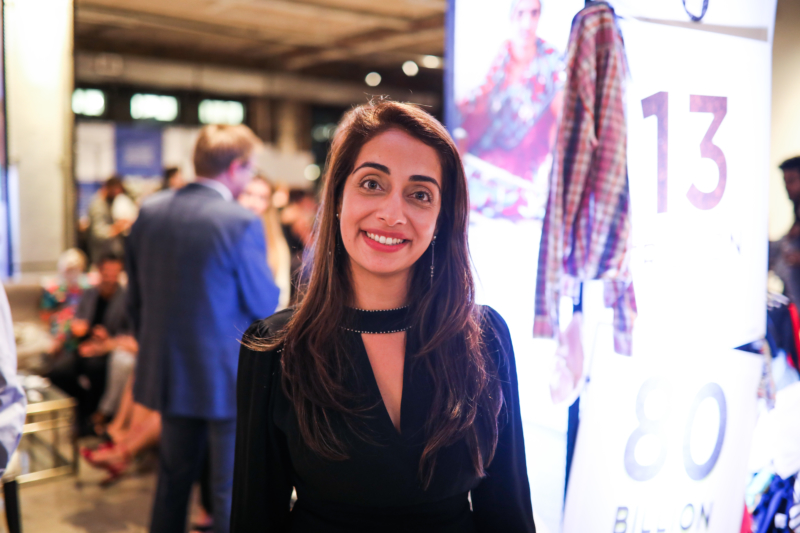 Besides highlighting some major issues in the industry, the event also showcased brands that are committed to doing things the right way.  Labels like Voz, an apparel company whose focus is to protect the livelihoods and cultural values of rural indigenous women globally. "I wanted people here to feel excited about the quality and beauty available with ethical fashion options" said founder Jasmine Aarons, who regularly sends her team to stay with her artisans in rural Chile so they experience firsthand the brand's impact on these communities' livelihood.
The fashion labels and organizations at Wear Your Values were chosen based on their commitment to promoting women's rights (roughly 85% of garment workers are women), social justice, transparency, and conscious consumption.
"We're all in this together, and together we can really make an impact, drive change, and ultimately create a better, more sustainable, more socially conscious world. At the end of the day, that's what we need as a community, as a culture," said Suzannah Tarkington of Design and Flow. "Between the refugee crisis, Black Lives Matter [and] the women's march, [in the US] we're having a massive awakening at this moment in time where people are thinking 'I need to make a difference.' We're here to remind people that, if every one of us makes one small change everyday, the ripple effect could create real change in the world [and] make a lasting impact." Design and Flow is a strategic design collective that facilitates actionable change. They identify relationships and highlight opportunities in order to design behavior that encourages positive social impact and shared responsibility.
How all these brands came to be socially responsible at their core varies greatly. Their powerful stories range from personal tragedy, to empathy for human suffering in some remote part of the globe, to sometimes a mix of both.
Jewelry designer Ana Katarina Vinkler-Petrovic, for instance, was a war correspondent who later dedicated her life to humanitarian work before venturing into the fashion world. Everything she survived and witnessed in the process brought her to make conscious choices about her materials. "I chose to use Canadian diamonds because I was very aware of the crises in Sierra Leone, Angola and the DRC [Democratic Republic of Congo]" said Vinkler-Petrovic. "I chose to use recycled gold because the chemicals from gold mining bleed into the water systems and indigenous populations around the mine drink it, and their babies are born with [brain defects]." Vinkler-Petrovic has a completely transparent supply chain and is committed to local production. "I have only produced in the countries [in which] I have lived to stimulate my local communities. First Istanbul, then Kuwait, and now I live and produce here in the United States."
The ultimate goal of Wear Your Values was to inspire conscious consumerism.  It did so by touting brands that support artisan craftsmanship and ethical manufacturing.  Importantly, it also highlighted the ecological issues that fashion causes.  A cotton-field installation reminded guests of how water-intensive cotton crops can be if not done sustainably. An immersive virtual reality station gave guests a first-hand view of living and working in a Malawi village, and a hands-on station invited guests to experience the beauty of craftsmanship for themselves led by the artist Jahnkoy.
"Today's fast-fashion consumers are losing touch with the value of craftsmanship, of recognizing just how much work goes into making something, and because of that they don't value their clothes anymore," said Jahnkoy. Currently working on a partnership with Puma, her team spends an average of 36 hours manually beading and embroidering each sneaker to be sold at Bergdorf Goodman. "I wanted people here to feel the amount of love and energy that goes into making every garment. My goal is to reconnect them with our past, our cultural heritage and craft skills."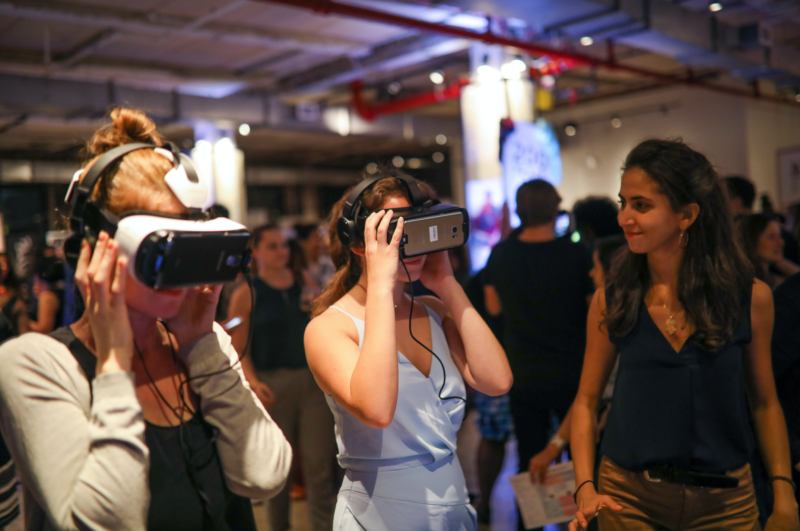 Ranging from apparel, jewelry, and sunglasses to home goods and fragrances, the brands came together to inspire guests to buy less, buy better quality, buy local, and buy products that contribute revenue to a social purpose. Judging by the impressive turnout, the Wear Your Values event proved that consumers are waking up and are curious to find out who makes their stuff and under what circumstances.
"I truly believe that bringing consumers face-to-face with the fierce, incredible and hardworking women who make our clothes with inspiring art, virtual reality technology, film and immersive experiences as we did with Wear Your Values, is a way to turn the tide from disposable trends to slow, conscious style", concluded Barenblat.
Events like this are continuing to grow the number of consumers who want to know #whomademyclothes.  And their voice asking this question will continue to pressure brands to be more transparent about their manufacturing.  If brands have nothing to hide about their practices, their information should be free and readily available to their consumers.