The G7 Fashion Pact: What it is and what it's missing
At the G7 Summit, which wrapped up in Biarritz earlier this week, climate change was a central focus. On the 24th of August, just ahead of the summit, President Macron, along with 32 major fashion brands revealed the Fashion Pact, an industry wide movement aimed at aligning the fashion industry with the UN Sustainable Development Goals. 
If you haven't read the Pact, which we recommend doing, here's what you need to know:
The Pact is a series of commitments based on Science-Based Targets (SBTs).

The Pact is aiming to be adopted by 20% of the global fashion industry

The 32 signatories include:

Adidas

Burberry

Chanel

H&M

Gap

Inditex (Zara, Pull & Bear, Bershka, etc)

Nike

Nordstrom

Prada

Kering (Gucci, Yves St Laurent, Balenciaga, etc)

Puma

PVH (Calvin Klein, Tommy Hilfiger, etc)

Stella McCartney 

The focus is on 3 pillars: Climate, Biodiversity, and Oceans

Commitments include already existing initiatives like the UNFCCC's Fashion Charter (of which Fashion Revolution is a signatory), alongside numerical targets like brands reaching 100% renewable energy in their own operations by 2030
Below, we hear from 3 experts across our global coordination team to find out what this Pact means for the industry, and what's missing…
Science-Based Targets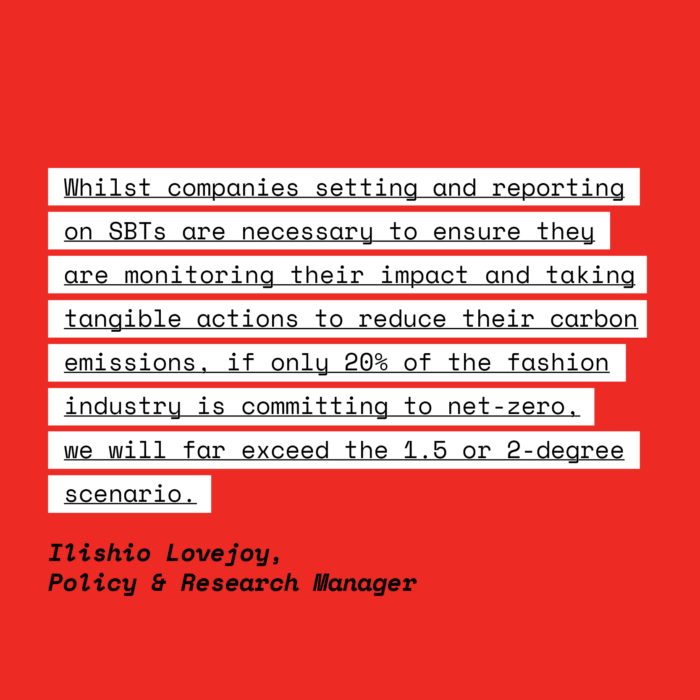 Orsola de Castro, Co-founder: Holding fashion brands to Science-Based Targets is incredibly important for industry change. It removes the wiggle room potential of many broad and ambiguous commitments we've seen up until now. 
Sienna Somers, Policy & Research Coordinator: SBTs for greenhouse gases are based on a given brand's size and turnover, they must set targets to reduce their footprint in line with the 1.5-degree pathway demanded by the International Panel on Climate Change. These are pretty commonplace within the industry now and are comparable from one brand to another. However, most of the SBTs in the fashion industry are focused on the companies own operations and are not looking at the emission at the raw material level, which is where we know the majority of brands' impact comes from. We need to see brands set targets and incentives from their raw material suppliers and through the rest of the supply chain. I am very pleased to see the addition of developing SBTs for biodiversity, this is something that is sorely needed, especially at the raw material level.
Ilishio Lovejoy, Policy & Research Manager: The Fashion Transparency Index has worked for years to push for more credible, comprehensive and comparable public disclosure of businesses' commitments, practises and, importantly, impacts. Whilst companies setting and reporting on SBTs are necessary to ensure they are monitoring their impact and taking tangible actions to reduce their carbon emissions, if only 20% of the fashion industry is committing to net-zero, we will far exceed the 1.5 or 2-degree scenario. In contrast, the UNFCCC's Fashion Industry Charter aims for at least 50% of the fashion industry to join, and targets not only fashion brands but media outlets, industry associations, governments and NGOs. 
Collaboration over Competition
With "20% industry adoption of the Pact", the question remains: what about everyone else?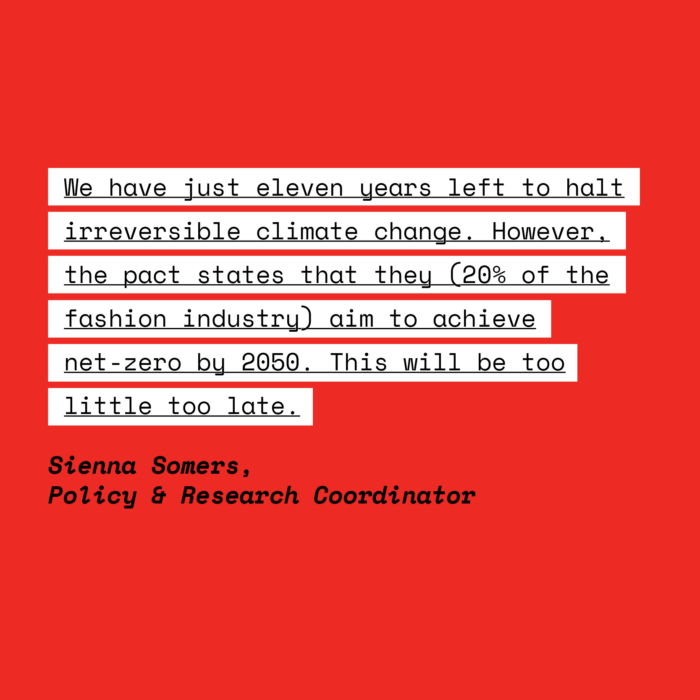 Ilishio Lovejoy: We need to see significantly more than 20% of the global fashion industry (measured by volume of products) working together to achieve the systemic change that is necessary.
Sienna Somers: We have just eleven years left to halt irreversible climate change. However, the pact states that they (20% of the fashion industry) aim to achieve net-zero by 2050. This will be too little too late. In addition, SBTs assume everyone is essentially doing their 'fair share'. Yet if the remaining 80% of the industry is not making progress towards tackling climate change, these actions will not be enough. 
Orsola de Castro: If this 20% was made up of brands that had never made strides towards sustainability, then this would be something worth celebrating. But the fact that many of the brands, like Kering and Stella McCartney have been vocal about their environmental goals for years means that this is nothing new. Kering has been telling us they are the most sustainable luxury brand possible for the past five years, yet only now they're signing onto these targets – what have they been doing this whole time? 
Most notably missing from the list of signatories is LVMH group (Which owns Louis Vuitton, Dior, Kenzo, and dozens more luxury houses). As Kering's biggest competitor, LVMH's absence is a classic example of the anti-collaboration mentality that hinders sustainable innovation in the fashion industry. In a climate emergency we need collaboration over competition. 
Change, NOW
While the Pact is focused on tomorrow, via its non-obligatory targets, we need action today. 
Ilishio Lovejoy: The pact calls for, "Eliminating the use of single use plastics (in both B2B and B2C packaging) by 2030". We need to see action being taken now, not by 2030. There is no longer an excuse to use virgin plastics when there are so many recycled alternatives available. 
Orsola de Castro: 2030 is ridiculous – we could all be dead by then! We need a ban on single-use plastics NOW.
The Pact states, "Each member company may choose appropriate courses of action from the possibilities listed as examples below each commitment, to achieve the objectives defined in the Pact". 
Sienna Somers: Essentially, this is saying that the contents of the Pact are non-binding or non-obligatory, merely suggestions. We, as citizens, need to hold brands accountable to their commitments, otherwise, these statements, pacts and charters are simply greenwashing. We also need to demand legislation to hold these brands (and the brands doing nothing at all) to account, as this kind of non-binding protocol lets the industry-self regulate. It's a reminder of the UK's Environmental Audit Committee report on fashion, which pointed out that, "the fashion industry has marked its own homework for too long. Voluntary corporate social responsibility initiatives have failed significantly to improve pay and working conditions or reduce waste." 
The Elephant in the Room
Hint: It's overproduction.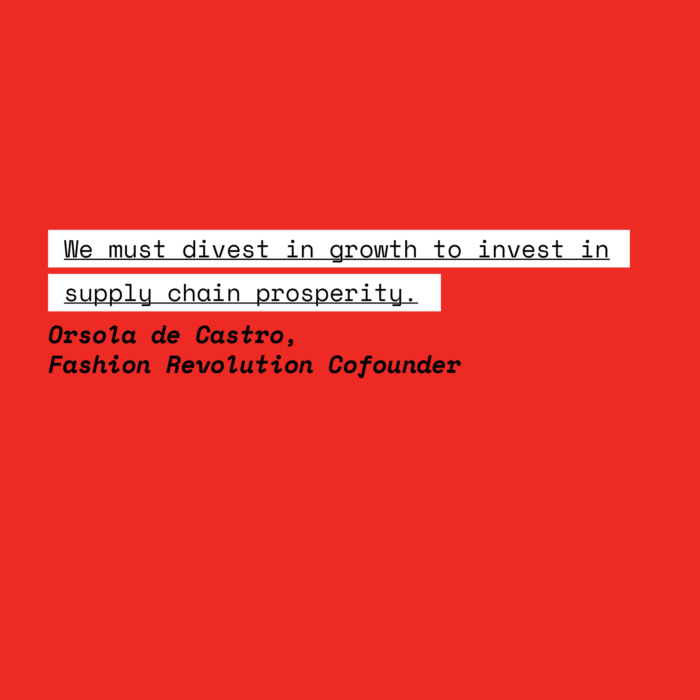 Orsola de Castro: This Pact is Copenhagen [Fashion Summit] all over again – the same people saying the same things.
Ilishio Lovejoy: We need to see more focus on the issue of overproduction as a key driver of the global climate emergency.
Orsola de Castro: Brands don't want to talk about overproduction, but this is no longer acceptable. If we are to address climate change, fashion needs to slow down. We must divest in growth to invest in supply chain prosperity. 
Sienna Somers: The bottom line is that these brands are only going to do what in their interest and what doesn't impact profit. We need to make these issues a priority for brands and show them that if they don't start taking action, then we will no longer support them. Once it impacts their profit, that's when they'll listen. 
*banner image is from QUARTZY*