Does Your Feminist T-Shirt Empower The Women Who Made It?
Photo: Shilpi Rani Das started working in a garment factory when she was 12 years old and moved to work at Rana Plaza at 13. She was working on the 8th floor at the time of the factory collapse. She lost an arm and spent the next 2 1/2 years in hospital. She is now at school, plays badminton and supports her family by sending money home. She is starting Open University.
The theme of International Women's Day 2019 is #BalanceforBetter and asks how we can help forge a more gender-balanced world. Brands and retailers are, predictably, all doing their bit to show support, from Pretty Little Thing's promotion of their #EveryBodyInPLT movement with T-shirts from £10, with profits going to the charity WAGGGS to Net-a-Porter's limited edition collection in collaboration with six female designers, with profits going to Women for Women International.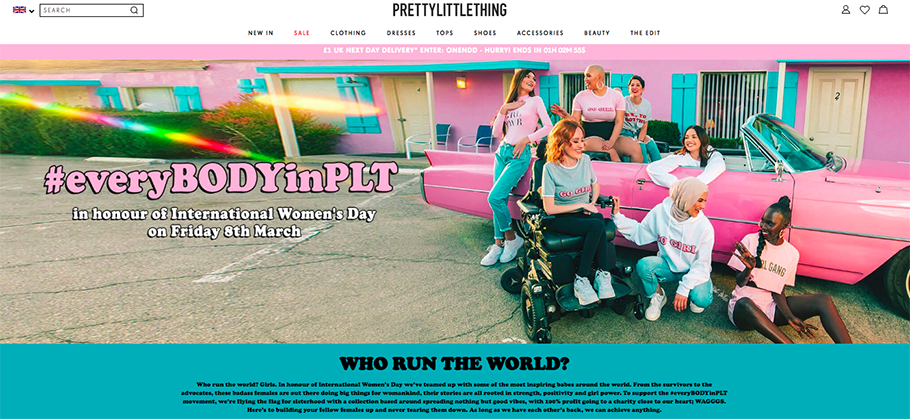 None of the webpages about the T-shirts feature any information about how or where they are made or who made them. About 75 million people work directly in the fashion and textiles industry and about 80% of them are women. Many are subject to exploitation and verbal and physical abuse. They are often working in unsafe conditions, with very little pay.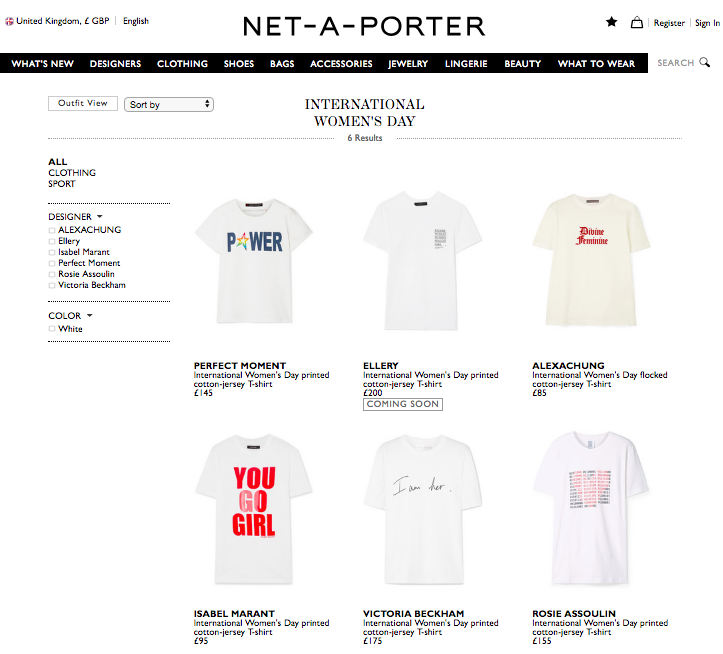 Actress Aisling Bea tweeted during Fashion Revolution Week last year: "My particular bugbear is feminist tees which were not made by women who were paid fairly for their labour. Check your tags and brands."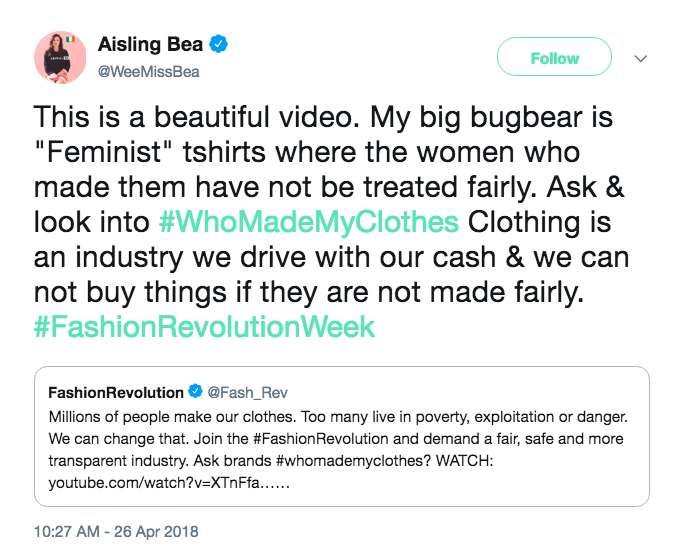 Slogan T-shirts with female empowerment messages will be everywhere this week to coincide with International Women's Day, but the reality is that the fashion industry doesn't empower the majority of women who work in it. Gender-based inequality remains a problem throughout the industry, from the highest levels of management to the shop floor and the factory floor. We still have a very long way to go until everyone who makes our clothes can live and work with dignity, in healthy conditions and without fear of losing their life.
One of the main projects Fashion Revolution worked on in 2017/18 was the Garment Worker Diaries. On-the-ground research partners met with 540 garment workers in India, Cambodia and Bangladesh on a weekly basis for twelve months to learn the intimate details of their lives. 60% reported gender-based discrimination, over 15% reported being threatened and 5% had been hit. When I met with the President of the Bangladesh Garment Manufacturers and Exporters Association in November 2017, he told me categorically that sexual harassment doesn't exist in garment factories in Bangladesh. One statistic I found particularly shocking was that 40% of the workers surveyed had seen a fire in their place of work. The women making our clothes are still risking their lives every day for our fashion fix.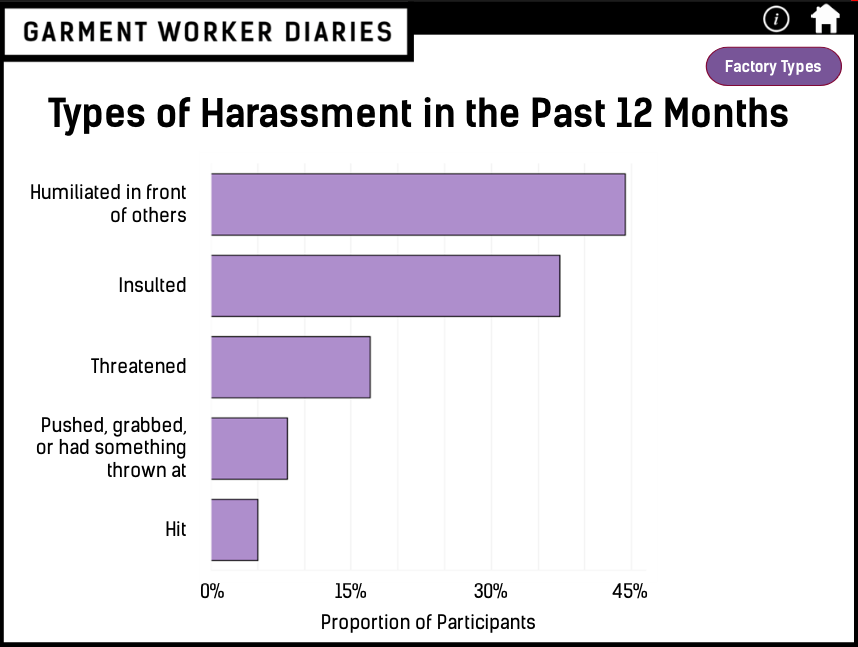 In January, The Guardian revealed that Spice Girls T-shirts raising money for Comic Relief's Gender Justice campaign were being made at a factory in Bangladesh where women earned 35p an hour and claimed to be verbally abused and harassed. Garment production in Bangladesh is still carried out in a very opaque manner and the lack of information about where our clothes and shoes are made and who made them is a huge barrier to changing the fashion industry. This means that gender inequality and human rights abuses and remain rife. If you can't see it, you can't fix it, which is why Fashion Revolution urges all brands and retailers to have full supply chain transparency, and we track this through our annual Fashion Transparency Index.
Fashion Revolution's Fashion Transparency Index 2018 which reviews and ranks 150 major global brands and retailers according to their social and environmental policies, practices and impacts, throws a spotlight on how brands and retailers are tackling gender-based discrimination and violence in supply chains. The report specifically looks at how they are supporting gender equality and promoting female empowerment, both in their own company and in the supply chain.
Whilst, most brands publish policies on discrimination, harassment and abuse, the research show that only 37% of brands are publishing human rights goals. Without reporting on goals and, importantly, annual progress towards these goals, consumers have no way of knowing whether their clothing purchases are really helping to drive improvements for the women who are making their clothes.

Only 40% of brands and retailers reported on capacity building projects in the supply chain that are focused on gender equality or female empowerment, while just 13% publish detailed supplier guidance on issues facing female workers in their Supplier Codes of Conduct. Only 37 out of the 150 brands surveyed report signing up to the Women's Empowerment Principles, an initiative by the United Nations Entity for Gender Equality, or publishing the company's overall strategy and quantitative goals to advance women's empowerment. Meanwhile, just 5% of brands are disclosing any data on the prevalence of gender-based labour violations in supplier facilities, such as sexual harassment and other forms of gender-based violence, or the treatment and firing of pregnant workers.
In the 2019 Fashion Transparency Index, to be published in April, we will be surveying 200 brands and asking the same questions around women's empowerment. Women's economic empowerment and closing gender gaps at work is key to realising women's rights and central to achieving the 2030 Agenda for Sustainable Development, in particular SDG 8 on promote sustained, inclusive and sustainable economic growth, full and productive employment and decent work for all.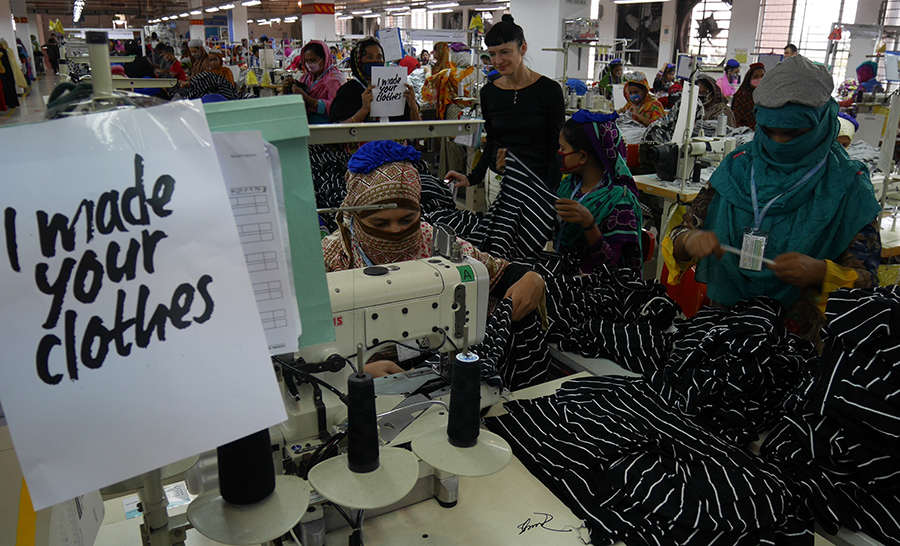 According to the BoF McKinsey & Company report The State of Fashion 2019 "Younger generations' passion for social and environmental causes has reached critical mass, causing brands to become more fundamentally purpose driven to attract both consumers and talent". As a result, the appearance of the word "feminist" on retailer homepages and newsletters is forecast to increase in frequency sixfold compared to two years ago. Brands are adopting feel-good feminist slogans, yet the rise of real feminism and female empowerment within the industry is a long way off for most women who work in it, from the highest levels of management to the shop floor and the factory floor.
If we really want to see a more gender balanced world, brands and retailers need to do more than sell empowering T-shirts; they need to make sure their policies are put into practice. And not just in the visible places, on fashion shoots or within their company, but at every level of their supply chains. The people making our clothes may not be visible, but every garment they make has a silent #MeToo woven into its seams. At Fashion Revolution, we believe positive change in the fashion industry is possible, and it starts with transparency.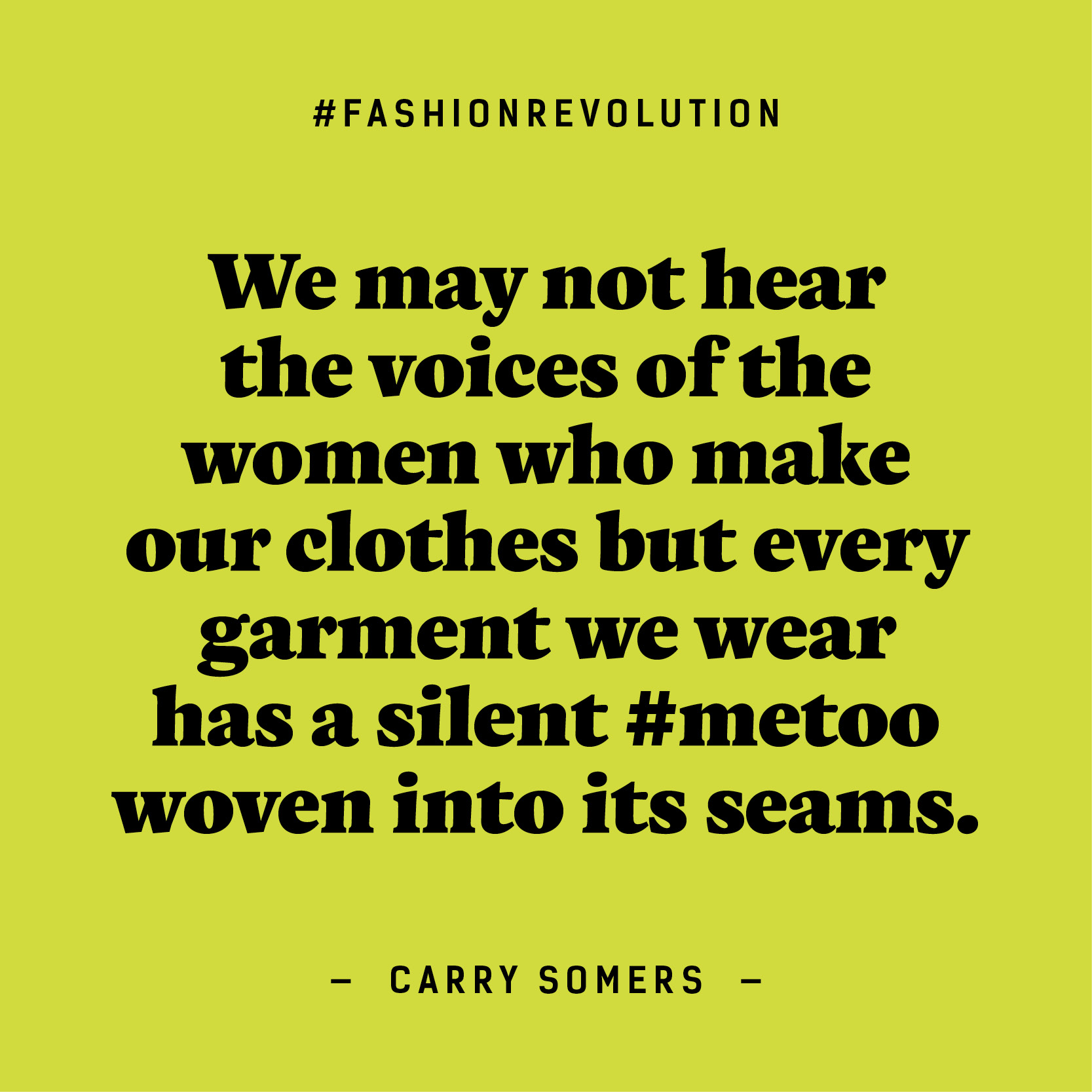 Interview with Ashley (bestdressed): Part 2 in the Power of Influence series.
Sparked by the buzz around HRH Megan Markle choosing to shop amongst sustainable brands (yay), we found ourselves interested in learning more about the conscious and subconscious effect of social influencers and how that can shape our buying habits. Throughout 2019, we will be sharing our 'Power of Influence' series, talking to people within the fashion and social media realms about how they are using their platform for positive action. In this post, we talk to Ashley AKA bestdressed.
There is something different about Ashley's videos. There is no big agenda, no preaching or bragging, no shaming when she talks about clothes. There is just this subtle little undercurrent of care and attention in the way she approaches her wardrobe. Thrifting, flipping (making new things out of old things) and the occasional scattering of self-deprecating humour makes for some exceedingly entertaining videos. Being an avid fixer and flipper myself, I wondered what made Ashley start working in this way and what effect, if any, she thinks it has on her audience.
Could you share your name and various media handles:
Ashley (aka bestdressed)
Youtube: bestdressed
Instagram: @best.dressed
Upon first glance, your youtube channel might seem like many others – OOTDs, clothing hauls and 'day in the life of's. When digging in though, your approach to sustainability through thrifting, upcycling and flipping your finds is totally ingrained into everything you do and say. For us, this is such an important and positive message to be spreading, something that others on the platform can seem to ignore. What made you start working in this way? Was sustainable fashion something you've always been conscious of?
I'm flattered, but honestly I never made a conscious choice to be a ~hero~ of sustainability! My love of thrifting and tendency to rewear clothes really comes from a financial perspective. When I was a younger, I never liked thrifting, My sister would always find gems, but I'd get bored and frustrated 15 ugly sweaters in and go play Doodle Jump in a corner. But two summers ago, when was in full on chipmunk mode post-wisdom teeth removal, I needed something to pass the time before my cheeks deflated. Lo and behold, I decided to go thrifting, and finally found some cool stuff. From that point on, I was obsessed – mostly because at that point I was still working for $8 an hour at an ice cream shop and could use the cheapest clothes I could get. Plus, I was about a year into my (vastly unsuccessful at that point) YouTube career. I would post a haul or OOTW here and there, but I could never seem to keep up with other girls who would have five completely new outfits each week. Thrifting, for me, was a way to experiment with my style and make interesting content, and rewearing clothes for years (even "fast fashion" clothes from Forever21) was just a product of not having that much money.
In a lot of your videos you alter, adjust, flip your existing clothes (or second hand clothes) into something totally new. Do you think it's something everyone could and should be doing? Does this satisfy the itch to own something new, without playing into the fast-fashion world?
For me, it's even better! It's like Marx's theory of alienation from the work product, right? There's something so satisfying about making or altering something yourself. Every time you look at it or wear it you get to be like "Damn! I did that! And nobody else has anything like it!" I know everyone's not the craftiest or has time to alter their clothes, but I hope I can encourage people to at least give it a try! Something as simple as patching up a hole instead of throwing a shirt out, or cropping an old t-shirt are a great place to start!
Do you feel the pressure from brands to buy? Do you think it's possible to stay fashionable without buying in excess?
Absolutely. That's the whole job of the marketing industry. And now social media is overtaken by the marketing industry. So every day, tons of images and videos are telling you that you want new things. Honestly I fall victim to this too. It's usually only when I'm bored or procrastinating or feeling shitty, but I'll go into this fervor of opening tabs and adding items to my cart. Normally the total price at checkout stops me though, haha. I don't go to malls anymore because they make me crazy. Literally my brain just goes: clothes! clothes! more clothes! I sound insane but I swear this probably happens to a lot of us. Luckily, a lot of what's "fashionable," at least for a certain segment of internet hipsters, is shifting towards thrifted and vintage clothes. I love that it's cool now to wear an old oversize t-shirt or a vintage linen dress. Since my entire job revolves around fashion, I do still buy new clothes, but I always think about my purchases thoughtfully and try to mix in thrifted, vintage, sustainable, and altered clothes.
Do you see an uptake in responsibility from your followers when you share content that focuses on sustainable issues? Do their responses show that they're thinking differently about what they buy and how they buy?
Honestly unfortunately I think it's a bit of singing to the choir when it comes to sustainable vs. fast fashion. There are still crazy amounts of $300, $500, $5000 Wish/Zaful/Shein hauls online, with audiences willing to watch. I'm chillin over here in my corner of the internet with gals who already love thrifting. And who's reading this article? Surely people who already care about sustainable fashion. Perhaps that's just me being a bit of a pessimist. In the long run, I think sustainable content can change how people think, but it takes time. I hope that at least some people who have subscribed to my channel from a fashion video have found their way to a thrift haul, and after watching a couple, have tried thrifting on their own! And maybe my thrift flips makes fellow sewing nerds like me feel a little cooler lol.
Okay now for some quick ones…
Current favourite piece in your closet?
A sherpa jacket I thrifted from the men's section! So cozy and looks like it cost a fortune
Do you remember the first piece of clothing that you ever bought for yourself?
A gray American Eagle hoodie in 6th grade
Do you still have it?
I wore it nearly every day to school for 3 years (I was one of those kids) but we had to part ways after it was pretty much falling apart.
Do you know who made the clothes you are currently wearing?
My top is thrifted (so not sure who made it originally) and my jeans are Redone vintage Levi's made in the US.
Top tip for others wishing to shop more responsibly?
Start with browsing a vintage or thrift store, finding a few quality sustainable pieces to invest in, looking through your own closet to find old gems you forgot you loved… or even remembering to return items you don't end up loving – that's a huge one! It's so easy, you get your money back, and you don't end up with clothing sitting in the back of your closet. You'd be amazed by how many people buy stuff and can't be bothered to return it. I think sustainable culture can be a bit intimidating and make you feel guilty for your past purchases or if you aren't perfectly sustainable at the start. It's all about starting small – even if you just stop and think about one fast fashion purchase per month, that's still awesome!
Thanks, Ashley 🙂
Check back every month for more in the Power of Influence series. We'll post a new entry on the last day of each month throughout 2019. If you think there is someone we should be talking to, drop us a line on instagram.
---
We host Fashion Revolution Week in April of every year. This year kicks off on the 22nd of April. Throughout the week we encourage people to ask brands 'who made my clothes' in hopes of shining a light on the unknowns of the fashion industry. By doing this, we hope to shift the focus from consumers to brands, and to all the hands involved, be it producers, workers, farmers or otherwise. We track the reach and impact of collaborators throughout Fashion Revolution Week and use the findings to fight for change worldwide, through government and policy. We would hugely appreciate it if you would be willing to share a story or celebrate a brand you love or simply ask #whomademyclothes during Fashion Revolution Week in 2019.
Interview with Arden Rose: Part 1 in the Power of Influence series.
Sparked by the buzz around HRH Megan Markle choosing to shop amongst sustainable brands (yay), we found ourselves interested in learning more about the conscious and subconscious effect of social influencers and how that can shape our buying habits. Throughout 2019, we will be sharing our 'Power of Influence' series, talking to people within the fashion and social media realms about how they are using their platform for positive action. First up is Arden Rose.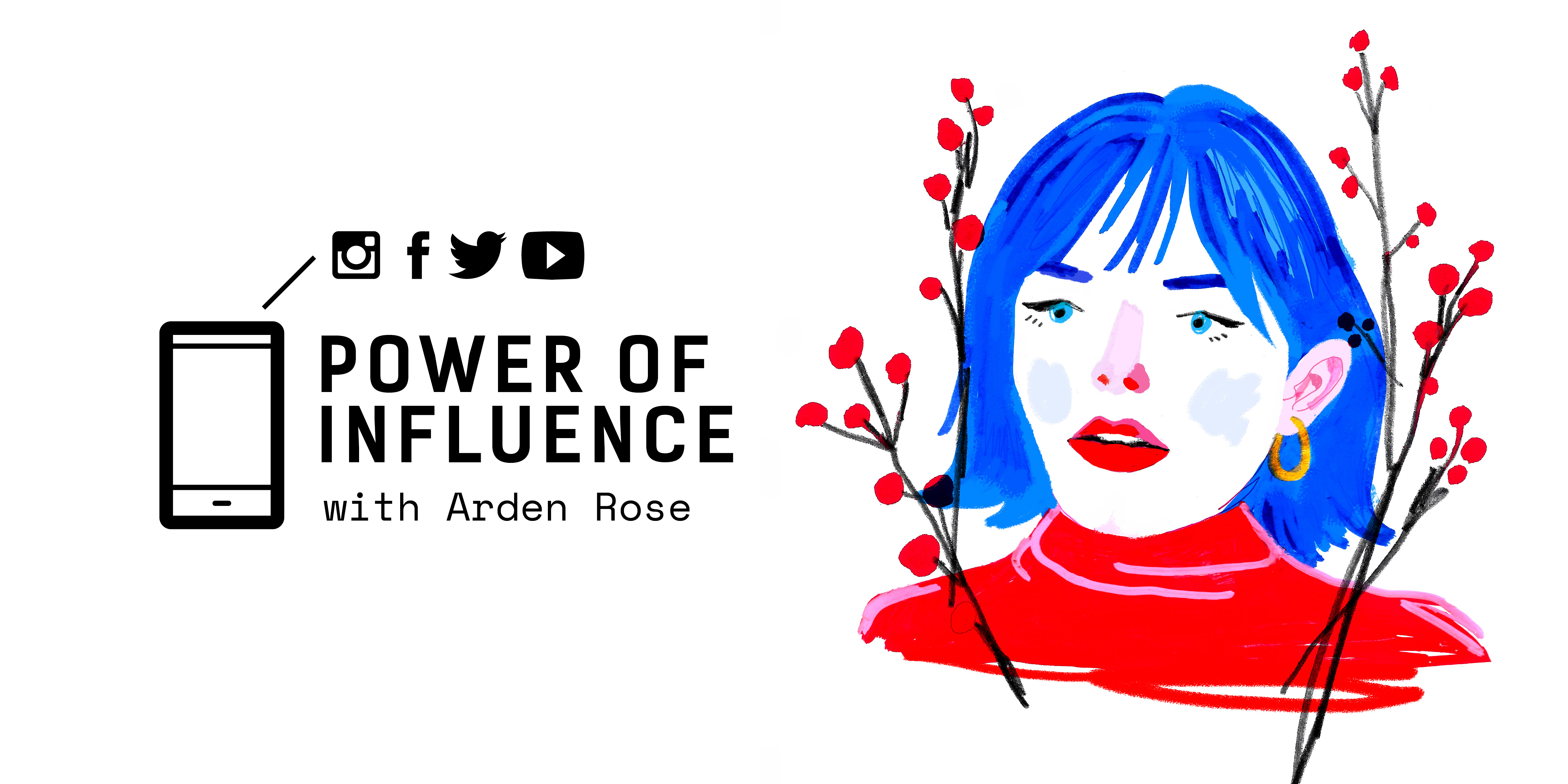 I was recommended Arden's youtube channel by Youtube itself (thanks algorithms). Finding a funny, interesting AND socially, environmentally conscious human who also creates entertaining content is pretty rare, right? Exactly. I was hooked right away, and with 1.4 million youtube subscribers and coming up to 900k followers on instagram, I wasn't the only one. My first point of call was watching the fantastically titled "how to NOT destroy the planet while shopping". There were many questions I wanted to ask, much admiration I wanted to share. So…after a quick binge of other videos, and a swift click of the subscribe button, Arden became the first in this series of interviews. Her answers didn't disappoint. Read on, read on…
To start, could you share your name and various media handles:
@ardenrose on everything!!
In a community of hauls, where buying in excess and presenting that image to the world is commonplace, you choose to do differently. We think that's totally awesome and also pretty brave. Was it hard for you to step away from the established way of working and suggest a different way of doing things?
It was hard in the sense that hauls tend to do well on YouTube and they're easy (i.e. unoriginal) content to make. Honestly, buying that much junk was tiring, it filled up my closet with trendy pieces I don't want in a month, and it was boring to make. I'm so much happier to share clothing that I had to hunt or search for to make it sustainable and worth showing on my channel! Honestly, everyone should give themselves the challenge of not relying on constantly selling their audience on cheap slave labor. Definitely helps me sleep (slightly) better at night.
Your video 'how to NOT destroy the planet while shopping' is SO well informed and honest and great. You mention other youtubers who inspired your choices. Do you think more people on the platform need to be addressing these issues?
ABSOLUTELY. It shocks me that people can just turn a blind eye to the obvious pain they allow corporations to get away with or ignorantly support. Everyone should be promoting sustainable business practices, especially the women on the internet that tend to to push fast fashion as a "cheap" and "easy" alternative to a constantly refreshing industry like the fashion industry. Viewers should be educated, but at the very least the entertainers who are preaching to them should be educated.
Have you always been a conscious consumer or was there a moment when the switch flipped and you started to think more about the way you buy?
I touch on this briefly in my "how to NOT destroy the planet while shopping" video, but I used to make H&M and Forever21 hauls allllll the time. Constantly. My channel was filled with that shit. Fortunately I sat down and watched all the necessary documentaries and read all of the articles late last year and completely got my stupid self educated on the issue. Honestly, I always KNEW that fast fashion was bad business, but I was wilfully ignorant so that I didn't have to give up my shopping addiction that felt baked into my personality.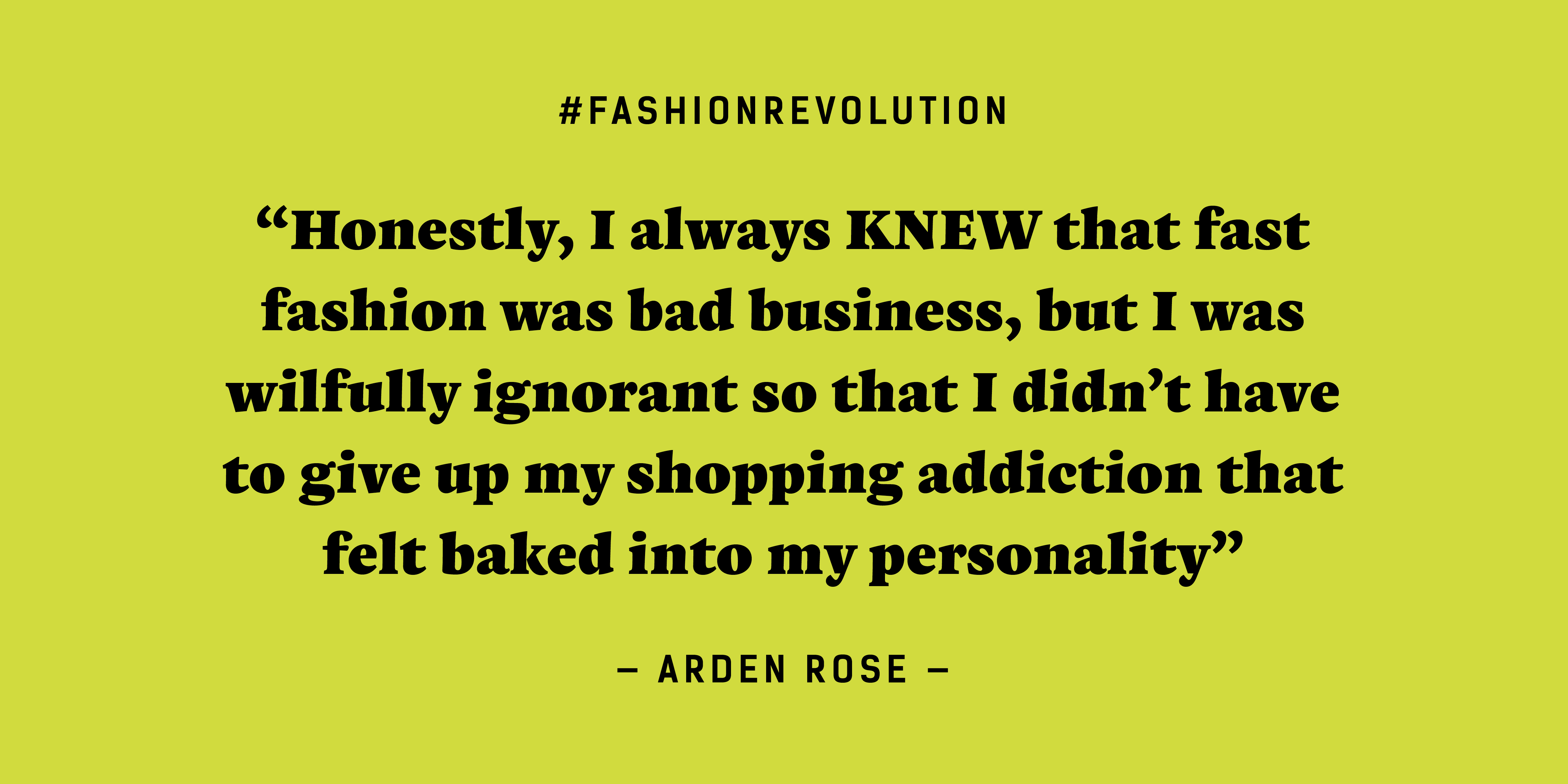 Do you see an uptake in responsibility from your followers when you share content that focuses on sustainable issues? Do their responses show that they're thinking differently about what they buy and how they buy?
Yes!! And that's what's so amazing to me! I don't even have the largest audience but I get hundreds of comments about my sustainability video a week. I didn't even think that many people saw it! Nowadays, consumers want to be in the know, and they want clear consciences. Having a friend on the internet (me!) sitting you down and calling you out on the way you've been spending your money is helpful and doesn't feel accusatory! It feels like friendly advice which is important. A lot of people get turned off of the sustainability conversation because it sounds preachy. You need to be a friend to these people, not a holier than thou asshole. I like to think I've helped a lot of young women and men rethink their spending habits when it comes to fashion, but I also think it's just the power of a younger generation that actually cares about others and the planet! They're awesome and so fired up for change!

Do you think it is easy to find and share information about the sustainability of fashion brands and the effects of fast fashion on people and planet? Is there anything you can think of that would help make it easier to do so?
It is easy if you want to find it. It would be easier if large publications and fashion houses made it a priority to promote the message. It doesn't benefit the industry to reveal its ugly underbelly, so they try to hide it, or dangle a carrot in your face via a "sustainable line" that only happens once in a blue moon. If there was a grassroots coalition of the top fashion bloggers and instagram baddies calling these companies out and only promoting sustainable brands, I can bet you big money things would shift in a major way.
Okay now for some quick ones…
Current favourite piece in your closet?
A brown corduroy button down dress from Paloma Wool that I bought recently.
Do you remember the first piece of clothing that you ever bought for yourself?
I would have NO idea and I find that sad. It was probably a tee-shirt from Target if I'm being honest.
Do you still have it?
Definitely not.
Do you know who made the clothes you are currently wearing?
Yes! A small company in Denmark knitted my sweater, my tee shirt is of my own design and is produced sustainably in Canada, and my leggings are from an activewear company that produces everything in a mom and pop shop out of Italy. Wearing a very well traveled outfit right now hahaha.
Top tip for others wishing to shop more responsibly?
Unless a brand *explicitly* advertises that it's sustainable, be skeptical, and even if they do, remain skeptical. Educate yourself. We have the internet now and have 0 excuses to be ignorant! If you question the sustainability of a brand, do a quick google search before committing to the purchase. It's true that sustainable fashion tends to be a bit pricier but just think about all the hands that it took to create the piece you're holding and the people they belong to that are being paid well and treated with respect because you're willing to treat your closet with respect. We don't NEED an abundance of new clothes every season, we've been duped by an industry that only has money in mind. You don't have to have the latest trend in your closet, you can re-wear clothes until they fall off your body, and anyone who judges you for your lifestyle is slow on the uptake.
Thanks, Arden 🙂
Check back every month for more in the Power of Influence series. We'll post a new entry on the last day of each month throughout 2019. If you think there is someone we should be talking to, drop us a line on instagram.
---
We host Fashion Revolution Week in April of every year. This year kicks off on the 22nd of April. Throughout the week we encourage people to ask brands 'who made my clothes' in hopes of shining a light on the unknowns of the fashion industry. By doing this, we hope to shift the focus from consumers to brands, and to all the hands involved, be it producers, workers, farmers or otherwise. We track the reach and impact of collaborators throughout Fashion Revolution Week and use the findings to fight for change worldwide, through government and policy. We would hugely appreciate it if you would be willing to share a story or celebrate a brand you love or simply ask #whomademyclothes during Fashion Revolution Week in 2019.
Transparency is trending
An increasing number of fashion brands and retailers are publishing a list of their suppliers. As of November 2018, we have counted 173 Brands across 68 companies/parent groups that are disclosing at least some of the facilities making their clothes.
When we published the first edition of the Fashion Transparency Index with Ethical Consumer magazine in April 2016, we looked at 40 leading global fashion brands and found that only 5 brands (Adidas, Converse, H&M, Levi Strauss & Co and H&M) published a list of their manufacturers and only 2 (Adidas and H&M) published the names and addresses of sub-contractors or fabric/yarn suppliers.
Out of the 150 brands included the Fashion Transparency Index 2018, 55 brands (37%) are publishing a list of their factories at the first tier, where clothes are typically cut, sewn and trimmed. This is up from 32% of the brands in 2017 and 12.5% in 2016. These supplier lists have become a lot more detailed too, including information such as factory street address, types of products they make and the number of workers.
We discovered that just 27 brands (18%) are publishing their processing facilities (tier 2), i.e. where clothes undergo dyeing, printing, finishing, laundering, and other processing, up from only 14% of the brands in the previous year.
Only one brand in the Fashion Transparency Index 2018, ASOS, discloses where they source raw materials. However, no brands were disclosing this information last year.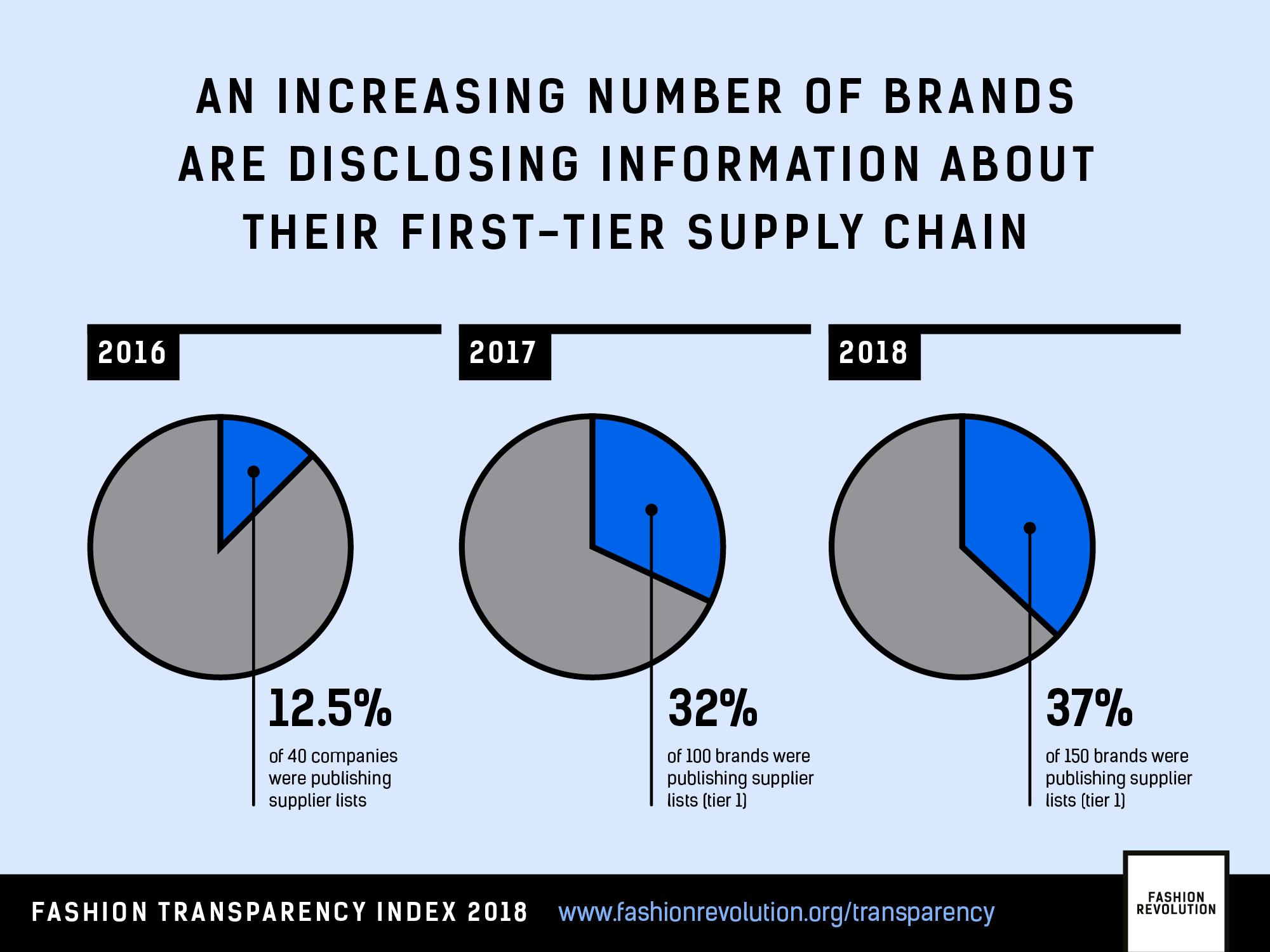 Since the beginning of 2017 we have seen brands that have published a supplier list for the first time include Arcadia group (Topshop, Dorothy Perkins), Abercrombie & Fitch, ASOS, Berghaus, Benetton, Brooks Sports, Joe Fresh, HUGO BOSS, Uniqlo, Very and others — thanks in large part to the Transparency Pledge, a campaign from Clean Clothes Campaign, Human Rights Watch, IndustriALL and a coalition of other leading organisations.
Over the past year, Primark has published a map of its suppliers, releasing factory names, addresses, the number of workers and gender split of the workforce in 1071 factories in 31 countries from which it sources product. Marks & Spencer has now updated its interactive map of its suppliers in both food and clothing, which spans 68 countries and covers 1,799 factories employing 1,074,320 workers, to now include where they source some of their raw materials, including wool.
Why should brands publish supplier lists?
Publishing supplier lists are important because it helps NGOs, unions, local communities and even workers themselves to alert brands of any potential human rights and environmental issues in their supply chains. This sort of transparency makes it easier for the relevant parties to understand what went wrong, who is responsible and how to fix it. It also helps consumers better understand #whomademyclothes.
Below, we have put together a long list of 172 brands (those over £36 million annual turnover or part of a larger parent company) that are publishing lists of their suppliers. The information they provide varies widely. Some publish every factory where their clothes are manufactured. Others may only reveal a selected portion of their manufacturers, such as their core high-volume suppliers, factories located just in one country or only the factories the company owns.
Some brands will publish very basic information — just a name and country  — whereas others will disclose more detailed information such as the factory's address, number of workers, types of products the factory makes, the gender breakdown of the workers in the factory, and so on. There is no standard format for disclosure. However, we believe brands should be disclosing more than just a name and country. We will be pushing brands to provide a greater level of detail in their supplier lists, and you can encourage them to do so too. Check out the new Get Involved packs for ideas on how to influence brands to be more transparent about their suppliers.
The tide is beginning to change
There's still a long way to go, but these lists are an excellent beginning as they help all of us that love and care about fashion to participate in making the industry more accountable. This list doesn't yet distinguish the level of detail brands are publishing; it's also not exhaustive. If you are aware of other brands (over £36 million in annual turnover or equivalent in another currency) that are publishing their factory lists, please let us know at press@fashionrevolution.org, we will be sure to add them below.
Please note: We are not endorsing the brands included in this list; this is not a 'seal of approval.' While publishing supplier lists is a necessary step towards greater transparency and improved conditions in fashion supply chains, it does not guarantee ethical business practices. However, we hope you find this list informative and continue to ask brands #whomademyclothes.
Brands who publish supplier lists (tier one only):
& Other Stories (H&M group)
Abercrombie & Fitch
Adidas
ALDI-Nord
Ann Taylor
ARROW (PVH)
ASICS
ASOS
Athleta (GAP Inc.)
Autograph (Speciality Fashion Group)
Banana Republic (GAP Inc.)
Berghaus (Pentland Brands)
Berlei (Hanes)
BESTSELLER
BigW (Woolsworth Group)
Black Pepper (PAS Group)
Bon Prix
Bonds (Hanes)
Boxfresh (Pentland Brands)
Brand Collective
Brooks Sports
Burton (Arcadia)
C&A
Calvin Klein (PVH)
Champion (Hanes)
Cheap Monday (H&M group)
City Chic (Speciality Fashion Group)
Clarks
Cole's (Wesfarmers Group)
Columbia Sportswear Co.
Converse (NIKE, Inc)
Cos (H&M group)
Cotton:On
Crossroads (Speciality Fashion Group)
Curvation (Fruit of the Loom, Inc.)
Debenhams
Designworks (PAS Group)
Disney
Dorothy Perkins (Arcadia)
Dressman
Eagle Creek (VF Corporation)
Eastpak (VF Corporation)
Ellesse (Pentland Brands)
Esprit
Evans (Arcadia)
Factorie (Cotton On Group)
Forever New
Fruit of the Loom
G-Star
Galeria Inno (HBC)
Galeria Kaufhof (HBC)
Gap
George at Asda (Walmart)
Gildan 
H&M
Hanes
Hermès
Holeproof Explorer (Hanes)
Hudson's Bay Company (HBC)
HUGO BOSS
Hurley (NIKE, Inc)
Intermix (GAP Inc.)
IZOD (PVH)
JACK&JONES (BESTSELLER)
Jack Wolfskin
Jacqueline de Yong (BESTSELLER)
JAG (APG & Co)
Jansport (VF Corporation)
Jeanswest
JETS Swimwear (PAS Group)
Jockey (Hanes)
John Lewis
Joe Fresh (Loblaw Companies Limited)
Jordan (NIKE, Inc)
Junarose (BESTSELLER)
KangaROOS (Pentland Brands)
Kathmandu
Katies (Speciality Fashion Group)
Kaufland
Kayser (Hanes)
Kipling (VF Corporation)
Kmart Australia (Wesfarmers Group)
Lee (VF Corporation)
Levi Strauss & Co.
Lidl
Lindex
Littlewoods (Shop Direct)
Loblaw
Loft (Ascena)
Lord & Taylor (HBC)
lucy (VF Corporation)
Lululemon
Majestic (VF Corporation)
Mamalicious (BESTSELLER)
Marco Polo (PAS Group)
Marimekko
Marks & Spencer
MEC
Millers (Speciality Fashion Group)
Miss Selfridge (Arcadia)
Mizuno
Monki (H&M group)
Name It (BESTSELLER)
Napapijiri (VF Corporation)
Nautica (VF Corporation)
New Balance
New Look
Next
Nike
Noisy May (BESTSELLER)
Old Navy (GAP Inc.)
Only (BESTSELLER)
Only & Sons (BESTSELLER)
Outerknown (Kering Group)
Outfit (Arcadia)
Patagonia
Pieces (BESTSELLER)
Pimkie
Playtex (Hanes)
Primark
Puma (Kering Group)
R.M Williams
Razzamatazz (Hanes)
Red or Dead (Pentland Brands)
Reebok (Adidas Group)
Reef (VF Corporation)
Review (PAS Group)
Rider's by Lee (VF Corporation)
Rio (Hanes)
Rivers (Speciality Fashion Group)
Rock & Republic (VF Corporation)
rubi (Cotton On Group)
Russell Athletic (Fruit of the Loom, Inc.)
Saba (APG & Co.)
Sak's Fifth Avenue (HBC)
Selected (BESTSELLER)
Sheer Relief (Hanes)
Sisley (Benetton Group)
Smartwool (VF Corporation)
SPALDING (Fruit of the Loom, Inc.)
Speedo (Pentland Brands)
Sportscraft (APG & Co.)
Supré (Cotton On Group)
Target
Target Australia (Wesfarmers Group)
Tchibo
Tesco
The North Face (VF Corporation)
Timberland (VF Corporation)
Tommy Hilfiger (PVH)
Topman (Arcadia)
Topshop (Arcadia)
Under Armour
Uniqlo (Fast Retailing)
United Colours of Benetton (Benetton Group)
Van Heusen (PVH)
Vanity Fair Lingerie (Fruit of the Loom, Inc.)
Vans Off The Wall (VF Corporation)
Vassarette (Hanes)
Vero Moda (BESTSELLER)
Very (Shop Direct)
Vila Clothes (BESTSELLER)
Voodoo (Hanes)
Wallis (Arcadia)
Warner's (PVH)
Weekday (H&M group)
White Runway (PAS Group)
Wrangler (VF Corporation)
Yarra Trail (PAS Group)
Y.A.S. (BESTSELLER)
Total 173
Since the beginning of 2017 we have seen brands that have published a supplier list for the first time include Abercrombie & Fitch, ASOS, Berghaus, Benetton, Brooks Sports, Joe Fresh, HUGO BOSS, Uniqlo and others — thanks in large part to the Transparency Pledge, a campaign from Clean Clothes Campaign, Human Rights Watch, IndustriALL and a coalition of other leading organisations.
New Inquiry: Sustainability of the Fashion Industry
The Environmental Audit Committee is launching an inquiry into the sustainability of the fashion industry.
The Committee will investigate the social and environmental impact of disposable 'fast fashion' and the wider clothing industry. The inquiry will examine the carbon, resource use and water footprint of clothing throughout its lifecycle. It will look at how clothes can be recycled, and waste and pollution reduced.
Mary Creagh MP, Chair of the Environmental Audit Committee, said:
"Fashion shouldn't cost the earth. But the way we design, make and discard clothes has a huge environmental impact. Producing clothes requires toxic chemicals and produces climate-changing emissions. Every time we put on a wash, thousands of plastic fibres wash down the drain and into the oceans. We don't know where or how to recycle end of life clothing.
"Our inquiry will look at how the fashion industry can remodel itself to be both thriving and sustainable."
The growth of the fashion industry
According to a 2015 report from the British Fashion Council, the UK fashion industry contributed £28.1 billion to national GDP, compared with £21 billion in 2009.[1] The globalised market for fashion manufacturing has facilitated a "fast fashion" phenomenon; cheap clothing, with quick turnover that encourages repurchasing.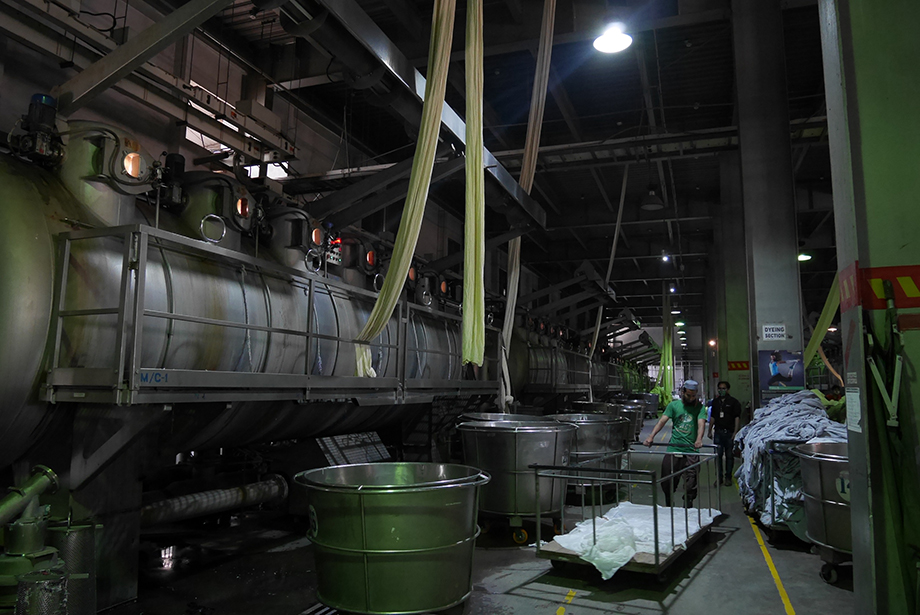 Environmental impact of clothing production
Clothing production consumes resources and contributes to climate change. The raw materials used to manufacture clothes require land and water, or extraction of fossil fuels. Clothing production involves processes which require water and energy and use chemical dyes, finishes and coatings – some of which are toxic.  Carbon dioxide is emitted throughout the clothing supply chain. In 2017 a report by the Ellen MacArthur Foundation on 'redesigning fashion's future' found that if the global fashion industry continues on its current growth path, it could use more than a quarter of the world's annual carbon budget by 2050.
Environmental impact of purchase, use and disposal
Synthetic fibres used in some clothing can result in ocean pollution. Research has found that plastic microfibres in clothing are released when they are washed, and enter rivers, the ocean and the food chain.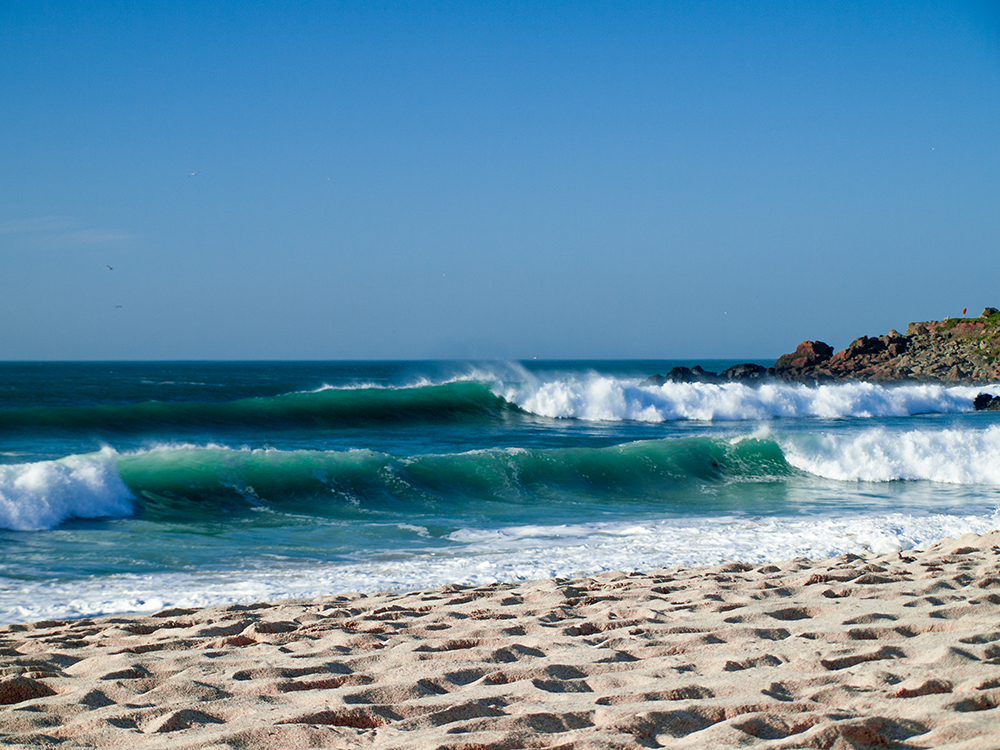 Sustainability issues also arise when clothing is no longer wanted. A report by the Ellen MacArthur Foundation found that the growth of clothes production is linked to a decline in the number of times a garment is worn. Clothes disposed of in household recycling and sent to landfill instead of charity shops have an environmental impact, such as contributing to methane emissions. Charities have complained that second hand clothes can be exported and dumped on overseas markets. The UK Government has a commitment to 'Sustainable Production and Consumption' under UN Sustainable Development Goal 12.
Manufacturing in the UK
In recent years there has been a renewed interest in clothing that has been made in Britain. However there are concerns that the need for quick turn-around in the supply chain to facilitate the demand for "fast fashion" has led to poor working conditions in UK garment factories.
The Committee will also examine the sustainability of garment production in relation to the UK's social and environmental commitments under the UN Sustainable Development Goals. The UK Government has a commitment to ensuring 'Decent work and economic growth' by protecting labour rights and promoting safe and secure working environments for all workers under UN Sustainable Development Goal 8.
Terms of Reference
The Committee invites submissions on some or all of the following points by 5 pm on Monday, 3rd September 2018.
Environmental impact of the fashion industry
Have UK clothing purchasing habits changed in recent years?
What is the environmental impact of the fashion supply chain? How has this changed over time?
What incentives have led to the rise of "fast fashion" in the UK and what incentives could be put in place to make fashion more sustainable?
Is "fast fashion" unsustainable?
What industry initiatives exist to minimise the environmental impact of the fashion industry?
How could the carbon emissions and water demand from the fashion industry be reduced?
Waste from fashion
What typically happens to unwanted and unwearable clothing in the UK? How can this clothing be managed in a more environmentally friendly way?
How much unwanted clothing is landfilled or incinerated in the UK each year?
Does labelling inform consumers about how to donate or recycle clothing to minimise environmental impact, including what to do with damaged clothing?
What actions have been taken by the fashion industry, the Government and local authorities to increase reuse and recycling of clothing?
How could consumers be encouraged to buy fewer clothes, reuse clothes and think about how best to dispose of clothes when they are no longer wanted?
Sustainable Garment Manufacturing in the UK
How has the domestic clothing manufacturing industry changed over time? How is it set to develop in the future?
How are Government and trade envoys ensuring they meet their commitments under SDG 8 to "protect workers' rights" and "ensure safe working environments" within the garment manufacturing industry? What more could they do? Are there any industry standards or certifications in place to guarantee sustainable manufacturing of clothing to consumers?

Deadline for submissions
Written evidence should be submitted through the inquiry page by 5 pm on Monday, 3rd September 2018. The word limit is 3,000 words. Later submissions will be accepted, but may be too late to inform the first oral evidence hearing. Please send written submissions using the form on the inquiry page.
Diversity
The Committee values diversity and seek to ensure this where possible. We encourage members of underrepresented groups to submit written evidence. We aim to have diverse panels of Select Committee witnesses and ask organisations to bear this in mind if asked to appear.
Further information
Membership of the Committee:
http://www.parliament.uk/business/
committees/committees-a-z/commons-select/environmental-audit-committee/membership/
Media Information: Sean Kinsey  kinseys@parliament.uk/ 07917 488791
Specific Committee Information: eacom@parliament.uk/  020 7219 6150
Committee news and reports, Bills, Library research material and much more can be found at www.parliament.uk. All proceedings can be viewed live and on-demand at www.parliamentlive.tv
Photo credits:
Houses of Parliament and Garment Factory in Bangladesh by Carry Somers
Ocean by Ross Miller
The Five Years of Fashion Revolution
by Carry Somers and Orsola de Castro
On 8 May 2013, the two of us wrote an email which began 'like many, we have seen the terrible tragedy in Bangladesh as a call to arms and feel that we should build on the momentum which has been generated. An annual Fashion Revolution Day would be a way to ensure that these deaths are not in vain, show the world that change is possible, and celebrate those involved in creating a more sustainable future for fashion'.
The responses to our request for involvement fell into two quite clear camps. Many responded with no hesitation; one email we received back just said yes, yes, yes! Some expressed a degree of hesitancy. Do we really want to call for a revolution in the fashion industry? How about calling it Fashion Evolution? Although the two of us are very different in very many ways, we are remarkably similar in others: we are both entrepreneurs, both pioneers in our respective fashion spheres, both risk-takers and both have a fundamental belief in the power of people to effect change given the right motivation. We had no doubt that a revolution was needed – a radical and pervasive transformation of the way in which the fashion industry operates.
We were right to push for revolutionary change. People were ready to listen.

Looking back at the minutes from our very first meeting, we had real clarity around how we would communicate our message in order to accelerate change: we need one big aim; make it as visible as possible; keep it strong; make it positive without ignoring the negatives; make it inclusive; talk about how the relationship with the people who make our clothes has broken down and connections need to be reestablished. Finally, we needed to give people a question they can all ask: who made my clothes?
This clarity of vision, coupled with the right channels of communication, has made Fashion Revolution the biggest fashion activism movement in the world. We have teams in over 100 countries and there are well over 1000 events happening all around the world this week.
Fashion Revolution is first and foremost about people; it is about making visible the connections between everyone in the fashion supply chain as a first step towards change. We've made citizens realise that their own wardrobe is in the fashion supply chain, about three-quarters of the way between the cotton seed and recycling the fibres. Everything we do has an impact on that supply chain. We reshape the fashion industry, the lives of its workers and its resources, every time we buy or dispose of an item of clothing.
Fashion Revolution was set up for the love of people, in memory of those who died at Rana Plaza, those who have died in countless other fires and building collapses in garment factories around the world, and those who are still losing their lives every week so we can wear beautiful clothes. That love of people continues to shine through. We are not about celebrities. We are not about power and success. We are about humanity. Fashion is about instant gratification. We are about the long term gratification that comes from knowing entire workshops, factories and communities are slowly becoming visible. We see empowerment not as a celebrity wearing a feminist slogan T-shirt on instagram, but as the workers who made that T-shirt being given a voice through the garment worker diaries project. When we inaugurated a new hashtag #Imadeyourclothes in 2016, someone commented on social media that it represented 'the most joy I've ever had from a hashtag!'
We've given everyone tools to take part – there are online packs for brands and retailers, producers, makers and factories and educators. For fashion-lovers, as well as a Get Involved pack, there is our How to be a Fashion Revolutionary booklet, our fanzines Money Fashion Power and Loved Clothes Last, our guides to the #Haulternative and Love Story challenges. There are endless ways in which everyone can take part from changing your attitude, to changing your wardrobe, to changing your world. We've encouraged millions of people to Be Curious, Find Out, and Do Something. We don't have all the answers. We want to encourage everyone to ask questions of their favourite brands, to do their own research, to use their power as consumers to hold the industry to account for its actions and impacts.
We called for a revolution at the right time as the infrastructure of the industry, and the industry itself, have shifted in the past five years.   We were right to call for a revolution because both ideas and practices had to be refashioned, a new paradigm was needed, and we can see this starting to happen. A revolution means change and change represents freedom. There is excitement around this change; it no longer feels dull nor scary, but represents a creative space in which to operate. Everyone within this space at this time can be considered a pioneer, and pioneers don't have references – they make their own.
Five years on, a Fashion Revolution is taking place. Not fast enough, not enough engagement throughout the industry, but make no mistake it is happening. It's bubbling up through the cracks and crevices, it can no longer be submerged. In another five years it will be a raging torrent, reshaping everything in its path. If you aren't part of this movement, you will be swept along by it (or perhaps even swept away by it) as the structure of the fashion industry is revealed and revolutionised.
We are Fashion Revolution. Join us.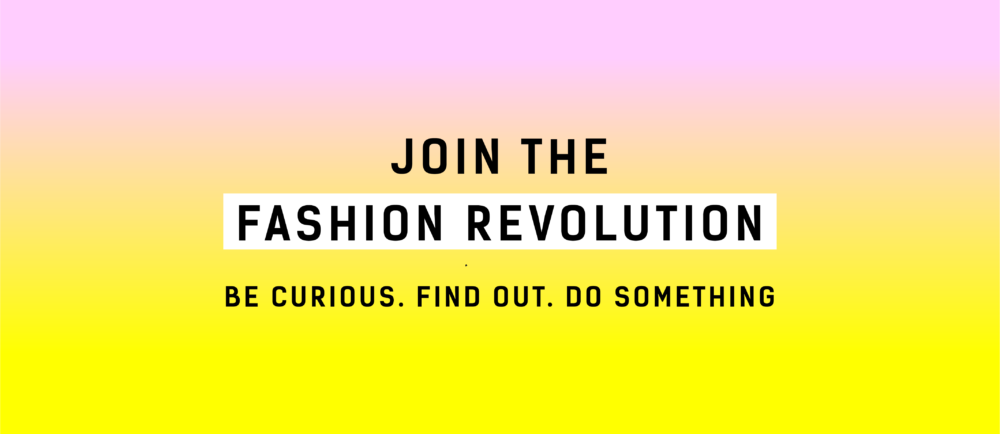 #MeetYourMaker – This is Nisha Begum
In her own words Nisha is honest, hard working and devoted. Nisha is a 28 year old mother of one. She is also a sewing machine operator at the Echotex manufacturing facility in Dhaka, Bangladesh. 6 months in into her role, the biggest challenge she's faced is picking up the necessary skills to meet the quality standards required to produce the first NINETY PERCENT collection of premium basics. Every working morning, she says goodbye to her 5 year old son and leaves her home in Shafipur, Gazipur district to catch the rikshaw to Dhaka and make your clothes.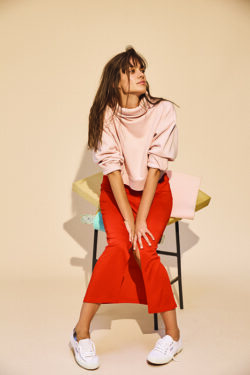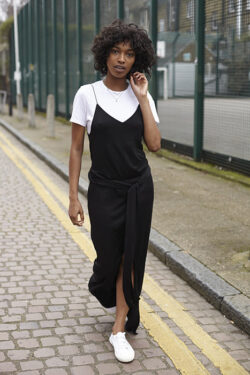 Greatest Achievement:
Being a kind mother to my five year old son is my greatest achievement. It's hard to find the words to express my love for my boy but I feel heaven's peace when he runs into my arms for a hug. It makes me so proud to see my tiny boy keep himself neat and tidy and behave well around friends and neighbours.
Work highlight so far:
Completing NINETY PERCENT collection 1 is my greatest career achievement. It was a big challenge for me to make sure the finish was first class. NINETY PERCENT is exclusive product so I had to work hard to assure the quality. I learned a lot making collection 1 and I hope these skills will serve me well in future.
Best memory:
Catching fish as a child. I fished a pond near home in my native village of Bishnupur in the Gaibandha District. The best time to fish was late autumn when the water level was down and it was easier. All the boys and girls fished together then our mothers' cooked the fresh fish for us.
Favorite place:
Cox's Bazar – it's the world's largest natural sea beach. It's an amazing feeling by the sea with the breeze and the sand. I've never seen any other beaches but I'm sure Cox's Bazar is the best. Last winter the whole family went there, all the hotels and motels there are world class for all types of foreign and local tourists.
Best life advice?
My parents advised me to always be truthful. I've followed this advice at every stage of my life. Wherever I have been or done I have always been truthful. Actually, I think that's my greatest achievement. It's advice I passed on to my child – I think that's why he is so well behaved.
The one thing you can't live without?
My husband is my life partner – our marriage was arranged by our families. His name is Ashraful Alam and we've been living for 10 years. He feels my happiness and pain and tries to help me solve problems. We have a deep understanding of each other – our eyes can read each other's hearts. My man is wonderful. He always takes care of me and shares what he thinks.
Where do you see yourself in 5 years?
In five years time I wish to be a team-leader. First of all I want to be the best most efficient employee I can – this will see me rise. My supervisor Mr. Azizul's motivates me and boosts my self confidence. My first day in the job was a mixture of sadness, fear and happiness. I was sad because I thought I would be busy with no more free time to do what I wish. I felt fear because I didn't know the job or the environment. I felt happy thinking about the money I would earn. Now I wake up in the early morning to complete my family tasks then say bye to my boy and leave for work. When I'm there, I complete my tasks, then return home at 5.30 pm to focus on my family again.
When are you happiest?
I become happiest outside of work when I'm with my family. We spend our time laughing, gossiping and doing lots of things. I love to play chess with my husband and cook – especially mutton curry. Before we go to sleep we always have cup of tea together at the end of the day. Making the tea for everyone is a special moment for me.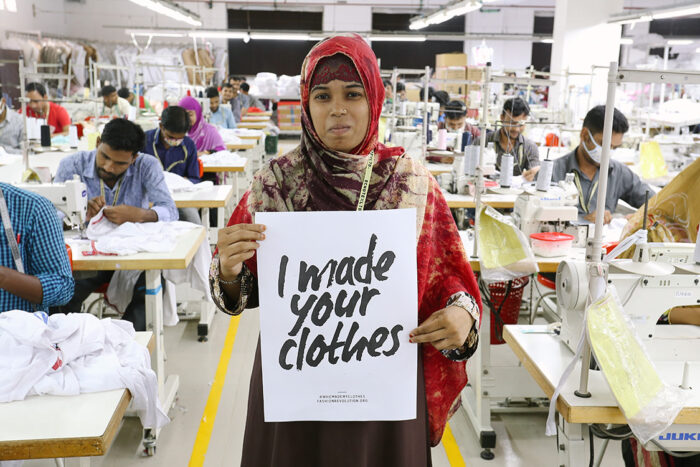 Bangladesh Garment Workers Stand up for Rights at Work
Five years after the deadly Rana Plaza building collapse in Bangladesh, workers and union activists say despite the massive demand from workers for union representation to achieve safe workplaces, worker-organizers must face down threats, harassment and violence to educate workers about their rights on the job.
Since the April 24, 2013, tragedy in which more than 1,130 garment workers died and thousands were injured, the government has approved a little more than half of the garment unions that have applied for official registration, according to Solidarity Center data. Confronted with employers and a government hostile to worker organizations, worker-organizers have sometimes risked their lives to help workers improve wages and working conditions.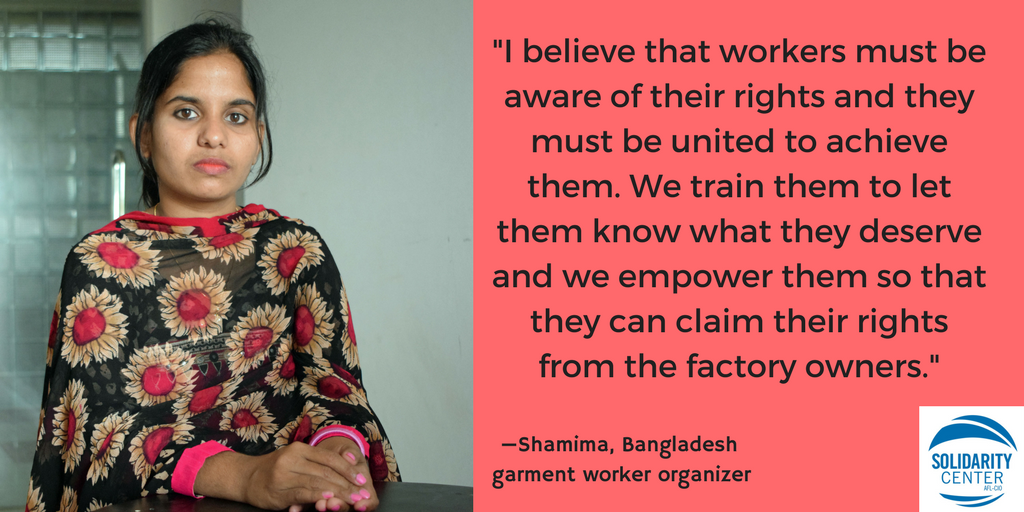 Shamima Aktar, a garment factory worker and organizer with Bangladesh Garment and Industrial Workers' Federation (BGIWF), is one of them. During a meeting with management at a newly unionized factory, managers refused to grant a demand made by the factory union that salaries be paid on a timely basis. Instead, Shamima and the other union representatives were locked in the building and beaten, she says.
"But what moved me was that hearing about our abuse, 17 trade unions around the community immediately came to our aid and barricaded the whole factory which we were in. The workers needed us on their side to be able to live in peace and I wish to [keep organizing] no matter how difficult it is for me," she says.
Through persistence and courage in the face of daunting odds, worker-organizers have helped garment workers form unions despite the severe obstacles. In Bangladesh, more than 200,000 garment workers at 445 factories are represented by unions that protect their rights on the job.
"I have worked day and night, went to gates of factories to talk to the workers, walked with them to their homes to earn their trust and to make them aware of how they are being exploited and deprived of their rights," says Monira Akter, an organizer with the Bangladesh Independent Garment Workers Union Federation (BIGUF). "So far, we have united 2,250 workers into trade unions, and they say that we give them courage and hope. For me, these words are enough to encourage me to work on for them."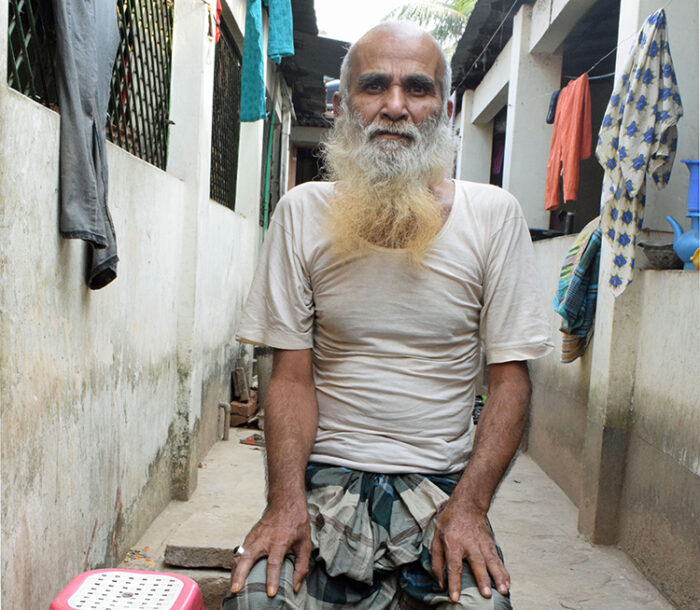 Abdul Hashem – father of worker killed at Rana Plaza
Poverty Wages, Safety Improvements
Wages in Bangladesh are the lowest among major garment-manufacturing nations, even though the cost of living in Dhaka is equivalent to that of Luxembourg and Montreal. The country's labor law falls far short of international standards, and the Bangladesh government has failed to enact meaningful legal reforms, including addressing the arbitrary union registration process that is vulnerable to employer manipulation. Without a union, garment workers often are harassed or fired when they ask their employer to fix workplace safety and health conditions.
But due to international action after the Rana Plaza disaster, which occurred months after a deadly fire at Tazreen Fashions Ltd. factory killed 112 mostly female garment workers, a variety of efforts to prevent unnecessary deaths and injuries due to fire or structural failures—including the Bangladesh Accord on Building and Fire Safety—have remedied dangers at more than 1,600 factories.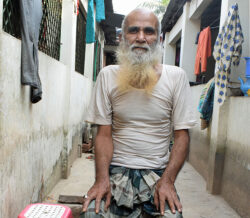 Abul Hashem – father of worker killed at Rana Plaza
The Solidarity Center has trained more than 6,000 union leaders and workers in fire safety, helping to empower factory-floor–level workers to monitor for hazardous working conditions and demand safety violations be corrected.
Such international attention has opened up space for workers to collectively demand—and win—improvements on the job, says Monira.
"I am proud that we have been able to create leaders among the workers by organizing them into trade unions. In the past this would have been close to impossible."
Iztiak, an intern in the Solidarity Center Bangladesh office, interviewed the worker-organizers in Dh
ShareHope – Brand Introduction
by Cynthia Petterson, Co-Founder and CEO of ShareHope
Jobs. Not charity.
If there is one thing that became very clear to me on my first visit to Haiti in 2008, this is it. Even though Haiti is the poorest country in the western hemisphere. Even though the country has been ravaged over and over by a series of unjust and undiscriminating natural disasters. Even as I looked out of the window of my car and saw tired and disengaged men and women, trying desperately to sell whatever they could out of plastic wash tubs and on blankets on the ground.
What people need is jobs.
Having grown up with both parents working in the garment industry, and then spending my entire professional life in the same sector, I knew that this was an industry that had the potential employ thousands of people in good jobs that pay decent wages and respect their dignity.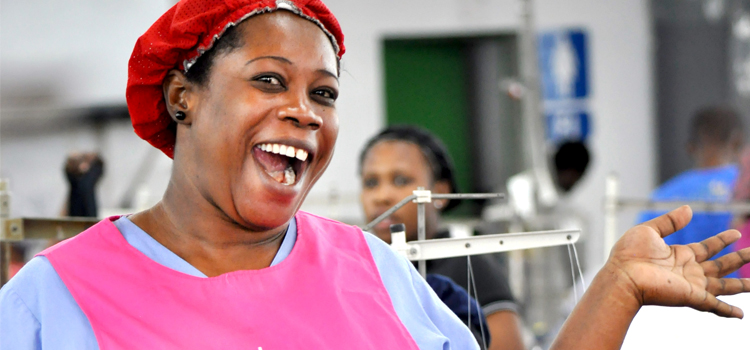 Thus was born ShareHope, part-business and part-non-profit, in 2010. I hoped that ShareHope could be a model of how business could be done differently, especially in a sector plagued by exploitation; a race to the bottom, where the individual worker is reduced to a simple cog in the wheel of the profit-making machine.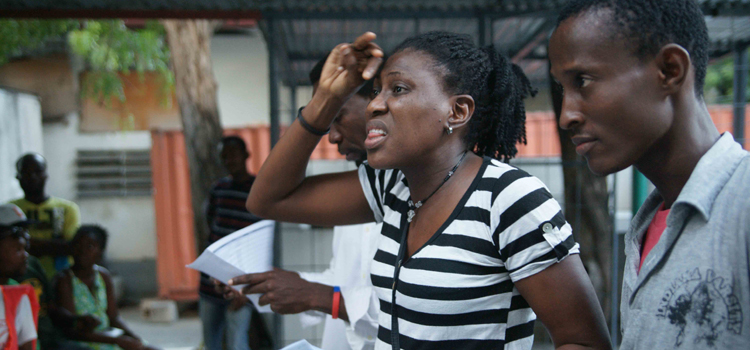 ShareHope is unique, in that it is actually comprised of two entities. On the one hand, we are a business that produces women's clothing in Haiti, both for other brands and for our own ShareHope brand (check out our awesome leggings here!). The goal of our business is to create as many jobs in the Haitian garment sector as possible. And not just any jobs: we aim to create decent jobs that pay workers a good wage, in working conditions that respect their health, well-being, and dignity. So we work closely with the factories in Haiti to help make this happen.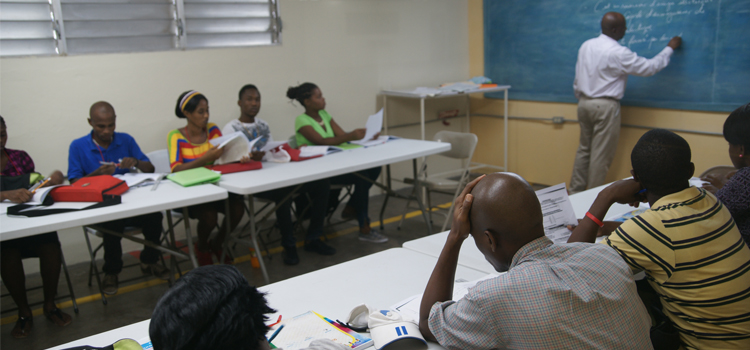 But our business is only one piece of the puzzle. We are also a non-profit, called ShareHope Foundation. Although we believe that creating decent jobs is the best way to improve the livelihoods of people in the garment sector, we are also aware that working class people in Haiti are still not getting all of the social services they need. There are huge gaps in terms of health and education, and this is where ShareHope Foundation comes in, giving men and women access to social programs that meet the needs that they themselves have identified and expressed to us.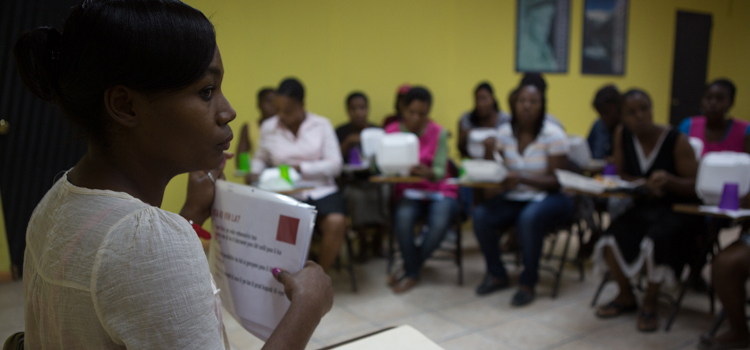 At ShareHope, we believe that business should not be about profit; it's about people. So 100% of what we make by producing clothing in Haiti goes directly to fund those social programs. So every ShareHope item of clothing we sell means that Wislene can finish high school and pursue her dream of becoming a lawyer. It means that Francique can become a peer educator and train her fellow workers on important health topics during their lunch breaks. It means that Jean-Baptiste, who has been deaf since birth and was never able to go to school, can get free hearing aids and take sign language and literacy classes.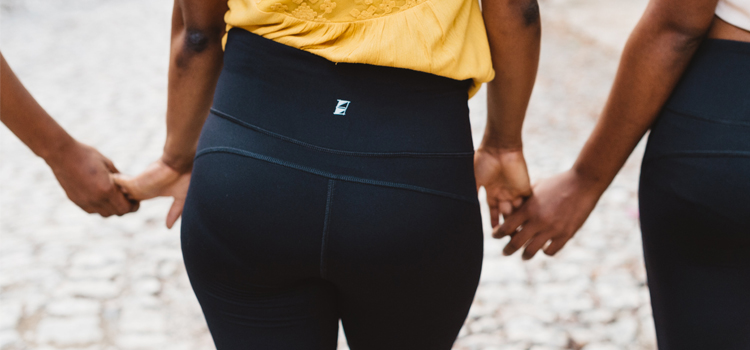 Who Made Your Baskets?
This week we are celebrating Fashion Revolution and the journeys of two women and acknowledge the barriers they have overcome. Nobody tells it better than the weavers themselves – they're the true beating hearts of The Basket Room and the story behind each woven basket we sell. So we caught up with two members of the Kenyan weaving cooperative we work with: Peninah and Florence. Here's what these talented craftswomen have to say about being working women in 2017, and the barriers they have overcome through basket weaving and working within a cooperative.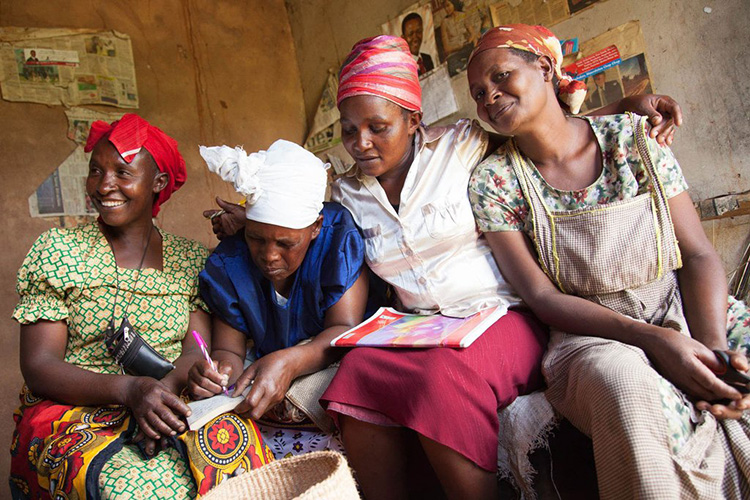 Peninah Munyao was born in 1978. She is married and has three sons aged 16, 11 and 4. As a housewife, she manages the household and also dabbles in farming and of course, basket weaving. Like so many of the weavers we work with, Peninah was taught to weave by her grandmother.
Florence Bernard is treasurer of the weaving cooperative Peninah works for, and was born in 1962. With five children aged between 38 and 23, Florence also runs a greengrocers' as well as weaving baskets and travelling frequently to Nairobi to sell baskets. Florence has been weaving baskets since 2001 and was taught the craft as a child, by her mother.
What do you feel you have achieved as a working woman?
PENINAH: From basket weaving, I am able to meet the needs of my household: paying school fees, putting food on the table and buying clothes and other essentials, as well as having some money left over to save.
FLORENCE: I have been able to support my greengrocery and basket trading businesses from the money I make from basket weaving. I also use this income to support the needs of my family.
 What challenges do you face as a working woman?
PENINAH: Sometimes it is difficult to source enough sisal fibre, since the plant is grown in a different region and it can take a while to arrive at our markets. Since I am also a mother and a housewife, my duties – primarily, taking care of my family – have to take precedence over weaving, which means that sometimes I cannot produce as many woven baskets as I would like to.
FLORENCE: Rain, although a massive blessing to farmers and food sellers, impedes basket weaving. When it does rain, weaving must stop so that the crops can be tended to. Likewise, drought also hinders basket production because again weaving must stop so that we can travel further afield than normal to find water.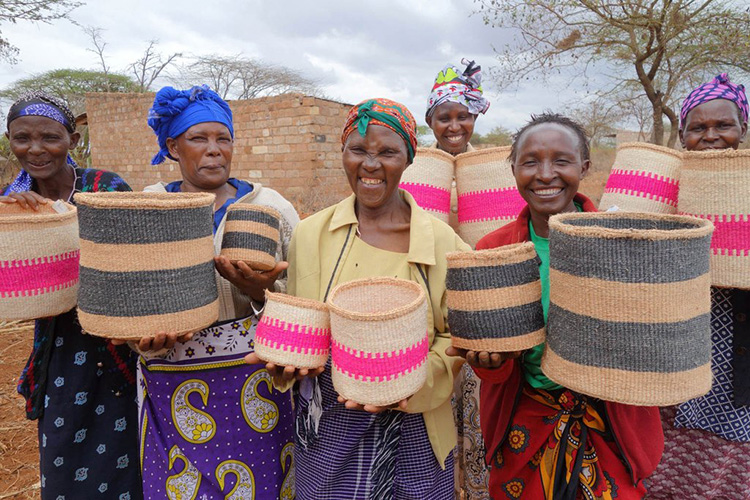 Has work given you more independence?
PENINAH: Yes! Before I joined our weaving cooperative a few years ago, I used to rely on my husband for everything we needed at home. Back then, I felt I couldn't even ask him for money for a new pair of shoes because there were just too many more important things for the home that we needed first. But when I started weaving with our cooperative, I had the means to not only help support the family, but also to surprise my husband with new things for him, like a new hat or a pair of trousers.
FLORENCE: I never travelled much before, but since we started selling the baskets in Nairobi, I've realised how much I enjoy travelling. I am now able to travel all over Kenya with my work, and sometimes I take my family with me. I also don't have to rely solely on my husband's income in running my household anymore.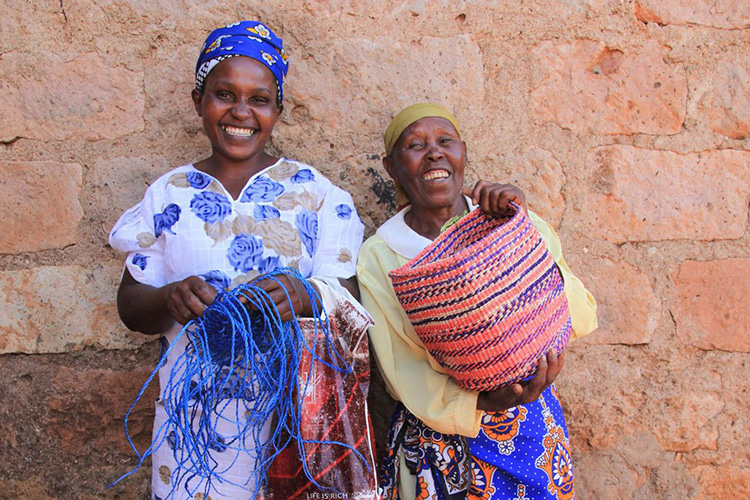 Do you feel successful being part of a growing weaving cooperative?
PENINAH: Yes, I do! Not only because this is the best way to trade with buyers, but also because of the togetherness that comes from doing something you love with friends and people who can relate to and understand what you are going through.
FLORENCE: Yes. We usually contribute part of the sales of our baskets to our cooperative. These contributions have made it possible for us to purchase a piece of land where we intend to construct rental properties or a community centre. Group members can also take out loans from the savings we have.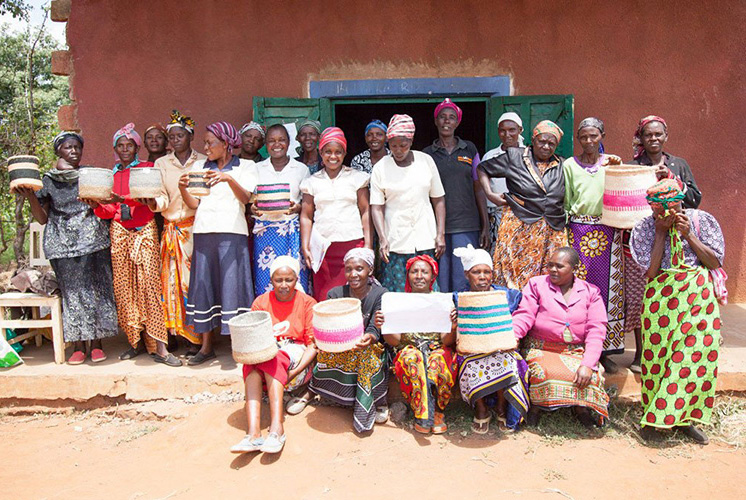 Thank you to Peninah and Florence for sharing their stories with us. Peninah and Florence belong to the Kenyan weaving cooperatives that produce our popular Linear Fusion range of woven baskets and shoppers.