#MeetYouMaker – Lissy, Secret Projects India.
Fair Trade Fashion From India
Secret Projects is a social enterprise working to ensure that women in India receive a fair wage for their work in the textiles industry. It aims to empower women by providing them with access to the global market for their skills and the products that they make: the final link in the chain they previously lacked.
Secret Projects now works with over 300 makers in six different states in India, making clothing a homeware. The makers are the most integral part of the business, and you are in invited to come and meet some of them:
Meet Lissy, our quality control expert. A former quality controller for Fab India, Lissy works in our Bangalore Production Support Unit checking all our products before distribution to ensure they are of the highest quality. We asked Lissy some questions about her work with Secret Projects…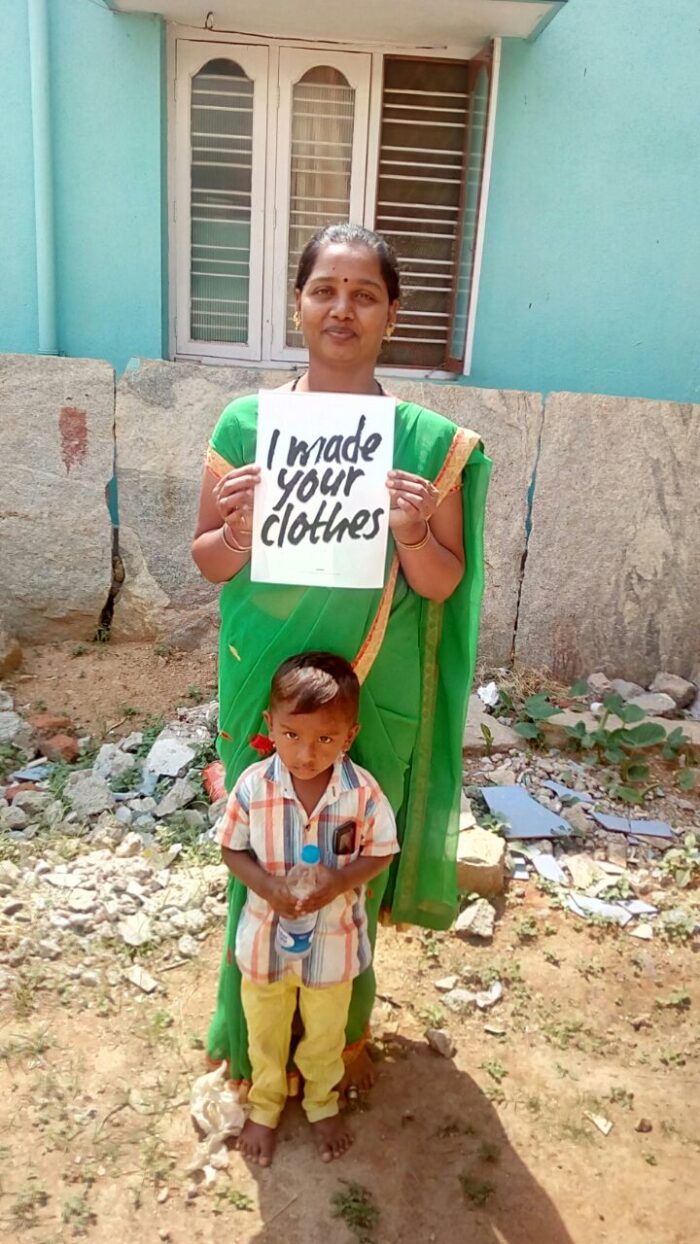 How did you become a quality checker?
I was working in the garment factory a helper for a year. My supervisor found me diligent and so asked me to take on the role of quality controller. I used to do the measurement and final quality check before products were sent out. This job requires following the entire cycle of the production. But I found the work in the factory very strenuous, and I could not manage it and my family at the same time, as I was never given leave. Then two years ago I came across Secret Projects, and I have been working here ever since.
What do you enjoy most about being part of the Secret Projects team?
I am able to work based on a timetable that is convenient for me. I am not in constant fear that I used to have in my previous jobs, as there is very good support.
What impact has being a quality checker with Secret Projects had on you and your family?
Personally, I am happy to be independent. I am able to manage my children's school fees with the income. This has meant that I have retained my dignity, as I haven't had to borrow money. I am no longer stressed, and I feel very happy.
How does it compare to other jobs you have had?
My previous jobs were always based on the management's needs, whereas this job enables me to negotiate my timetable based on my own schedule.
Deepa is a member of our Bangalore Maker Network.
Deepa, how did you start sewing? 
I have always had an interest in sewing, and my husband supported me to become a seamstress. I have been sewing for more than 10 years.
What impact has being a maker had on you and your family?
We were living in a very dilapidated house without much space at home. But through my income, we were able to save up and move into a bigger house that could also accommodate my sewing. This means a lot to me. I feel a sense of gratitude for what I have and am able to do. I hope in the future I can scale up my impact even more.
And what about your wider community?
I live in an urban settlement in Bengaluru. Members of my community often find themselves in distressing situations, and many of them are single mothers. There is a high suicide rate, as they often see no future for themselves. I can proudly say that I have been able to train many of them to sew, and they have found a new lease of life. Initially, when I train them, we support each other in the sewing and share the income. Once they are confident enough, they set up their own sewing unit at home, but it takes a long time to be able to save up to own a sewing machine.
I grew up in a small village. People there are very hard working but don't have access to many job opportunities. I am keen to take Secret Projects to my village and share the opportunity that I have had with other community members. It would make me really happy to be able to do that.
How does it compare to other jobs you have had?
I used to feel hopeless and un-productive when I was staying at home and only doing household chores and staying at home. Now I feel that my life is so meaningful.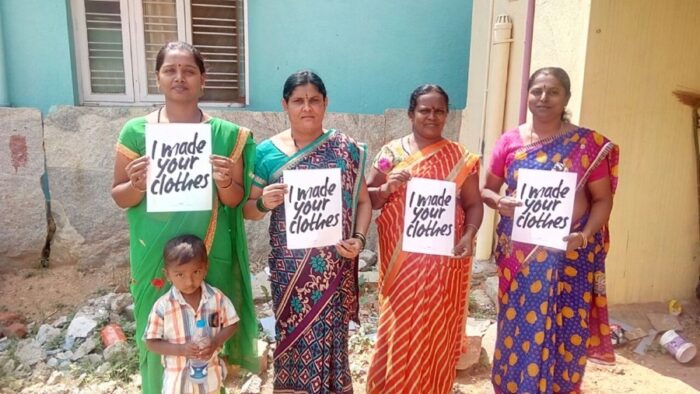 #MeetYourMaker – This is Nisha Begum
In her own words Nisha is honest, hard working and devoted. Nisha is a 28 year old mother of one. She is also a sewing machine operator at the Echotex manufacturing facility in Dhaka, Bangladesh. 6 months in into her role, the biggest challenge she's faced is picking up the necessary skills to meet the quality standards required to produce the first NINETY PERCENT collection of premium basics. Every working morning, she says goodbye to her 5 year old son and leaves her home in Shafipur, Gazipur district to catch the rikshaw to Dhaka and make your clothes.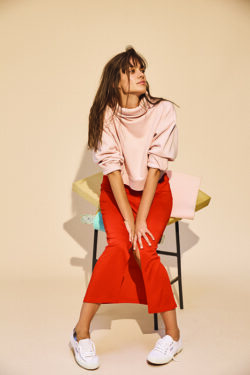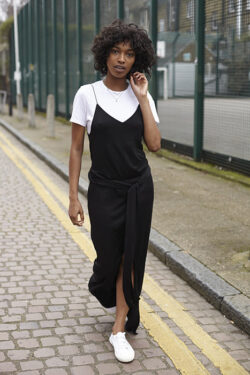 Greatest Achievement:
Being a kind mother to my five year old son is my greatest achievement. It's hard to find the words to express my love for my boy but I feel heaven's peace when he runs into my arms for a hug. It makes me so proud to see my tiny boy keep himself neat and tidy and behave well around friends and neighbours.
Work highlight so far:
Completing NINETY PERCENT collection 1 is my greatest career achievement. It was a big challenge for me to make sure the finish was first class. NINETY PERCENT is exclusive product so I had to work hard to assure the quality. I learned a lot making collection 1 and I hope these skills will serve me well in future.
Best memory:
Catching fish as a child. I fished a pond near home in my native village of Bishnupur in the Gaibandha District. The best time to fish was late autumn when the water level was down and it was easier. All the boys and girls fished together then our mothers' cooked the fresh fish for us.
Favorite place:
Cox's Bazar – it's the world's largest natural sea beach. It's an amazing feeling by the sea with the breeze and the sand. I've never seen any other beaches but I'm sure Cox's Bazar is the best. Last winter the whole family went there, all the hotels and motels there are world class for all types of foreign and local tourists.
Best life advice?
My parents advised me to always be truthful. I've followed this advice at every stage of my life. Wherever I have been or done I have always been truthful. Actually, I think that's my greatest achievement. It's advice I passed on to my child – I think that's why he is so well behaved.
The one thing you can't live without?
My husband is my life partner – our marriage was arranged by our families. His name is Ashraful Alam and we've been living for 10 years. He feels my happiness and pain and tries to help me solve problems. We have a deep understanding of each other – our eyes can read each other's hearts. My man is wonderful. He always takes care of me and shares what he thinks.
Where do you see yourself in 5 years?
In five years time I wish to be a team-leader. First of all I want to be the best most efficient employee I can – this will see me rise. My supervisor Mr. Azizul's motivates me and boosts my self confidence. My first day in the job was a mixture of sadness, fear and happiness. I was sad because I thought I would be busy with no more free time to do what I wish. I felt fear because I didn't know the job or the environment. I felt happy thinking about the money I would earn. Now I wake up in the early morning to complete my family tasks then say bye to my boy and leave for work. When I'm there, I complete my tasks, then return home at 5.30 pm to focus on my family again.
When are you happiest?
I become happiest outside of work when I'm with my family. We spend our time laughing, gossiping and doing lots of things. I love to play chess with my husband and cook – especially mutton curry. Before we go to sleep we always have cup of tea together at the end of the day. Making the tea for everyone is a special moment for me.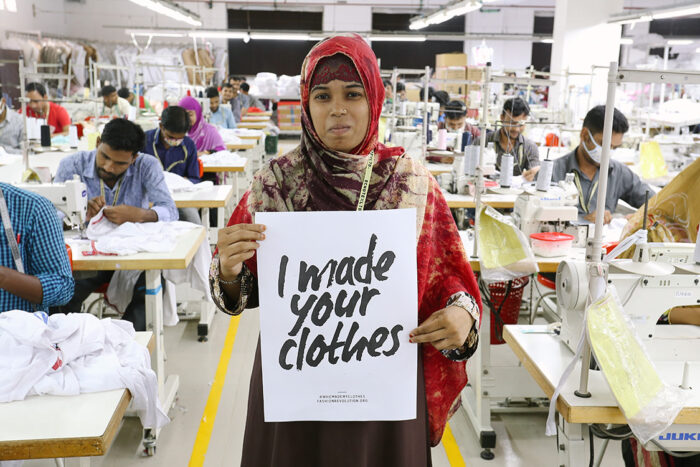 Fashion Revolution launches White Paper on Transparency in Fashion Supply Chain
On 2nd December 2015, Fashion Revolution launched its first white paper, It's Time for a Fashion Revolution, for the European Year for Development. The paper sets out the need for more transparency across the fashion industry, from seed to waste. The paper contextualises Fashion Revolution's efforts, the organisation's philosophy and how the public, the industry, policymakers and others around the world can work towards a safer, cleaner, more fair and beautiful future for fashion.
"Whether you are someone who buys and wears fashion (that's pretty much everyone) or you work in the industry along the supply chain somewhere or if you're a policymaker who can have an impact on legal requirements, you are accountable for the impact fashion has on people's lives. Our vision is is a fashion industry that values people, the environment, creativity and profit in equal measure"
explained Sarah Ditty on behalf of Fashion Revolution.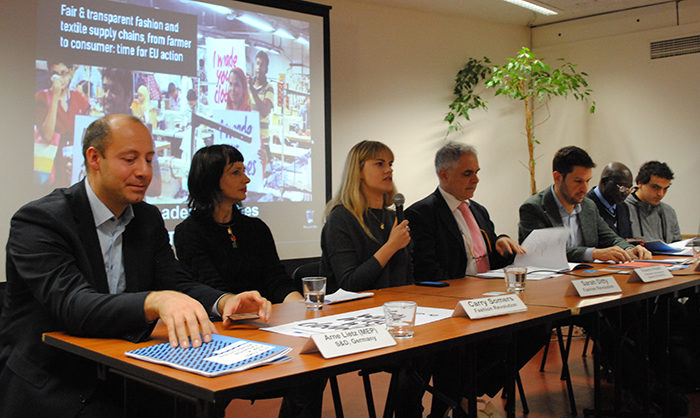 Carry Somers, co-founder of Fashion Revolution, said
"Most of the public is still not aware that human and environmental abuses are endemic across the fashion and textiles industry and that what they're wearing could have been made in an exploitative way. We don't want to wear that story anymore. We want to see fashion become a force for good."
The paper was launched at a joint event with the Fair Trade Advocacy Office in Brussels and hosted by Arne Leitz, Member of the European Parliament to mark the European Year for Development.
The event included contributions by Dr Roberto Ridolfi, Director at the European Commission Directorate-General for Development and Cooperation, Jean Lambert MEP, and Sergi Corbalán, on behalf of the Fair Trade movement.
"We need an integrated approach, from cotton farmer to consumer, and we need EU support,"
explained Sergi Corbalán.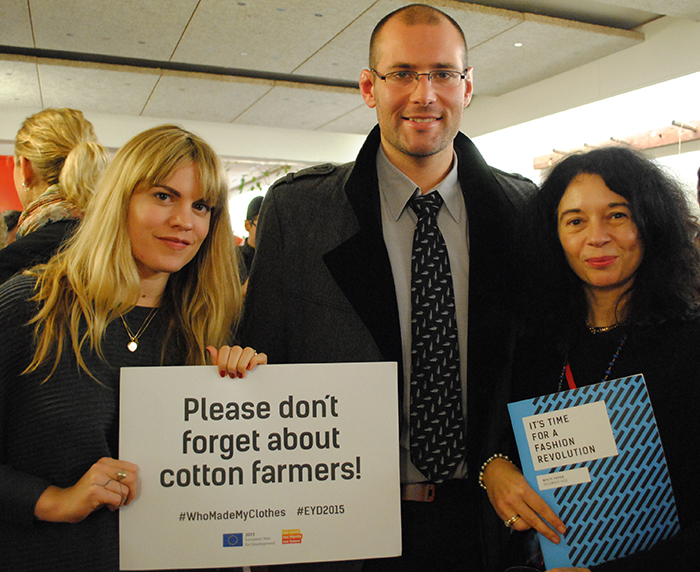 Fashion Revolution lays out its five year agenda in the paper. By 2020, Fashion Revolution hopes that:
The public starts getting some real answers to the question #whomademyclothes
Thousands of brands and retailers are willing and able to tell the public about the people who make their products
Makers, producers and workers become more visible
The stories of thousands of actors across the supply chain are told
More consumer demand for fashion made in a sustainable and ethical way
Real transformative positive change begins to take root.
With many congratulations on the launch of the white paper, Dr Roberto Ridolfi proclaimed:
"My ambition, as of tomorrow, is to become a Fashion Revolutionary!"
Although our resources are free to download, we kindly ask for a £3 donation towards booklet downloads. Please donate via our donations page
[download image="https://www.fashionrevolution.org/wp-content/uploads/2014/04/FRD_resources_thumbnail_whitepaper.jpg"]Download our White Paper 'It's time for a Fashion Revolution', published December 2015.
Download[/download]
Fashion Revolution also launched a new video for the European Year for Development at the event: Why We Need a Fashion Revolution.
On the Third Anniversary of the Tazreen Factory Fire, Brands Must Pay Compensation
For three years the victims of the worst factory fire to hit the fashion industry in recent times have been waiting for compensation. Now, finally, hope is on the horizon.
Around 120 garment workers burnt to death and hundreds more were injured when flames engulfed the multi-floor Tazreen garment factory in Bangladesh on 24 November 2012.
Trapped behind locked exists, workers jumped for their lives from the upper floors of the building, with more than a hundred sustaining permanent, life-changing injuries.
Like thousands of garment factories in Bangladesh, the workers at Tazreen fashions were making clothes for global retailers destined for Western wardrobes.
IndustriALL Global Union, together with the Clean Clothes Campaign, C&A and the C&A Foundation have set up the Tazreen Claims Administration Trust to compensate victims for losing loved ones, loss of income and to pay for much-needed medical treatment. Claims are already being processed and victims can expect to receive payments in the coming months.
Brands and retailers with revenue over US$1 billion are being asked to pay a minimum of US$100,000 into the fund for victims.
Certain brands that sourced from Tazreen, including C&A, Li & Fung (which sourced for Sean John's Enyce brand) and German discount retailer KiK have now paid into the fund.
But more brands must face up to their responsibilities and pay.
That includes Walmart, Tazreen's biggest customer. The anniversary falls just as the retail powerhouse stands to profit from US$50 billion of consumer spending on Black Friday this week.
Other brands that sourced from Tazreen and have not paid are  U.S. brands Disney, Sears, Dickies and Delta Apparel; Edinburgh Woolen Mill (UK); Karl Rieker (Germany); Piazza Italia (Italy); and Teddy Smith (France).
Three years have passed but we cannot let brands forget the victims of Tazreen. Now it is time for a measure of justice.
by Christina Hajagos-Clausen, Textile and Garment Industry Director at IndustriALL Global Union. IndustriALL Global Union represents garment workers around the world. It is one of the key drivers of the Bangladesh Accord on Fire and Building Safety signed by more than 200 global fashion retailers and covering more than two million garment workers in 1,500 factories. 
Photo credit: IndustriALL Global Union
How to play Fashion Ethics Trump Card Game
In the summer of 2011, we asked people visiting the Eden Project in Cornwall, England to write postcards. The architecture of its biodomes, the placement of plants within them, and the signs and activities explaining their cultivation and use are designed to educate visitors about the plants from which many everyday things are made. We stopped passers-by to ask if they had anything on them that was made from the plants they'd seen. Typically, people would mention their clothes or shoes. So we asked them to imagine someone whose job it had been to pick their cotton or tap their rubber. What they would say to that person if they had the chance? We asked them to write this down on a postcard. Almost everyone wrote 'thank you' notes. It's surprising how many people say that they've never thought about this before. But, for some, writing a postcard can be a tipping point, the beginning of a process in which curiosity leads to research, which leads to action.
This research process can begin by asking someone to turn an item of clothing inside out to look at the stitching. Stitching implies a sewing machine and a person whose job it is to stitch pieces of cloth together to assemble a garment. You can usually find a seam or two that are a little wavy. You can see where the loose ends of threads have been cut off. These are traces of the work done by the people who assembled that garment. You can then look at the label stitched into it. It will tell you in which country it was made. So, you know that the people who stitched it together work in Cambodia for example. The label will also tell you the materials that have been used to make it, for example cotton. But it won't say where in the world people farmed it, turned it into cloth, dyed it, and so on. It also won't mention the origins of its thread, dye, zips, buttons, beading or other features. Who makes these? From what materials? Where in the world? And what's it like to work in these places? How much do people get paid for this work? What can they do with that money? How much of the price paid for that garment went to them? Who decides? How could things be different? How are things different?
One of the most pressing issues in Development Education is the need to avoid what Nigerian writer Chimamanda Ngozi Adichie calls 'the danger of a single story'. Learning about (un)ethical fashion should not reproduce the stereotypical 'single story' that all garment workers in the Global South work in dangerous and exploitative conditions, and live lives of hopeless poverty and misery. Placing learners as consumers who are, in part, responsible for these conditions can lead to senses of blame, shame and guilt that can depress, disempower and disincline them to action. 'The problem with stereotypes', Adichie says, 'is not that they are untrue, but that they are incomplete'. So, it's important to develop learning resources that enable the creation of multiple stories, that involve the excitement of finding things out, that surprise, take unpredictable twists and turns, that raise further questions, are underpinned by information from credible sources.
The most engaging resources are often those that latch on to ways in which students enjoy learning. Take, for example, Fashion Revolution Day's Fashion Ethics Trump Card game. It's a game that a group of students can be asked to make and play with their own clothes. It's based on garment industry research by the American non-profit organization Not for Sale. Its online free2work database provides letter scores for 300 brands' ethical trade policies, transparency, monitoring and worker rights. Here's how it works. You start by printing out the blank cards and instructions from the Fashion Revolution Day website. Then, you ask a group of players to think about their favourite clothes, to draw pictures of them on separate cards, to look up the brands and scores on free2work, to add them to each card, to cut the finished cards out, to add them to the class' pack, to choose four or five players, and for them to play a game.
One player takes the top card from their hand (e.g. from their Howies hoody), chooses a category that they think it will score well on (e.g. 'policies'), calls out the score – 'Quiksilver, policies, D+' – and then sees which scores the other players have for their top card's policies – 'Howies A-', 'Wonderbra B-', 'Levi's A', 'GAP A-'. In this round, the player with the Levi's card wins the hand, and then plays the next card. Here, for example, the referee could say that this is a 'worker rights round'. So she could call out 'Patagonia, worker rights C', and the other players could respond 'North Face D-', 'Tommy Hilfiger D-', 'Levi's D+' and 'Adidas C'. Here there's a draw between Patagonia and Adidas. This is when the cards' tie-break fact would come into play. Has the brand signed the Accord on Fire and Building Safety in Bangladesh? Patagonia hasn't. Adidas has. The Adidas card wins the 'worker rights' round. The game continues. It can stop at any time. The winner is the one with the most cards.
What's fascinating about this game is the way that it challenges the single story of exploitative fashion brands. There isn't one group that is equally ethical and another that is equally unethical. Fine-grained distinctions are made between brands in the game, and these differ depending on the category you choose to play. Almost without exception, a company's worker rights score is noticeably lower than its policies score. If you want to find out why, free2work publishes brand scorecards that explain in detail how these scores were calculated. Levi's gets a D+ for worker rights because, among other factors, it doesn't pay a living wage, doesn't guarantee suppliers a stable price regardless of world price fluctuations, and no suppliers are know to have independently elected trade unions. For those who want to find more than this a detailed research report is available online.
Making and playing a card game combining your own clothes with such detailed information can help to make it more meaningful, compelling, involving, and easier to remember. Anyone who has played a game of Top Trumps can recall their favourite pack, the card that beat the rest, and the one that always lost. This knowledge can stick outside the classroom, when players go shopping and think about the card they'd be able to make for their new purchase. But the kinds of actions that Fashion Revolution Day aims to encourage include, but are not limited to, ethical and sustainable shopping behaviours. We are all global citizens as well as consumers, and this is where our collective power resides. In April last year, on the first anniversary of the Rana Plaza collapse, tens of thousands of people did much more than blame their own poor shopping choices for what had happened to those garment factory workers. One of the most popular actions involved people turning their clothes inside out, taking selfies with the label showing, and tweeting them to the brands with the hashtags #insideout and #whomadeyourclothes. Some brands responded and some garment workers tweeted photos saying #wemadeyourclothes. Most stayed silent.
But actions took place in 62 countries, including an outdoor catwalk in Barcelona, Spain, a spoken word and poetry competition in Nairobi, Kenya, and a Critical Mass cycle ride in Dhaka, Bangladesh. The hashtag #insideout was the number one global trend on twitter. Teachers and their students were involved in these actions and will be again this year. This is why we have decided that Fashion Revolution Day will continue asking brands this simple question, but in 2015 it's more personal 'who made my clothes?' This month we're publishing our education packs for primary and secondary schools, further education colleges and universities, and a quiz. All of these will help teachers and students to Be Curious, Find Out, and Do Something.
Ian Cook is an Associate Professor of Geography at the University of Exeter, and runs the spoof shopping website followthethings.com. He is Fashion Revolution Day's education lead.
Further reading
Abrams, F. & Astill, J. (2001) Story of the blues. The Guardian 29 May (http://www.theguardian.com/g2/story/0,,497788,00.html last accessed 12 February 2015)
Crewe, L. (2008) Ugly beautiful? Counting the cost of the global fashion industry. Geography 93(1), 25-33
Martin, F. & Griffiths, H. (2014) Relating to the 'other': transformative, intercultural learning in post-colonial contexts. Compare: a journal of comparative and international education 44(6), 938-959
Smith, J. (2015) Geographies of interdependence. Geography 100(1), 12-19
Smith, J., Clark, N. & Yusoff, K. (2007) Interdependence. Geography compass 3(1), 340-359
Links
https://www.fashionrevolution.org/resources/education/
https://www.fashionrevolution.org/wp-content/uploads/2014/12/FRD_trumpcards_2015_A4_.pdf
https://www.fashionrevolution.org/insideout-six-months-on/
http://followthethings.com/fashion
http://www.free2work.org/
http://www.free2work.org/trends/apparel/