Mining Trash For Treasure – Panel Discussion with Tamsin Blanchard, Orsola De Castro, Kresse Wesling, David Woode
It was the perfect morning to talk about the fashion and textile industry's waste problem. A few hours ago, the Environmental Audit Committee(EAC), appointed by House Of Commons had put out its final report articulating the unsustainable nature of the textile industry. And on a positive note, London-based designer, Bethany Williams was set to receive the Queen Elizabeth II award for British Design at her show at London Fashion Week. In her own words, Bethany 'loves turning waste into something cool'.
For the panel titled, 'Mining Trash For Treasure', Fashion Open Studio founder Tamsin Blanchard had curated three experienced and diverse voices; Orsola De Castro, founder of Fashion Revolution and a passionate proponent of upcycling, Kresse Wesling, co-founder of Elvis & Kresse cum self-proclaimed lover of waste and British journalist David Woode who is researching the second hand clothing market in West Africa as well as exploring his Ghanian roots. The discussion was hosted at the Maiyet Collective popup in Harvey Nichols.
To quote the EAC report, 'Our fashion consumption is causing a waste problem in the UK and other countries..We buy more clothes per person in the UK than any other country in Europe.' And that excess clothing makes its way to charity shops and then to other continents including Africa. Tamsin opened the conversation by inviting David to share his first-hand experiences in tracking the long-drawn journey of UK's used clothes, that go from charity shops to other countries, mainly in Africa. He said, "Peacoats and jackets from British brands like Topshop and M&S are on sale in the street market of Ghana, with obviously no buyers in sight given that the average temperature is around 29 degrees. While walking along the roadside stalls, I noticed piles of shoes with familiar logos like H&M, Dune and Next but the available sizes would not fit the average Ghanian feet." And while everyone in the audience was visualising the wasted travels of these products, David referred to another set of people scouring these markets to rebuy these pieces and bring back to the West and in case of luxury brands, sell them as old vintage pieces. He continued,"Western cast-offs along with the influx of pirated textiles and the dominance of Chinese exports have all damaged Ghana's textile output. The number of companies producing local fabric is down from 20 in the 80s to 4 currently."
At this point, Kresse joined in the conversation and spoke of brands shirking their responsibility from the problems generated by overproduction. She added, "They won't go to Ghana to see the consequences of their actions. Elvis and I started at the responsibility end of the spectrum." Her brand, Elvis & Kresse, has partnered with Burberry Foundation to work on a scalable solution that utilises the iconic brand's post-production leather waste, estimated to be 9 tonnes every month. Kresse spoke of a leather-room at their Kent workshop which can house up to 3 days of Burberry's leather-waste. "When designers from Burberry visit the leather room, their experience is profound as the challenge and scale of the problem of waste becomes real to them."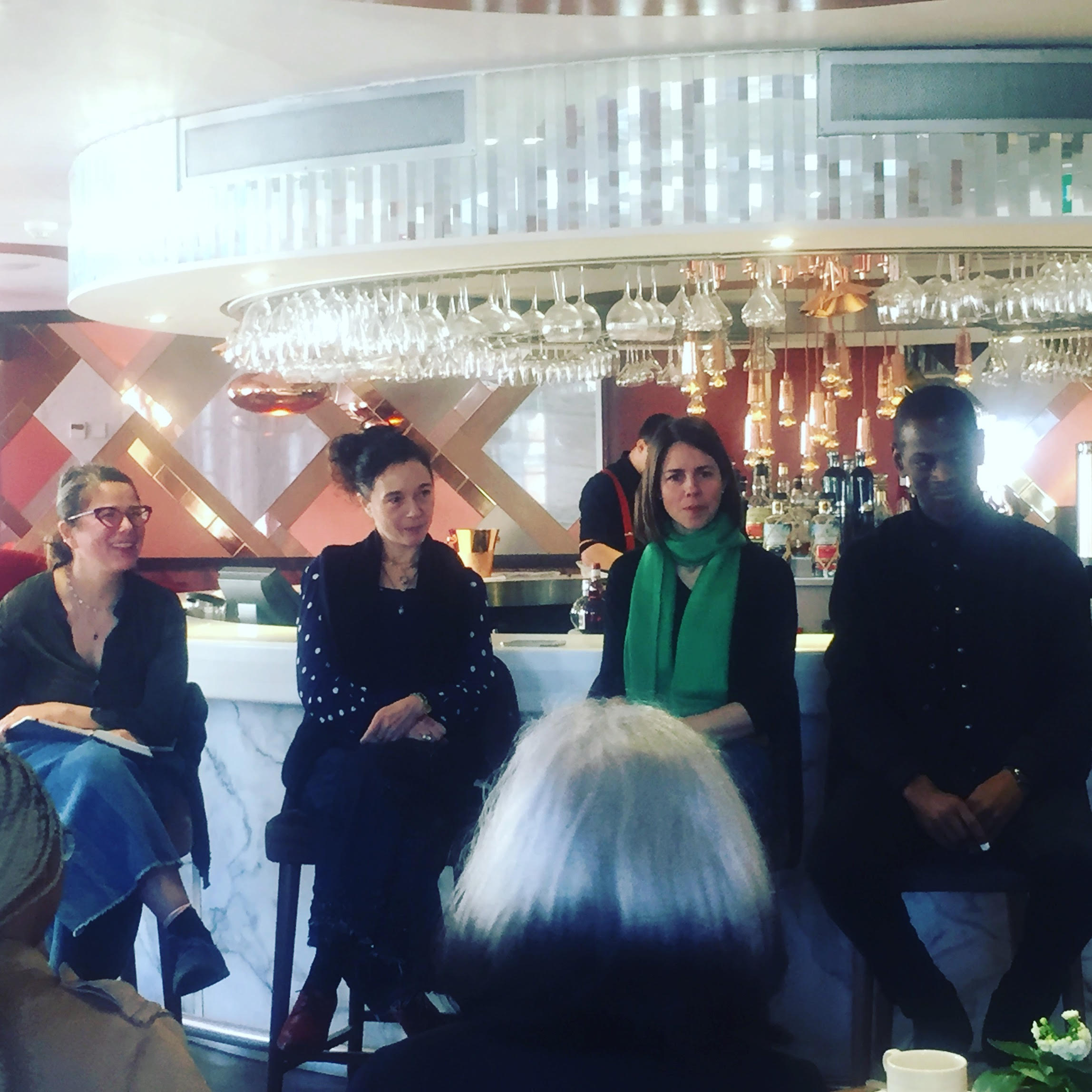 Tamsin then turned to Orsola who was flooded with media queries when the news of Burberry stock-burning dominated headlines in the summer of 2018. Orsola opened, "We, activists, took time to explain to the press that every single brand that does volumes will incinerate or throw away inefficiently. However, post the Burberry incident, things are out in the open and there is more willingness to do something about it."
However on a cautionary note, she urged to steer clear of circularity as a panacea word. She said, "We need to slow down the creation of unsustainable materials, concentrate on the nature of the raw materials and their recyclability, where they are being made and focus on upcycling."
On that topic of unsustainable materials, Kresse shared her experience from a recent fabric show where she saw eco fabrics that blended 50% organic cotton with 50% recycled polyester. She said, "You've combined two potentially ok things to create a monster. We should legislate against producing things that cannot be recycled or reused. This is where you unlock creativity. Tell young designers that these are the challenges and ask them to design their way out of it. You will see the most amazing wonderful solutions emerge."
Constraints, in general, bring forth the best of entrepreneurial spirit. David spoke of Ghana's savvy homegrown brands who are catering to the local demand for contemporary fashion. "Our waste products have an impact on what they can produce. But these young business owners are using traditional locally produced cloth and combining it with modern tailoring techniques. These designers cannot fathom the ubiquity of old Western garments in their country and want to make a mark for themselves."
The discussion encouraged those in the audience to share their experiences as well ask questions. An upcycling designer from Amsterdam spoke of her ongoing conversations with a button supplier who's stuck with a cancelled order of 140,000 buttons from a luxury brand where the designer pulled the plug. However, due to the brand's design protection restrictions, a pile of buttons could go down the waste stream but she hopes to negotiate her way around that problem.
Another lady asked about the lack of sufficient efforts on the clothes recycling front. Orsola replied, 'The EAC report goes a long way towards giving solutions. A lot of them are about cultural shifts and the concept of loving the clothes we buy. We need more clothes recycling banks.I won't call them recycling bins because the word rubbish has a very different connotation. We are throwing away good clothes; a perfectly reusable resource and denying other people the opportunity to learn about it."
The EAC report proposes a one pence levy on garments produced for sale in the UK and estimates raising of around £35 million for investment in clothing collection points, sorting and recycling. Kresse believes it is not enough. She said, "we had 10 years to save the planet 10 years ago, we have to move a lot faster, we have to be a lot more aggressive."