Maiyet Event: Ethical Supply Chains
A beautiful piece of homeware, clothing or jewellery will bring joy to the eyes that behold them. But hidden in those objects could be ugly stories of mistreatment of the workers who toiled to bring the pieces to life in the first place. However, on a heartening note, the number of social and commercial enterprises who are knitting up ethical supply chains with a strong focus on community building, is on the rise.
Three such passionate entrepreneurs came together to share their experiences and perspective on 'how to work with communities to create ethical supply chains'. The discussion was organised by Fashion Open Studio at a theme-appropriate venue, Maiyet Collective in London, the pop-up space that curates positive impact luxury brands.
The speakers included Jennifer Ewah, Emily Mathieson and Sophie Slater. A lawyer in her day job, Jennifer is the founder of sustainable jewellery brand Eden Diodati while former Conde Nast travel editor, Emily helms the homeware brand, Aerende. Sophie Slater is the founder of ethical fashion brand, Birdsong. Sustainability journalist and founder of ethical lifestyle site, BICBIM, Lizzie Rivera, moderated a rather heartfelt conversation.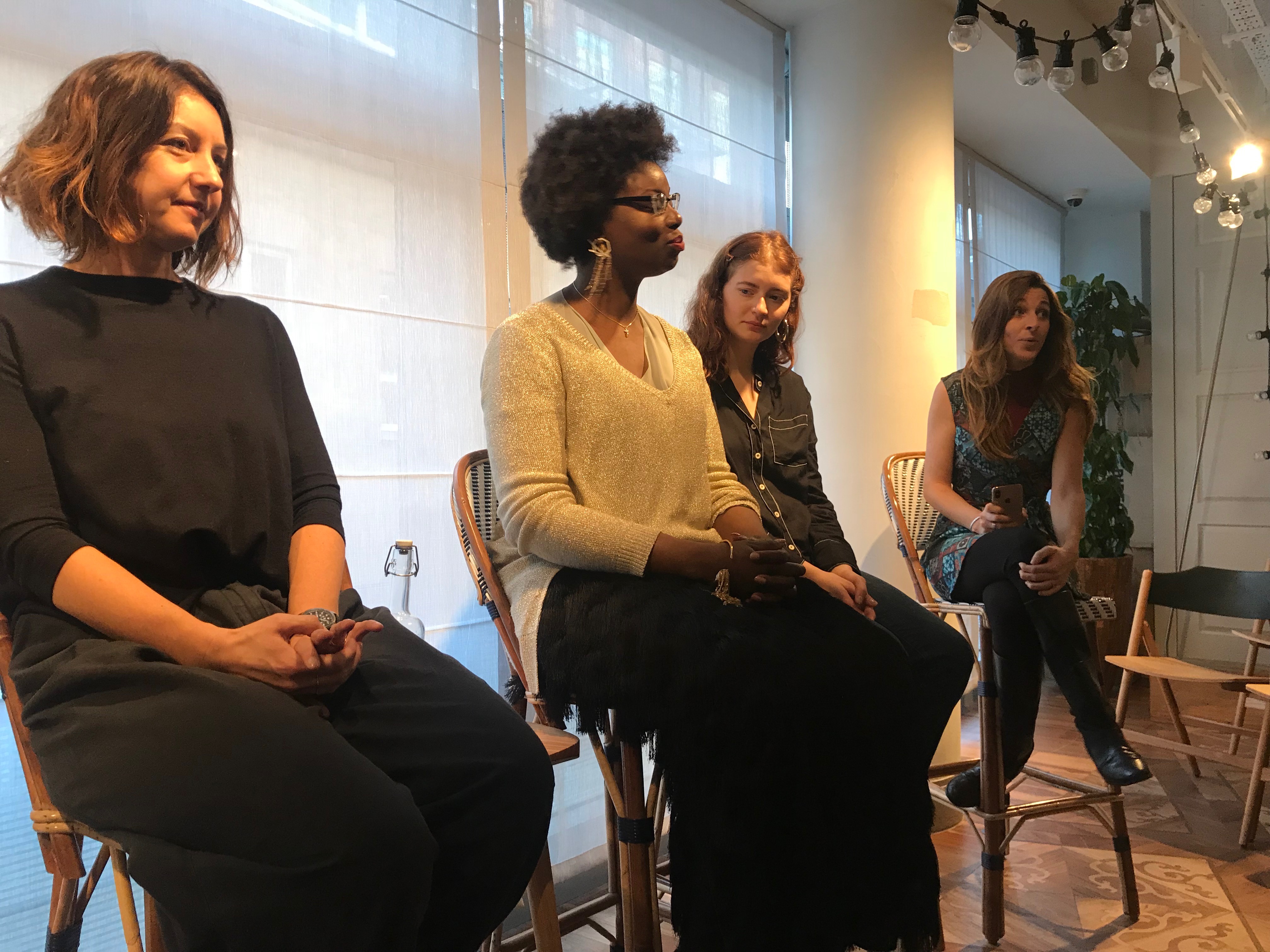 The opening address from each speaker highlighted the fact that their work is not cause exploitative. The ethical business model doesn't profiteer from the suffering of the communities, rather it thrives on the stories of resilience, courage and a sisterhood that supports each other. Jennifer works with over 100 women artisans in Rwanda who survived the conflict genocide in the 90s, while Emily partners with charities, supporting organisations and social enterprises across UK. Sophie who's brand tagline is 'no sweatshops, no photoshop' works with London-based women's charities.
The names of these women don't just add up to a HR headcount. Rather accounts of these women, told first-hand, moved the audience.
Said Jennifer, "The ladies who bead my pieces are orphans, widows and survivors of gender-based violence. But, I am not dealing with stats. Her name is Janette and she is making exquisite jewellery that could find selling space at the V&A museum. I just have to push for their work to be recognised so they have a seat on the table within the sphere of affordable luxury."
Through her jewellery business, Jennifer is challenging the preconceptions of 'Made In Africa'. Her pieces are currently stocked at Harvey Nichols and Macy's.
At this point, Lizzie asked the speakers, other than fair wages what else is important to these communities.
In addition to fair wages and help with route to market, Emily touched upon the intangible benefits reaped by her community workers. Their self-esteem is boosted as the work gets recognition. In her work with refugee groups, Emily also discovered that the process of making and socialising with fellow community members was therapeutic for many and helped them with issues including behaviour and anger management. Her organisation is working out an interesting approach to quantify the impact on mental health. "This is still work in progress but for every 1 pound spent with us, you will save public health service 8-9 pounds because that raft of support is beyond monetary."
Jennifer added, "The dignifying aspect of working on something that is high-end and precious in itself is game changing for the psychology of people who have been through horrendous situations."
Such recognition and endeavours have inspired bigger businesses to reach out to maker communities. Here, Emily adds a note of caution about some brands using such limited collaborations for virtue signalling as it makes them look good. She encourages customers to always ask questions while shopping for products that support a cause.
Staying with the customer, Lizzie asked the pertinent question, "Do customers buy from you for ethics or the product?".
The answer was unanimously in the favour of the product and that a pity purchase would not make business sense in the long run.
Sophie spoke about Birdsong's journey over the last 4 years. "We stepped up the focus on product by moving sourcing and product design in-house. As a result, our audience base has expanded from ethically driven customers employed in the NHS to mainstream fashion press. Our range of 100% organic cotton feminist tees is the real deal compared to the versions available on the high street. This lower price entry product is popular with young buyers".
View this post on Instagram
Emilly added, If you buy my products only for social cause then I fail as a designer. Our products are timeless. You will love them and then feel good about the fact that they come from a purpose driven company."
The purpose of such businesses expands way beyond the money-making framework. Not only do they support its community of makers, inspire other businesses but also educate and encourage buyers to shop slower and be more mindful. However, Sophie acknowledged the challenges of running a show that is a departure from the 'business as usual' approach. She calls for a real change in the investor mindset that is still obsessed with hockey stick growth curves and the breadth of reach over depth of reach. Wealth creation also needs to include social and environmental wealth.
Contextualising at an industry-level, Jennifer declared that the big businesses did not have a choice anymore given that we have 12 years to tackle the climate change crisis. She said, 'The world is in serious trouble and we are at a tipping point. You will look off-key if you are a business just pursuing money".