Interview with Mutha: Part 3 in the Power of Influence series.
Sparked by the buzz around HRH Meghan Markle choosing to shop amongst sustainable brands (yay), we found ourselves interested in learning more about the conscious and subconscious effect of social influencers and how that can shape our buying habits. Throughout 2019, we will be sharing our 'Power of Influence' series, talking to people within the fashion and social media realms about how they are using their platform for positive action. In this post, we celebrate Mutha.
Mutha are my favourite new source for all things sustainability. They not only have great fashion related content but they also delve in to other areas such as food, tech, sport and feminism. Their youtube channel is hosted by an insanely engaging team of presenters and their #relatable language and design aesthetic is something to be envious of. Current faves in their playlists include 'Zero Waste Man' and 'Black Friday Madness'. To find out more about how it all happens, I chatted to Susan Adegboye, Mutha's social media coordinator.

[youtube v="6XqRPsULEnk"]
What is Mutha and how did it start?
So Mutha stemmed from wanting to celebrate the individuals and organisations operating in the world of food, fashion, travel and sport that are making a conscious effort to look after this planet of ours. We wanted to create a platform dedicated to the forward thinkers that were shifting the dial for a sustainable future, highlighting the importance of looking after the planet but without the scaremonger tactics. 
We partnered with the UN to be the bridge between them and Gen Z. Both sides care about the planet, but we felt that the way that information around sustainability and the environment was being portrayed hasn't always resonated with a younger audience.

Can you explain a little about the kind of content Mutha is creating to bridge that gap?

We tried to bridge that gap by including communities and groups that have previously never really been involved. A good example of this is SpAir Max Day, where we decided to tap into the sneaker community.
Coinciding with Nike Air Max Day on March 26th, we filmed a two-part series with renowned sneaker head Kish Kash, encouraging the sneaker community and a few household names such as Annie Mac, Clara Amfo and Leo Greenslade, to look into their vaults and donate some of their used, worn-in and probably landfill destined kicks to launch the first ever pop up sneaker shop where customers donate instead of buy. With the aim of collecting 1000 pairs of Air Max, cleaned by the team at Jason Markk and donated to the Brixton Soup Kitchen clothing and shoe bank.
We wanted to show the Mutha audience that upcycling and donating our used clothing and shoes not only has a positive impact on the environment, but that it can help people in our community in need. We wanted to work with the sneaker community to show how they can come together to do something good.
[youtube v="ABaUzcJk33Q"]
I think thats a really interesting point – including communities that haven't previously been part of the conversation. At this point, it feels like there is something everyone can do to play their part.
Exactly!
One of Muthas instagram post states 'you don't have to be perfect, just do your best'. Do you think there is a tendency to shame when it comes to issues of sustainability?
Nobody's perfect and we all make mistakes, we're human after all. It's about what we do after the mistakes that really matters.
On that note, the team of presenters on Mutha feels very natural, honest, like they are part of the communities they interact with and they are experiencing the challenges and issues at the same time the audience are. Was it a conscious decision to work in this way?
Our presenters and the rest of the Mutha team, do not want to preach, but rather learn and share to inspire positive change. They represent the team behind the scenes who create the content and more importantly the audience who watch it. Our presenters come from varied backgrounds and have passions in totally different areas, but are all connected in the quest to learn and to live in a more sustainable way.
Thats definitely something that personally resonated with me when I first came across Mutha. It's an inviting atmosphere. You sympathise and relate to the faces and voices you see and hear. Have you seen a positive reaction to this approach? Do your audience get it? Are they realising what they can do?
Ah we're happy to hear that! At Mutha we believe that change has to start from within, we're all on a journey here and in the 9 months since we started it we've all seen changes in ourselves and in our habits. The world of sustainability is often filled with doom and gloom, but a lot of us feel more optimistic now than we did before we started this journey. All the people that we've featured on our channel (and most of the feedback that we've received from our audience) is that Mutha feels like a celebration and inspires us to take the small actions that lead to big change.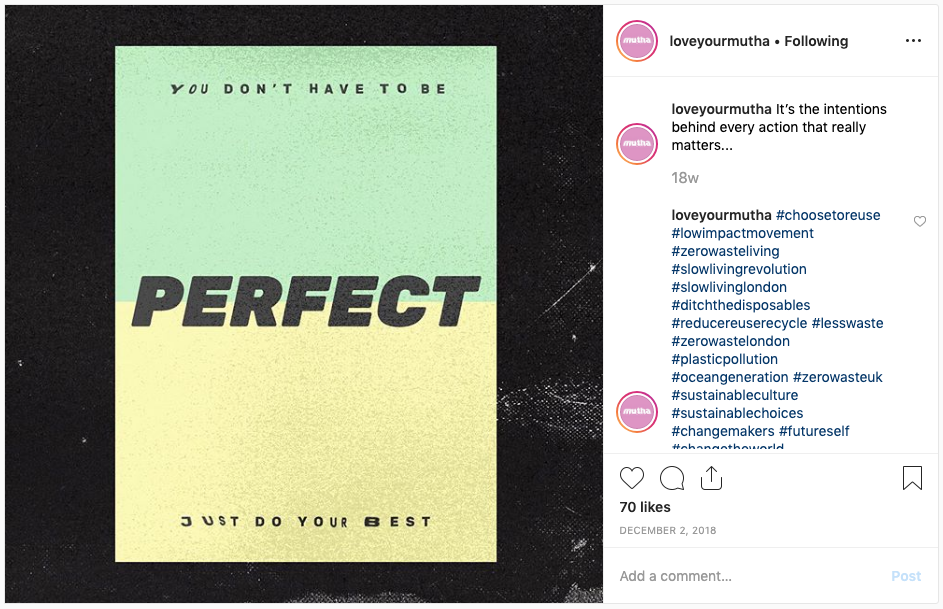 So what does the future of Mutha look like?
The future of Mutha looks bigger and better, creating a lasting impact on an even wider scale. We hope that we can continue to provide a place where people can learn about sustainability and appreciating the world that we live in.
Thanks, Susan!
To keep up to date with all things Mutha, you can follow them on instagram and subscribe to their youtube channel. The second part of their two part SpAir Max Day initiative launched April 4th – see the video here.
Check back every month for more in the Power of Influence series. We'll post a new entry on the last day of each month throughout 2019. If you think there is someone we should be talking to, drop us a line on instagram.
---
We host Fashion Revolution Week in April of every year. This year kicks off on the 22nd of April. Throughout the week we encourage people to ask brands 'who made my clothes' in hopes of shining a light on the unknowns of the fashion industry. By doing this, we hope to shift the focus from consumers to brands, and to all the hands involved, be it producers, workers, farmers or otherwise. We track the reach and impact of collaborators throughout Fashion Revolution Week and use the findings to fight for change worldwide, through government and policy. We would hugely appreciate it if you would be willing to share a story or celebrate a brand you love or simply ask #whomademyclothes during Fashion Revolution Week in 2019.