HELSINKI FASHION WEEK – Nostalgia for a sustainable future
The third annual Helsinki Fashion Week entitled Back to the Future was fully devoted to evaluating past conceptions of the future and their contemporary rehashes.
Although the general theme of the Helsinki Fashion Week was to highlight future and past trends with the aid of technology, the event also served to define a higher purpose: one of sustainability and accountability in the fashion industry. By organising a wide range of fashion shows, lectures, talks, and gatherings, the Helsinki Fashion Week Group decided to lead by example by having a business-wide check-in on the topic of sustainability in the textile and fashion industry, as well as in the trend forecasting business.
We have witnessed a wide variety of national and international brands that have been selected based on their lifelong commitment to sustainability and their aesthetically diverse approaches to the subject. With shows ranging from well-established brands like R-Collection and Makia, to newcomers Nokian Neulomo and London-based knitwear duo Szutan, there was a diversity in looks, styles, and cuts to be found.
Despite the broad diversity, one objective was common to all actors—to push forward without compromising aesthetic value, quality, or accountability, in addition to establishing a long-standing trend that goes beyond fast fashion.
Helsinki Fashion Week started off with Nokian Neulomo, a young brand from Nokia, Finland. Their designs are simple and wearable, and best of all are focused on ecological materials, ethical work, and the recycling economy. The graphic patterns, ombré effects, and bold colours of the garments have a mix-and-match feel to them, which makes them perfect to adopt into any sustainable closet. The brand is also actively taking part in the local employment strategy, with the aim to empower women in the Finnish textile industry.
The second show of the day saw Mirkka Metsola's designs, bold and daring. The brand (originally from Helsinki) concentrated on dark tones, black and white marbling patterns, graphic unisex tees, and 90s inspired sparkling fabrics. The aptly titled "Beyond the Black Galaxy" collection was rounded out with accessories of high quality ecological leather and natural fibres, referencing the lifestyle of the designer's adoptive hometown—Berlin, with its oddities, cultural clashes, and subcultural styles. Contrasting with the strong designs is the brand's commitment to the use of high quality natural materials, great craftsmanship, and fair production that takes place in Estonia and Finland.
Next, Makia's collection started off with colour-coordinated basics reminiscent of the company's roots—the Helsinki harbours and docks, which are to this day the main source of inspiration for the brand. Stripy tees, tight white jeans, weather-resistant overcoats, rolled-up shorts, and the Island Camo print of their own conception (reminiscent of Helsinki's grey archipelago boulders). The collection mirrored their dedication to no-nonsense clothing intended to endure through seasonal trends and musings, designed to be "functional and durable clothing for the harsh Finnish winters." Their design efforts are topped by their company's responsibility; disclosing where their clothing line is made and the collaboration with Pure Waste Clothing on a line of 100% recycled goods all put Makia on the top of our buying lists!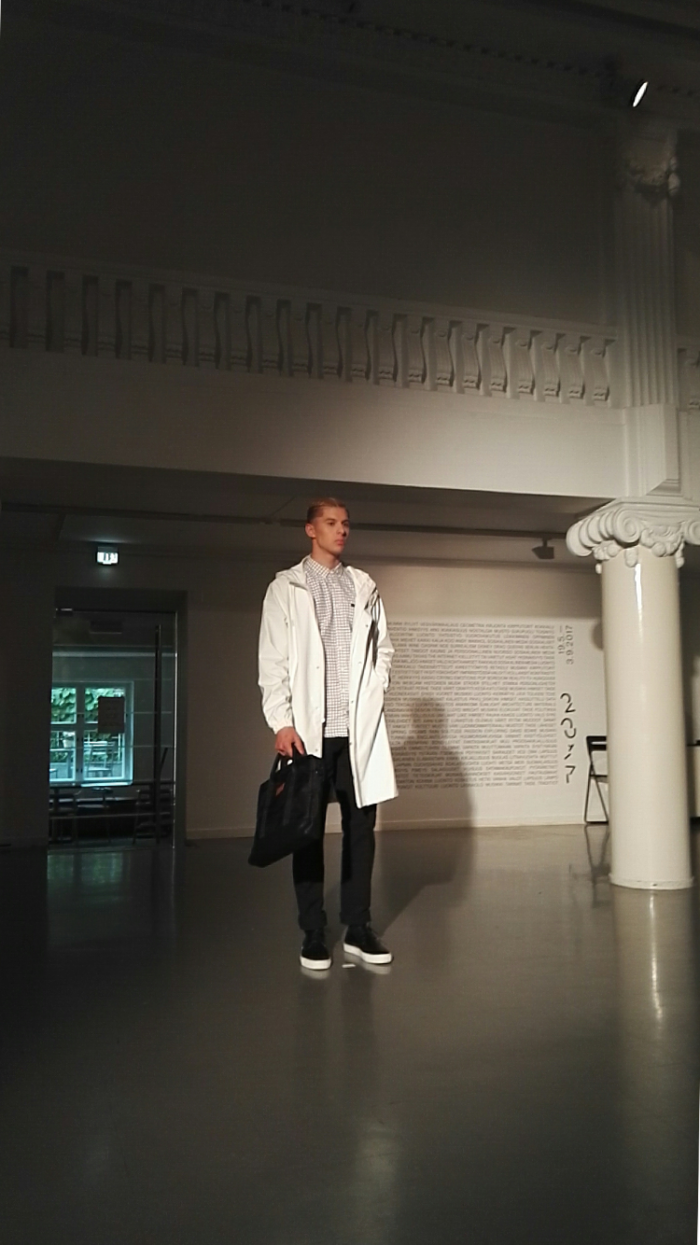 Moving on to the next day, the Finnish brand Tauko reaffirmed their message by showing us a defilé of ecological closet-keepers. Their clothes are made from recycled fabric, produced entirely together with local textile maintenance services to assure the highest quality and durability. The presented collection ranged from black trench coats and maxi dresses with back slits to more flashy pieces with an atypical orange-red and honeydew contrast. The designers Mila Moisio and Kaisa Rissanen were obviously reflecting on their natural heritage while designing the Poppy and Vulcano maxi dresses, our personal favourites.
Next on the menu was Swedish brand F.A.S. with cool yet sustainable designs. The clothes were wearable, but included peculiarities that kept us on our toes. Neon yellow stripes adorned pants' sides, and a cornflower-hued high-collar dress was in stark contrast with red shirts and sandy brown staples. All the pieces were coutured in that oh-so-elusive Scandinavian manner. The designer Firas Al-Saffar gave a further homage to the Nordics with a white-grey pattern reminiscent of birch bark throughout the collection. All pieces reflected the brand's "respect for environmental sustainability, animal protection, and fair trade."
For the final runway of the day, we witnessed the latest R-Collection show that wowed us with their forty years of tradition. Still, they are more than relevant, they are still cool. The original logo from 1978 was scaled up and made visible on the grey melange sweatshirts, contrasting with dark sea green utilitarian pants, orange caps, and anoraks. The brand put an emphasis on their long-lived designs, all made with strength and durability in mind. The clothing, produced locally in the little town of Kajaani, gave a nod to typical Finnish endurance and love of nature.
The first runway of the day showed MEM by Paula Malleus's fourth upcycled eco-fashion collection REVOLT. The models were donning modern and edgy casual wear, all in a contrasting and demure powder-blue tone. The now already traditional use of the MEM logo in ribbons and prints mixed well with the overall Japanese aesthetic of kimono dresses and meticulous foldings. It is also important to mention that the production value chain of the brand is unique, as all the clothes in the collection can be industrially manufactured. Paula Malleus herself aims to be a pioneer in post-consumer waste design, and is showing her collection in the New York Fashion Week next.
The second show of the day saw Szutan's Nina Tanskala and Richard Szuman—graduates from Central Saint Martins and the Royal College of Art—once again tackle their core values of simplicity, practicality, quality, and longevity. Their individual approach to fashion through a reductive design process saw stripy patterns from Finnish clothing traditions reinvented in innovative and technologically-advanced costume pieces. Folded apron-like skirts, white shirts, and slouchy bomber jackets rediscovered a pleating typical to the traditional Sami costume that was subsequently reinterpreted with plissé knitwear. This and the use of an elemental colour palette places their garments in a more enduring position outside of fashion trend systems.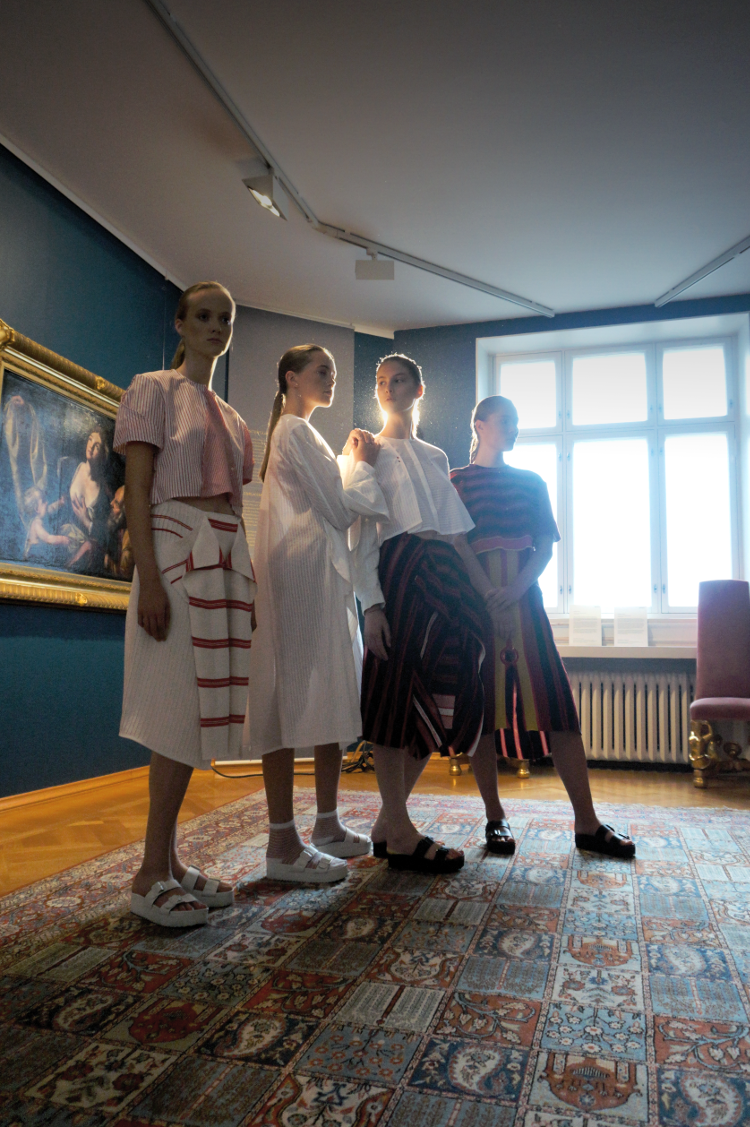 On the third day of the Helsinki Fashion Week, we witnessed Estonian designer Äli Kargoja's clothing line August. Sleek, minimalistic lines and black, blue, and white contrasts provided the coherence of the collection. On trend, the brand offered a nearly perceptible shift towards asymmetry with a midnight blue wrap-around skirt and top combo. The subtle details were visible through the collection —a skirt waist that just gradually shifts, a tank top with an elongated back, and midnight-blue jersey velvets gave the collection a feel of comfort and practicality without compromising on style. August also puts particular emphasis on carefully-chosen materials (most GOTS certified) and special attention to each step of the manufacturing process.
Lastly, we witnessed to Vestiarium's ideology and design thinking. Vestiarium aims to be the favourite practical wardrobe of a modern working woman: to be timeless and mixable while offering an interesting mix of unconventional staples. A white shirt with pleats that opened on the back was matched with a black pencil skirt and a meticulously embellished red dress. Our favourites were a pink long-sleeved dress with organic pleats resembling a rhododendron in bloom, and of course the red dress with asymmetric cuttings that Laura Pietiläinen wore during her evocative performance. All of the pieces are made with a respect for labour, resources, and sustainability.
Helsinki Fashion Week's point was not to prove that a closed loop in fashion is achievable, but that is in fact already here.
Sustainable values are seen in every aspect of MEM. The whole production system is based on a clean circular economy that aims to reduce waste, especially at the downstream end of the chain. MEM is produced purely from other producers' recyclable textile fibre waste. It is also one of the most unique collections in the world because of its ability for serial production.
MEMissä kestävät arvot läpäisevät kaikkea. Koko MEMin tuotantomalli pohjaa puhtaati kiertotalous aattelle jossa pyritään vähentämään jätettä etenkin ketjun loppupäässä. MEM tuotetaankin puhtaasti kierrättävien tahoje tekstiilijäte osuudesta. Se on myös sarjatuotettavuutensa takia yksi maailman ainutlaatuisimmista mallistoista.
Paula Malleus, MEM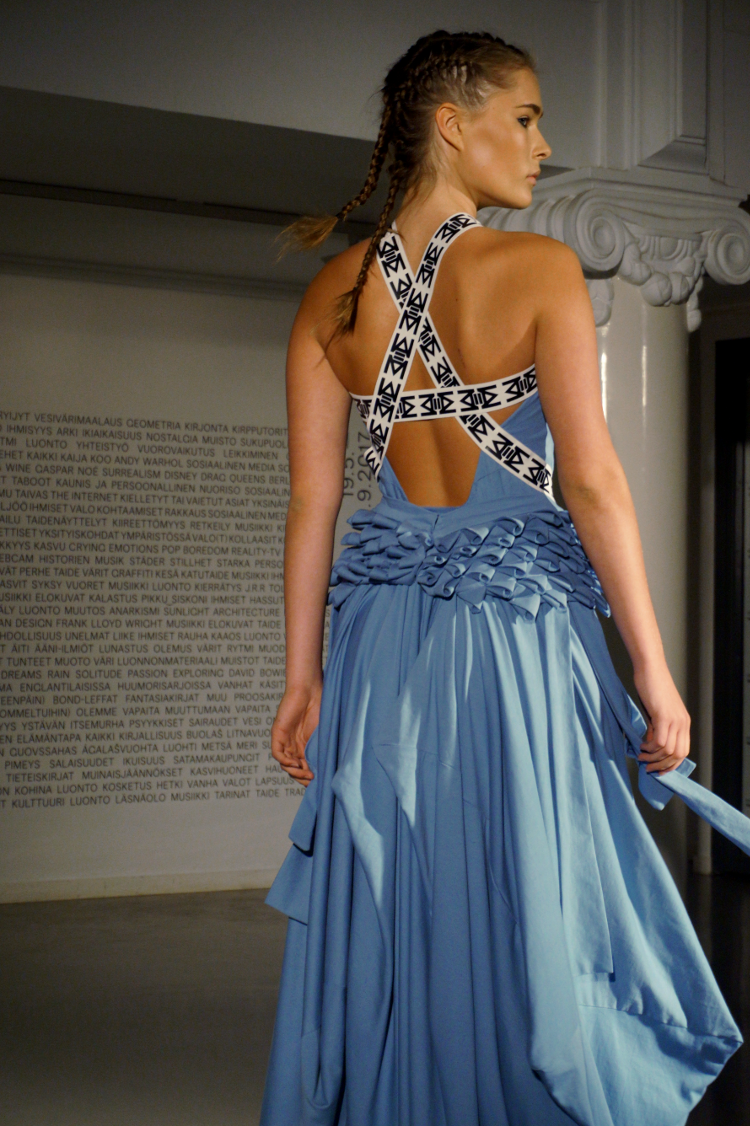 During the weeklong event, the industry met and explored how technologies were, are, and will be used as a means of enacting sustainability. With major actors like WGSN, Google, Vogue UA, and Glamour South Africa sitting around the table, a sustainable future has been reinterpreted and reimagined a few times over. Many different scenarios and solutions were offered, ranging from reusable e-paper technology and data tracking with EllaFashion, to developing new technologies with the Infinited Fiber Company®, influencer branding with WGSN, to Futurice's digital coding art aimed at inciting responsible consumer choices.
The solutions were different, though everyone realises that there is a need for a dramatic shift in the way we not only consume fashion, but also in how we perceive it and live with it.
The fashion industry is changing, people will value sustainable and ethical production as well as individual style and personalisation more than today.
Muotiteollisuus muuttuu ja ihmiset arvostavat toisaalta kestävää ja eettistä tuotantoa, että henkilökohtaista tyyliä ja personointia enemmän kuin tänä päivänä.
Camilla Mikama, Vestiarium
This is also why, that within the next year, the Nordic Fashion Week Organisation will be launching a sustainable clothing collection of their own. Partnering with the Infinited Fiber Company®, a Finnish company providing closed loop solutions, Finnish and international fashion designers and nature conservation organisation WWF Finland, The New Normal collection aims to raise the bar beyond the current industry standards.
"Our mission is to create a powerful and long-lasting dynamic—a new normal in fashion production and textile recycling—by proposing a foregrounding model of responsible creation in the industry. Unfortunately, we haven't witnessed much of authentic reform percolating into the mainstream."
Missiomme on luoda voimakas ja dynaamisesti kestävä—vaatetuotannon ja -kierrätyksen uusi normi—tarjoamalla perustavanlaatuinen toimintamalli tuotannon vastuulliselle luomiselle. Valitettavasti emme ole todistaneet vielä merkittävää uudistusta joka kattaisi koko muodin valtavirran.
Evelyn Moradzadeh, director of Helsinki Fashion Week
We may all agree that Helsinki Fashion Week 2017 was more than the sum of its parts. Reinforcing its theme Back to the Future, it confidently thrusted the Finnish fashion industry in a forward-looking direction.
The collection The New Normal will be launched early 2018 and will hit runways in Helsinki Fashion Week 2018. You can check out the progress of the project on the The New Normal website.
Text: Saša Nemec and Nora Elstelä
Pictures: Saša Nemec, Nora Elstelä and Danai A. Anagnostou