Fash Rev Brazil's Fernanda Simon is Recognised by Glamour
When Fashion Revolution got started in 2013, we began with a group of passionate individuals mainly based in the UK, but it was clear that our message had global relevance and power. Since its inception, we've relied on a network of global volunteers, who helped to shape the open source framework to activate in their countries. Early on in 2014, Fashion Revolution Brazil was launched by Fernanda Simon. Since its inception, Fashion Revolution Brazil has been a leader within the Global network, championing a Brazilian edition of the Fashion Transparency Index among other revolutionary activities.
Earlier in May, Fernanda was recognized by Glamour Brazil, receiving  their 2019 Generation Glamour Award for Sustainability. Below, we catch up with Fernanda and chat through her journey in celebration of this milestone.  
Bronwyn Seier: Congratulations on this award – it's a wonderful recognition of everything you've done for Fashion Revolution! Can you tell us about why you got into this industry in the first place?
Fernanda Simon: Thank you very much, it is recognition for work built by a strong and united team. My personal journey in  fashion started at university. I chose fashion because I like art and used to consider fashion as an expression, but during the university period and the internship experience I had, I felt that the area was much more about production, volumes and sales than art manifestation.
Furthermore, I had a life change experience that opened me up to a more connected and spiritual lifestyle. At the moment when I couldn't see any connection between myself and fashion, I decided to move to England. I went to live in London and was there when I first heard about sustainable fashion. I started to search and look for more information. Then, through a friend, I met Jocelyn Whipple (a sustainable fashion consultant, also from Fashion Revolution core team), who was, and still is, my mentor.At  that time she had a slow fashion sales agency called Element 23. I started to work with her and then I had the opportunity to learn about the impacts, the brands who were engaged with better process and also to meet other people and initiatives.
In 2014 I returned to Brazil as a Fashion Revolution country coordinator, connecting people to form a team.
BS: Prior to the formation of a Brazilian team, you volunteered for the global coordination team in London. How did your experience in the early days of Fashion Revolution lead you to want to establish your own team?
FS: When Fashion Revolution was created in London, I was already very close to Joss, but I already had intention to return to Brazil, so I spoke to her and Carry and became the country coordinator.
I remember the roundtable during the Fashion Revolution Day on the 24th April 2014, and thinking how necessary it was to take this conversation to Brazil. Even while living abroad, I used to search and follow the progress towards sustainability in Brazil, and I knew it needed a bigger push.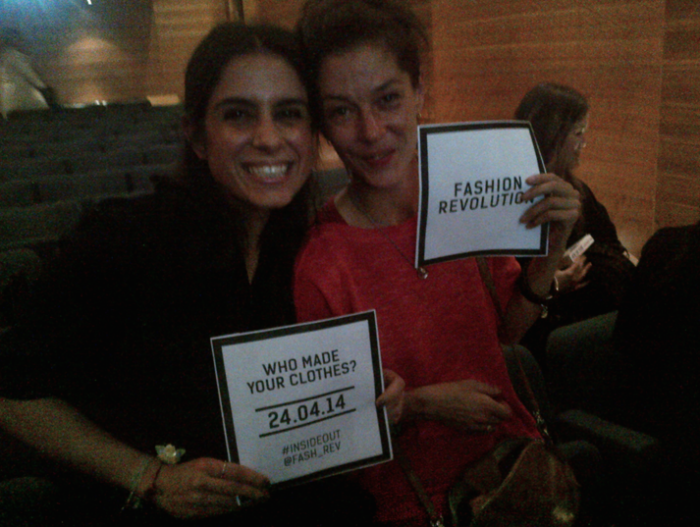 BS: When did you establish Fashion Revolution Brazil? What's its origin story? How has the team grown over time?
FS: Fashion Revolution Brazil began as a small movement, the first person to come to the team was Bruna Miranda, a journalist. Then others joined, including Eloisa Artuso who had just returned from London with a masters degree and became our educational coordinator. Eloisa is still on the team and is very important with regards to our achievements. She still coordinates the educational team, as well as the Brazilian Fashion Transparency Index.
During these years many engaged professionals joined the team collaborating for it to grow. We developed a dynamic, transparent and horizontal format of working.
Last year we established Fashion Revolution Brazil as its own NGO within the country and a as Country office within the Global Fashion Revolution Network. This was a huge step for us, because it  has opened opportunities to create long term projects, with financial support and have a structured organization.
BS: What have been some challenges along that way?
FS: We have faced many challenges along the way. The first was to encourage people, brands, press and organisations to join the movement, to convince them that talking about sustainable development is something positive for all sides, and that our intention is to create a dialogue for a better future, and not just show what's is wrong.
The second major challenge was to work without any financial and structure support. Even with all the partners we had made, we lacked a budget to pay the core team and basic costs.
BS: Can you tell us about the fashion industry in Brazil, and the unique challenges and opportunities in implementing more sustainable fashion systems there?
FS: Brazil has the most complete fashion industry supply chain in the West, it is the second biggest industry for employment and the fourth largest denim producer in the world. So, it is quite a representative industry for creating jobs and for the economy. On the other side, the engagement toward a sustainable development is a relative new issue. During the last few years there has been some progress, but compared to its size Brazil still has a long way to go.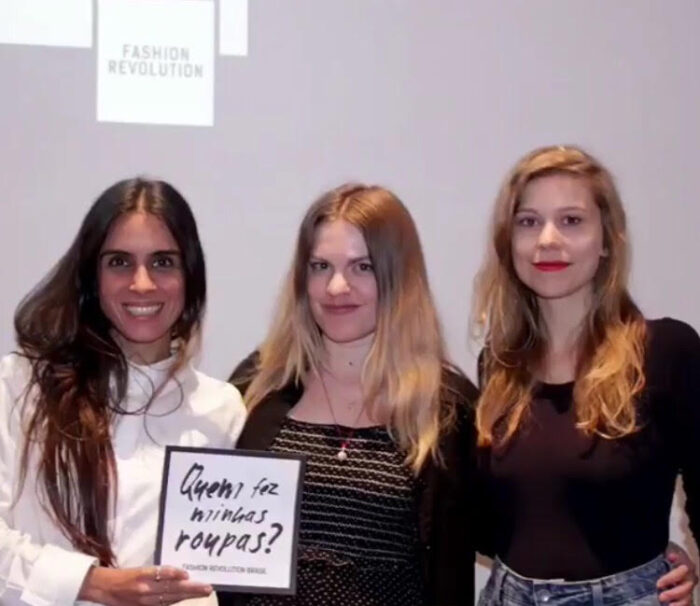 BS: Brazil is currently the only team to publish a Country Edition of Fashion Revolution's  Fashion Transparency Index. Why did you think this was important to do?
FS: The Fashion Transparency Index is an important project for the landscape in Brazil, it offers a dialogue with the biggest national brands and it shows how, in fact, these brands are committed and engaged with transparency.
We received lots of positive feedback and action from brands, such as one that decided to create a sustainability committee within the company, and other brands that have used the questionnaire to apply new policies.
BS: We've just wrapped up a really energetic Fashion Revolution week. What were some highlights for your team?
The campaign this year was special, for the first time we had big brands participating on the campaign, one of the biggest Brazilian brands opened its factory and allowed people to visit. The expansion was considerable, we had 120 schools and universities promoting Fashion Revolution Week, and more than 40 local representatives. These resulted in almost a thousand events during the week. Among other positive achievements was the press coverage, as Fashion Revolution was in Vogue, Glamour, Marie Claire. All the big newspapers reported on it as well.
Congratulations to Fernanda and the whole Brazilian team! Follow the Fashion Revolution movement in Brazil over on their Instagram.