Fanzine 4 Craft Stories: Honourable mentions
Back in October of 2018, we opened up submissions for our Fashion Craft Revolution fanzine. We asked for your cultural craft heritage stories in whatever form they might take. We were overwhelmed with the amazing stories you shared from all over the globe and we couldn't be more grateful for your time and support. We unfortunately could only include a small handful of pieces in our printed fanzine but we thought some of the other pieces deserved to be seen and heard. Here are our honourable mentions.
---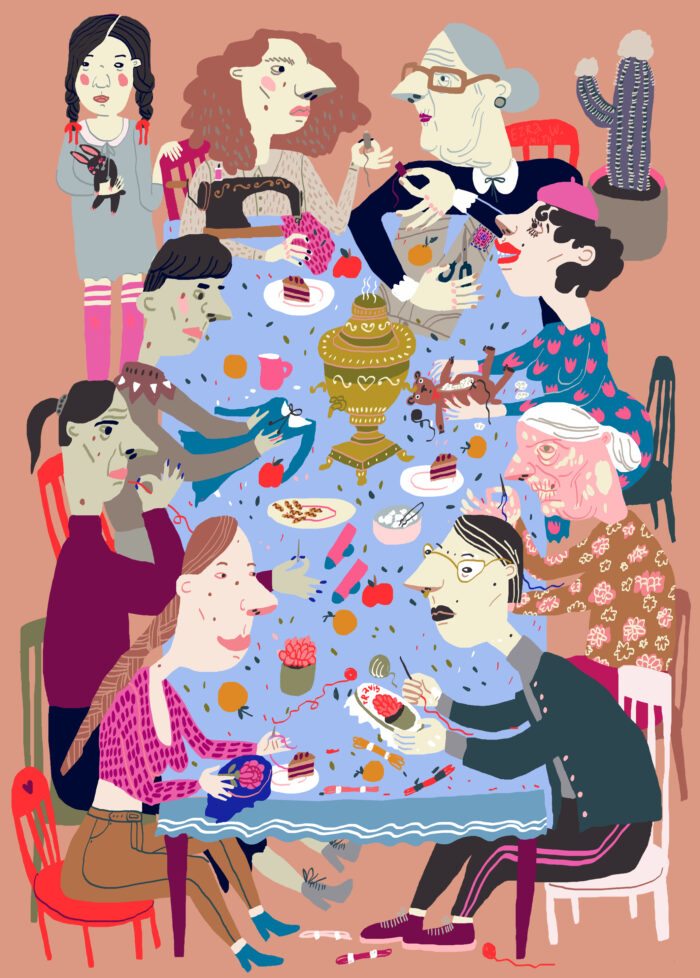 From Ezra Smith, illustrator and craftivist
Both of my grandmothers are Jewish refugees, they moved to Russia during the second world war with their parents. Both of their families were really poor so they learned how to take care of the clothes they had. Both of my grannies are masters of repairing and both of them were making toys for us (they have 11 grandchildren combined). Then there is my mom who was crazy about sewing her own outfits when she was younger. She grew up in USSR, at that time she couldn't get anything interesting or fancy at the stores so she would make it herself. She also made clothes for her 3 children. And there is me and my sister. My sister's hobby is in historical reconstruction, and she makes most of her own outfits. She and I also got into stitching a couple of years ago. I stitch only on second hand clothes.  My daughter (7 y.o.) is stitching too.
---
BY HAND

On the one hand,

these days it's so easy

not to use hands,

to click and press print 

without leaving fingerprints.

On the other, 

small muscles

remember the pleasure

of threading, twisting, 

wrapping sweetgrass  

to make of swift leaves

a basket that lifts,

protects and lasts.

Of winding, spooling,

knotting to loop and stitch

warmth from a single stretch

of yarn. Of forming poems

from paper and ink, 

art crafted word by word,

line by line,


link by human link.

##
---
Looking at a selection of my baby clothes, handmade with love by my mum and grandmothers, it seems obvious that I was destined for a creative career. My first clothes were works of art, and from a very young age I showed an interest in learning these skills from my family. Mum's Mum (Hilda, or Nanny) would nurture my interest while she was babysitting: I would help her to wind balls of yarn as we watched old films, and as my dexterity improved she bought me tapestry kits and patiently taught me to stitch neatly. She had an old camper van, and we would sometimes go on holiday in it, just the two of us. On a rainy day we would sit in the back of the van and she would teach me to knit, using the leftover wool from the cardigans she had knitted for me.

My mum, Pamela, crocheted adorable baby clothes for me, and taught me how to use a sewing machine, even though she wasn't a dressmaker herself. She made sure I knew how to take care of my clothes, and showed me the importance of repair skills. In the evenings she would often work on patchwork or hand embroidery projects, and took up machine embroidery just before I left home. She sent me off to university to study Costume Making with her old Elna sewing machine and a handmade patchwork pincushion, and as my career took off and I found myself travelling a lot she would send me beautiful embroidered pictures to remind me of home. Her work has appeared in several exhibitions, and is often related to family, her wonderful garden, or the Sussex countryside where we would walk at weekends. Older clothes in Mum's wardrobe are relegated to walking or gardening attire, but are always meticulously mended, right down to her walking socks!

Dad's Mum (Rhoda, or Grandma) lived further away so I didn't see her quite so often, but I remember her distinct personal style very clearly: intricate lace-patterned jumpers, and Liberty print skirts, all handmade. Family legend has it that she could knit, read a detective novel, solve a crossword and watch television, all at the same time. Grandma had spent her professional life as a psychiatric nurse at Graylingwell Hospital, which was pioneering the use of crafts like embroidery as occupational therapy. When I started suffering with anxiety and depression last year I turned to knitting and embroidery and found it incredibly soothing and grounding. Working methodically on a project gave me a positive focus, and using sewing tools and knitting needles handed down through generations, I felt a connection to my grandmothers that I hadn't experienced for years. I feel sad that I lost them both before I was really old enough to appreciate their talents and creativity, but I am glad that I am able to use the talents they nurtured in me.

My family put such love into the clothes they made for me, and I was so happy to do the same for my sister Rosie by making her wedding dress. We designed and planned every aspect of the dress together, and it was a wonderful way to contribute to such a significant event in the life of someone who is so special to me. We also share the family's crafting gene in smaller, quieter moments; whiling away a quiet evening stitching or knitting, watching films and trying to keep her cat, Parsnip, away from my yarn. I haven't mastered simultaneous book-reading or crossword-solving yet, but there's still time.
---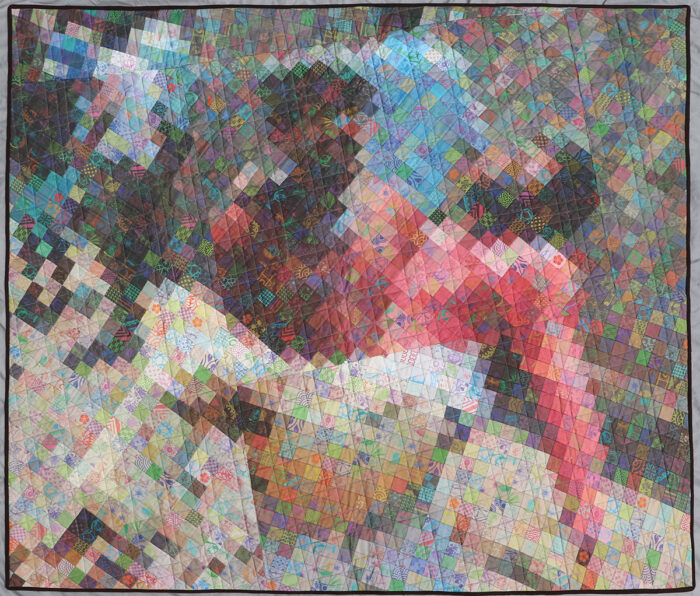 In the work, Factory Collapse at Rana Plaza, I have recreated in pieced fabric an Associated Press image of a rescue worker pulling a body from a the garment factory that collapsed in 2013. While most of our clothing is made in similarly deadly conditions, seeing these atrocities in the news does little to change many people's shopping habits. We see these tragic stories as distant, something on the screen, when the reality is we are choosing how we wear these stories on our bodies every day. For me, it's important that we continually confront these images, never forgetting the conditions which our consumption habits created and consequently, we hold responsibility for.
---

This particular topic has been a lovely experience for me personally, to connect with my grandmother and mother and find each generation connection with textiles through photos and their own stories.
---
The printed zine Fashion Craft Revolution will be available to preorder from the 29th of March 2019, with a full release on the 5th of April. Find it and other issues on our Fanzine Library page