Does Your Feminist T-Shirt Empower The Women Who Made It?
Photo: Shilpi Rani Das started working in a garment factory when she was 12 years old and moved to work at Rana Plaza at 13. She was working on the 8th floor at the time of the factory collapse. She lost an arm and spent the next 2 1/2 years in hospital. She is now at school, plays badminton and supports her family by sending money home. She is starting Open University.
The theme of International Women's Day 2019 is #BalanceforBetter and asks how we can help forge a more gender-balanced world. Brands and retailers are, predictably, all doing their bit to show support, from Pretty Little Thing's promotion of their #EveryBodyInPLT movement with T-shirts from £10, with profits going to the charity WAGGGS to Net-a-Porter's limited edition collection in collaboration with six female designers, with profits going to Women for Women International.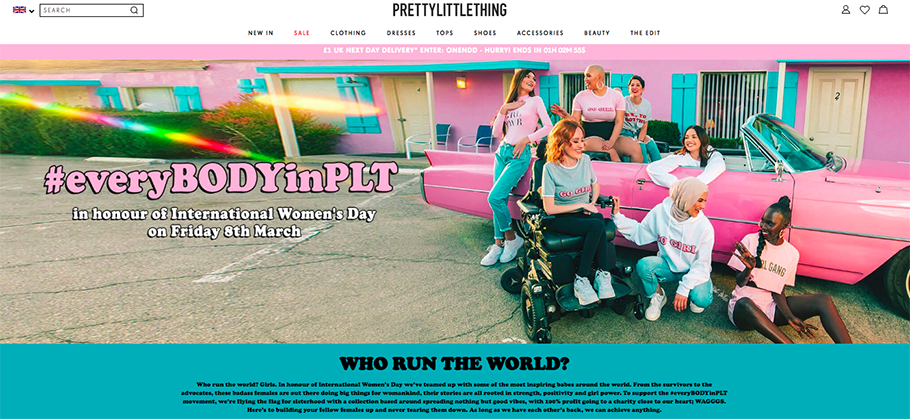 None of the webpages about the T-shirts feature any information about how or where they are made or who made them. About 75 million people work directly in the fashion and textiles industry and about 80% of them are women. Many are subject to exploitation and verbal and physical abuse. They are often working in unsafe conditions, with very little pay.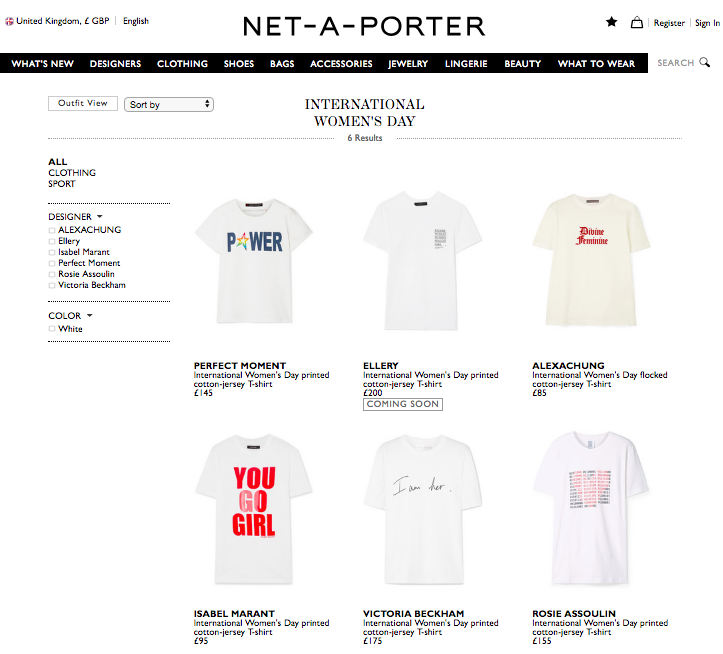 Actress Aisling Bea tweeted during Fashion Revolution Week last year: "My particular bugbear is feminist tees which were not made by women who were paid fairly for their labour. Check your tags and brands."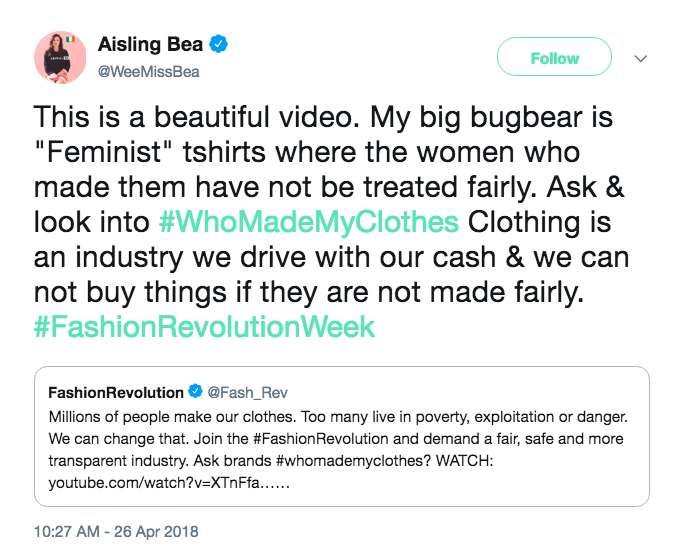 Slogan T-shirts with female empowerment messages will be everywhere this week to coincide with International Women's Day, but the reality is that the fashion industry doesn't empower the majority of women who work in it. Gender-based inequality remains a problem throughout the industry, from the highest levels of management to the shop floor and the factory floor. We still have a very long way to go until everyone who makes our clothes can live and work with dignity, in healthy conditions and without fear of losing their life.
One of the main projects Fashion Revolution worked on in 2017/18 was the Garment Worker Diaries. On-the-ground research partners met with 540 garment workers in India, Cambodia and Bangladesh on a weekly basis for twelve months to learn the intimate details of their lives. 60% reported gender-based discrimination, over 15% reported being threatened and 5% had been hit. When I met with the President of the Bangladesh Garment Manufacturers and Exporters Association in November 2017, he told me categorically that sexual harassment doesn't exist in garment factories in Bangladesh. One statistic I found particularly shocking was that 40% of the workers surveyed had seen a fire in their place of work. The women making our clothes are still risking their lives every day for our fashion fix.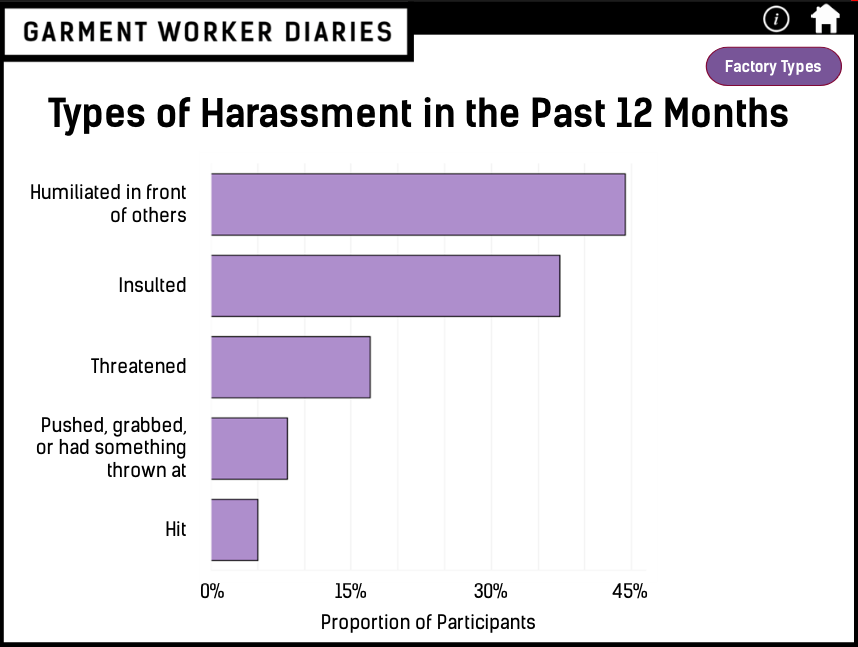 In January, The Guardian revealed that Spice Girls T-shirts raising money for Comic Relief's Gender Justice campaign were being made at a factory in Bangladesh where women earned 35p an hour and claimed to be verbally abused and harassed. Garment production in Bangladesh is still carried out in a very opaque manner and the lack of information about where our clothes and shoes are made and who made them is a huge barrier to changing the fashion industry. This means that gender inequality and human rights abuses and remain rife. If you can't see it, you can't fix it, which is why Fashion Revolution urges all brands and retailers to have full supply chain transparency, and we track this through our annual Fashion Transparency Index.
Fashion Revolution's Fashion Transparency Index 2018 which reviews and ranks 150 major global brands and retailers according to their social and environmental policies, practices and impacts, throws a spotlight on how brands and retailers are tackling gender-based discrimination and violence in supply chains. The report specifically looks at how they are supporting gender equality and promoting female empowerment, both in their own company and in the supply chain.
Whilst, most brands publish policies on discrimination, harassment and abuse, the research show that only 37% of brands are publishing human rights goals. Without reporting on goals and, importantly, annual progress towards these goals, consumers have no way of knowing whether their clothing purchases are really helping to drive improvements for the women who are making their clothes.

Only 40% of brands and retailers reported on capacity building projects in the supply chain that are focused on gender equality or female empowerment, while just 13% publish detailed supplier guidance on issues facing female workers in their Supplier Codes of Conduct. Only 37 out of the 150 brands surveyed report signing up to the Women's Empowerment Principles, an initiative by the United Nations Entity for Gender Equality, or publishing the company's overall strategy and quantitative goals to advance women's empowerment. Meanwhile, just 5% of brands are disclosing any data on the prevalence of gender-based labour violations in supplier facilities, such as sexual harassment and other forms of gender-based violence, or the treatment and firing of pregnant workers.
In the 2019 Fashion Transparency Index, to be published in April, we will be surveying 200 brands and asking the same questions around women's empowerment. Women's economic empowerment and closing gender gaps at work is key to realising women's rights and central to achieving the 2030 Agenda for Sustainable Development, in particular SDG 8 on promote sustained, inclusive and sustainable economic growth, full and productive employment and decent work for all.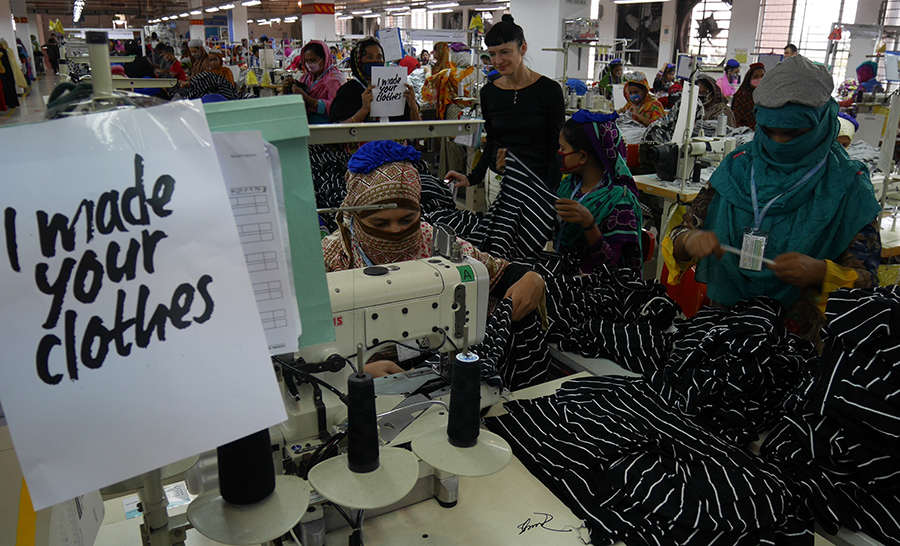 According to the BoF McKinsey & Company report The State of Fashion 2019 "Younger generations' passion for social and environmental causes has reached critical mass, causing brands to become more fundamentally purpose driven to attract both consumers and talent". As a result, the appearance of the word "feminist" on retailer homepages and newsletters is forecast to increase in frequency sixfold compared to two years ago. Brands are adopting feel-good feminist slogans, yet the rise of real feminism and female empowerment within the industry is a long way off for most women who work in it, from the highest levels of management to the shop floor and the factory floor.
If we really want to see a more gender balanced world, brands and retailers need to do more than sell empowering T-shirts; they need to make sure their policies are put into practice. And not just in the visible places, on fashion shoots or within their company, but at every level of their supply chains. The people making our clothes may not be visible, but every garment they make has a silent #MeToo woven into its seams. At Fashion Revolution, we believe positive change in the fashion industry is possible, and it starts with transparency.