A letter from our founders
Dear community,
Fashion Revolution has recently entered its seventh year of campaigning for a fairer, more transparent fashion industry. That means it is time to take stock, share some of the progress we have made and the impact we have seen as a means to refine how we plan to move forward into the next five years of fighting for systemic change of the industry. We also want to ask for your help.  
In 2014, the first year we remembered the Rana Plaza factory disaster and galvanised a global community to ask #WhoMadeMyClothes, transparency was not a word readily associated with the global fashion industry. Five years on and Fashion Revolution's annual Fashion Transparency Index, which reviews and ranks 200 of the world's biggest apparel brands and retailers, is recognised as a valuable tool in pushing brands towards greater transparency across their supply chains. Brands now actively work to improve their scores, increasing their levels of transparency along with it. Out of 150 leading brands and retailers reviewed in 2018, there was a 5% average increase in their level of transparency in 2019, and a 9% increase in the 98 brands reviewed in the index since 2017. The index has influenced dozens of major brands to publish their suppliers for the first time and to change some of their policies. It's slow, but together we are making progress. Transparency is now accepted as a tool to improve both human rights and environmental impacts within the industry.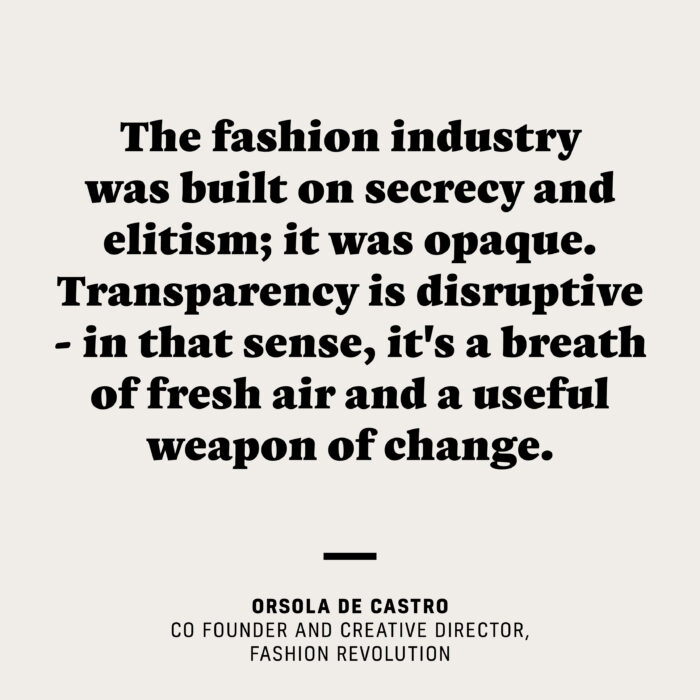 There is still so much more work to be done, and together we need to make faster progress on achievements for which we have already built the foundations. It is for this reason we are asking for your donations. With your support, will continue to push for positive change inside brands and retailers, as well as policy change in government, and cultural and behavioural change among citizens around the world.
Together, we have already achieved a lot. We've produced the Garment Worker Diaries documenting the everyday lives and economic realities of garment workers; we've made films to encourage people to think about who makes their clothes and tools that enable people to ask questions of their favourite brands. We've created an environment where those questions have power, and where individual voices –  your voices – really can have an impact. We will continue on with our unique ability to join the dots between workers in the supply chain, factory owners, Non-Government Organisations, industry leaders, activists, unions, policymakers and citizens like you who care and want to see radical change in the fashion industry.
We have inspired, we have prodded, we have provoked, and we have probed. We have asked questions. We have done extensive research and made it openly available and accessible to all; to schools, students, citizens, brands and designers who are all inspired to change our relationships with our clothes, the people who make them, and the materials they are made from. 
We pride ourselves on our pursuit of fairness, we base our work on hard facts and data whilst amplifying the voices of people who work along the length of the supply chain and who are at the heart of everything we do. We are unique in our powerful ability to communicate clearly and directly with the millions of citizens around the globe who have one common goal: a desire for an industry that is fair, clean, safe and responsible. Our manifesto, launched during Fashion Revolution Week 2018, is our dream and we know it is yours too. We won't stop until it is a reality. 
Our collective progress has gotten us this far but we cannot do this alone. We continue to need your help. We want to build on the important work we do and have you alongside us on the journey. We want to keep on holding fashion industry leaders and CEOs to account using our Fashion Transparency Index. We plan to expand our research from 200 to 250 leading brands in 2020. Last year, the first country-specific Fashion Transparency Index was published in Brazil. This is a tool that the industry needs across the globe and we have plans to do this research in more countries. We want to continue to write White Papers that inform and create change at the highest levels of government. We want to continue our cutting-edge research that sheds light on fashion's hidden social and environmental issues. We want to continue to publish resources that inspire citizens and industry insiders to value their clothes and to appreciate the craft and culture that underpins the fashion industry. We want to continue to work with change makers to show you how to repair your clothes and better care for them. This June, we ran our second free online course which has inspired more than 10,000 registered learners across the globe, from Myanmar to Manchester. The incredible feedback proved that this course has truly changed people's attitudes for good. It has made people think about the industry in ways many of them had never previously considered. It is enabling employees within brands, young fashion designers starting out in the industry, and citizens who are keen to be better informed about where their clothes come from, to push for a different approach; to demand an entirely new system. We want to bring you even more tools and resources like this in the future.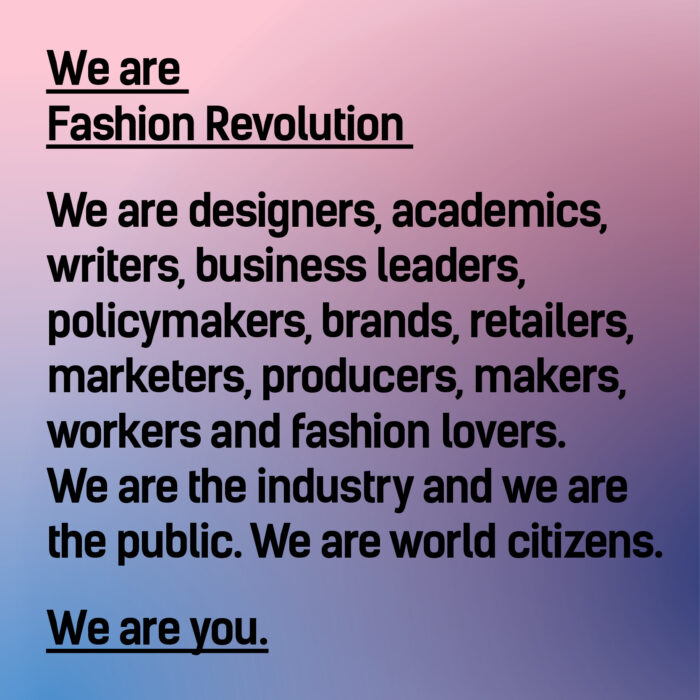 Fashion Revolution is a global campaign that has grown like wildfire and continues to do so. We are under no illusion that people working in the supply chain need us to continue to stand in solidarity with them and press for fair pay and safe working conditions. This year, we also joined many cultural institutions to declare a Climate Emergency and signed the United Nations' Fashion Industry Charter for Climate Action.  It calls upon the industry to achieve net-zero greenhouse gas emissions by 2050. We need urgent action to curb the unrestricted environmental impact of this industry, and we know many of you are keen to learn more about this particular topic (in our recent community survey, 61% of people told us they want to know more about the environmental impact of the fashion industry).  
But while we have huge aims and ambitions, as a team we are very small. We work remotely, negating the costs of running an office, which in turn allows us to concentrate our donations on campaigning and research. We currently rely on funding from grants and the time and passion of our dedicated volunteers around the world. We frequently decline funding from corporations so that we can remain true to our cause, unswayed by interference and interests from inside the industry. This is of crucial importance to us. And like many charities at the moment, we need support so we can continue to do more, and to do it faster in order to achieve much-needed systemic change.   
We are Fashion Revolution. We are you. If you'd like to see the work we do continue and help to grow the community of like-minded individuals such as yourselves, we would really value your support. Not just in terms of asking questions, speaking out and taking action, which we know you already do so vociferously, but in the form of donations, however small. So that our work can remain open-source, global, free and accessible for all citizens and not be restricted only to those who are able to pay for it. 
Your support enables us to hold more big brands and retailers to account via the work we do with the Fashion Transparency Index.
Your support allows us to put a focus on the unfolding climate crisis impacting communities and our planet and the fashion industry's role within that.
Your support means we can continue to shine a light on the people working in fashion's supply chains, to help make their voices louder and fight for better pay and working conditions.
Your support will give us the opportunity to lobby governments to create better laws that protect the environment and people, both workers and wearers.
And finally, your support allows this global movement to continue to grow by supporting our dedicated teams across the world. With your support, we will bring change.
Please give what you can. Set up a monthly donation here. If you're in the UK, text FASHION to 70085 to donate £5*. Buy a zine. Host a fundraiser; on facebook or in your community. And keep on asking #WhoMadeMyClothes so that we can work together and make a difference.
With immense gratitude,
Orsola de Castro & Carry Somers 
*This costs £5 plus a standard rate message. Alternatively, you can opt to give any whole amount up to £20 by using 'FASHION' followed by your amount in numbers. e.g. FASHION10 will donate £10, FASHION7 will donate £7.