Generalversammlung / Assemblée Générale / General Assembly Fashion Revolution Schweiz
August 29 @ 6:30 pm - 10:00 pm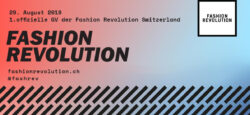 Werde Mitglied beim Verein Fashion Revolution Schweiz! Deviens membre de l'association Fashion Revolution Schweiz! Become a member of the association Fashion Revolution Schweiz!
Wie? Ganz einfach / Comment? C'est simple / How? Easy as this
Registrierung obligatorisch unter / Immatriculation obligatoire ici / Registration mandatory here:
https://fashionrevolution.ch/?page_id=90
Liebe Fashion Revolutionaries 
Ihr habt in den letzen Wochen eine Einladung erhalten, um Mitglied im Verein Fashion Revolution Switzerland zu werden. 
Wir möchten Fashion Revolution Schweiz zu einem Mitglieder-Verein umkrempeln und so eurer Engagement und Interesse besser bündeln zu können. Und, wir möchten unsere Organisationsstruktur weiter professionalisieren. 
Die erste offizielle Mitgliederversammlung findet am 29. August am Abend (ab 18:30) in Zürich statt. Nebst dem offiziellen Teil, soll viel Raum und Zeit bleiben, um sich mit anderen Mitgliedern auszutauschen, Ideen zu entwickeln und auf den Startschuss als Verein anzustossen!
Es wäre toll, wenn wir euch zu unseren Gründungsmitgliedern zählen dürfen!
Ihr könnt euch jetzt hier registrieren: https://fashionrevolution.ch/?page_id=90
Im Formular kann man auswählen:  Mitglied werden und zur GV anmelden.
Wenn ihr euch schon registriert habt, so erhaltet ihr in Kürze ein Mail mit den Traktanden, Ort und Zeitangaben 
der Veranstaltung sowie den Entwurf der neuen Statuten.
Aktive Mitglieder, d.h. alle, die selbst ein zeitaufwändiges Projekt realisieren oder/und als fleissige Helfer viele Stunden lang mithelfen die Events zur Fashion Revolution Week auf die Beine zu stellen, sind vom Jahresbeitrag befreit – falls gewünscht. 
Meldet euch bitte über das Formular an, damit wir euch offiziell aufnehmen können und euch die Details zur GV zusenden können! 
Seid dabei. Gemeinsam sind wir die Fashion Revolution 
und wir freuen uns auf 2020 mit EUCH!
Susanne,
 Pauline, Jamil, Doris und Corinna